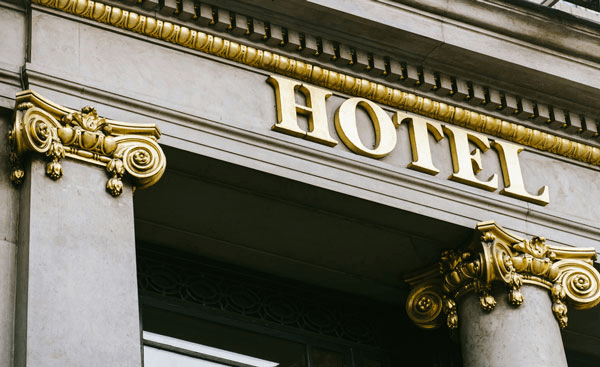 So you've decided to turn your passion for travel and hospitality into a business opportunity and open your own hotel.
Whether you decide to take over an existing hotel business or start your own from scratch, entering the industry means dropping a lot of money on the development of your hotel - so it's essential to look into the different avenues you can take when it comes to sourcing hotel funding.
From dipping into calculating your investments, to sourcing funding via crowdfunding and state aid, sit back as we detail how to go about funding your hotel business.
What items need to be funded when opening a hotel?
First of all, it is important to know the different elements that require funding. Find them in the table below, along with the main types of funding available in each case.
Items to be financed

Bank financing

Leasing

Grant / Tax credit

Property/Renovation
Bank loan
(10 - 20 years)
Leasing of property

Investment grant

(in some cases)

Equipment
Bank loan
(2 - 7 years)
Equipment leasing

Investment grant

(in some cases)

Stock
Short-term financing possible in some cases
VAT

Bridging loan

(up to 6 months)

Initial cash position
Overdraft
Purchase of the business (if taken over)
Bank loan
(5 to 15 years old)
The power of equity to secure hotel funding
Equity is the amount of money you can contribute to the business yourself - whether it's by using your own cash or grouping together money from fellow business partners.
Making an equity contribution provides tangible proof of commitment to your venture, as it gives you a vested interest in making sure the project succeeds, making it a more attractive opportunity for lenders and investors who know that you have something to lose as well if the project fails.
The amount of equity that banks will expect will depend on your hotel's overall funding requirements and the loan to value they are willing to consider for each element.
If you don't have the resources to come up with with a significant equity contribution immediately, don't panic. Besides dipping into your own pocket, there are several ways to build up your equity contribution.
First, you can solicit your family and friends by requesting what is known as 'love money'. This means collecting funds (in the form of donations, loans, or investments) from those close to you.
Your loved ones know you well and know what you are capable of, so it's often easier to convince them to support and invest in you and your business than to convince an investor you've never met before.
You can also consider crowdfunding to increase your equity contribution and find the appropriate funding for your hotel. Simply set up a campaign on a crowdfunding platform, tell your story and you'll be put in contact with like-minded individuals who wish to financially support your venture.
Here again, financing can be in the form of donations or an investment in the company's capital. You don't technically owe anything to those who donate via crowdfunding, but it might be a good idea to offer a few perks that'll encourage people to support you, such as offering your supporters a complimentary one-night stay or a free afternoon tea.
Finally, contacting private investors, such as angel investors in your area, is also a potential funding source that shouldn't be overlooked. A private investor may, of course, be seduced by the expected profitability of your business, but it's also worth noting that investing in small businesses often allows them to benefit from tax credit (such as SEIS or EIS in the UK) and reduce their bill with the tax authorities.
A business plan as an essential prerequisite for hotel funding
Whichever way you decide to fund your new business, you will need a business plan to obtain hotel funding.
A business plan for a hotel contains two main parts:
A financial forecast that aims to highlight the expected profitability of the project and the initial financing required to launch the business.
A written part that presents, in detail, your project, the team, your business strategy, and your medium-term objectives.
This document is a summary of your hotel project, and it is what's on these few pages that will determine the amount of funding you'll secure. Your business plan must therefore be perfect: synthetic, but with sufficient details and explanations, clear and readable, and well written. This exercise is not necessarily easy.
It is with the business plan for your hotel that you'll communicate, having carried out thorough market research, your business's concept and plan of action to potential investors. It must therefore be precise - presenting the details of your business in a clear and engaging manner - and, ultimately, it needs to make whoever is reading it want to embark on your entrepreneurial adventure with you.
If you are not used to writing business plans, a good solution would be to use online business plan software.
There are several advantages to using specialized software:
You are guided through the writing process by detailed instructions and examples for each part of the plan.
You can be inspired by already written business plan templates
You can easily create your financial forecast by letting the software take care of the calculations and financial aspects for you.
You get a professional document, formatted and ready to be sent to your bank.
If you are interested in this type of solution, you can try our software for free by clicking here.
State aid available for creating or taking over a hotel
There are multiple government backed schemes to help entrepreneurs find funding to start their businesses. The trick is to know them and to know that you are entitled to them.
If you are in the UK, to find out more about the support available, you can visit the Business Finance Support Finder. Another option is to apply for the Start-Up Loans Scheme. Supported by the government, this scheme offers personal loans of up to £25,000. The interest rate on such loans is just 6% and entrepreneurs also receive access to free mentoring and business support.
In the US, the SBA works with various organisations to provide small businesses with grants and loans. Check out their website to see if you meet the criteria to apply.
Another option to fund your hotel would be to find out about regional business start-up awards and competitions set up by your local government that reward and fund business start-up projects.
Now that our guide is at its end, we hope that it has helped you paint a clearer picture of the possibilities available to you when securing funding for your hotel. If you still have any questions, do not hesitate to contact us for any questions related to the creation of a hotel.
Also on The Business Plan Shop