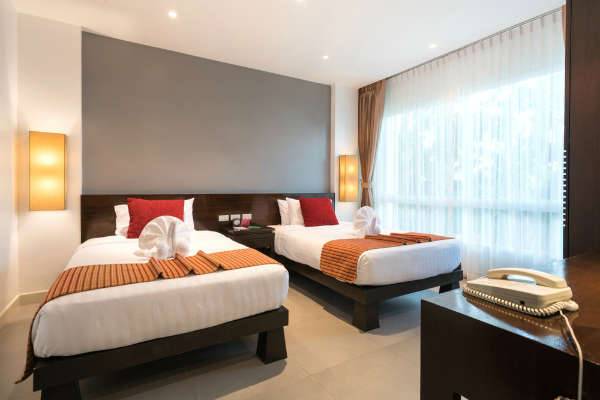 Are you keen to take over a hotel but don't have the funds? Buying over a business means needing a certain level of initial investment, but that's not to say that it's impossible to take over a hotel with no money (or with a modest amount) - it simply requires a lot of determination and careful planning.
In this practical guide, you'll find everything you need to know about how to take over a hotel with no money - including what sources of financing you can use and how a good business plan can make all the difference in convincing investors to fund your venture.
The power of equity
The takeover of a hotel requires, as you can imagine, a relatively large amount of cash.
To ensure a smooth transition, for example, you'll want to hold on to the hotel's lease equipment, lease agreement, and customer base (which may mean keeping up its current advertising campaign/pricing model).
All of these factors will be taken into consideration when negotiating the sale of the hotel with its owner, and given the amount of paperwork, it's highly advisable you enlist the help of a lawyer (who will also need paid).
For all these reasons, taking over an existing hotel business can mean spending more money than you would if you were starting your own business from scratch. Not convenient for sure if you're looking to take over a hotel with no money, but it doesn't mean it's impossible!
This is where your equity contribution comes in. Your equity contribution is the amount of money you can personally afford to contribute to the business. If you try to request a bank loan without offering any personal contribution, then you'll face difficulty accessing funding. But why is personal equity contribution valued so highly in a business take over?
It aligns your interests with those of your potential investors
First of all, a personal contribution sends a strong signal to investors that you are truly committed to your venture. So what happens if you want to take over a hotel with no money?
If you're not financially tied to the business, nothing prevents you from getting out of there as the going gets tough. But if you've invested not only your time and energy but also your money, your financial partners won't be the only ones with something to lose should things go haywire, which serves as a guarantee that you'll do everything possible to make your business succeed.
How to build up your personal contribution when taking over a hotel with no money
So we already know that you need a bit of money put aside to attract the rest of the investment needed to complete the purchase.
But how do you build up this amount when you want to take over a hotel with no money? Rather than composing it from your savings, you can use the alternative means of financing that we explore in more detail below.
1. Call on your family and friends
The first source to consider is love money. As you may have guessed, this is the money you can collect from your family and friends, in the form of donations, loans (interest-free or not), or investments.
Raising a bit of love money, in the form of capital investment, loan, or donation can be an effective way to get the funding you need to take over a hotel with no money.
Your loved ones know you well and know what you are capable of, it is therefore often easier to convince them to invest in you and your business than to convince an investor you've never met before.
2. Launch a crowdfunding campaign
Another potential source of financing to start your hotel with no money is crowdfunding. Here, two options are available to you:
Crowd equity: this is where individuals or angel investors may provide funding in exchange for shares in your company.
Donation-based crowdfunding: here, you set up a campaign on a crowdfunding platform, tell your story and collect donations from individuals who wish to financially support your venture. Being (most likely) travel enthusiasts, contributors may expect a small reward linked to your business in exchange for their generosity, such as a free day pass for your spa or a complimentary overnight stay with a cooked breakfast included. It's up to you to quantify the size of the gesture according to the generosity of the donation.
Crowdfunding can be particularly effective as it enables you not only to raise funds for your project but also to introduce it to your wider community and create some hype around it.
The potential effectiveness of crowdfunding can be seen in the example of The Jennings Hotel in Oregon. After spotting a dilapidated apartment building with gorgeous views of Oregon's Wallowa Mountains whilst on a hiking trip, founder Greg Hennes received over $100,000 from 870 people to eventually open the world's first Kick-starter funded hotel in 2016.
Gathering contributions via crowdfunding is also an excellent way to demonstrate to a bank that future clients have a keen interest in your project, making for a more compelling argument that it's worthy of a loan when you take over a hotel with no money.
3. Get in touch with private investors
If crowdfunding's not for you, you can also seek out private investors with whom you can purchase the hotel you'd like to take over. Be careful who you choose (and that you get along well with them) as you'll be managing the business together.
You can also try to find business angels interested in your project, who, in addition to their financial participation, can also bring you their entrepreneurial experience and give you valuable advice on how to develop your business.
To identify those who might be interested in your take over, get in touch with investors who already have an active involvement in the hotel and hospitality industry.
4. Limit your personal expenses to save for taking over a hotel with no money
Another way you can build up your equity contribution when taking over a hotel with no money is by keeping a close eye on your savings and limiting your day-to-day expenses. In the months preceding your purchase of the hotel, try increasing your income by taking on a side-job (such as a Deliveroo driver on weekends), work overtime, or pick up some freelance or consulting work.
Another solution is to cut (or drastically reduce) expenses that may seem unnecessary. Change your unlimited movie subscription for a Netflix subscription, or if you really want to cut corners, get rid of your TV subscriptions altogether. Place a limit on your number of restaurant visits and takeaways a month, and try to re-create some of your favourite recipes at home, instead. These are all small sacrifices that can save you a ton in the long run.
Why the business plan is a must when taking over a hotel with no money
Finally, it's important to remember the business plan. This is the document with which you'll present your business idea to potential investors, whether they're banks, acquaintances or public bodies.
Here again, the objective is to convince potential financial partners of the business's strengths and its profitability - so writing a solid business plan for a hotel is essential.
In a simplified way, a business plan is made up of two major components:
A financial forecast for your hotel that aims to highlight the expected profitability of the business and the initial financing requirement.
A written part that presents, in detail, your project, the team, your business strategy, and your medium-term objectives.
Given how detrimental a role the business plan is in securing funding, it needs to be impeccable and convincing - and look the part, too.
This is a complicated process, especially if you're tackling this task for the first time. That's why we recommend that you try using online business plan software to guide you through the writing process.
There are several advantages to using specialised business plan software:
You are guided through the writing process by detailed instructions and examples for each part of the plan.
You can be inspired by already written business plan templates
You can easily create your financial forecast by letting the software take care of the calculations and financial aspects for you.
You get a professional document, formatted and ready to be sent to your bank.
If you are interested in this type of solution, you can try our software for free by signing up here.
By checking out our hotel business plan template, you can get some much-needed inspiration that will help you set out the vision for your own hotel business plan.

As you can see, there's certainly no shortage of solutions when it comes to raising enough funds to take over a hotel with no money.
We hope that this article has helped you to better understand how to take over a hotel with no money. If you have any questions regarding the launch of a new business, please don't hesitate to get in touch with our team.
Also on The Business Plan Shop
Do you know someone who wants to take over a hotel but doesn't have any money? Share this article with the click of a mouse!