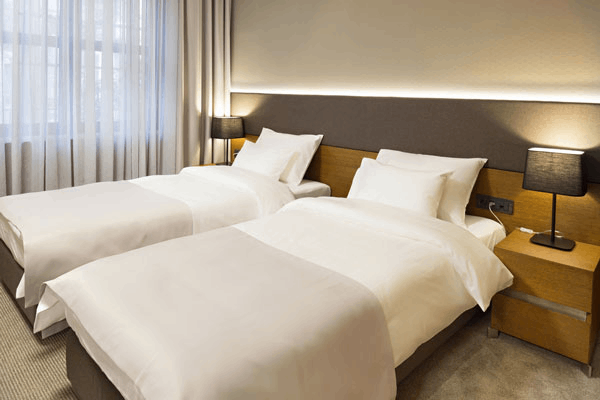 Whether you're a seasoned hotelier with years of experience behind your back or a first-time hotel buyer about to embark on the entrepreneurial adventure of a lifetime, if you want to open and operate a hotel, chances are you're wondering how to best go about conducting market research.
Market research for a hotel is not only essential in giving you a better understanding of the current state of the hotel industry (from how it's doing, to what concepts are hot or not), but it also helps you decipher how to mould different aspects of your business so that it attracts the right customers.
To guide you through this process, we've outlined the key steps in conducting thorough market research for a hotel.
The objectives of market research for a hotel
Evaluating the market potential of your business
Market research for a hotel must meet several objectives, the first of which is to evaluate the commercial potential of the venture.
Indeed, whether you're taking over an existing hotel business or starting a hotel from scratch, it's vital to check that the market is not already saturated. If the supply of travel accommodation is already considerable in relation to the demand, the market could well suffer from the arrival of a new hotel. If the current supply (in terms of room capacity) cannot meet the demand, however, it will be in your best interest to launch a hotel.
Secondly, market research is designed to help you come up with a concept that's likely to be popular within your chosen location. To do so effectively, your best bet is to identify a customer segment whose needs currently aren't being met by the competition.
Finally, market research for a hotel should enable you to gather the data necessary to develop the business plan for your hotel and estimate its potential turnover.
Reducing risk by asking the right questions before its launch
By using market research to evaluate the potential success of your hotel, you can reduce many of the risks associated with launching a new business.
By prioritising market research in the development of your business, you'll be asking the right questions from the get-go, such as:
which customer base to target and what services to offer
how to take market share from competitors who already have a clientele and a strong reputation
How to attract and retain customers
Reflecting on all these aspects before your hotel is even launched will enable you to either say goodbye to your business model - before the stakes get too high and your capital is at risk - if it looks like it'll flop, or establish a strategy that'll multiply its chances of success.
Delving into the hotel industry and current trends when doing a market research for your hotel
As with any other business, the market research for a hotel is based on an in-depth analysis of the hotel industry, customer expectations and the current regulations in force.

Gathering key datapoints on the hotel industry
The next crucial step in our guide on how to do market research for a hotel is casting your eyes over the local market. You need to familiarise yourself with the hotel industry and how it's doing. Ask yourself:
What is the current state of the sector: is it growing or shrinking? What are the reasons for this?
Are more hotels opening or closing in your desired area of business?
How is the turnover of hotels evolving and how much does each individual service (e.g. bar, restaurant, SPA) contribute to it?
What concepts are working and which aren't so popular?
Franchised or independently-owned boutique hotels: which are doing better?
What are the hot trends in the hotel market right now? Does your business align with them?
What challenges are hotel owners currently facing?
Understanding the expectations of hotel customers
Once you've checked out trends in the sector, it's time to get to know your customers when doing market research for a hotel - as pinning down their specific wants and needs is a surefire way of ensuring you're selling the right concept and services.
Firstly, look at their booking habits, including the ratio between business and leisure travel trips, what time of year is busiest for hotel visits, whether weekends or weekdays are most popular, and who people are most likely to travel with - their spouse, friends or the whole family?
You'll also need to get a gauge of what the typical profile of a hotel customer looks like, including their age, gender and job status. Using this data, you can then determine their average budget.
Next up in your market research for a hotel, you'll want to assess what platforms they use to make reservations, whether it's directly on hotel websites or via third-party platforms such as Expedia or Booking.com.
Finally, assess the services most commonly offered by hotels (including the restaurant, bar, room service, SPA treatments, swimming pool and evening entertainment) and list them in order of popularity so you know where to place your focus.
Knowing the regulations in force
Doing market research for your hotel also provides an opportunity to familiarise yourself with the regulations related to operating a hotel.
What are the current regulations in this area?
Are they likely to change in the coming months or years?
Are there qualifications that are legally required to run a hotel?
Is any specific training needed before launching such a business?
Finding the most useful information on the hotel industry

You can rely on the following sources of information to help you conduct your market research on the hotel industry:
You also can't forget the main players in the hotel trade: the hotel owners themselves. Take some time out to grab a coffee with a hotel owner in your local area - as they could provide you with some valuable insider information about the sector.
Analysing the demand for hotels in your desired area
Checking out the local market
Now that you've looked at the major trends in the hotel sector, it's time to cast your eyes over the local market.
You can start by assessing the characteristics of your area: what are the most attractive places? Is there a beach close by that is very popular over the summer, or perhaps there's a museum or two within the city that see an influx of visitors all year round? The objective here is to identify key attractions within the area and ensure that, wherever you're located, you have decent links to them.
It's also important to identify customer expectations within the local market. A hotel situated smack-bang in the middle of a city won't have the same clientele as a seaside resort in the south of France, so their needs and desires will be different. Also, ask yourself if there is a demand for a hotel service that currently isn't being met.
Sizing up your competition when doing market research for a hotel
Conducting market research to understand how to open a hotel also requires a thorough analysis of the competition at the local level.
Start by rounding up all the hotels (as well as guest houses and hostels) located near your business. You should look at their concept, the type of accommodation and rates they're offering and their target clientele.
This information will help place you in the best position to stand out from what everyone else is offering, by serving up a different concept when doing market research for your hotel.
You should also check out how much space and capacity each of your competitors can offer customers. You'll want to know how many employees they have too, as well as the turnover for each place.
Bear in mind that if some of these hotels are operating within an established chain, their brand recognition and large marketing budgets will make them your fiercest competition.
Analysing the reputation of your competition will also prove very useful. Speak to local business owners and residents to gather solid opinions on each place's quality of rooms and customer service. Put aside some time to google them, too, and look up online reviews.
The aim here is to understand what customers like and dislike, so researching both good and bad practices during your market research for a hotel will help you draw inspiration for your own concept.
Do the same for indirect competitors such as bed and breakfasts, campsites, without forgetting the competition coming from the web and in particular from individuals renting their furnished property for short stays via platforms such as Airbnb.
Choose a strong concept to set yourself apart from the competition
Once you've gathered all the information above, you can consider your hotel market research done and it's time to put this data into use.
Perhaps, for example, your research led to the conclusion that the market is simply too small for a new hotel or the business idea you had in mind isn't in line with customer expectations.
Or (we're hoping, anyway) you may have found enough data that confirms the existence of a real business opportunity - enabling you to kickstart the process of launching your hotel.
In this case, begin by developing your concept. This will enable you to target a clearly defined customer base and offer a service that meets their expectations in every respect, whilst ensuring you stand out from the competition.
Developing your concept will also help you define the ways in which you'll attract and retain customers. Collate these methods (and their costs) into a marketing plan that aligns with the objectives of your business and the desires of your target market.
Carry out a quantitative study to assess the suitability of your concept
Now it's time to talk about money during your market research for a hotel. Opening a hotel is a big investment, so before splashing out on spa supplies and kitchen equipment, it's important to check that your concept is one that will actually align with your customer's wants and needs.
At this stage, we strongly recommend that you carry out a quantitative study to double-check that your room rates, as well as the overall vibe of your hotel, complement the expectations of your customers.
This test aims to accurately present your offer to a maximum of potential customers and to validate your concept, or to refine it even more if necessary. If you are present on social networks, you will be able to quickly measure this adhesion thanks to clear marks of interest: a like on your page or, better still, a subscription to your newsletter to be kept informed of the evolution of your hotel.
Writing up the business plan for a hotel
Once you've completed the market research for your hotel, you're ready to move on to the next essential step in launching your business: the business plan.
The business plan of a hotel has two objectives:
It allows you to assess the expected profitability of your business idea is (and make a few adjustments where necessary)
It allows you to present your idea to lenders and potential investors to securing financing for it
It goes without saying, therefore, that the business plan is the hook upon which the success of your business hangs. It needs to be clear, concise and, most of all, convince the person reading it that your business is worth investing in.
If you've never written a business plan before, doing so can feel pretty overwhelming. To help you along the way, you can use online business plan software, a tool that will accompany you through each stage of the drafting process.
There are several advantages to using business plan software:
You are guided through the writing process by detailed instructions and examples for each part of the plan.
You can be inspired by already written business plan templates
You can easily make your financial forecast by letting the software take care of the calculations for you.
You get a professional document, formatted and ready to be sent to your bank.
If you are interested in this type of solution, you can try our software for free by signing up here.
Using business plan software is very helpful in terms of helping you develop your hotel business plan, but this guidance wouldn't complete without something you really need - a concrete example of what a hotel business plan looks like. By checking out our hotel business plan template, you can get some much-needed inspiration that will help you set out the vision for your own hotel business plan.
We hope that this guide has helped you better understand how to carry out market research for a hotel.
If you'd like more advice on any of the points mentioned above or any other element related to the creation or takeover of a hotel, please don't hesitate to get in touch.
Also on The Business Plan Shop
Do you know anyone who might be interested in this article? Share it with the click of a mouse!