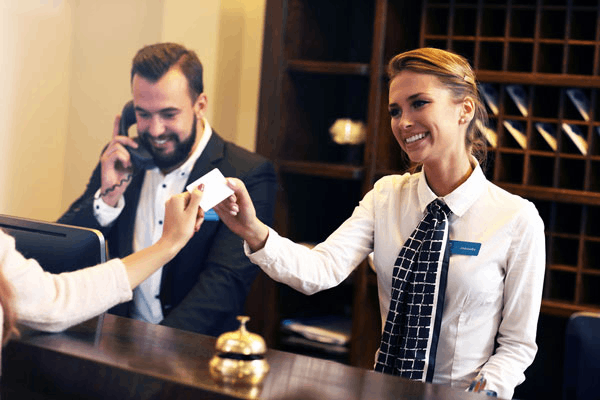 Glamorous, fast-paced and constantly changing, it's no wonder why the hotel industry just keeps going from strength to strength.
If the idea of starting or taking over an existing hotel excites you, then you've come to the right place. In our practical guides to start a hotel below, we'll take you through all the tricks of the trade to help you kick-start your venture.
How to start a hotel in 8 simple steps
Each business is different and must be adapted to its own unique surroundings, whether that be the local economy of the area in which it's based or the need to appeal to specific customers through its concept. That's why, if your goal is to start a hotel, you need to seriously consider how it will operate from a legal, administrative, and marketing standpoint.
Familiarising yourself with the current state of the market and predicted trends, as well as weighing up the pros and cons of joining a franchise or going independent, are two of many steps you'll need to take in the early stages of developing your business - so it's vital to be informed by checking out our guide on how to open a hotel.
7 tips on how to take over a hotel
To survive in the hotel sector, innovation, originality and pragmatism are a must.
While some entrepreneurs relish the opportunity to start their hotel from scratch, a higher majority opt to instead take over an existing hotel and mould it to fit their own vision.
If you fall within this camp, then you're in the right place - as the next article in our series of practical guides to start a hotel is our top 7 tips on how to take over a hotel.
Taking over a hotel is an attractive alternative to building a business up from the ground, but it requires a lot of preparation. Read our guide to equip yourself with all the information necessary.
How to take over a hotel without funding
Have insufficent funds but still want to open a hotel?
There's every chance that you can still do so - all you have to do is use a combination of internal and external sources of financing!
Our guide on how to open a hotel with no money will detail everything you need to know, including the type of financing that's best suited to your business.
How to write a stellar business plan for a hotel
A very important step in opening or taking over a hotel will be, of course, developing your business plan. This will enable you to present your idea to potential investors and convince them that the business can be profitable.
To help you along the way, we have written this guide on how to write a business plan for a hotel.
To write your business plan, you will need to crunch the numbers. To get through this step, be sure to read our guide to create a financial forecast for a hotel.
A practical guide to hotel funding
Since creating or taking over a hotel requires significant investment, securing financing is one of the most crucial and, arguably, complicated stages of the process.
The good news is, many solutions exist. To choose the best source of funding for you, read our practical guide to hotel funding.
With these guides to start a hotel, you have all the insider tips and tricks at your disposal to help you map out your hotel business. Almost seems too easy now, no?
Also on The Business Plan Shop