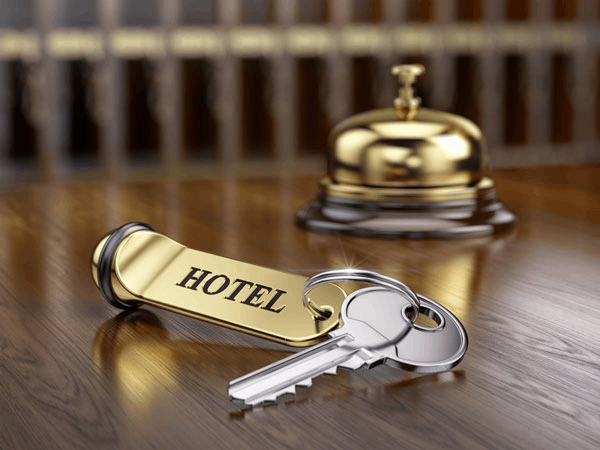 Have you been captivated by the glamour and escapism of the hotel industry to the extent that you've decided to take over a hotel?
Buying an already established business is, in many ways, simpler than starting a hotel from scratch - but it's certainly not without its challenges. That's why we advise that before rushing into signing on the dotted line for the first available hotel you come across, you take time to get to know the business you'd like to takeover - by weighing up its strengths and weaknesses.
In this 7-step guide, you'll find everything you need to know about how to take over a hotel, along with some insider tricks to help you ensure your takeover is a success.
1. Study the location and your competition to take over a hotel
The commercial success and occupancy rate of your hotel depends on your location, so picking the right ones crucial.
Ideally, the hotel you decide to take over will be located in a city or area that both attracts a heavy influx of travellers and is easily accessible via public transport (if you can get a private car park thrown in, too, that would be a bonus).
It's important to bear in mind that a hotel's geographic location has a direct influence on the type of guests it attracts and how many.
A hotel situated close to Heathrow airport is likely to have its bookings taken up predominantly by business travellers, whilst a guesthouse located beside the Sorrento coast will mostly be welcoming groups of people seeking sun, sea and relaxation.
The type of clientele will influence not only the hotel's average room price, seasonality and length of stay - but also the marketing plan needed to attract customers in the first place and expand the business when you take over a hotel.
You'll also want to check that the hotel's concept aligns with its location. You'd expect to see a 4-star hotel occupying a prime city-centre location as it wouldn't attract nearly as many customers if it were situated on the outskirts.
If there is any inconsistency between the star rating of the hotel and its location, you can apply to change its ranking - but this will be a fairly large added cost you'll have to factor in.
In any case, you'll have to make sure the hotel is easy to find, easily accessible (including for any customers who may have disabilities) and highly visible from areas that experience heavy footfall. A great way to familiarise yourself with the general vibe of the area when you take over a hotel (and understand when it's at its most lively) would be to get in touch with nearby business owners, to get a feel for what's going locally.
When checking out the location you also need to assess nearby competitors. Ask yourself:
How many other hotels are nearby? How close in distance are they to your hotel?
What is the star rating of each hotel?
Are they small, independent hotels or large chains? How many rooms does each have?
What impact will this competition have on the hotel you want to take over? Will you need to make a few tweaks to your hotel's existing concept to set yourself apart?
Also make sure you make note of any indirect competition located nearby (such as B&Bs, campsites and guest houses), making sure you consistently have a service or experience to offer to customers that they can't match is key to successfully take over a hotel.
2. Check that the existing premises and equipment are fit for purpose when taking over a hotel
Once you've assessed the location of the hotel you're considering taking over, you need to carry out a thorough examination of the premises itself and the equipment.
The objective here is to ensure that both the premises and equipment are in good condition, and try to identify anything that might need replacing or renovation.
In particular, we recommend that you focus on these elements when taking over a hotel:
the existing lease: including its duration, the price of rent and any conditions attached to its renewal
the size of the premises: is it large enough to accommodate your development plans for the hotel? If not, is it possible to rearrange the layout?
the condition of the building: is it well maintained or will you need to potentially plan some renovation work?
compliance with safety standards: do the building design, alarm system and evacuation plan meet the requirements as imposed by law?
the equipment: is it in good condition or will anything have to be fixed/replaced?
If you find that a significant amount of renovation work or replacing of equipment is required when taking over a hotel, make sure you factor in these costs and use them as leverage when negotiating the final selling price for taking over a hotel.
If you happen to be on a tight budget, why not check out our guide on how to take over a hotel with no money?
....and make sure you've got staff you can depend on
As you're often legally required to retain the existing staff of the hotel you're taking over, it's really important to build a strong relationship with the manager and the rest of the team.
It's important to review how the team operates - from the reception desk to bartenders and the restaurant and maintenance staff.

Check-in with each staff member as to whether they feel satisfied in their current position or have any opinions on the management of the hotel. This will help you identify any areas of dissatisfaction and make adjustments accordingly.

Then look at each staff member's skill-set and level of experience. The success of a hotel take over depends on top-quality customer service, so you need to ensure you're surrounded by a team of friendly people with a passion and flair for hospitality.
If you happen to identify any gaps within the existing team's skill-set, consider drawing up a recruitment plan or organising mandatory training.
3. Get to know the clientele to take over a hotel
Taking over a hotel means becoming acquainted with its existing customers.

The objective here is to understand who the hotel's customers are, and what they like and dislike about the hotel in operation. This will enable you to identify possible operational changes or adjustments to the hotel's atmosphere to be made.
To put together an accurate customer profile, you'll need information on the following when taking over a hotel:
their demographic characteristics: age group, gender, job status and average budget
the reason for the stay: business or leisure
their buying habits: including preferred methods of reservation, and expectations regarding services on offer (do they expect access to a bar, restaurant, SPA, room service, dry cleaning, etc.)?
the frequency of their stays: is the customer base made up of regulars or just tourists passing through?
the seasonality of stays: is the hotel busiest over summer or winter, during the week or on weekends? In mid-season? What is the average length of stay and what is the average price?
You should also investigate the hotel's reputation. Scour the pages of TripAdvisor and other online guides to get an idea of its standing on the hotel scene. Keep an eye out for any legitimate criticisms and make improvements where reasonable.
In the event that it has a poor reputation (as a result of negative customer reviews, unenthusiastic blog articles, or even a health and safety scandal), you'll need to put aside a significant amount of money to revamp its image.

4. Analyse the hotel's concept
Next, it's time to review all the services offered by the hotel (from accommodation to catering and spa facilities) to verify that they're consistent with both the concept of the hotel and the expectations of its customers.
If this turns out to not be the case, you'll need to make some adjustments to enhance customer satisfaction and the hotel's profitability.
You should also check out the marketing plan put in place by the former owner when taking over a hotel:
How do clients hear about the hotel?
Does the hotel have a high-functioning website where reservations can be made?
How many of the bookings come from third-party such as Booking.com?
Is the pricing strategy working well enough? Are there any offers that can be added to optimise revenue all year round?
What actions have been put in place to promote the hotel?
Don't forget the power of social media in putting hotels on the map when taking over a hotel. Check whether the hotel is active on Instagram or Facebook. If not, ensure time is put aside to share photos of the hotels best assets on these platforms to create a sense of wanderlust that'll attract new guests.
5. Examine the financial performance of the hotel you're taking over
Investigating a hotel's previous financial performance is probably the most important step of any business takeover, and the takeover of a hotel is no exception. Doing so will allow you to evaluate its profitability and cash generation capacity to help you create your hotel business plan.
First, you'll have to carry out an in-depth analysis of how its sales have evolved over the last three years, both in volume (an increase or decrease in the number of rooms rented) and in value (whether room prices have changed). Ask yourself whether the turnover is increasing or decreasing, what the causes of this trajectory are, and how you predict it may change in the coming years after taking over the hotel.
You'll also need to take a look at the gross margin and EBITDA margin, by verifying whether they've increased or decreased and, most importantly, whether they're stable. Take note of the sources of these changes and whether it's possible to improve the margin if needs be. It's also important to check that the EBITDA generates sufficient enough profit to grow the business and enable you to pay back your loans.
You must also take a look at:
whether the hotel has a positive operating cash flow and if it's sufficient to maintain and replace equipment
the weight of the working capital requirement (WCR): can you free-up cash by changing the procurement policy?
your payroll system: how many people are employed? Have there been any recent hirings? Are costs under control?
Want to find out how to carry out the financial forecast for a hotel in more detail? Check out our in-depth guide here.
6. Write the business plan and secure funding for your hotel takeover
The next step in taking over a hotel is putting together a business plan to ensure that your venture can be profitable and secure funding.
The business plan of a hotel is made up of two major components:
A financial forecast that aims to highlight the expected profitability of the business and the initial financing requirement.
A written part that presents, in detail, your project, the team, your business strategy, and your medium-term objectives.
The business plan is the document with which you will try to secure financing from your bank or potential investors, so you need to make it impeccable.
If you are not used to writing business plans, a good solution would be to use online business planning software.
There are several advantages to using specialized software:
You are guided through the writing process by detailed instructions and examples for each part of the plan.
You can be inspired by already written business plan templates
You can easily make your financial forecast by letting the software take care of the financial aspects for you.
You get a professional document, formatted and ready to be sent to your bank.
If you are interested in this type of solution, you can try The Business Plan Shop for free by signing up here.
Several sources of financing can be considered to take over a hotel. While a bank loan is the most obvious solution, you can also go down other avenues like equity financing. To find out more, read our practical guide to funding a hotel business.
7. Look into the owner's motivation for selling and the terms of the sales contract
Before officially agreeing to take the hotel over, it's also important to consider the owners' motivations for deciding to sell in the first place: are they genuine, or does the owner simply suspect that their hotel's profitability is set to plummet?
Finally, pay special attention to the terms of the sale contract. A contract for the transfer of a business meets a set of extremely precise standards, so you must ensure that they are respected.
Certain information is mandatory, it is, therefore, essential to consult a lawyer so you can chat through any terms you don't understand.
Now that we're at the end of our guide, we hope you have a better idea of how to take over a hotel with confidence. If you have any questions at all, please don't hesitate to get in touch with our team.
Also on The Business Plan Shop