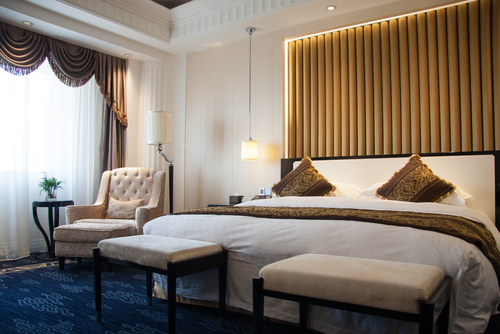 Do you think life is best lived in the lap of luxury, comfort and convenience? If so, you may have decided to open a hotel.
Whether you're already an experienced hotelier or not, starting up a new hotel business is a journey that's invigorating, but with lots of hurdles along the way.
And that's why we're here - to help lead you through each step. In this guide, we'll take you through the process of writing a business plan for a hotel - from what it should contain, to practical solutions you can use to draft it up.
Start by envisioning the concept of your hotel
First things first, you need to have a clear vision of exactly the type of hotel you want to open. This is your dream project, so it's important to mould it in such a way that makes you feel proud and, most importantly, motivated to continue playing an active role in it.
Start by taking stock of your career background, your skills, your areas of expertise and your own desires when thinking about your hotel business plan - whilst listing everything you lack in terms of hospitality training and financial resources. By doing so, you'll be able to build a business that is suited to your ambitions and unique way of working.
You could also opt to take over an existing hotel. To learn more about this process, check out our guide on how to take over a hotel.
Define the type of guests you want to attract
To paint a more accurate picture of your hotel, you need to consider your clientele. A hotel should offer a break from reality and be indicative of its guest's aspirations (whether they're looking for a fun city break or a calming spa retreat) so set aside time to draw up their profile. For this, you'll need to find out their age, where they come from, their average budget, job status and what they're looking for in a hotel. This will all go in your hotel's business plan as well.
Once you've gotten to know a little more about your future customers, you can sharpen the vision for your hotel. For example, if a sizeable chunk of your target market is made up of parents, you're most likely going to include play facilities or a kids club. The idea is to mirror everything your guests are looking for in a weekend or holiday break.
Turn your dream into reality by writing a hotel business plan
Dreams are all well and good, but to truly put your plan into motion, you'll need to get your head out of the clouds and focus on the planning stage.
This is where the business plan for your hotel comes in. Whether you're launching a restaurant, clothes shop or hotel, writing a business plan is an integral step for any entrepreneur starting a new company.
To put it simply, a business plan for a hotel is a document in which you lay out the details for your project, the objectives you have for your business, and the steps you'll need to take to ensure it's a success.
Writing a business plan for your hotel also means having to carry out market research for a hotel to familiarise yourself with the hotel market in the town or city in which you'd like to base your business, as well as the strengths and weaknesses of nearby competitors.
The prices you set will depend on your business model and where you're based. From there, you can draw up a financial forecast for a hotel to integrate into your business plan.
Why the business plan for a hotel is essential
Writing a business plan for a hotel not only enables you to check whether your hotel is likely to be profitable but also plays an essential role in presenting it to potential investors in the hope they'll provide funding to help get it off the ground.

It's therefore essential to have a solid, comprehensive business plan to prove your dedication and credibility as an entrepreneur.

The hotel business plan is also useful if you plan to apply for a loan or other forms of financial aid to help you open your hotel. To find out more about the funding solutions available to entrepreneurs, read our practical guide to hotel funding.
Feeling lost? Let our business plan software guide you
If drafting up a business plan for a hotel on your own feels a little too complicated, then you've come to the right place
Our online business plan software makes it easy for you. Designed specifically for entrepreneurs who've never written a business plan before, it will guide you step by step through the process - so you don't get lost in between the many different stages.
It will also make creating a financial forecast a breeze - leaving you with a clear, well-presented, and professional document with which you can confidently showcase your business idea to investors.
If you're still not sure, why not dip your toe and test our business plan software for free? Click here to try it out and let us know how you get on.
That's it for this time, we hope this article has helped you better understand how to write a business plan for a hotel. If you have any questions related to launching your business, please don't hesitate to get in touch with our team.

See also on The Business Plan Shop
Know someone who might be interested in this article? Share it with just one click!