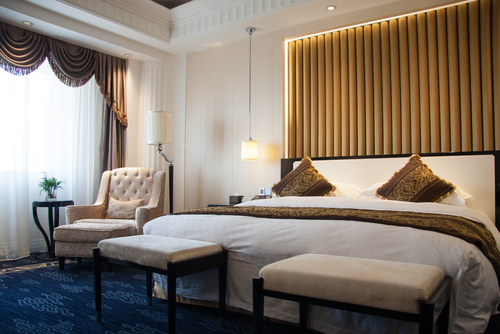 Do you think life is best lived in the lap of luxury, comfort and convenience? If so, you may have decided to open a hotel.
Whether you're already an experienced hotelier or not, starting up a new hotel business is a journey that's invigorating, but with lots of hurdles along the way.
And that's why we're here - to help lead you through each step. In this guide, we'll take you through the process of writing a business plan for a hotel - from what it should contain, to practical solutions you can use to draft it up.
Business plan by hotel type
Depending on your budget, location and skill set, you could choose to open one of several types of hotels.
The beauty is that regardless of which hotel concept you go for, the structure of your business plan will remain the same.
Below are the six key types of hotels that you could draw up a business plan for:
A hotel chain
A hotel chain includes multiple hotels that are part of a single brand.
As a small or medium business owner, this isn't practical in the short run but you can join an already-established brand by becoming a franchisee.
You'll receive training and advice but the start-up fee is likely to be significant.
A motel
This model usually caters for short stays and is a lot smaller in terms of the number of rooms it offers.
It offers a great option for tourists or motorists and a well-designed structure with a good location can bring in a constant stream of revenue.
A hotel resort
Depending on your location, you could choose to open up a hotel resort.
These are generally situated near tourist attractions such as ski parks or historic sites.
It could be a viable option as a part-time business, during the peak ski season for example.
An extended-stay hotel
Unlike motels, these offer long-term accommodation to guests. This usually means seven or more days.
If you choose this model, you could attract a wide target audience. Businesspeople, families or even students who are holidaying are all potential marketing targets.
This means that you'll need to have a strong marketing plan that caters for multiple groups.
Eco-friendly hotel
A unique, new model that has become popular in recent times.
Guests stay in accommodations that are considered favourable to the environment.
This model may be costly to initially build but can bring in considerable revenue if there is demand for such hotels in the catchment area.
Business hotel suites
This model caters for businesspeople predominantly and offers reasonable prices to stay overnight.
Such hotels are usually located near event hubs or business districts.
If you choose to operate using this model, you'll likely need to invest in business equipment such as printing facilities, seminar seating and online access.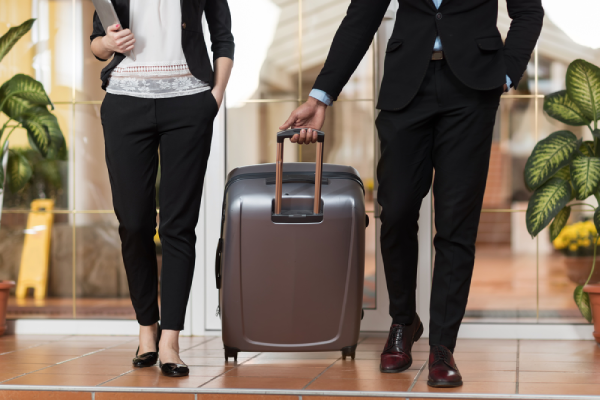 Start by envisioning the concept of your hotel
First things first, you need to have a clear vision of exactly the type of hotel you want to open. This is your dream project, so it's important to mould it in such a way that makes you feel proud and, most importantly, motivated to continue playing an active role in it.
Start by taking stock of your career background, your skills, your areas of expertise and your own desires when thinking about your hotel business plan - whilst listing everything you lack in terms of hospitality training and financial resources. By doing so, you'll be able to build a business that is suited to your ambitions and unique way of working.
You could also opt to take over an existing hotel. To learn more about this process, check out our guide on how to take over a hotel.
Define the type of guests you want to attract
To paint a more accurate picture of your hotel, you need to consider your clientele. A hotel should offer a break from reality and be indicative of its guest's aspirations (whether they're looking for a fun city break or a calming spa retreat) so set aside time to draw up their profile.
For this, you'll need to find out their age, where they come from, their average budget, job status and what they're looking for in a hotel. This will all go in your hotel's business plan as well.
Once you've gotten to know a little more about your future customers, you can sharpen the vision for opening your hotel. For example, if a sizeable chunk of your target market is made up of parents, you're most likely going to include play facilities or a kids club. The idea is to mirror everything your guests are looking for in a weekend or holiday break.
Turn your dream into reality by writing a hotel business plan
Dreams are all well and good, but to truly put your plan into motion, you'll need to get your head out of the clouds and focus on the planning stage.
This is where the business plan for your hotel comes in. Whether you're launching a restaurant, clothes shop or hotel, writing a business plan is an integral step for any entrepreneur starting a new company.
To put it simply, a business plan for a hotel is a document in which you lay out the details for your project, the objectives you have for your business, and the steps you'll need to take to ensure it's a success.
Writing a business plan for your hotel also means having to carry out market research for a hotel to familiarise yourself with the hotel market in the town or city in which you'd like to base your business, as well as the strengths and weaknesses of nearby competitors.
The prices you set will depend on your business model and where you're based. From there, you can draw up a financial forecast for a hotel to integrate into your business plan.
Why the business plan for a hotel is essential
Writing a business plan for a hotel not only enables you to check whether your hotel is likely to be profitable but also plays an essential role in presenting it to potential investors in the hope they'll provide funding to help get it off the ground.

It's therefore essential to have a solid, comprehensive business plan to prove your dedication and credibility as an entrepreneur.

The hotel business plan is also useful if you plan to apply for a loan or other forms of financial aid to help you open your hotel. To find out more about the funding solutions available to entrepreneurs, read our practical guide to hotel funding.
How to write the business plan for a hotel: the financial forecast
The financial forecast of a hotel consists of four main tables. These tables are presented in more detail below.
The projected profit and loss statement
The P&L statement makes it possible to assess the company's sales growth, monitor changes in the cost structure and thus evaluate its profitability (gross margin, EBITDA, net income).
Your gross margin (sales revenue - the cost of goods sold) must be sufficient to cover your overheads.
By then subtracting general expenses (administrative, commercial and payroll expenses) to the gross profit, you will obtain EBITDA. It corresponds to the company's cash operating income. If it is positive, the activity is profitable.
The P&L statement is not sufficient to understand the overall financial situation of the company. It's best to analyse it in conjunction with other tables in the financial forecast.
Forecasted cash flow statement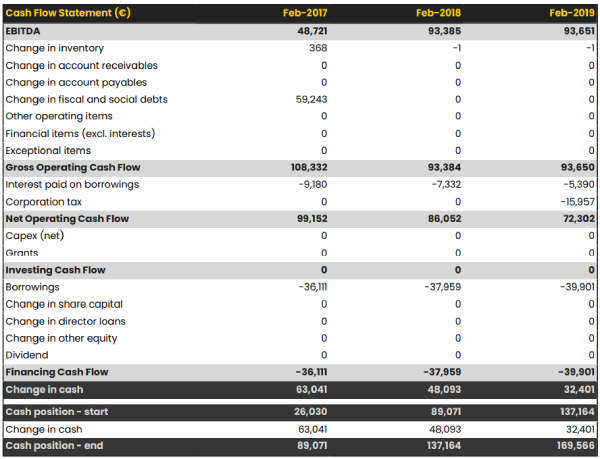 With this chart, you'll be able to understand how cash is consumed and generated within the business.
This statement will allow you to realise whether or not you require external financing (as a result of insufficient cash flow).
Forecasted balance sheet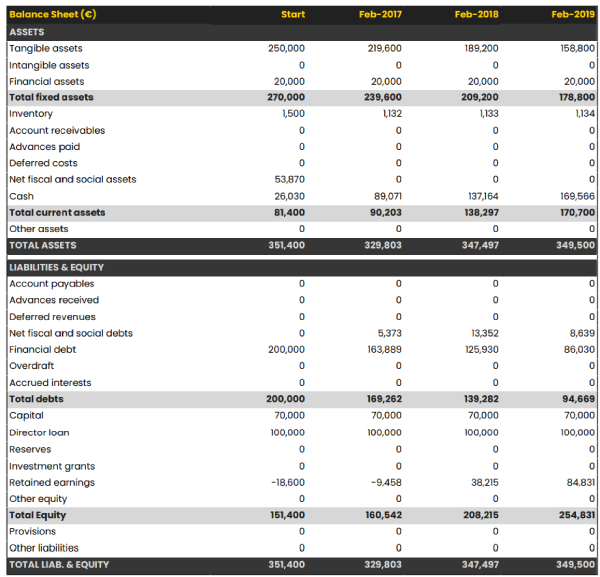 This table provides a view of the company's assets at the end of the year.
The forecasted balance sheet is made up of two parts: assets and liabilities. The assets represent the company's resources, while liabilities correspond to the company's debts.
From a financial point of view, this table makes it possible to evaluate the financial structure of your business, i.e. the breakdown between the company's equity and financial debts.
It, therefore, allows you to verify whether or not debt levels are reasonable and evaluate the company's liquidity, i.e. it's capacity to honour its short-term commercial, tax and financial debts).
Initial financing plan
The initial financing plan shows how the company's initial investment is financed.

This table is also useful for estimating the distribution of risk at the beginning of activity between the shareholders and the lenders.
There are two sides to this table:
Sources (capital contributions, loans etc.), i.e. the money available to the business
Uses (equipment, start-up costs, etc.) i.e. how this money is used at the launch of the business
Ideally, the cash position shown in the initial financing plan should be sufficient to keep the business afloat until you reach your break-even point if your business takes longer than expected to start up.
How might the editorial section of your hotel business plan look?
The written part of your business plan is as important as your financial forecast. It meticulously highlights each section of the business and aims to convince banks or financial institutions that your venture is feasible.
This section will also be an opportunity to explain the assumptions made in the financial forecast section in greater detail.
Contextualising your assumptions via your market research also allows you to determine whether or not they are realistic.
The essential written parts of the business plan include:
The executive summary
This section provides a brief overview of the entire business plan, illustrating both the purpose of the company and its key goals. The aim is to outline the key details, in the hope of persuading the reader to want to know more.
The company summary
In this part, you should aim to present the administrative details of the company including:
The number of partners
The legal structure
Percentage ownership
Head office
Where the premises are located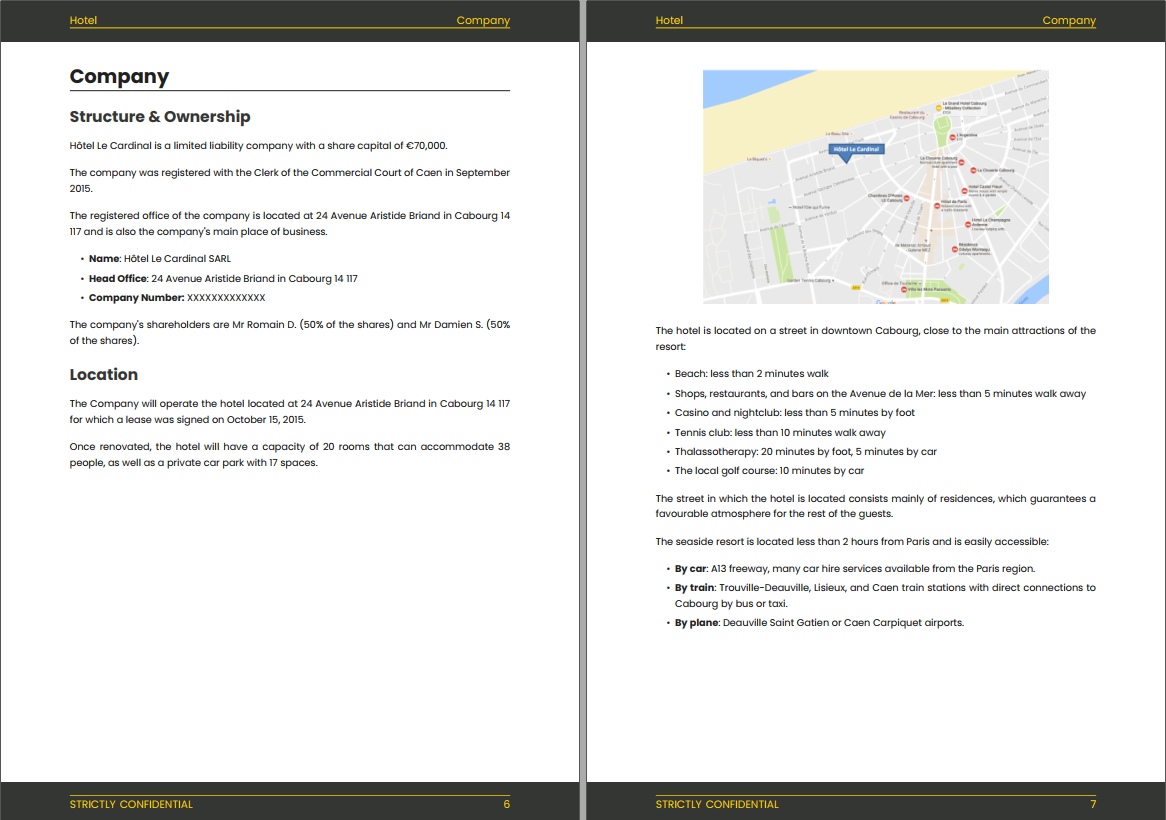 Products and services
You should aim to describe the services that your hotel offers in detail while explaining how your hotel will be competitive in the market (unique selling points such as fast and efficient room service or a cosy bar etc.).
You may also address any intellectual property rights such as trademarks or copyright.
Market research
Use this section to show that there is a gap in the market for your goods or services (for e.g a need for additional hotel rooms). It should also include analysis of the local market, any trends, competition and regulations in the area.
Strategy
The next step in our guide on how to write the business plan for a hotel involves a strategic outlook.
Inform the reader about how each of your services (including the guest rooms) will be priced. For example, how might prices vary based on the number of nights that guests decide to stay at the hotel? Are there any offers in the bar?
Yield management is a popular strategy used by hoteliers - it involves adjusting the price of rooms based on the level of demand observed on the market in order to maximise the occupancy rate of the hotel.
Since there are two perceived seasons for hotels - peak season and off-peak season, yield management allows hotel managers to balance their revenue stream throughout the year.
Higher prices can be charged when occupancy levels are high and a combination of lower prices/promotion ideas can be used when occupancy levels are low.
You should also present your marketing strategies in detail (including your use of social media, digital advertising, newsletters, etc.).
List any potential risks to your hotel and how you plan to address them, such as getting fire insurance cover and installing a security alarm.
Operations
Here you will highlight the organization of the company. This should include the opening hours of the business, the staff (directors and employees), any key assets that you plan to hold and the suppliers that you might be working with.
Financial plan of the hotel
In this section, you will present your financial forecast and explain the assumptions made in your calculations.
Two key tips for preparing a hotel business plan:
Be sure to address customer payment terms: clients can pay either when they check-in or check-out depending on the hotel policy. This will impact your cash flow.
Explain any business jargon used in detail, so that the reader does not get confused with industry terms they might not be familiar with.
Feeling lost? Let our business plan software guide you
If drafting up a business plan for a hotel on your own feels a little too complicated, then you've come to the right place.
Our online business plan software makes it easy for you. Designed specifically for entrepreneurs who've never written a business plan before, it will guide you step by step through the process - so you don't get lost in between the many different stages.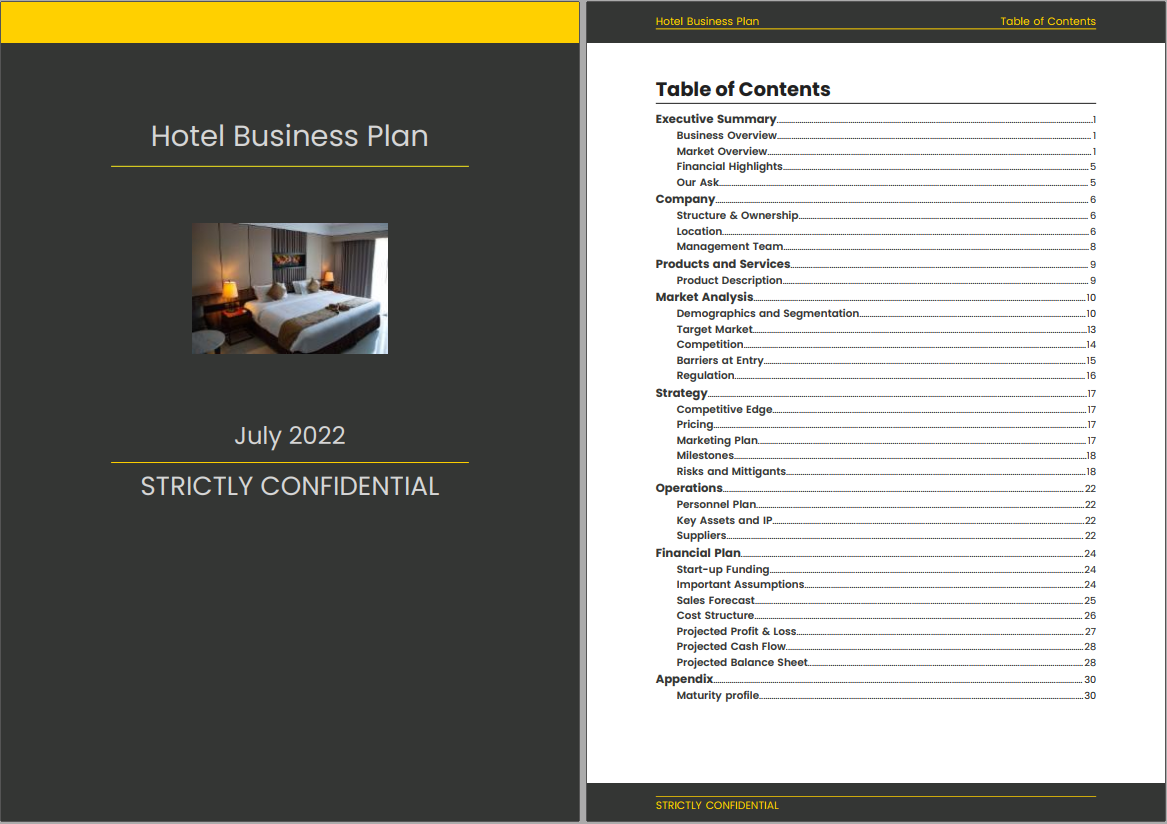 It will also make creating a financial forecast a breeze - leaving you with a clear, well-presented, and professional document with which you can confidently showcase your business idea to investors.
If you're still not sure, why not dip your toe and test our business plan software for free? Click here to try it out and let us know how you get on.
What you should know before creating a hotel business plan
We recommend taking into account seasonality as one of your risks and mitigants.
A wet or cold summer could lead to a sharp fall in the number of tourists in the area where you are planning to situate your hotel.
Would you have special leeway just in case? Is it possible to maintain a cash reserve to deal with a poor season?
That's it for this time, we hope this article has helped you better understand how to write a business plan for a hotel. If you have any questions related to launching your business, please don't hesitate to get in touch with our team.

See also on The Business Plan Shop
Know someone who might be interested in this article? Share it with just one click!