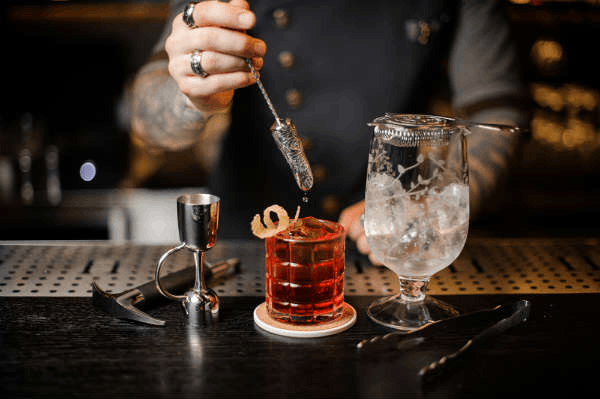 Opening a bar with an innovative concept is exciting: working every day with products you're passionate about, sharing your passion and expertise with employees and customers, and participating in the evolution of a fast-changing industry by adding your own personal touch.
That's not to say, however, that you won't encounter some difficulties. Launching a bar requires a love of interacting with all different types of people and the ability to keep a cool head under pressure - whether you're dealing with staff, suppliers or customers (who can sometimes become a bit of handful after a drink or two...)
You must also comply with the strict regulations related to operating a bar and carefully plan out every aspect of your business, because competition is fierce.
The bar industry is so competitive, in fact, that choosing a concept is of the upmost importance. It must not only align with your own desires and professional ambitions, but also enable you to stand out from your immediate competitors.
To help you find the right bar concept for you, we've reviewed 18 types of bar concepts below:
Types of bar concepts within this guide:
Beer Bar
Wine Bar
Rum bar
Whisky bar
Vodka Bar
Tequila bar
Gin Bar
Champagne bar
Cocktail bar
Shisha bar
Salad bar
Tapas bar
Pasta Bar
Oyster Bar
Juice bar
Game Bar
Ice bar
Bars with a focus on one type of alcohol
Bar concept #1: Open a craft beer bar
With Brits consuming 506 million pints of craft beer in 2018 alone, the craft beer market is fast becoming a lucrative one.
Although the market is booming, this alone cannot guarantee success for entrepreneurs looking to enter the craft beer world. Indeed, opening a craft beer bar requires extensive knowledge of, you guessed it, craft beer.
Curious customers will expect you to advise them on their choice of beer, so you'll need to ensure that you and your staff members are trained up on makes each individual beer special.
Moving on to the money side of things, opening a craft beer bar will also require significant investment - as you'll need to rent or buy a space with enough room to fit a brewery alongside the standard furniture and equipment required for a bar.
While starting your own craft beer bar from scratch is tempting, it's important to be aware of the other options out there - joining an existing franchise that enables you to piggyback on an already successful business venture.
Want to know more about creating this type of bar? Read our guide to opening a craft beer bar.
Bar concept #2: Open a wine bar
Do you enjoy the cool and comfortable vibe of a wine bar? If so, why not consider opening your own?
Wine bars have been popular in the UK for quite some time, but consumption has been on the decline - with a 2018 Wine Intelligence report finding that the number of Brits enjoying wine on the regular has dropped from 29.5 million in 2015 to 22 million in 2018.
This isn't to say you shouldn't consider opening a wine bar, you just have to be smart about it. Consumers are looking for quality over quality, so you'll have to distinguish yourself from the competition by offering an original array of wines and snacks.
To successfully open your wine bar and ensure its profitability, creating a business plan and conducting thorough market research remains essential steps. To learn about these stages in more detail, check out our guide on how to open a wine bar.
Bar concept #3: Open a Rum Bar
The thirst for spirits has grown steadily over the last 30 years, with rum being one of the top 5 most consumed spirits in the world.
The great thing about opening a rum bar is that this concept targets a very specific clientele from the outset, making it easy to stand out from rival bars that offer a wider selection of drinks.
The flip side of this, however, is of course because the concept is so specialised, it strongly restricts the type of people you'll attract and limits the potential for customer loyalty. When a group of friends is roaming the streets for a bar, they'll need to all have to be rum lovers before coming to your bar. And even if someone is a huge rum enthusiast, it's unlikely they'll want to drink it every day.
Bar concept #4: Open a whiskey bar
After gin, whisky is the most consumed spirit in the UK - so it's no wonder why opening a whiskey bar is a tempting thought for entrepreneurs looking to disrupt the alcohol market.
Although the market's thriving, you need to have your wits about you all the same. Although Brits are seemingly crazy about whisky, it's important to know that nearly 80% of spirits are consumed from the comfort of their own homes. With prices being much higher in bars, they make up only 5% of total consumption.
Try not to be disheartened by these stats, though. Opening a whisky bar could still be a successful venture, you'll just have to be strategic about where you locate it - by ensuring there are enough people in the area that are willing to pay that little bit extra to drink whisky at your place.
Bar concept #5: Open a vodka bar
Vodka is an extremely popular alcohol, so if you plan to open a vodka bar, you best believe you'll have to come up with an innovative concept to reel vodka drinkers (who might feel loyal to the brand they buy in supermarkets) into your bar.
Make sure you set the scene for an original drinking experience that your customers won't get anywhere else, by perhaps setting a Russian theme.
Bar concept #6: Open a Tequila Bar
Do you appreciate the Mexican culture and enjoy a party? Then opening a tequila bar could be the perfect concept for you.
From offering two-for-one margarita deals to putting on weekly fiestas, there's a whole host of ways you could attract customers to your tequila bar.
Bar concept #7: Open a Gin Bar
Do you love gin? If so, you might feel strongly about opening your own gin bar to share your passion with others.
Although some might say that gin is a bit of an acquired taste, the gin market is positively booming - with it now holding precedence as the UK's most popular spirit.
Although we know you can't go wrong with a classic G&T, gin forms the basis of a whole host of delicious cocktails (like the famous negroni), meaning several types of bar concepts can be developed around this spirit.
Another commercial advantage of placing your focus on gin is that gin fans range from 20 to 60 years old, upping your chances of welcoming a diverse and wide-reaching customer base.
Bar concept #8: Open a Champagne Bar
Before opening a champagne bar, you want to make sure you have a good understanding of what serving up luxury means. Champagne bars attract a specific clientele who want to essentially be spoiled and made to feel special.
The average age of a champagne drinker in the UK is 50, with young people less likely to consume it due to tighter budgets. It's important to bear these stats in mind - as you'll probably have to invest in making your bar upmarket and appealing for the older, sophisticated drinker.
Trendy types of bar concepts
Bar concept #9: Open a cocktail bar
Bar goers are increasingly looking for new experiences and tastes.
In this context, opening a cocktail bar could be a smart move. But with UK cocktail sales having risen by 9.5% in 2018 to reach £587 million, competition is tough - so it's important to develop an innovative concept.
You can, for example, take the time to develop original cocktail recipes, with distinctive names to match. Carefully choosing the decoration or atmosphere of your bar can also be a good way to stand out.
Use smart marketing tactics (whether it's putting up a billboard ad or staying active on Instagram) to get your name out there and stay relevant to your customers.
Bar concept #10: Open a shisha bar
A shisha bar is an oriental tea room where you can smoke hookahs.
The biggest consumers of shisha are young people, with the average age being 21 years old. The sweet and fruity taste of hookah is what hooks consumers in, however, hookah smoke remains toxic.
75% of all shisha smokers do so from the comfort of their own homes or with friends, with the remaining 25% opting to go to shisha bars.
To find out more about how to launch a shisha bar, read our guide on how to open a shisha bar.
Foody types of bar concepts
Bar concept #11: Open a salad bar
If you enjoy healthy, organic food and preparing simple and quick recipes, then opening a salad bar could be the perfect option for you.
Quality is much more important than variety, with organic and locally grown products becoming a strong trend in the sector.
Want to know more? Read out the guide on how to open a salad bar.
Bar concept #12: Open a tapas bar
Tapas bars provide consumers with the opportunity to drink and share food with friends in a relaxed setting, whether it's after a day in the office or for a celebration with friends.
As guests will be expecting an extensive menu with several different plates to share, it's important to understand that food must be at the heart of this concept.
Want to know more? Read our guide on how to how to open a tapas bar.
Bar concept #13: Open a Pasta Bar
Are you a pasta connoisseur who knows how to make everything from ravioli to gnocchi and carbonara? Then opening a pasta bar may just be the concept for you.
Whether it's adults, teenagers or kids, pasta bars are enjoyed by consumers of all ages. Whether you're a vegetarian or a meat-eater, a seafood lover or a huge fan of cheese, the beauty of pasta is that it provides something for everyone and all taste buds.
Another attractive aspect of the pasta bar market is just how cheap pasta is to make - enabling pasta bar owners to sell dishes at affordable prices and attract a wide range of customers.
Bar concept #14: Open an Oyster Bar
The UK is home to some of the world's finest oysters, making the oyster bar market a lucrative one for entrepreneurs to enter.
If you like the idea of serving up seafood in a sophisticated setting, opening an oyster bar could be the right decision for you.
Original bar concepts
Bar concept #15: Open a juice bar
Derived from a determination to fight junk food and promote healthy eating, the juice bar concept comes from Australia and the US - with more and more juice bars gradually popping up across the UK over recent years.
With increasingly more Brits becoming aware of the connection between their nutrition and their physical and mental health, they're more eager than ever to consume healthily - with a 2019 Santander report finding that more than half of people aged 16 to 24 consume juice drinks at least once a day.
If you find the juice bar concept alluring, read our guide that tells you everything you need to know about how to open a juice bar.
Bar concept #16: Open a game bar or eSports bar
Are you drawn to the fast-paced and exciting world of video games?
You're not alone, as 85% of Brits aged under 35 and 75% of those aged 35 - 44 admit frequently playing video games. And with the UK gaming industry estimated to be worth £3.86 billion in 2019, there's truly never been a better time than now to delve into the eSports market.
Whilst playing video games hasn't quite reached the same level of international adoration as, say, football, the eSports bar concept nevertheless has strong commercial potential, with many eSports bars flourishing within Europe.
To read more about the process of launching an eSports bar, check out our guide on how to write the business plan for an eSports bar.
Bar concept #17: Open an ice bar
If you want to launch a bar with a concept that really stands out, you could consider opening an ice bar.
An ice bar is pretty much as it sounds - a bar where everything is made of ice, from the tables and chairs to the glassware and the actual bar. Although these bars offer a fun, novelty experience (especially for tourists visiting big cities like Paris or London), it's difficult to develop a loyal customer base - as people tend to go there out of curiosity just once rather than on a recurring basis.
If this concept appeals to you, just make sure there is a demand where you want to set up shop and that this demand runs deep enough that your business will be profitable.
That's it for now, we hope this guide has given you a better idea as to the many different types of bar concepts. If you have any questions related to setting up your business, please don't hesitate to get in touch with our team.
See also on The Business Plan Shop:
Is someone you know planning to open a bar and might be interested in this article? Share it with just one click!