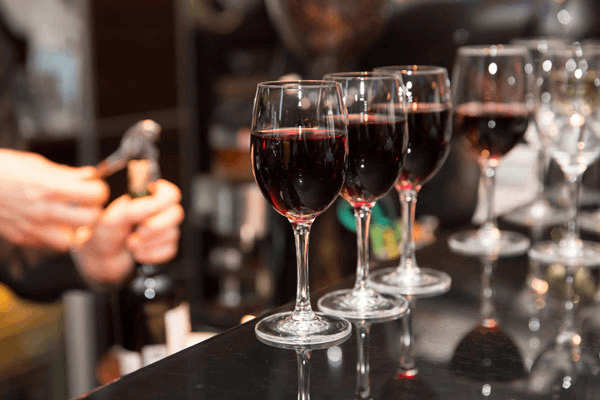 With wine voted as the UK's number one alcoholic drink, it's clear that it has a special place in consumer's hearts - and who doesn't enjoy the cool mood-lighting of a cosy wine bar?
If you're keen to open a wine bar but don't know where to start, then you've come to the right place. In this guide, you'll discover all the essential steps in creating a wine bar. From carrying out market research to choosing your legal form and securing funding for your business, we take you through our 8-step guide on how to open a wine bar.
1. Research the wine bar market
First of all, you should know that the wine-drinking population is in continuous decline. According to a UK Wine Landscapes 2021 report, the UK has lost nearly 4 million drinkers since 2015, with consumers having grown ever more conscious of the impact of alcohol on their physical and mental health.
This hasn't prevented the wine market from growing, with sales reaching £10.6 billion in 2018. Brits still enjoy a glass or two of wine, but the quality is taking precedence over quantity - as consumers grow increasingly interested in the age and origin of their wine bottles over their price.
This trend, among others, must be considered when carrying out the market research to open your wine bar. You also need to check out the local market and the state of competition in your desired area of business, as well as how its surroundings fit in with the wishes of your target market.
To find out more about the market research stage, read our guide on conducting market research for a wine bar.
2. Choose the right concept for your wine bar
One of the greatest challenges of opening a wine bar is facing up to the competition: your direct competitors (existing bars on the scene) and indirect competitors (the cheap, comfy supermarket and sofa combo for at-home wine drinkers).
You'll have to, firstly, put some work into getting your name out there when opening a wine bar, whether it's via social media or handing out street flyers. You'll also have to come at consumers with a concept that they won't be able to find in other bars or replicate at home.
You could set yourself apart by offering a unique wine menu, specialising only in organic wines or Bordeaux wines, for example.
Be careful not to pick a concept that's too niche, however, as if you address only one tiny segment of your target market, your turnover is bound to suffer.
Your furniture and lighting will also set the tone for your wine bar, so choose carefully when you open your wine bar. To establish your place on the scene as a beacon of wine knowledge, you can also put on events such as tastings or wine tasting courses for wine enthusiasts within the community.
3. Scope out the location to open your wine bar
Choosing the location for your wine bar is the next important step in our guide on how to open a wine bar. To help you make your decision here are some criteria to take into account:
The area: as it experiences consistently high traffic and footfall, the city centre would be ideal. A location on or beside pedestrianised spaces (such as squares) will definitely be more expensive but are worth looking into with the number of passersby it would attract.
The size: you'll need a space large enough to store a wide range of wines, as well as a large dining or reception area for your customers
Neighbours: try to avoid overly residential areas where noise may bother your neighbours when opening a wine bar, especially if you have a terrace
The vibe: the general atmosphere of your wine bar's area should align with your bar's own concept and vibe
Competitors: you can either opt for premises located a good distance from other bars or decide to be situated on the same street or square so that customers can freely hop between bars. Both options have their own risks and benefits, so it's totally up to you.
4. Choose a legal form to open your wine bar
The next step in opening up a wine bar is choosing the legal structure of your business. Choosing your bar's legal form is a vital step as it will impact:
How much your business is taxed
Your taxation at a personal level
Your responsibility for the company's debts in the event of bankruptcy
To help you make your choice, you can find more detailed information on the different legal forms available to you on the gov.uk guide for UK business owners and SBA guide for those of you based in the US.
5. Add up the equipment and staffing costs
When it comes to this stage of opening your wine bar, your main difficulty will be recruiting staff because your customers will expect, alongside cracking customer service, extensive knowledge of wine from them.
The staff you hire must then have previous sommelier experience and a clear understanding of the grape varieties offered by your wine bar.
In terms of investment, plan for the following:
Kitting out the premises (including installing a bar and wine fridge with a temperature system, as well as indoor and outdoor furniture, glasses and crockery)
A sufficiently large wine stock, as well as a security system to protect it
A premises license to sell alcohol
A website and other marketing costs (such as a business card, front-door sign and a decorative wine list).
Remember to ask for quotes from a wide range of suppliers when looking into this equipment to open your wine bar. This will enable you to compare prices and choose the deals that are the best value for money.
As mentioned above, to actually serve wine and other alcohol, you'll have to apply for a premises license. This license will also enable you to play live and recorded music and serve hot food and drinks after 11 pm. For more information on how to obtain a premises license, visit Gov.uk.
Don't forget about the administrative costs connected to your business (including bookkeeping, payroll, schedule and supply management) which can quickly become very time-consuming. Consider outsourcing some of these tasks to a chartered accountant.
You'll also want to take out insurance to ensure you covered in the case of an incident involving staff or customers or a burglary.
6. Set out the marketing plan to open a wine bar
Next up in our guide on how to open a wine bar is your marketing plan. It's here that you'll lay out the actions you plan to use to attract and retain customers.
Besides choosing a good location, which will attract a natural flow of customers into your bar and make your business a talking point within the local community, you should consider using the following marketing tools:
Social media: you can post photos on Facebook and Instagram that highlight the cool, relaxed atmosphere of your bar, as well as sharing news of exciting new wine deliveries
Official website: set up a website that provides more information on your wine selection and location, as well as an online booking system
Local media: announce the launch of your wine bar in the local press by getting in touch with newspapers, local bloggers and online city guide websites. If you have an unusual concept, inviting a journalist in to review your bar could pique the interest of curious consumers.
Tapping into tourism: for example, if you're based in Devon and serve up wines solely from local vineyards, you'll attract wine loving tourists. You could also try and get a listing in internationally known travel guides such as lonely planet.
7. Write the business plan for a wine bar
Once all of the above steps have been completed, it's time to draft up the business plan to open your wine bar.
The business plan is made up of two major components:
A financial forecast that aims to highlight the expected profitability of the business and the initial financing requirement.
A written part that presents, in detail, your project, the team, your business strategy, and your medium-term objectives.
The business plan is the document with which you will try to secure financing from your bank or potential investors, so you need to make it impeccable.
If you are not used to writing business plans, a good solution would be to use online business plan software.
There are several advantages to using specialized software:
You are guided through the writing process by detailed instructions and examples for each part of the plan.
You can be inspired by already written business plan templates
You can easily make your financial forecast by letting the software take care of the financial aspects for you.
You get a professional document, formatted and ready to be sent to your bank.
If you are interested in this type of solution, you can try our software for free by signing up here.
8. Secure funding to open a wine bar
As we've seen above, the investment needed to open a wine bar will be significant. Luckily for you, however, several funding solutions exist.
First of all, you need to estimate your equity contribution. By this, we mean the money that you and your potential partners can devote to the business. Even if this amount appears modest compared to what you need to raise, don't neglect the power it holds in convincing investors that you're heavily involved in the operation of your business and dedicated to seeing it succeed.
You can then turn to banks and credit institutions to obtain a loan to finance part of the start-up costs. Always submit applications to different banks so that you can compare offers and compete when opening a wine bar.
Also, think about state aid for business creators. This may enable you to benefit from a low-interest or interest-free loan, for example.
Finally, consider the possibility of crowdfunding when you open a wine bar. This is where you set up a campaign on a crowdfunding platform, tell your story and collect donations from individuals who wish to financially support your venture. Being (most likely) wine enthusiasts, contributors may expect a small reward linked to your business in exchange for their generosity, such as a free bottle of premium wine or a meal on the house. It's up to you to quantify the size of the gesture according to the generosity of the donation.
Useful links to help you open a wine bar
Now that our guide has come to an end, we hope you have a better understanding of how to open a wine bar. Don't miss out any of these steps, and don't forget to invite us to the launch!
See also on The Business Plan Shop:
Know someone whose planning to open a wine bar and might be interested in this article? Share it with the click of a mouse!