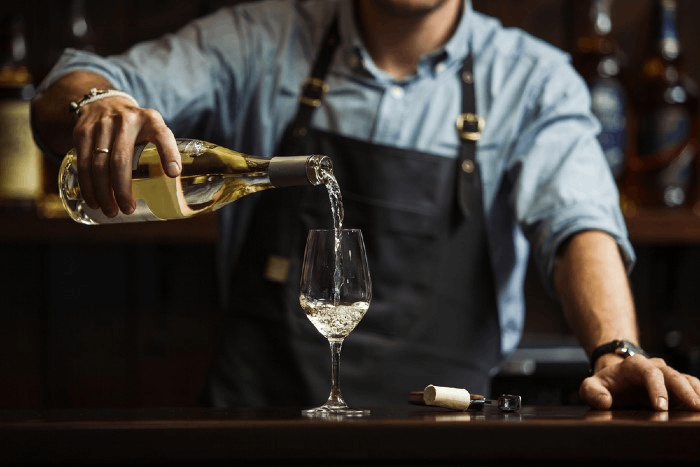 Whether they're welcoming nervous first daters, old friends having a long overdue catch-up or work colleagues keen to let their hair down, wine bars have become something of a staple in British dining and night-life culture.
Are you keen to take a deep dive into the world of wine bars and open up your very own? First, you need to know your market.
Market research is not only essential in giving you a better understanding of the current state of the wine bar industry (from how it's doing, to what concepts are hot or not), but it also helps you decipher how to mould different aspects of your business so that it attracts the right customers.
To guide you through this process, we've outlined here the key steps in conducting thorough market research for a wine bar.
What are the objectives of market research for a wine bar?
Market research for a wine bar has three main objectives.
The first step is to make sure that the market is not already saturated with existing bars by asking yourself the following questions:
Is the potential demand for wine greater than the current supply?
Is there a specific group of customers that can't find what they're looking for within the city's existing bars and restaurants?
Is there a street or area, in particular, that's lacking a wine bar like the one you'd like to open?
Will your desired area for business be able to support the arrival of a bar?
Once you've answered these questions, the next step will be using the information you've found to identify a concept that will attract your ideal customers to your wine bar. Is your target market predominantly made up of wine connoisseurs, or is it a question of piquing the interest of casual wine drinkers who normally go for the house white or red?
The third (and certainly not least) aim of wine bar market research is to gather the data needed to assess the sales potential of your wine bar.
The right questions to ask yourself when doing market research for a wine bar
Here's a figure that should kick your wine bar market research motivation into overdrive: one out of every two businesses fails to pass the five-year mark. Success is anything but a given, but failure is not inevitable.
By taking the time to carefully carry out market research for your wine bar, you can ask the right questions and limit the risks involved. It's about making the right choices from the outset to give your business every chance of success.
To help you kick off your market research, we've listed the top three questions you should ask yourself:
What is your target market, and what products and services are best suited to this group?
How do you plan to take market share from your competitors? What strategies will you implement to set yourself about from the area's existing bars and restaurants?
How do you intend to attract and retain customers?
Besides developing an attractive concept, you'll need to develop a strong marketing plan to get your name out there and create some hype around your wine bar as you prepare for its launch.
Trends to look out for in your wine bar market research
Whichever industry you're working in, market research requires a detailed analysis of the market, its trends, and consumer expectations. You will also need to familiarise yourself with the regulations in force. Here, analyse three key factors:
1. Wine bars, a growing trade?
The first factor to consider is how the wine bar industry is holding up. Ask yourself:
Is the wine bar market growing or shrinking?
How is the turnover of wine bars evolving?
Are wine bar's profit margins increasing or decreasing?
Are there more wine bar's opening than closing in your city or area?
What are the main obstacles to business development? What kind of difficulties do wine bar managers encounter? Do they find it tricky recruiting qualified long-term staff?
Can you identify any hot market trends? Answering this question will enable you to not only determining emerging trends that could be interesting to tap into, but also to check whether your business aligns with current trends.
What are the most popular wine bar concepts? Which of these appeals to the greatest number of customers?
2. Understanding the expectations of wine bar customers
Once you've delved into the current state of the wine bar market, it's time to understand the expectations and changing needs of consumers for the market research of your wine bar.

Try to answer these questions:
What are the consumption habits of wine bar customers today?
What days of the week do they tend to visit wine bars most and during what times? Is seasonality a factor?
What are the characteristics of a typical wine bar customer? Are they young city dwellers, groups of friends or colleagues?
What is the average budget per customer?
What are the most popular products sold? Local or organic wines?
To answer these questions thoroughly, we suggest you chat with the customers themselves to truly get into the heart of what draws people into wine bars and keeps them coming back. The deeper you delve into the wine bar industry, the more reliable and relevant your market research for a wine bar will be.

3. Understanding the regulations in force
Your market research for a wine bar also provides an opportunity to familiarise yourself with the regulations related to operating a wine bar.
To find out about these specific regulations in more detail, read our guide on how to open a wine bar.
Where can I find useful information on the wine bar market ?
There are several sources of information that can be used to gather the data you need for your wine bar market research:
You also can't forget the main players in the wine bar trade: the owners themselves. Take some time out to grab a drink with a wine bar owner or manager in your local area - as they could provide you with some valuable insider information about the sector.
Analysing the demand for wine bars in your area
Checking out the local market
Once you've checked out the major trends in the wine bar industry, now it's time to assess the level of demand locally.
First, assess the size of the local market by asking:
How many people live in the city or district?
What are the basic demographics of the population (from age and gender to job status and level of disposable income)?
In total, how many people live in and/or frequently visit your desired area for business? (don't forget to include tourists here)
Think carefully about the area you're considering for your wine bar and if there are any particular locations that attract the most residents and visitors. If so, is it possible to set up close by?
Analysing the local market will also provide you with a better understanding of customer expectations and help you identify whether you could fulfil a need (for a bar specialising in wines, for example) that's currently not being met by the existing presence of bars.
...and your competitors
Conducting proper wine bar market research also requires a thorough analysis of the competition at the local level.
Start by rounding up all the bars (and restaurants) located near your business. You should look at their concept, the type of drinks, snacks and services they're offering, as well as the prices charged, and their target clientele.
This information will help place you in the best position to stand out from what everyone else is offering, by serving up a different concept. Or, alternatively, by selling drinks and snacks that compliment the types of services and products offered by other local businesses within the area.
Size them up
The size and seating capacity of your competitors is another factor to consider. Check out:
The surface area and seating capacity of other existing wine bars within the market
The amount of staff employed by each wine bar
The turnover (if possible) of each wine bar
Find out where they're based
Carrying out this local market research should also enable you to precisely define the location of each bar. You'll need good knowledge of the shopping, business and residential areas of your region so you can decide which is most suited to your business.
Think carefully here because although some areas may naturally be more attractive to customers than others, this means that there may be an untapped opportunity in the less frequented areas where maybe office workers or residents aren't as well served.
Consider their reputation
Analysing the reputation of your competition will also prove very useful when doing the market research for your wine bar. Speak to local business owners and residents to gather solid opinions on each places quality of products and customer service. Put aside some time to google them, too, and look up online reviews.
The aim here is to understand what customers like and dislike, so researching both good and bad practices will help you draw inspiration for your own concept.
Defining the concept of your wine bar
Once you've gathered all the information above, you can consider your wine bar market research complete. Now it's time to put this data into use.
Perhaps, for example, your research led to the conclusion that the market is simply too small for a new wine bar or the business idea you had in mind isn't in line with customer expectations.
Or you may have found enough data that confirms the existence of a real business opportunity - enabling you to kickstart the process of launching your wine bar.
In this case, begin by developing your concept. This will enable you to target a clearly defined customer base and offer a service that meets their expectations in every respect, whilst ensuring you stand out from the competition.
Developing your concept will also help you define the ways in which you'll attract and retain customers. Collate these methods (and their costs) into a marketing plan that aligns with the objectives of your wine bar and the desires of your target market.
Carrying out a quantitative study to test your concept on customers
By this stage, you've invested more time than you have the money into your business. Once the money is involved, it's a risky game. So before devoting chunks of your own or other people's cash into your business, test your concept out amongst potential customers by carrying out a quantitative study.
This test aims to accurately present your offer to a maximum of potential customers and to validate your concept, or to refine it even more if necessary for your wine bar market research.
You can carry out a quantitative study in a variety of ways. For example, If you are present on social networks, you will be able to quickly measure this adhesion thanks to clear marks of interest: a like on your page or, better still, a subscription to your newsletter to be kept informed of the evolution of your wine bar business.
There are several other ways to carry out a quantitative study, such as:
Hiring out a stand in a local market or fair to give wine enthusiasts a glimpse into your selection of premium wines
A crowdfunding campaign of donations with a free tasting or case of wine offered to donors.
Seeing how your concept lands with potential customers will be a strong indicator of how successful your business is likely to be, so don't skimp on the time or means spent to test it out before you fully commit - you'll thank yourself later.
Writing the business plan for your wine bar
Has your wine bar market research validated that there's room on the wine bar scene for your concept? You can now get down to the next step in the development of your business: the business plan.
A business plan is a document that describes your business, and its strategic, commercial, and financial objectives for the first three years of operation.
It helps you verify whether your wine bar has the potential to be profitable, at least on paper. As well as that, it will guide you through the very first steps of implementing your project, from covering what licenses you need to assessing start-up expenses.
Your wine bar's business plan will also be a valuable tool for presenting your project to potential commercial and financial partners, such as investors and suppliers.
As you can imagine, creating a business plan for a wine bar is crucial. But it is also a technical and sometimes tedious job - especially if you aren't a seasoned entrepreneur.
To make the process easier for you, especially if it's your first business plan, you can use online business plan software.
There are several advantages to using software to create a business plan for your wine bar:
It takes care of the calculations and creates the projected financial statements for you (income statement, balance sheet, cash flow statement, break-even calculation, etc.)
With business plan templates available and instructions for each section, you are guided through how to structure your plan
As an end result, you receive a professional document, formatted and ready to be sent to your bank or investors
If you are interested in this type of solution, you can try our software for free by signing up here.
We hope that this article has helped you better understand how to do market research for a wine bar.
If you'd like more advice on any of the points mentioned above or any other element related to the creation or takeover of a wine bar, please don't hesitate to get in touch.
Also on The Business Plan Shop
Know someone who's considering opening a wine bar? Share this article with the click of a mouse!