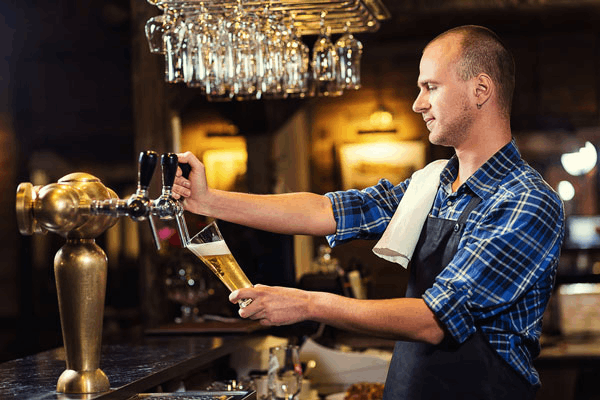 Do you pride yourself on being a craft beer enthusiast and expert, and feel ready to launch your very own craft beer bar?
Then you've come to the right place! In the guide below, you'll find out everything you need to know about how to open a craft beer bar - from conducting market research to setting out your marketing plan and writing your business plan.
Carrying out market research to open a craft beer bar
Beer bar market: trends and predictions
As increasingly more health-conscious consumers trade in heavy drinking for nights in, bar sales have seen a decline in recent years. Despite these hurdles, however, specialised craft beer bars and those owned by big brands such as Kronenbourg and Heineken have continued to grow.
The craft beer market has seen a noticeable upturn in recent years. According to a report by the Society of SIBA Independent Brewers, Brits consumed around 2.8 million hectolitres (that's 506 million pints) of craft beer in 2018 alone.
This revival of the beer market is linked to an appreciation of beer amongst young customers - with increasingly more of them opting to brew their own with DIY kits or at small craft beer factories. But an actual bar setting provides a place for these customers to discover new beers with friends.
The regulation to open a craft beer bar
As with the launch of any other pub, opening a craft beer bar requires a premise license.
This will enable you to not only serve alcohol but also play live and recorded music and serve hot food and drinks after 11 pm. For more information on how to obtain a premise license, visit the Gov.uk license finder.
If you're based in the US, you can visit the SBA website for more details on what licenses will be required prior to your launch.

Deciding the concept for your craft beer bar
Once your market research has been carried out and you inform yourself of the regulations in place to keep yourself in check, you'll be ready to decide the concept for your bar.
Are you keen to open a pub that plays football on big screens? Or maybe you'd rather open a high-end craft beer house that offers leather armchairs and a swanky Sunday roast on the weekends, or an eSports bar for avid gamers?
Whichever concept you go for, this will have to reflect on the menu of your craft beer bar - whether you're selling global beers at low prices, exclusively English beers, or tasting beers.
Once your concept has been defined, it's time to consider whether you'd rather operate as an independent beer bar or as part of an already established chain - unless, of course, you're buying over an existing craft beer bar.
Bear in mind that a craft beer bar particularly aligns well with working within a chain. This is because many craft beer bars offer a separate shop from which customers can directly purchase the beers, and require insider knowledge from staff members of the beer being sold. Launching a 'hybrid' store such as this from scratch certainly isn't impossible, but could prove challenging.
Scoping out a location for your craft beer bar
Picking the perfect location for your future craft beer bar is essential. Where it's based will have a considerable influence on how many customers it attracts, and consequently, its turnover and profitability.
So you need to choose a busy location when opening your craft beer bar. Keep in mind, however, that the concept of your bar needs to dictate where it's situated. An affordable craft beer bar, for example, will ideally be located between a university and a sports ground, whilst a high-end bar is most likely to be planted within a chic, city centre neighbourhood.
The concept of your bar will also determine how big your space should be. As a general rule, the higher the prices, the more space you'll need for customers.
What is the legal structure of a craft beer bar?
To open a craft beer bar is also to give life to a new company with a legal entity.
You must really focus when choosing the best legal form for your craft beer bar because among other things, it will impact:
How much your business is taxed
Your taxation at a personal level
Your responsibility for the company's debts in the event of bankruptcy
To help you make your choice, you can find more detailed information on the different legal forms available to you on the gov.uk guide for UK business owners and SBA guide for those of you based in the US.

The staff and equipment needed to open your beer bar
Next up in our guide on how to open a craft beer bar is to define your staffing and equipment requirements so that these can be factored into your financial forecast.
The equipment necessary for the opening of a craft beer bar
There are a few key pieces of equipment you'll need to open your craft beer bar. These include a till, an actual bar counter (of course), as well as furniture, decorative items such as paintings, glasses, and, of course, a large stock of beers.
Staffing requirements of a craft beer bar
Staffing is also a major factor to take into account when drawing up your financial forecast. Whether you need a waiter or a cook to make up small snacks, draw up a precise list of staff roles that need to be assigned. You should also make a note of expected working hours and desired skills to help you get the right people in for staff interviews.
Additional services essential to the opening of a craft beer bar
As with any other new business, opening a craft beer bar will mean enlisting the help of additional services to ensure its operation runs smoothly. This includes calling on an insurer and chartered accountant who can take care of the administrative tasks and help you keep track of business accounts.
Remember to ask for quotes from several professionals for all of these services, to ensure you get a precise idea of the best value service. Also, you will be able to compare the offers and use this as leverage when negotiating with various companies.
Creating a marketing plan for your craft beer bar
The next step in our guide on how to open a craft beer bar is to put an effective marketing strategy in place to help you attract and retain customers. Many means of communication are at your disposal, so it's up to you to identify the most relevant to your business.
Taking to the streets to hand out flyers and advertising in your local newspaper is a surefire way to make yourself known to any potential customers living nearby.
Schemes and promotions (such as a 5 pm - 7 pm happy hour) can be also used as a lever to build customer loyalty.
Finally, you should seriously consider setting up a website when opening a craft beer bar, or, at the very least, using social media platforms such as Instagram and Facebook to keep your customers up to date with how the business is running. You might also want to make sure that you've been added as a point of reference on Google Maps.
Writing your craft beer bar's business plan
Once all the above steps have been completed, it's then time to write the business plan to open your craft beer bar.
A business plan is a document containing a financial forecast (highlighting the financing requirements to start the business and the expected profitability of your project), as well as a written part presenting its strengths and the company's objectives for the coming years.
Your craft beer bar's business plan is particularly important as it will enable you to check that your business can be profitable. It's also the document you'll use to present your project to the bank and potential investors to secure the capital needed to launch - so having a professional and reliable business plan is key.
If you've never written a business plan and aren't sure how to go about it, you can use online business plan software.
There are several advantages to using specialized software:
You are guided through the writing process by detailed instructions and examples for each part of the plan.
You can be inspired by already written business plan templates
You can easily make your financial forecast by letting the software take care of the accounting aspects for you.
You get a professional document, formatted and ready to be sent to your banker.
If you are interested in finding out more about this type of solution, you can try our software for free by creating your account here.
Financing your craft beer bar
The investment required to open a craft beer bar will greatly depend on the concept, the size of your space, and its location.
There are many ways in which you can raise the money needed to launch your business:
First of all, it's ideal to have founders' equity to build up the company's own equity. This is the money that you and your potential partners can contribute to the business in the form of share capital or a contribution to a director loan
You can then turn to banks or private investors to fund some of your start-up expenses
You can also appeal to friends, family, and future clients by launching a crowdfunding campaign
Finally, don't forget to look into start-up assistance schemes available. These can sometimes provide you with financial aid in the form of hard cash or tax credits.
As we conclude our guide, we hope it has given you a better understanding of how to open a craft beer bar. If you have any questions or queries at all, please don't hesitate to get in touch with our team.
Also on The Business Plan Shop
Did you find this article helpful? Share it with just the click of a mouse!