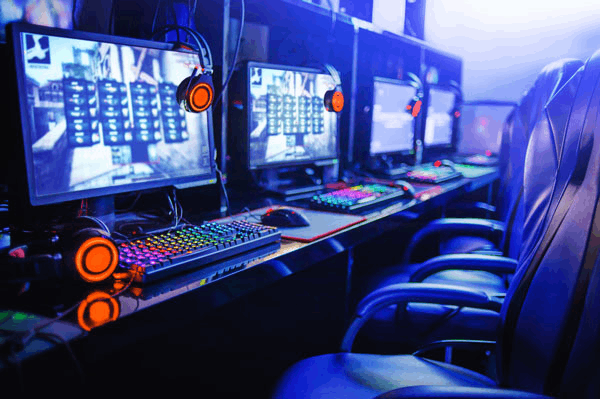 Are you an avid gamer with a head for business? If so, you may be considering the possibility of launching an eSports bar.
Whether it's a passion for gaming that drives you, or your desire to explore an exciting and upcoming market for entrepreneurs, your business has every chance of success - so long as you're determined, organised, and follow the necessary steps.
If you don't know where to start, you've come to the right place. In this guide to open an eSports bar, we've included the key stages (from market research to securing funding and writing your business plan) in turning your dream project into a reality.
Carrying out market research for an eSports bar
The very first step in starting your business is carrying out market research for an eSports bar to verify that there's room on the market for your eSports bar.
Conducting market research will also deepen your knowledge of major trends in the sector. Learning about customer expectations and the level of competition from nearby eSports bars will also paint a clearer picture of how profitable your eSports bar is likely to be.
The eSports market
eSports (or electronic sports) is a term used to describe competitive video gaming. According to the British Esports Organisation, the practice of eSports usually consists of amateur or professional gamers competing against each other for a cash prize - with gamers either playing one-on-one against each other, or in teams.
Within the UK, the practice is fast growing in popularity - with a Ukie report indicating that the eSports market expanded by 8.5% between 2016 and 2019 to reach a turnover of £111.5 million. The buzz around eSports has also hit the online sphere - with the total eSports audience reaching 495 million in 2020, with a Newzoo report estimating this feature will hit 646 million by 2022.
The information presented here concerns the growth of eSports in recent years, but what about opening an eSports bar? Whilst useful, you'll also need to gather information regarding your target audience demographic, the breakdown of existing eSports bars and growing trends within the eSports market.
Compiling a detailed list of eSports bars already on the market will enable you to take inspiration from effective ways in which they've attracted customers, learn from their mistakes and create a concept that'll allow you to stand out from the crowd.
Choosing the right concept to open up your eSports bar
Whilst you may think that opening an eSports bar is a niche enough concept in its itself, it's important to bear in mind that there are many forms of eSports bar.
You can, for example, decide to open an eSports bar that screens pre-recorded eSports games and organizes events around big tournaments. That being said, you can also dedicate your time to organising smaller scale tournaments between players within your local network.
Opening a retro video games bar is another option. If this concept takes your fancy, you can shop around online for the video games and consoles that shaped many a childhood to take your customers on a trip down memory lane.
To really stand out from your competitors and diversify your sources of revenue, you can also sell video games and merchandise within the bar, as well as offering a full menu of drinks and snacks.
Why not also organise theme nights or demos run by professional eSports players? The main aim here is to tap into the desires of your customers, keep them interested and build up loyalty when opening your eSports bar.
Opening an independent or franchised eSports bar
The next stage in our guide on how to open an eSports bar is helping you decide what type of bar you want to open.
Launching an independent eSports bar will give you more freedom in allowing you to manage it and be as experimental with your game offering as you wish.
Adversely, by deciding to join an eSports bar chain, you can benefit from operational support from the get-go - as well as a glittering reputation from an already established chain and a base of loyal customers.
There is no right or wrong choice when opening your eSports bar. Your decision will depend on your entrepreneurial ambitions, personal preferences and the amount of money you have put aside for getting the business off the ground.
The rules and regulations of operating an eSports bar
As an eSports bar is a business that welcomes the public, you'll need to apply for a Certificate of Occupancy (CO). This provides proof that your bar meets the government regulations and zoning laws (especially regarding fire safety) imposed on businesses. To find out more about these standards, visit the HSE website or, if you're based in the US, osha.gov.
Although you don't need any specific qualifications to open an eSports bar, you will need to obtain permission from the relevant video game publishers before you can invite customers inside to play whichever games you've decided to offer.
If you plan on publicly screening eSports competitions, you may also have to acquire rights from eSports channels.
If you wish to sell alcohol, you'll need to apply for a premises license. This will also enable you to play live and recorded music and serve hot food and drinks after 11 pm. For more information on how to obtain this license, you can visit the Gov.uk license finder.
The equipment and staffing requirements to open an eSports bar
The next stage in our guide on how to open an eSports bar is to look at the staff and equipment required for the smooth running of your bar. Although this step is (admittedly) pretty tedious, it's essential in helping you check the financial viability of your business.
Initial investments
Opening an eSports bar means, of course, renting or buying premises. You'll also need to include the purchase of furniture (such as chairs, tables and barstools) and the equipment needed to facilicate the actual gaming, including computers, keyboards, video game consoles, big screens and WiFi.
You'll also have to install a bar and stock it up with drinks, snacks and a till. Last but not least, you'll have to pay close attention to the overall aesthetic of your bar by putting up decorations and signs that fit the colour scheme you've envisioned for your space.
Recruitment plan
As soon as your eSports bar opens, you'll need not only front-of-house staff to welcome customers and take them to their tables, but also bar staff and kitchen staff to prepare drinks and snacks.
You'll need people around who have, not only previous experience in the hospitality business but also an extensive knowledge of video games. This will enable them to answer any queries about the games offered in the bar and bond with customers over a passion of video games - forming the foundations of strong customer loyalty.
When drawing up your recruitment plan, estimate the number of people you need to open your eSports bar as well as the schedules, salaries and skills required for each position. This will enable you to estimate staffing costs as accurately as possible in your financial forecast.
Additional costs in opening an eSports bar
You'll also need to consider several additional services, including the hiring of a chartered accountant for the proper maintenance of your accounts and administrative management tasks to open up your eSports bar. You may also need to enlist a cleaning company to help maintain your bar or work with computer or network specialists to keep your game consoles in good condition.
In any case, don't forget to account for these services in the financial forecast of your bar. To ensure you estimate these expenses as accurately as possible, get in touch with several professionals and ask them for quotes.
Writing the business plan for an eSports bar
Once all of the above steps have been completed, it's time to draft up the business plan for your eSports bar.
The business plan is made up of two major components:
A financial forecast that aims to highlight the expected profitability of the business and the initial financing requirement.
A written part that presents, in detail, your project, the team, your business strategy, and your medium-term objectives.
The business plan is the document with which you will try to secure financing from your bank or potential investors, so you need to make it impeccable.
If you are not used to writing business plans, a good solution would be to use online business plan software.
There are several advantages to using specialized software:
You are guided through the writing process by detailed instructions and examples for each part of the plan.
You can be inspired by already written business plan templates
You can easily make your financial forecast by letting the software take care of the financial aspects for you.
You get a professional document, formatted and ready to be sent to your bank.
If you are interested in this type of solution, you can try our software for free by signing up here.
Securing funding for an eSports bar
From purchasing games consoles and video games, to setting up big screens to broadcast competitions and stocking the bar, creating your own eSports bar requires significant investment.
The good news is, however, you have several financing solutions at your disposal when you open an eSports bar.
First of all, you must estimate the amount of money that you and your potential partners can personally devote to your project. Even if the sum seems very modest in comparison to what you need to raise, it's important that you don't neglect equity contribution. It's highly regarded by institutional investors as they see it as tangible proof of your dedication to the venture.
You can also apply for a professional loan from a bank to finance part of the start-up costs, whether that involves buying consoles or kitting out the premises with comfortable gaming chairs. Remember to submit applications to different banks so that you can compare offers and pick whichever one works best for you.
Crowdfunding is another option to open your eSports bar. Crowdfunding allows you to collect donations or raise equity from family members or kind strangers who believe in your project.
You can even raise awareness of this initiative by awarding donors with 'counter-gifts', including a free drink upon entry.
Finally, also think about state aid for business creators and buyers. This may enable you to benefit from a low interest loan, for example.
Useful links to open an eSports bar
Now you know everything there is to know about how to open an eSports bar. We hope you found this article useful. If you have any questions or queries at all please do not hesitate to contact our team.
Also on The Business Plan Shop:
Know someone who'd like to open an eSports bar and might be interested in this article? Share it with the click of a mouse!