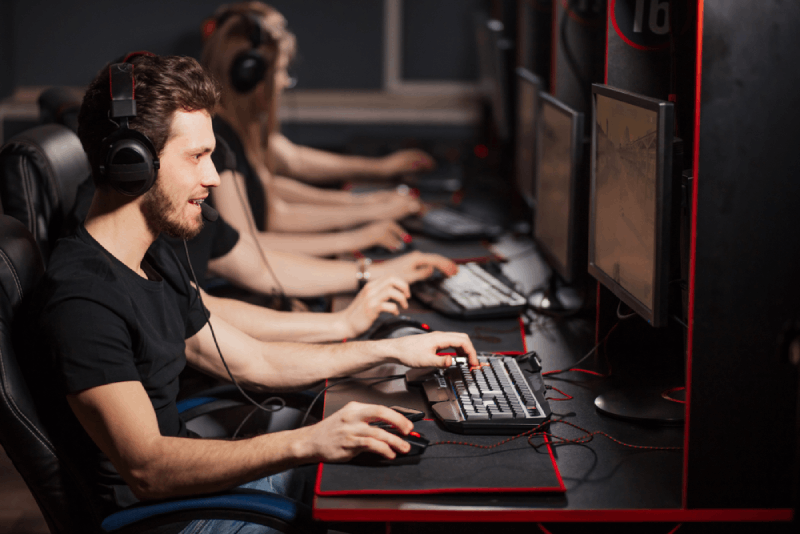 Do you love video games? If so, you may have decided to take your passion one step further by creating a space for eSports fans to come together and compete against each other in a relaxed, friendly setting.
The very first thing you need to do before opening an eSports bar, however, is conduct market research.
Getting to know your market is an integral step for every entrepreneur launching a new business, as it enables you to understand the current state of the industry you'd like to enter and whether there's enough demand for what you'd like to offer.
If you're not entirely sure how to go about carrying out market research, don't worry. In this guide on how to do market research for an eSports bar, we'll take you through the process of market research and how to use the information to propel your brand to success.
The objectives of carrying out market research for an eSports bar
Before we begin the actual research, let's just take a moment to look at its objectives.
The market research for your eSports bar provides you with an understanding of what the eSports industry looks like right now, including the emergence of new trends and whether there's a growing demand for new eSports bars.
Gathering this data will enable you to determine whether there's enough room on the local market for a new eSports bar. If in the process of carrying out your market research, for example, you realise that the city in which you want to set up your business already has two eSports bars, then you might decide that it would make more sense to situate your bar in an area where eSports enthusiasts aren't as well served.
Market research for an eSports bar will also enable you to define your concept so you can ensure you're offering some type of game or service that other eSports bars in the area are lacking - whether it's retro video games or organising more competitions.
The market research will also enable you to gather the information needed to assess your company's turnover potential.
By the end of your market research for an eSports bar, you'll then have a clear idea as to the commercial viability of your eSports bar, significantly reducing the risk related to the creation of your eSports bar.
Taking a deep dive into the eSports sector
The first stage of your market research should provide you with an overview of the eSports industry to help you understand the current state of the eSports market, current trends and exactly who your customers are (as well as what they want.)
Using this information, you'll then be able to assess the potential in your area:
How healthy is the eSports sector?
First, you'll need to ask yourself the following questions:
Is the eSports market growing?
How many eSports bars already exist? Is this number on the up?
Which eSports bar concepts appear to be the most popular?
What is the breakdown of independent eSports bars and eSports bar franchises within the market?
Who are eSports bar customers and what do they want?
The next step in your eSports bar market research will be to find out who your customers (and what their buying habits) are.
Here you should ask yourself the following questions:
How many eSports players, enthusiasts or amateurs are present in France?
What is their profile?
How many of them regularly go to bars?
Why do they go to eSports bars (to play, meet people, or watch competitions)?
How many times a month do they visit eSports bars? How long do they stay per visit?
Do they generally visit alone or with friends to play or watch a game together?
The rules and regulations of operating an eSports bar
The next step in conducting market research for an eSports bar is familiarising yourself with the regulations in force.
As an eSports bar is a business that welcomes the public, you'll need to apply for a Certificate of Occupancy (CO), that provides proof that your bar meets the government regulations and zoning laws (especially regarding fire safety) imposed on businesses. To find out more about these standards, visit the HSE website or if you're based in the US, osha.gov.
The aim of the game is, of course, to welcome customers to play games - but you'll need a license for that too. We recommend you list the games you'd like to make available and contact the relevant video game publishers to obtain permission to feature their games.
Likewise, if you plan on publicly screening eSports competitions, you may have to acquire broadcasting rights from eSports channels.
If you wish to sell alcohol, you'll need to apply for a premises license. This will also enable you to play live and recorded music and serve hot food and drinks after 11 pm. For more information on how to obtain this license, you can visit the Gov.uk license finder.
You will also be subject to the rules regarding privacy and personal data protection. Special attention will have to be paid if you ask players to create an account to log on to your computers, especially if they are minors.
Where can I find information about the eSports bar market?
There are several sources of information that can be used to gather the data you need for your eSports bar market research:
You also can't forget the main players in the eSports bar trade: the eSports bar owners themselves. Take some time out to grab a coffee with an eSports bar owner in your local area - as they could provide you with some valuable insider information about the sector.
Dynamics of the local eSports bar market
Now it's time to assess the level of demand locally. The objective is to assess the size of the local market by estimating the number of potential customers for your eSports market research.
To do so, try to answer the following questions:
How many people live in the city or district?
What is the demographics profile of the population? (from age and gender to job status and level of disposable income)?
How do they compare to the typical profile of eSports players?
How many residents are likely to visit your eSports bar?
This information will give you a clear picture of the areas most frequented by your target market, in other words, the most appropriate areas for you to set up your business.
Online city guides and Google Maps will be useful in helping you gather this data for your eSports bar market research.
This stage will also give you the opportunity to better understand customer expectations. Put aside time to chat with eSports enthusiasts either online or by going to a local eSports hang out spot and asking them what they look for in a good eSports bar.
Checking out the local competition
Once you know the size of your local market, the next step is to size up your competition when doing your eSports bar market research. First, you'll want to start with rival bars in the area - otherwise known as your direct competitors. Answer the following questions:

Once again, ask yourself the right questions:
How many eSports bars already exist within the local market? Are they franchises or independent? eSports bars?
What type of customer is targeted? What games and video games consoles do they have available?
What type of food and drink is served and what are the prices like?
Do they have an extensive gaming community in the city?
By answering these questions, you'll be able to identify how you can stand out from rival eSports bars.
We also recommend checking out the areas where these bars are located, and whether it would be better for you to set up elsewhere or stay nearby as that's an area within the city that your target customers have affiliated with gaming.
We also advise you to look at the various marketing strategies used by your competitors (whether it's regularly posting on Instagram or running a weekday happy hour special) and whether or not they are successful.
Carrying out an analysis of rival eSports bars will not only enable you to avoid repeating any mistakes made by them, but also to draw inspiration as to which actions might work best for you.
Defining the concept of your eSports bar
So now you have enough information to tell you, at least in theory, whether your business has legs or if you're better to leave your eSports dream behind.
If your eSports bar market research has validated that there's a strong commercial potential for your eSports now, congratulations! Now it's time to pick your concept. If you're not sure where to start, we recommend following the steps below:
Target a very specific clientele: know their consumption and spending habits, monthly attendance at eSports bar, etc.
Build a service offer or a bar with a concept that will differentiate you from your competitors. For example, think of a bar that will specialize in retro video games or racing games
Define a value proposition that will convince local eSports fans to choose your bar over others
Set up a marketing strategy to attract customers and build customer loyalty
To find out more about how to assess the profitability potential of your bar's concept, check out our assessment of the key success factors for a bar.
Writing the business plan for your eSports bar
Once all of the above steps have been completed, it's time to draft up the business plan for your eSports bar.
The business plan is made up of two major components:
A financial forecast that aims to highlight the expected profitability of the business and the initial financing requirement.
A written part that presents, in detail, your project, the team, your business strategy, and your medium-term objectives.
The business plan is the document with which you will try to secure financing from your bank or potential investors, so you need to make it impeccable.
If you are not used to writing business plans, a good solution would be to use online business plan software.
There are several advantages to using specialized software:
You are guided through the writing process by detailed instructions and examples for each part of the plan.
You can be inspired by already written business plan templates
You can easily make your financial forecast by letting the software take care of the financial aspects for you.
You get a professional document, formatted and ready to be sent to your bank.
If you are interested in this type of solution, you can try our software for free by signing up here.
That's it for today, but we hope we've helped you better understand how to conduct market research for your eSports bar.
If you'd like more advice on any of the points mentioned above or any other element related to the creation of an eSports bar, please don't hesitate to get in touch!
Also on The Business Plan Shop:
Do you know someone who might be interested in this article? Share it with her!