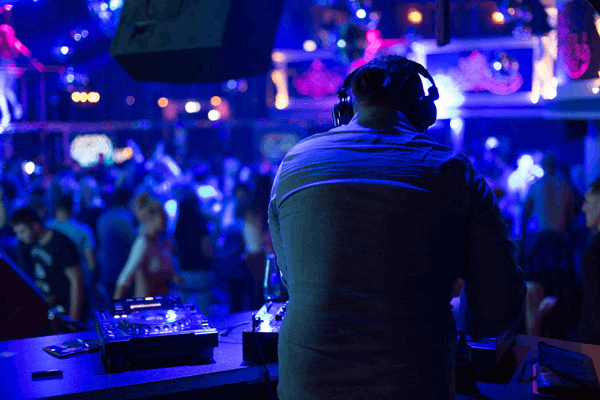 Offering the promise of a night filled with upbeat music, dancing, and all-around good times, it's no wonder why so many people are drawn to the nightclub scene.
Every year, aspiring club owners embark on the path to opening a nightclub. If you're one of them, then you've come to the right place - as this guide is here to help you overcome any obstacles along the way.
From carrying out market research to writing your business plan, this guide will lead you through all the essential steps required to turn your favourite past-time into a successful business venture.
Carrying out nightclub market research to open your night club
The first step in opening a nightclub is to conduct market research on the area you wish to open your club - to validate that there is an opportunity for it to thrive commercially in your target location.
To do so, you will need to:
Find out how the market is evolving: is the nightclub sector booming or is it in trouble? What new trends and concepts are working best?
Analyze the factors that influence demand at the local level: What are the characteristics of the location's population (age, budget)? Do they prefer going to bars, discos, restaurants or house parties at weekends? What are their expectations when it comes to clubs (entry fee, type of music, atmosphere)?
Study the competition: which nightclubs are already situated near yours? What do they offer? What are their prices? Are they doing well or struggling to attract customers? If so, why?
To help you, read our guide on how to do a market analysis for a business plan.
The target market for a nightclub
The best way to take up your space in the world of nightclubs will be to set yourself apart from the ones that already exist.
Indeed, it's imperative that you offer your customers something your competitors simply can't. Otherwise, you'll have no choice but to share your clientele with other clubs. In a rough economic context, this could be fatal to your business.
Entrepreneurs have reacted to this challenge by diversifying their services. As well as offering a space for people to come and drink, they now host themed evenings and even tables within smaller rooms to enhance the intimacy of the space. In other words, nightclubs are moving upmarket to attract a new type of clientele.
When opening your nightclub, you need to decide on a concept and choose one that can be specifically linked to your nightclub:
What types of customers will you target? Will they be students, young professionals, or young divorced and single people?
What type of music will you play? Will you focus on chart music or try to appeal to hipsters and music lovers with more eclectic tastes?
How much will your entry fee be? Will the price vary depending on what day of the week it is?
Will your reputation be as a mainstream club, an underground club, or somewhere slightly chicer?
There's no bad decision, the important thing is to find a concept that aligns with the expectations of your customers. For example, it's clear that if you open a nightclub that plays only 90s R&B, you're likely to attract a limited clientele of R&B enthusiasts. But you could be the only one doing so - meaning you could dominate this particular area of the market.
Think also about how you can make use of your space in the daylight hours. You could organise dance classes or art exhibitions in the afternoon, for example. Or you could look at combining these concepts, by turning your space into an art gallery and bar by day, gig venue, or cabaret in the early evening, and nightclub after 11 pm.
Finding a location for the opening of your nightclub
One of the most important stages in the business plan of a nightclub concerns choosing the right premises.
Your ideal surface area will depend on the number of customers you're likely to host and the services offered. You'll, of course, need to factor in space for a bar. But if you want your nightclub to span over several rooms, you'll have to think carefully when choosing a suitable location.
Beyond space size, you'll have to consider where it's situated within the city. Is your nightclub easily accessible and visible to members of the public?
If you're wary of noise regulations and keen to scope out a large space at a more reasonable price, you can opt for an urban building on the outskirts of the city.
Adversely, you can go for somewhere in the city centre, but in this case, your rent will be higher and you will have to proactively manage noise (by perhaps implementing a smoking area curfew) to avoid an onslaught of complaints from angry neighbours as you open your nightclub.
The idea is to be as close as possible to your target market. Don't forget: it is mostly young people who go to clubs. So opening your nightclub within close proximity of the city's student area can be a quick win when it comes to attracting your clientele.
The legal form of your nightclub
The next step in opening up a nightclub is to choose its legal form.
Choosing your nightclub's legal form is a vital step as it will impact:
How much your nightclub is taxed (depending on the status you choose, you'll be subject to corporation tax or income tax)
Your status as a manager and taxation at a personal level (you may be identified as an assimilated salaried executive or a self-employed worker)
Your responsibility for the company's debts in the event of bankruptcy
To help you make your choice, you can find more detailed information on the different legal forms available to you on the gov.uk guide for UK business owners and SBA guide for those of you based in the US.

The staff and equipment needed to open a nightclub
Now that your business plan is well underway, you now need to take stock of the resources you'll need to actually run your business.
First of all, from a purely regulatory point of view, you will need a number of licenses:
A premises license: this is required if you plan to sell alcohol and serve hot food and drinks after 11 pm.
An entertainment license: if you plan on providing entertainment and live or recorded music between 11 pm and 8 am for over 500 people, then you'll need to obtain this license from your local council.
Nightclub insurance: although not technically a legal requirement, you must ensure you're providing a safe environment for your guests and that your staff and building have adequate insurance cover.
Then you need to hire your team to open your nightclub. Be careful, however, staff turnover is strong in the nightclub business. Night work tends to take its toll on people, so it's likely you'll need to hire new employees on the regular.
Finally, and obviously, you will need to adequately equip your space. In particular, you should set money aside for:
Renovation work, soundproofing, and installing new furnishings
Musical equipment: lighting, speakers, DJ decks, etc.
Bar equipment: drinks stock, glassware, dishwasher, etc.
Furniture for the room: tables, armchairs, and sofas
The layout of the bathrooms, smoking area, and coat closet
Installation of video surveillance equipment
In any case, it's important to get quotes from different suppliers and equipment manufacturers, so you can compare prices and accurately quantify the investments in your financial forecast.
Creating a marketing plan for your nightclub
It's time to look at your club's marketing strategy. The objective here is very simple: to identify, quantify, and prioritize the actions you should take to attract and retain customers.
Once again, tactically placing your nightclub within close proximity of young people is an effective method, but to guarantee true success, you'll need to take things a few steps further. You can, for example, consider the following actions:
Set up partnerships with other bars in the area, and possibly offer a shuttle service to your nightclub to avoid drinking and driving problems.
Distribute flyers on the surrounding streets and on university campuses.
Advertise on local radio stations, especially those playing club music
Communicate on social networks by sharing professional photos taken of revellers on your Facebook page, or post in advance about themed nights you're hosting
Partner up with local influencers by offering them free entry to the club so they can share their experience with their followers on Instagram
Offer promotions such as free entrance before 11 pm or student discount.
Writing the business plan for a nightclub
The business plan of your nightclub is ready to go. Well, almost: you now just need to get it down on paper.
This step is essential, as it showcases your business venture in full - and is used to persuade investors and banks to support you on your mission to launch.
Needless to say, if your business plan is flawed, badly written, or missing important elements, the number of people willing to finance your project will be few and far between.
Furthermore, the business plan also enables you to make sure that you haven't forgotten anything in the setting up of your business, and that it's financially viable.
The business plan of a nightclub includes two parts:
a written part in which you will present the benefits of the project
a financial forecast highlighting the expected profitability of your future business and funding requirement.
If you are not used to writing business plans, a good solution would be to use online business plan software.
There are several advantages to using specialized software:
You are guided through the writing process by detailed instructions and examples for each part of the plan.
You can be inspired by already written business plan templates
You can easily make your financial forecast by letting the software take care of the accounting aspects for you.
You get a professional document, formatted and ready to be sent to your bank or potential investors.
If you are interested in this type of solution, you can try our software for free by registering here.
Accessing funding to open a nightclub
Now that your business plan is complete, all you need to do is raise enough capital to get started.
For this part, several options are available to you:
You can call on private investors, and thus strengthen your equity
You can try to have some of your equipment, renovation work, or inventory financed by a bank or credit institution.
You can try to get help to create a business, in the form of grants, relief from charges, or tax credit.
If you are in the UK, to find out more about the support available, you can visit the gov.uk Business Finance Support Finder. In the US, the SBA works with various organisations to provide small businesses with grants. Check out their website to see if you meet the criteria to apply.

Our article is coming to an end, you now know how to open a nightclub. Don't forget to organize a special evening for the launch of your nightclub, and invite us to it!
Also on The Business Plan Shop
Know someone who's planning to open a nightclub and might be interested in this article? Share it with just one click!