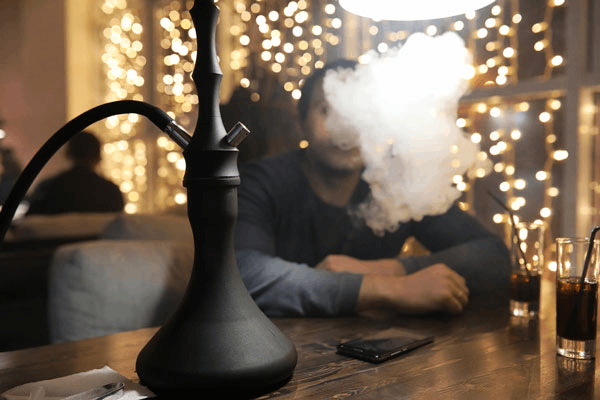 Do you find yourself drawn in by the enticing aromas and laid-back atmosphere of shisha bars? If you know a thing or two about flavoured tobacco and have a head for business, you might even be planning to open your very own shisha bar.
There's no doubt that open up a shisha bar requires a lot of work, but with expert planning, you'll be well on your way to creating a successful business.
If you're not sure how to open a shisha bar, then you've come to the right place - as this guide will give you a low down on all the major steps involved, from practical advice on how to conduct market research to drafting up a stellar business plan.
Carrying out market research on the shisha bar market
The very first step in opening a shisha bar is to carry out market research. Doing so will not only enable you to verify whether there's enough demand for you to successfully open your shisha bar in your target area, but also help you develop the best strategy for providing your service.
Market research will not be complete without an in-depth analysis of three key factors:
current industry trends
who your potential customers are and what they're looking for in a shisha bar
who your competitors are and how they're doing
The shisha bar market
Originated in the Middle East, South East Asia and Northern Africa, shisha is tobacco that is smoked communally in a water pipe known as a hookah or narghile. In recent years, shisha bars have become increasingly popular in the UK - with a 2019 survey by ash finding that 11% of Brits have tried it at one point or another.
Often taking place in a cafe or restaurant setting and smoked in a group of people, shisha is considered a social activity in which people can catch up with family and friends.

Shisha smoking is most popular amongst young people, with a 2013 study indicating that shisha smoking was taken up by between 11% - 18% of all university students.
The sweet and fruity taste of shisha tends to mask its potential dangers. While shisha smoke is no more toxic than tobacco, its users inhale much more, with a 2015 World Health Organization study suggesting that during one 20-80 minute shisha session, a person can inhale as much smoke as they would have had they consumed around 100 cigarettes.
Many shisha consumers appear to be unaware of the harms, with around 15% of people aged 25 - 35 (the most common users) believing shisha poses no health risks at all, and 44% considering it less dangerous than cigarettes.
The rules and regulations when opening a shisha bar
Open a shisha bar means entering a highly regulated sector, as you'll have to ensure your business complies with the legal requirements under the Health Act 2006 and the Smoke-free (Premises and Enforcement) Regulations 2006.
Before opening your shisha premises, you'll likely need planning permission from your local council. For approval, you'll have to ensure that your proposed smoking area is not "substantially enclosed" (meaning that more than 50% of the walls are present).
There are also several requirements you'll need to satisfy around healthy and safety, fire and environmental regulations. Before opening your shisha bar, you'll have to register the premises with your local authority's environmental health service at least 28 days before you start trading.
It's important to note that this process doesn't cost any money. It simply involves allowing a local official to visit your premises to check out the space to ensure it's safe and hygienic. Click here to register for a visit from your local authority.
When it comes to trading, you should also be aware that it's illegal to sell tobacco products to anyone under the age of 18 and ensure your business takes steps to prevent this from happening - by putting suitable signage in place and refusing minors where necessary. Any products containing tobacco must also be clearly labelled as such.
Finally, if you wish to sell alcohol, you'll need to apply for a premises license when opening your shisha bar. This will also enable you to play live and recorded music and serve hot food and drinks after 11 pm. For more information on how to obtain the licenses above, you can visit the Gov.uk license finder.
In the US, you will be required to register for a business license. You can visit the SBA website for more details on how to obtain this.
You will also need a liquor license for serving alcohol. Each state has its own Alcohol Beverage Control Board that regulates the serving of alcohol. To obtain a liquor license, you must contact your state's ABC board. You can find a national directory of ABC boards here.
Scoping out the perfect location to open a shisha bar
Once the market research stage is completed, you need to pick a location to open your shisha bar. Where it's based will have a considerable influence on how many customers it attracts, and consequently, its turnover and profitability - so this decision is crucial.
We recommend choosing a location regularly frequented by your target market. If you'd like to attract students, for example, you'd be best placed to open within walking distance of a university. If you're visualising a broader customer base, setting up in a lively, downtown street is always an option worth looking into.
Finally, you can also choose to take over an existing shisha bar. This will allow you to benefit from an already established base and an existing flow of loyal customers.

Choosing the legal structure of your shisha bar
To open a shisha bar is also to give life to a new company with a legal entity.
You must really focus when choosing the best legal status for your shisha bar because, among other things, it will impact:
How much your business is taxed
Your taxation at a personal level
Your responsibility for the company's debts in the event of bankruptcy
To help you make your choice, you can find more detailed information on the different legal forms available to you on the gov.uk guide for UK business owners and SBA guide for those of you based in the US.
The equipment and staffing requirements of a shisha bar
Once you have chosen the concept to open your shisha bar, settled on a location, and figured out its legal structure, it's time to look at the financial forecast of your business.
The first step will be to kit out your premises while respecting the health and safety regulations in force. The main investment here will be furniture, alongside the hookahs, stock of products (such as tobacco, teas, coffees and snacks) and all the resources required for the smooth management of your shisha bar, including accounting and payroll management software.
Also think about marketing investments (including your menus, restaurant sign and website) and legal investments such as employment contracts and licensing costs.
Staff recruitment is not neglected either: the atmosphere of your shisha bar strongly depends on your employees' ability to make guests feel welcome. When drawing up your recruitment plan, estimate the number of people you'll need for each position, whether it be front-of-house or bar staff, and then recruit enthusiastic, friendly people with the right qualifications.
Opening a shisha bar also requires you to take out insurance to make sure you're covered in the event of any on-site incidents. Depending on the size of your bar, you may also want to enlist help from specialists such as a chartered accountant or marketing agency, so make sure you factor these costs into your financial forecast, too.
Setting out the marketing plan for a shisha bar
The next step in our guide on how to open a shisha bar is to put an effective marketing strategy in place to help you attract and retain customers. Many means of communication are at your disposal, so it's up to you to identify the most relevant to your business.
Taking to the streets to hand out flyers and advertising in your local newspaper is a surefire way to make yourself known to any potential customers living nearby.
Schemes and promotions (such as a 5 pm - 7 pm happy hour) can be also used as a lever to build customer loyalty.
Finally, you should seriously consider setting up a website when opening a shisha bar, or, at the very least, using social media platforms such as Instagram and Facebook to keep your customers up to date with how the business is running. You might also want to make sure that you've been added as a point of reference on Google Maps.
Writing the business plan of a shisha bar
Before the very last step, you need to develop the business plan for your shisha bar.
The business plan is the document with which you will present your business idea and try to secure financing from your bank or potential investors, so you need to make it impeccable.
If you are not used to writing business plans, a good solution would be to use online business plan software.
There are several advantages to using specialized software:
You are guided through the writing process by detailed instructions and examples for each part of the plan.
You can be inspired by already written business plan templates
You can easily make your financial forecast by letting the software take care of the financial aspects for you.
You get a professional document, formatted and ready to be sent to your bank.
If you are interested in this type of solution, you can try our software for free by signing up here.
Securing funding to open a shisha bar
Once your shisha bar business plan has been written, you can start looking for financing.
The amount of investment required will depend on the size of your premises, the renovation work to be done and the furniture to be purchased.
There are many ways to raise the capital required to launch your dream shisha bar.
First of all, it's highly recommended that you make a personal contribution to the company's equity, by dipping into your savings.
You can then turn to banks and credit institutions to obtain a loan to finance part of the start-up costs.
Finally, also think about state aid for business creators. This may enable you to benefit from a low-interest or interest-free loan, for example.
Now you know everything there is to know about how to open a shisha bar. We hope you found this article useful. If you have any questions or queries at all please do not hesitate to contact our team.
See also on The Business Plan Shop:
Know someone who'd like to open a shisha bar and might be interested in this article? Share it with them!