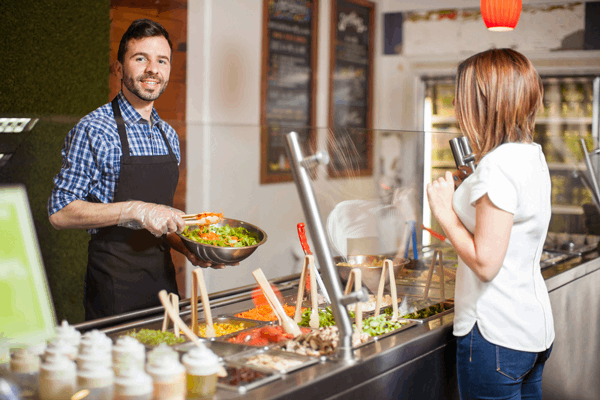 There's nothing better than delicious, healthy food served fast. If you love the diversity and creativity of salad recipes, then you might be keen to open a salad bar.
There's no doubt that setting up a salad bar requires a lot of work, but with expert planning, you'll be well on your way to creating a successful business.
If you're not sure how to open a salad bar, then you've come to the right place - as this guide will give you a low down on all the major steps involved, from practical advice on how to conduct market research to drafting up a stellar business plan.

Conducting market research on the healthy fast food market
Healthy fast food: a booming market
With as many as 53,495 fast food outlets in the UK, fast food is firmly rooted in the daily lives of Brits, as their fast-paced lifestyles demand grab-and-go meals they can eat as they race between the office, meeting friends and heading home.
One notable restraint, however, has been placed on the fast-food sector in the last few years: a demand for healthy fast food.
Allied Market Research has noted that the rise in health consciousness amongst consumers means increasingly more people are keen to swap in processed burgers for soups and salads, with the fast-food market fast losing its market share to healthier fast food outlets.
This demand, paired with an expanding desire for more plant-based foods, has opened up the market to healthy fast food options, highlighted by the popularity of vegan brand Beyond Meat's partnership with various fast-food restaurants to provide quality vegan burgers.
What data do you need for salad bar market research?
The stats presented above are just the tip of the iceberg when it comes to the information you'll need for the market research stage when you open a salad bar.
To conduct thorough market research, you'll need data on the UK population's eating habits, as well as information on the fast food sector as a whole and, finally, the salad bar industry specifically.
Think carefully about who your indirect competitors will be (basically any nearby outlet serving food and fast-food apps such as Deliveroo and Uber Eats) as well as your direct competitors (healthy fast food places and salad bars located close by).
Try and find out the turnover of each competitor when opening a salad bar, as well as the number of people employed and their concept - looking in particular at the type of food offered and their menu prices.
You can then use this info to estimate which concepts tend to be the most profitable and try to identify what they have in common (so you can mould your own business model into a similar (but not copy cat!) structure). You may also want to carry out the same process with the concepts that aren't doing so well. Taking the time to identify where they've gone wrong might help you avoid making the same mistakes in the long run.
Defining the concept to open your salad bar
Offering an array of vitamin infused and fibre-rich lunch options served immediately, a salad bar is the epitome of a healthy fast food restaurant.
Whether you're offering solely plant-based salads or using strictly organic ingredients, the most important thing is to make sure your menu stands out from your competitors to ensure that customers don't just stumble upon you, but come directly to you for a salad they won't be able to get anywhere else.
You can also implement a make-your-own-salad option for customers, and offer up homemade sauces and dressings to accompany your dishes.
Finally, you need to think about the way your customers eat your food. Would you like to open a salad bar exclusively geared towards takeaway food or would you prefer to offer table service? You could, of course, opt for a takeaway/sit-in hybrid.
If you decide to open a sit-in restaurant, special attention needs to be paid to your space's aesthetic and the ambiance you create. Between slick, industrial decor to a space that promotes a calming atmosphere with chilled out music and neutral colours, you have a wide scope of options. Don't neglect this aspect: having a distinct aesthetic is an excellent way to distinguish your salad bar from your competitors.
Opening an independent or franchised salad bar
Once you've defined your concept, you'll be faced with a choice which has a major impact on the process of setting up your business: do you want to open an independent salad bar or join an established franchise?
Joining a salad bar franchise (such as London's Tossed) allows you to benefit from a whole host of advantages (including having already dedicated customers and established relationships with suppliers), but will also come at a cost in the loss of autonomy.
Whatever you decide, just bear in mind that it will have a significant influence on the potential profitability and location of your salad bar - so make sure it's one that aligns with your own personal and professional ambitions.
Why the location is crucial when you open a salad bar
The location is a key component of success when opening a salad bar. Having a heavy influx of customers will ensure a decent turnover, while a deserted salad bar is at risk of closing its doors prematurely.
So choose a location that attracts your kind of people. Whether it's beside a university, close to office buildings or within a residential area, it's up to you to see where your concept has the best chance of success.
Keep in mind, however, that rental prices will fluctuate depending on where you decide to open a salad bar. The higher you set your prices, the more elaborate your food and drink deals will be, meaning that customers will likely arrive expecting a nice atmosphere and a comfy seat to soak it up in.
The best location is one where there's a strong demand for a certain type of food and not enough restaurants to meet this demand. For this reason, we suggest carrying out detailed market research on the area you're interested in setting up before settling on your final location.
Choosing the legal form to open your salad bar
The next step in opening up a salad bar is choosing the legal structure of your business. Choosing your salad bar's legal form is a vital step as it will impact:
How much your business is taxed
Your taxation at a personal level
Your responsibility for the company's debts in the event of bankruptcy
To help you make your choice, you can find more detailed information on the different legal forms available to you on the gov.uk guide for UK business owners and SBA guide for those of you based in the US.
The equipment and staffing requirements of a salad bar
Once you have chosen the concept of your salad bar, settled on a location, and figured out its legal structure, it's time to think about the equipment and people needed to open the salad bar efficiently.
Initial investments
Opening a salad bar requires not only a space to make the salads and serve customers, but also kitchen equipment to prepare and store ingredients. You'll also need to plan your stock supply.
To build as accurate a financial forecast as possible, you'll also want to include the cost of any licenses required to run your business, as well as the cost of kitting out your premises so you can sell food (e.g. with a card machine and till) and welcome customers (with tables, comfortable chairs and a robust sound system to play chilled out music).
Recruitment plan to open a salad bar
As far as your recruitment plan is concerned, the number of people you decide to hire will depend on the size of your salad bar.
You'll need, of course, at least one person with experience prepping food, as well as one or two-floor staff to take orders and serve food and drinks to customers when you open a salad bar.
Ideally, you'll hire people with a background and clear interest in health foods and hospitality, so they can talk extensively with customers about the range of salads and ingredients on offer and share their passion for it.
When drawing up your recruitment plan, estimate the number of people you'll need for each position, whether it be a kitchen or front-of-house staff, and then recruit enthusiastic people with the right qualifications.

Extra administrative costs
It's also important to account for the additional services required to open your salad bar, such as insurance, water, electricity, maintenance, etc.
You may also want to outsource shop maintenance to a cleaning company or delegate part of the administrative work to an accounting firm. To ensure you estimate these expenses as accurately as possible, get in touch with several professionals and ask them for quotes.
Setting out the marketing plan for a salad bar
Once you've completed all of the above steps, the next step in our guide on how to open a salad bar is developing a carefully devised marketing plan. The objective of a marketing plan is simple: to attract and retain customers.
So consider first the actions that will allow you to make your salad bar known and create hype around its opening, whether it's a paid ad in the local newspaper or a provocative social media campaign.
You'll have to think about ways to build customer loyalty when opening your salad bar. Creating a loyalty card scheme is a great way to turn one-time customers into regulars, and creating a website is a great way to showcase the different types of salads you have on offer, as well as any promotions on that week.
You could also consider setting up a click and collect system, whereby customers can order online and pick up a salad or snack in-store. This sort of scheme would work well amongst nearby office workers or students.
A newsletter is another great way to keep in touch with your customers. Update them on the latest news involving your suppliers and the process behind how your ingredients are sourced.
The costs of these actions vary and some might be more successful at attracting customers than others, so take some time to test different marketing actions out and focus on the ones that prove to be the most effective.
Writing the business plan for a salad bar
Now we've come to the stage within our guide on how to open a salad bar where we must tackle the business plan.
The business plan is made up of two major components:
A financial forecast that aims to highlight the expected profitability of the business and the initial financing requirement.
A written part that presents, in detail, your project, the team, your business strategy, and your medium-term objectives.
The business plan is the document with which you will try to secure financing from your bank or potential investors, so you need to make it impeccable.
If you are not used to writing business plans, a good solution would be to use online business plan software.
There are several advantages to using specialized software:
You are guided through the writing process by detailed instructions and examples for each part of the plan.
You can be inspired by already written business plan templates
You can easily make your financial forecast by letting the software take care of the financial aspects for you.
You get a professional document, formatted and ready to be sent to your bank.
If you are interested in this type of solution, you can try our software for free by signing up here.
Securing funding for a salad bar
Opening a salad bar requires significant investment, the exact amount will depend on your location and how big you want your salad bar to be.
There are many ways to raise the capital required to launch your dream salad bar.
First of all, it's highly recommended that you make a personal contribution to the company's equity, by dipping into your savings.
You can then turn to banks and credit institutions to obtain a loan to finance part of the start-up costs.
Finally, also think about state aid for business creators. This may enable you to benefit from a low-interest or interest-free loan, for example.
Useful links to help you open a salad bar
Now you know everything there is to know about how to open a salad bar. We hope you found this article useful. If you have any questions or queries at all please do not hesitate to contact our team.
Also on The Business Plan Shop
Know someone who'd like to open a salad bar and might be interested in this article? Share it with them!