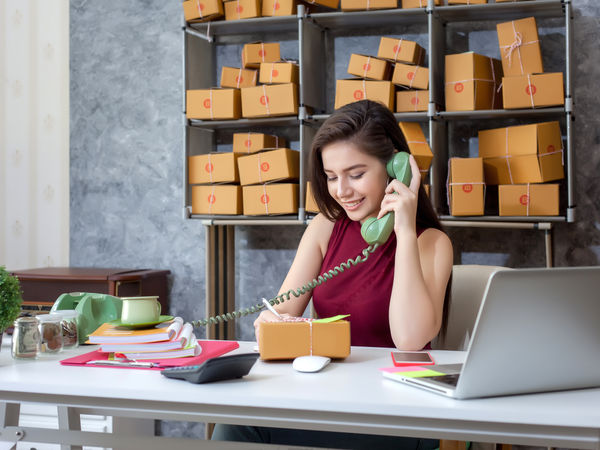 You are probably wondering how you should present your business's products and services in your business plan.
The products and services section of the business plan usually comes after the presentation of the company and just before the market analysis section.
Understanding your business oferring is of significant importance to stakeholders who will use this information to assess whether they believe your business sells what customer wants when reading the next part of your business plan.
So, how do you ensure that the products and services section is well-written and provides readers the detail they want to see?
Let's take a deeper look at each component in more detail!
What is the objective of the products and services section of your business plan?
This section comes relatively early in your business plan, on the face of it: its main purpose is to inform stakeholders, including lenders, suppliers, investors, and other partners what goods or services your business sells.
More subtly though, your overall goal should be to guide the reader towards the conclusion that you have the right products and services to succeed in the marketplace.
This usually includes starting a basic description of your products or services which details how they work, what purpose they serve and who they are aimed at.
Then, your products and services section should also hint at what makes your business different from your competitors (bearing in mind that the reader is not yet familiar with your competitive environment as the competition section comes later in your business plan). Added value and unique selling points are two key factors towards making any business successful.
Finally, this section should also summarise how your business aims to market and sell those products or services. For instance, you could explore the marketing strategy (without going into depth as your sales and marketing strategy will also be the object of a dedicated section later in the document) by explaining how you plan to attract and retain customers.
What information should I include in the products and services section of my business plan?
Remember that the products and services section appears just after the company overview section and precedes the market analysis section.
This means that readers are still in the process of forming a clear understanding of what your business does and in which market environment it operates.
Product details
To begin with, you should provide a description of the broader categories your products or services belong to. Once this is addressed, you can go into more detail, explaining each of the key products and services that your business offers.
In this section, you should explain:
What each of your products or services are
Who are they aimed at
The purpose of each product or service - do they address a specific customer need, solve a common problem, or fulfill a desire for customers?
What is the process of manufacturing the products - are you making them yourself, outsourcing production, or buying them from a manufacturer?
In the case of a service, how is the service performed? That is to say, how will you be offering this service to your customers?
How will you sell your product or service?
For manufacturing businesses, it is important to also specify the production process. For example, you could state your monthly or yearly output, and explain if it is possible to increase production capacity. If so, you can discuss how you would go about doing that and if/when you plan to do so.
Sale cycle
When describing your products and services, it is useful to also give an overview of the overall sales cycle to the reader. Especially when it is a complex, long, or unusual process - such as a 6 months B2B transaction or a house sale for example.
When doing so, make sure to clearly lay out at what stage of the customer journey your agreement with the customer becomes binding, when you invoice and when you can expect to get paid.
Future plans
This section should also discuss whether or not your business has the ambition to increase its product or service range in the future.
For example, if you plan to introduce a greater variety of cupcake flavors, be sure to include that and state whether or not market research has been done to validate your expansion.
The key to a well-developed products and services section is to make it easy to understand. Use product pictures and flow charts to help explain processes. Assume that the reader is not familiar with industry jargon. And don't go in too much details: this section shouldn't be a full catalogue with detailled specifications of hundreds of products.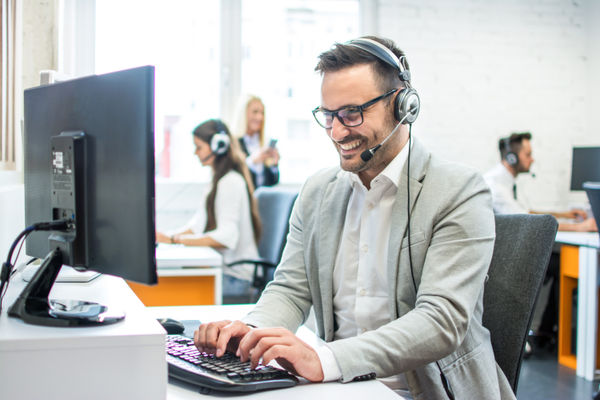 How long should the products and services section of your business plan be?
There is no exact length requirement for the products and services section. Generally, it is suggested to keep it to one or two paragraphs per product or service. However, the length can vary based on the following aspects:
Number of products or services that your business offers
The level of detail should be inversely proportional to the number of products or services you offer.
Stakeholders need to have a clear understanding of your main products and services, so that they can verify that what you sell is what customers want to buy.
If your business only sale one service, you have all your eggs in the same basket so to speak, and therefore, the reader we'll need to know all the ins and outs of it.
Inversely, if you sell 500 different products, you benefit from a diversification effect and as long as a couple are successful you're business will do well. Therefore, the reader doesn't need to understand the details of each one, having an overview of the main categories and a couple examples of your best sellers is enough to form an opinion on your chances of success.
Level of complexity of the product or service
The level of detail also depends on the level of familiarity of the reader with your industry: a complex product will require more explaining than a vanilla one.
For example, if you sell sandwiches there is a high probability that the reader of your business plan already had one and understands how they are made. However, if you sell a solution based on the blockchain technology or quantum physics, you'll need to explain how it works in simple terms so that the reader is clear on what you do before venturing into other sections of your business plan
Level of vertical integration of the business
The type of business you are in will affect how much detail you need to go into regarding your products.
If you are an integrated business, that is manufacturing products, handling the logistics using fleets of trucks and a network of owned warehouses before selling them in dozens of owned stores, you will have a lot more detail to provide than a retailer with a single sale point.
In any case, keep in mind that you don't need to make this section any longer or shorter than it has to be. Any information you include here has to be relevant to your business's core products and services.
Example of presentation of products and services in a business plan
Below is an example of how the products and services section of your business plan might look like. It includes a list of the services provided by the business and how each one is structured in terms of the processes.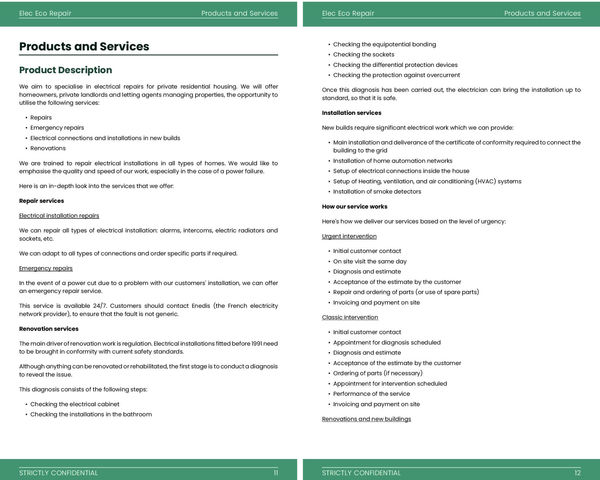 This example was taken from one of our business plan templates.
What tools can you use to write your business plan?
In this section, we will review three solutions for writing a professional business plan:
Using Word and Excel
Hiring a consultant to write your business plan
Utilizing an online business plan software
Create your business plan using Word and Excel
Creating a business plan using Word and Excel is old fashion, error prone, and (very) time consuming.
First of all, using Excel to create your financial forecast is only feasible if you have a degree in accounting and experience in financial modelling, because lenders are unlikely to trust the accuracy of your financial forecast otherwise.
Secondly, using Word means starting from scratch and formatting the document yourself once written - a process that is quite tedious. There are also no instructions or examples to guide you through each section making the overall process much longer than it needs to be.
Thirdly, for a business plan to be really useful it needs to be tracked against the company's actual financial performance and regularly updated which is a very manual process if you are using Excel.
Hire a consultant to write your business plan
This is a good option if you have the budget for it - from experience you need to budget at least £1.5k ($2.0k) for a complete business plan, more if you need to make changes after the initial version (which happens frequently after the initial meetings with lenders).
Consultants are experienced in writing business plans and most of them adept at creating financial forecasts without errors. Furthermore, hiring a consultant can save you time and allow you to focus on the day-to-day operations of your business.
Use an online business plan software for your business plan
Another alternative is to use online business plan software.
There are several advantages to using specialized software:
You are guided through the writing process by detailed instructions and examples for each part of the plan
You can be inspired by already written business plan templates
You can easily make your financial forecast by letting the software take care of the financial calculations for you without errors
You get a professional document, formatted and ready to be sent to your bank
The software will enable you to easily track your actual financial performance against your forecast and update your forecast as time goes by
If you're interested in using this type of solution, you can try our software for free by signing up here.
Also on The Business Plan Shop
Know someone in need of a little help creating their business plan? Share this article and help them out!