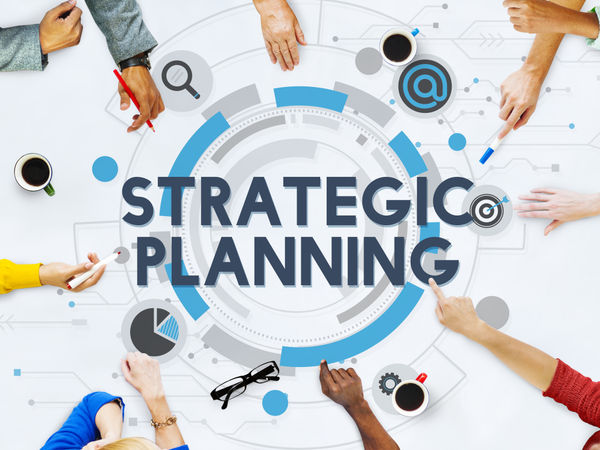 Like individuals, businesses also require an action plan. Drafting one helps both internal and external stakeholders understand what the business's main activities are, how it aims to function and what its key goals are for the future, amongst other things.
Plans, however, vary with purpose. Some are designed to help reach daily targets whilst others are meant to guide long(er)-term growth strategies.
There are two main types of medium term plans - business plans and strategic plans, and it's important to understand what makes each one unique. Luckily for you, this guide will do just that by defining both, explaining the similarities and differences as well as sharing some useful tools that can help make the writing process easier and faster.
Ready? Let's get started!
What is a business plan?
A business plan is a document providing detailed information about your business and its objectives for the years to come (usually 3-5 years).
To keep it short and simple, a business plan consists of two parts:
A financial forecast which provides information about the expected growth and profitability of your business, your potential funding requirements, and cash flow projections.
A written part which provides the context and details needed to assess the relevance of the forecast: company overview, description of products and services, market analysis, strategy, operations, etc.
Formal business plans are usually written: to secure financing, to get buy-in from stakeholders (board members, investors, business partners) on the plan of action for the coming years, to convince suppliers to do business with the company, or to communicate the company's vision to staff members.
Financial savvy businesses regularly track their actual financial performance against the forecast included in their business plan and re-assess their progress against what was planned, and update their plans as needed.
What is a strategic plan?
Strategic planning refers to the methodology used by businesses to develop plans to achieve long-term goals. Note that these goals are usually broad but actionable within a given timeframe.
The importance of this type of planning cannot be understated - it's estimated that 95% of typical workforces don't understand their organization's strategy, according to OnStrategy.
Strategic planning helps guide employees within an organization by telling them what they are working towards and how they might get there.
Strategies should not be mistaken, however, with tactics, which are specific steps taken to achieve the goal outlined. These are often short-term and easily defined.
For example, if a business wanted to increase its brand awareness, the main strategy might be to engage in more promotional content. Specific tactics, on the other hand, could include the use of social media, influencers, and product placement to increase brand exposure.
Business planning vs. strategic planning: what do they have in common?
Before we dive into how the two differ, let's first understand the similarities between a business plan and a strategic plan.
To begin with, both are forward-looking, help map goals and explain how the business will attempt to achieve them. 
In essence, they are both an insight into what the business "plans" to look like in the future.
Whilst both business plans and strategic plans are medium-term, they only cover between 3 and 5 years. The reason for this is quite simple: it is difficult to predict anything with certainty beyond this point.
Whilst both are a plan of action, they each tackle different aspects of the business. Now let's see how a business plan may differ from a strategic plan.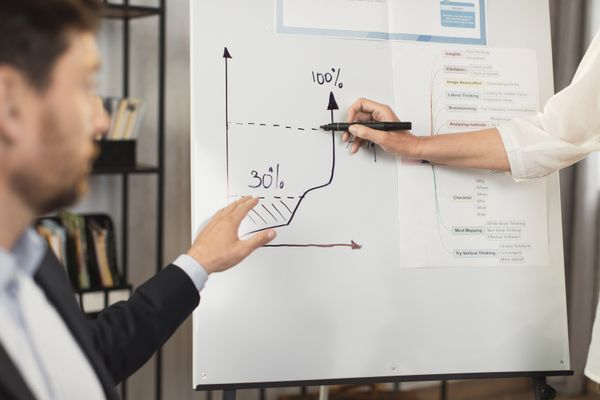 Business planning vs. strategic planning: what are the key differences?
The main differences between the two types of plans can be explained using the following points:
Precision vs. abstract
Business plans are quite specific: they include a precise financial forecast where every aspect of the business as been budgeted. And they often deal with the finer details, external sources of financing as well as projected market share based on specified goals. 
A strategic plan, on the other hand, is more abstract and higher level. It uses broader language and, unlike a business plan, does not include a precise timing and associated cash flows with each initiative. 
Regular vs. infrequent updates
Business plans are regularly revisited, the forecasted financial performance is compared against the actual performance of the business in order to track whether the business is on the right path to achieving its goals or if they need to be realigned. Additionally, many external or even internal factors may require these goals or tactics to be changed.
A strategic plan, on the other hand, is more long-term. The advancement might be tracked quarterly but the plan itself is reviewed every couple of years or so. The aim is the same - to ensure the business is on track. However, as it is a more abstract plan, it does not have to be frequently updated to match business performance.
Small vs. large businesses
Business plans are essential for all business types, regardless of their structure. For example, sole traders, partnerships and limited companies, all utilise business plans to drive the business and help obtain funding.
Strategic plans are, however, mostly implemented by large(r) businesses, because startups and small businesses lack resources or sometimes even the necessity for strategic plans.  
External vs. internal
The intended audiences for both a business plan and a strategic plan also differ. Business plans are meant for both internal (business owner, shareholders, and management team) and external (lenders, investors or suppliers) audiences.
On the other hand, strategic plans are usually meant for internal audiences only, such as the organisation's employees. It helps guide teams and departments in terms of what they should be working towards helping the business achieve its goals.
What tools can you use to write a business plan?
In this section, we will review three solutions for writing a professional business plan:
Using Word and Excel
Hiring a consultant to write your business plan 
Utilizing an online business plan software
Create your business plan using Word or Excel
Writing a business plan using Word or Excel has both pros and cons. On the one hand, using either of these two programs is cheap and easy to learn. 
However, using Word means starting from scratch and formatting the document yourself once written - a process that can be quite tedious. There are also no templates or examples to guide you through each section.
Creating an accurate financial forecast with Excel is also impossible for a business owner without expertise in accounting and financial modeling. And, investors and lenders are unlikely to trust the accuracy of such forecast.
Ultimately, it's up to you to decide which program is right for you and whether you have the expertise or resources needed to make Excel work. 
Hire a consultant to write your business plan
Outsourcing a business plan to a consultant or accountant is another potential solution.
Consultants are used to writing business plans, and accountants are good at creating financial forecasts without errors.
This means that they will be able to create an effective business plan with accurate financial estimates without much effort.
However, accountants often lack the industry expertise to accurately forecast sales and hiring consultants or accountants is expensive. Budget at least £1.5k ($2.0k) for a complete business plan, more if you need to make changes after the initial version (which happens frequently after the initial meetings with lenders).
For these reasons, outsourcing your business plan to a consultant or accountant should be considered carefully, weighing both the advantages and disadvantages of hiring outside help.
Ultimately, it may be the right decision for some businesses, while others may find it beneficial to write their own business plan using an online software.
Use an online business plan software for your business plan
Another alternative is to use online business plan software. There are several advantages to using specialized software:
You are guided through the writing process by detailed instructions and examples for each part of the plan
You can be inspired by already written business plan templates
You can easily make your financial forecast by letting the software take care of the financial calculations for you without errors
You get a professional document, formatted and ready to be sent to your bank
The software will enable you to easily track your actual financial performance against your forecast and update your forecast as time goes by
If you're interested in using this type of solution, you can try our software for free by signing up here.
What tools can you use to write a strategic plan?
In terms of appropriate software, strategic plans are often written using Microsoft Word, PowerPoint, or similar tools. As they do not need to be particularly specific or include financial forecasts, they do not require such software the way business plans do.
Other tools used in the development of strategic plans include:
PESTEL: A PESTEL analysis helps identify external factors that may impact a business's performance or operations which the business needs to include in its planning. It refers to Political, Economical, Social, Technological, Environmental, and Legal factors. This type of analysis is often used when planning international expansion.
SWOT: A SWOT analysis refers to internal and external factors that can impact the business. It analyzes the internal Strengths and Weaknesses of the business and the external Opportunities and Threats affecting the business. This type of analysis is useful when planning the evolution of the companies product portfolio or activites. 
BCG matrix: The BCG matrix is a product portfolio matrix that helps a business consider which products in its portfolio should be developed further. It compares the relative market share of a product with its market growth rate. 
McKinsey matrix: The McKinsey matrix is also designed to help determine how to allocate resources to various products in a company's portfolio. It compares business strengths against industry attractiveness.   
Final Word
While both business plans and strategic plans set out some kind of goals for the business, they differ in their applications. Business plans are meant to develop concrete goals for the growth of a business whilst strategic plans are helpful for internal use to guide teams and departments.
Creating a business plan can seem daunting- unless you have our online business plan software on hand. This nifty tool has all your plan designing needs covered and ready to go!
Also on The Business Plan Shop