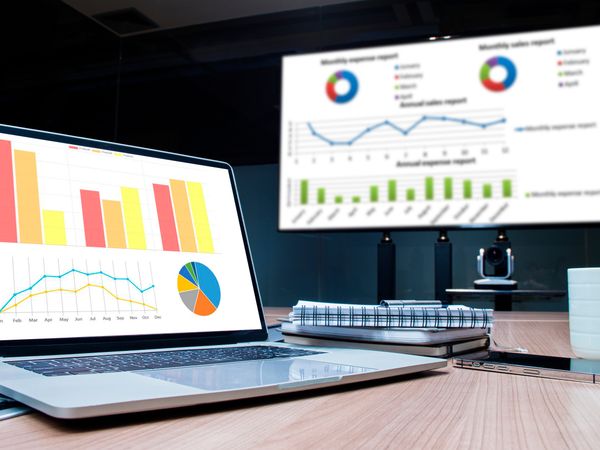 If you are a new entrepreneur you might get confused with some of the business terminology and have trouble understanding what type of document an investor or other stakeholders may require from you.
Differentiating between business plans and pitch decks in particular is a well known struggle. Whilst they may feel like similar documents that can help you raise capital, a pitch deck varies significantly from a business plan in the way it is created, structured, and used. 
Luckily for you, this guide covers what each of the documents are, how they differ, how they are used and what tools businesses can use to create them.
What is a business plan?
A business plan is a document providing detailed information about your business and its objectives for the years to come (usually 3-5 years).
To keep it short and simple, a business plan consists of two parts:
A financial forecast which provides information about the expected growth and profitability of your business, your potential funding requirements, and cash flow projections.
A written part which provides the context and details needed to assess the relevance of the forecast: company overview, description of products and services, market analysis, strategy, operations, etc.
Formal business plans are usually written: to secure financing, to get buy-in from stakeholders (board members, investors, business partners) on the plan of action for the coming years, to convince suppliers to do business with the company, or to communicate the company's vision to staff members.
Financial savvy businesses regularly track their actual financial performance against the forecast included in their business plan and re-assess their progress against what was planned, and update their plans as needed.
What is a pitch deck?
Strictly speaking, a pitch deck is just a generic term to design a document format: a pitch deck consists of slides and can refer to any type of presentation given to stakeholders.
For example, you can use pitch decks to:
Pitch decks are used everywhere, for the rest of this guide however, we will focus specifically on pitch decks designed to help secure new funding from investors.
Business plan vs. pitch deck: what do they have in common?
Business plans and pitch deck share similarities between them, let's have a look at some of them.
Help secure funding for business
Both documents are used when trying to secure funding from investors for a business.
Typically, a pitch deck summarizes key information from the business plan and is used to pitch the highlights to investors before sending them your fully fledged business plan.
Visual elements
While a pitch deck may rely more on visuals, considering it is designed to be a presentation, both items use visual elements. 
A business plan, just like a pitch deck, may contain graphs, charts, and pictures to illustrate information, especially in the market analysis section.
Financial information
Since both are intended to provide information to stakeholders regarding the business, both a pitch deck and a business plan will likely contain projected financial information. 
Since a pitch deck is more of an introductory pitch, it is likely to not go into as much detail as a business plan does.  
Strategy and decision-making
Because both introduce potential investors to the business, a pitch deck and a business plan discuss business strategy. 
They typically reflect how a business plans to operate and generate income, showing investors why it makes for a worthwhile investment.
As a result, both are used as decision-making tools regarding investing in the business. 
Business plan vs. pitch deck: what are the differences?
While they boast some similarities, pitch decks and business plans vary significantly in many ways. Some of these differences include:
Means of delivery
The way a pitch deck is presented is very different from a business plan - Being a visual presentation, it contains a series of slides with information about the business. 
Pitch decks are not standalone items and are accompanied by a senior manager or partner providing commentary. The contents of the slides also typically do not go into much detail, simply highlighting key messages instead. 
While the aim of the pitch deck is to draw investors to the business idea, the business plan provides more in-depth information to help them make a final decision about whether to invest or not. 
Business plans carefully detail the business, its strategies, future goals and are written as formal documents that can be read and understood on their own. 
Format
Given the different modes of delivery, the format of both documents also differ. As mentioned previously, pitch decks use slides to convey information to the reader, and each slide is likely to hold limited information written in large(r) font. 
Pitch decks are also likely to contain far more graphical elements such as charts, images, drawings and graphs. Business plans are often not as visually appealing but richer in substance and more formal.
Length
The length of the two documents can vary but as a general rule, business plans tend to be longer than pitch decks. 
A pitch deck will typically consist of about 10 to 15 slides (one slide usually takes 1-2 minutes to be presented), though further appendices may be added to answer specific investor questions. 
A business plan usually spans between 20 and 30 pages and contains a lot more information, whilst also including appendices at the end of the document.
Amount of financial information
Both business plans and pitch decks contain financial information but the quantity and type usually differ.
Pitch decks usually have no more than one slide dedicated to financials and prefer to zoom in on key figures.
Business plans, however, include a detailed balance sheet, a profit and loss account, and a cash flow forecast. 
Order of creation
In terms of presentation, a pitch deck is offered to investors first as an introduction to the business. 
However, it can only be created once the business plan has already been produced, as the pitch deck summarizes the information presented in the plan.
Frequency of use
A pitch deck is typically created for one-off use. Once the financing round is complete and you've met with all the potential investors, you're unlikely to need the same document again. 
However, you will need to refer to your business plan down the line to ensure that the business is on track to achieve its forecasted financials and goals (and adjust as needed). 
What tools can you use to write a business plan?
In this section, we will review three solutions for writing a professional business plan:
Using Word and Excel
Hiring a consultant to write your business plan 
Utilizing an online business plan software
Create your business plan using Word or Excel
Writing a business plan using Word or Excel has both pros and cons. On the one hand, using either of these two programs is cheap and easy to learn. 
However, using Word means starting from scratch and formatting the document yourself once written - a process that can be quite tedious. There are also no templates or examples to guide you through each section.
Creating an accurate financial forecast with Excel is also impossible for a business owner without expertise in accounting and financial modeling. As a result, investors and lenders are unlikely to trust the accuracy of a forecast created on Excel.
Ultimately, it's up to you to decide which program is right for you and whether you have the expertise or resources needed to make Excel work. 
Hire a consultant to write your business plan
Outsourcing a business plan to a consultant or accountant is another potential solution.
Consultants are used to writing business plans, and accountants are good at creating financial forecasts without errors.
This means that they will be able to create an effective business plan with accurate financial estimates without much effort.
However, accountants often lack the industry expertise to accurately forecast sales. And hiring consultants or accountants will be an expensive endeavour: budget at least £1.5k ($2.0k) for a complete business plan, more if you need to make changes after the initial version (which happens frequently after the initial meetings with investors).
For these reasons, outsourcing your business plan to a consultant or accountant should be considered carefully, weighing both the advantages and disadvantages of hiring outside help.
Ultimately, it may be the right decision for some businesses, while others may find it beneficial to write their own business plan using an online software.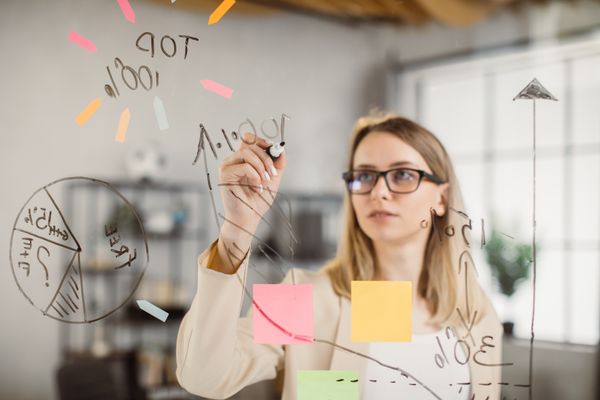 Use an online business plan software for your business plan
Another alternative is to use online business plan software. There are several advantages to using specialized software:
You are guided through the writing process by detailed instructions and examples for each part of the plan
You can be inspired by already written business plan templates
You can easily make your financial forecast by letting the software take care of the financial calculations for you without errors
You get a professional document, formatted and ready to be sent to your bank
The software will enable you to easily track your actual financial performance against your forecast and update your forecast as time goes by
If you're interested in using this type of solution, you can try our software for free by signing up here.
What tools can you use to create a pitch deck?
A pitch deck is presented as a series of slides and so applications such as Microsoft Powerpoint, Google Slides and Prezi are ideal to create the presentation.
Pitch decks are notoriously time consuming and tedious to produce: designing and correctly alligning elements in order to make the slides "look good" is a real time sink - especially for entrepreneurs who aren't expert at PowerPoint.
Therefore, the polishing of pitch decks is often outsourced to graphic designers or freelancers that specialize in creating presentations in order to save time and get a document that looks professional.
We hope that this guide helped you get a better understanding of the differences between pitch decks vs. business plans. don't hesitate to contact our team if you have any questions left unanswered.
Also on The Business Plan Shop
Know someone in need of a little guidance in making a business plan? Share this article and help them out!