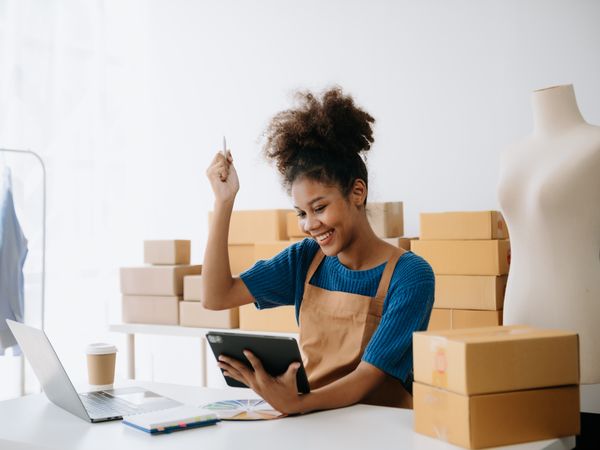 Writing a business plan involves several crucial components, and one of them is the supplier section. It helps communicate the reliability and effectiveness of your supply chain to various stakeholders, addressing any potential concerns they may have. 
This section also highlights the efforts you have made to establish a diverse supply chain that aligns with your business's values and objectives.
In this guide, we'll look further into the core objectives of the supplier section, deep dive into the information you should include, and cover the ideal length. We'll also assess the tools that can help you write your business plan.
Ready? Let's get started!
What is the objective of the suppliers section of your business plan?
The objective of the suppliers section in your business plan is to clearly communicate your business's supply chain protocols to potential stakeholders like investors, business partners, or suppliers. This involves three key aspects:
Respectable counterparties
Highlight your intention to do business with reputable suppliers who are known for their reliability, quality products/services, and ethical practices. This lets the readers know what your expectations for working in a professional relationship are.
Dependency on a single supplier
This highlights your company's intention to avoid excessive dependence on a single supplier. In this section, you can present how you're actively broadening your supply chain. This reassures stakeholders that you're taking steps to minimize the potential risks linked with relying solely on one source.
Reasonable prices and payment terms
Demonstrate that you have secured reasonable prices and favorable payment terms with your suppliers. This exhibits your ability to manage costs and ensure that you will be able to afford the materials required to run your businesses in a sustainable manner.
What information should I include in the suppliers section of my business plan? 
Remember that the supplier section precedes the financial section of your business plan and it is essential to provide specific details to give readers a comprehensive understanding of your supplier relationships. To do this, consider including the following points:
Main suppliers
Identify your primary suppliers and briefly explain their importance to your business. Note that this is likely to vary from business to business. For example, a business in construction may have a supplier for concrete and steel, whereas a business in fast-food may have a supplier for ingredients and packaging materials.
Goods or services 
Specify the goods or services that your business provides. Clearly outline how these suppliers contribute to your business operations and support your value proposition. Here you can focus on explaining how the materials provided by the supplier help you in producing quality products or services and adding value.
Supplier relationship
Outline your familiarity with each supplier. If you've had previous interactions with a particular supplier (i.e. they've provided you goods or services in the past), emphasize the positive outcomes. Moreover, elaborate on why you opted for each supplier, such as their alignment with social values or ethical practices that resonate with your business mission.
Purchase frequency and delivery time
Indicate how often you expect to purchase from each supplier. If relevant, mention the delivery time for goods. This information helps readers understand your supply chain's efficiency and the potential impact on your business operations.
Commercial terms
Provide details regarding the commercial terms agreed with your suppliers. This includes factors such as pricing, volume discounts, payment terms, and any commitments to minimum quantities. Mention if there are any setup costs associated with establishing the relationship.
Setup costs
Provide a breakdown of the specific costs involved in setting up the supplier relationship. This may include one-time expenses or recurring fees (or both), depending on the nature of the supplier and your business requirements. Give readers as much information as you can to give them an indication of the costs involved.
Supplier dependence 
Assess the criticality of each supplier to your business' success. Clarify whether your operations are dependent on receiving goods or services from a specific supplier and discuss the potential consequences if a supplier fails to deliver (how big an effect might it have on your ability to meet customer demand?). 
In addition, you should outline whether you have backup suppliers or contingency plans to mitigate disruptions in the event of supplier issues. If you haven't finalized decisions on certain suppliers but have received quotes or proposals, it is important to mention this in the suppliers section.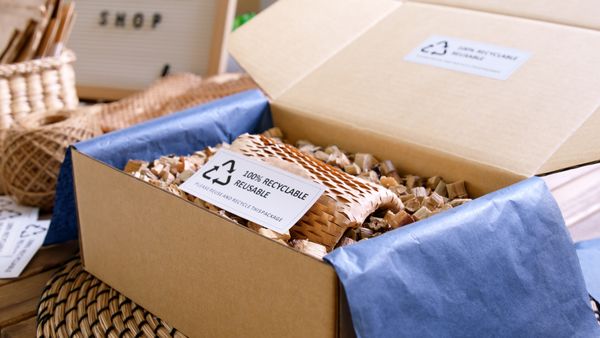 How long should the suppliers section of your business plan be?
Now that you know what information needs to be included in the supplier section, let's look at the volume of information required. As a rule of thumb, aim to keep the supplier section of your business plan to one page. However, the level of detail mentioned in the supplier section will be determined based on the following factors:
Key supplier dependency
If your business heavily relies on one key supplier, you will need to provide additional information to explain the terms and risks associated with that particular supplier. For example, discuss the renewal of contracts and any contingencies in place.
Business complexity and logistics
If your business involves intricate logistics or relies on multiple suppliers, each aspect of your operations may require more detail. Ensure you adequately explain the various relationships and their impact on your business.
Business operations
If your business is small, offers a limited range of products/services, or sources them all from the same supplier (with easily replaceable alternatives), your supplier section can be relatively concise. Focus on the most critical supplier relationships in this case.
Reader familiarity with the industry
Consider how familiar your readers are with the field you represent. If you operate a complex manufacturing business with multiple suppliers, you may need to provide more explanations compared to a straightforward retail operation.
Remember, the information included in your supplier's section should be relevant to your business's main activities. There is no need to list all the suppliers you trade with unless they significantly impact your operations.
Example of a suppliers section in a business plan
Below is an example of how the suppliers section of your business plan might look like. As you can see, it coincides with the personnel plan as well as key assets and IP subsections and is part of the overall operations section.
The suppliers section of a business plan details the sources of goods, materials, or services essential for the company's operations. It highlights relationships, terms, and strategies for securing reliable and cost-effective supplies to sustain the business.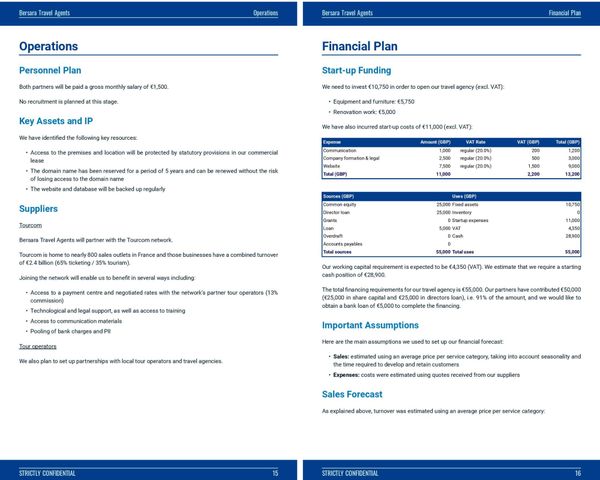 This example was taken from one of our business plan templates.
What tools can you use to write a business plan?
In this section, we will review three solutions for writing a professional business plan:
Using Word and Excel
Hiring a consultant to write your business plan 
Utilizing an online business plan software
Create your business plan using Word or Excel
Popular in the 1990s and early 2000s, writing a business plan using Word or Excel is quickly falling out of fashion, and for good reasons!
Using Word to draft the written part of the plan means starting from scratch and formatting the document yourself - a process that is both tedious and time consuming. There are also no instrcutions explaining what needs to be written in the plan, or examples to guide you through each section.
Creating an accurate financial forecast with Excel is only possible if you have expertise in accounting and financial modeling. As a result, investors and lenders tend to not trust the accuracy of a forecast created by entrepreneurs themselves on Excel.
Hire a consultant to write your business plan
Outsourcing a business plan to a consultant is another potential solution.
Consultants are used to writing business plans, and are good at creating financial forecasts without errors.
This means that they will be able to create an effective business plan with accurate financial estimates without much effort.
However, this will be an expensive endeavour: budget at least £1.5k ($2.0k) for a complete business plan, more if you need to make changes after the initial version (which happens frequently after the initial meetings with investors).
Use an online business plan software for your business plan
Another alternative is to use online business plan software.
There are several advantages to using specialized software:
You are guided through the writing process by detailed instructions and examples for each part of the plan
You can be inspired by already written business plan templates
You can easily make your financial forecast by letting the software take care of the financial calculations for you without errors
You get a professional document, formatted and ready to be sent to your bank
The software will enable you to easily track your actual financial performance against your forecast and update your forecast as time goes by
If you're interested in using this type of solution, you can try our software for free by signing up here.
Also on The Business Plan Shop
Know someone who needs to write the supplier section of their business plan? Share this article with them!