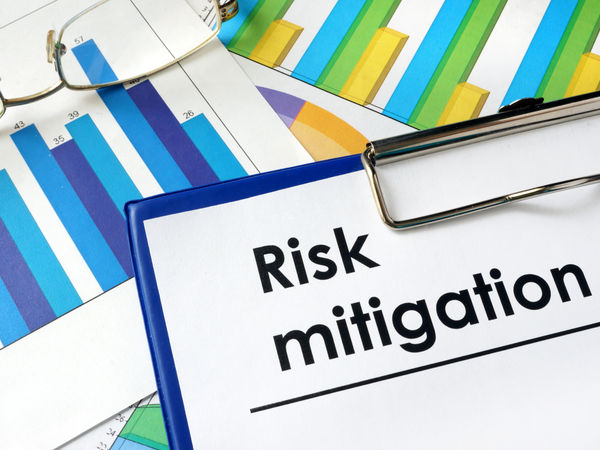 Whilst the risks and mitigants section of your business plan might seem difficult to draft, it's one of the most important parts of the document.
Neglecting this section can lead potential partners and investors into thinking that you either missed key risks asssociated with your business or that you have something to hide.
Luckily for you, this guide provides a comprehensive overview of the risks and mitigants section of your business plan and what information should be included in it.
Ready? Let's get started?
What is the objective of the risks and mitigants section of your business plan?
It's important to remember that managing risk is key to successful business operations. Stakeholders such as investors and lenders are often interested in assessing both risk and reward before making a final decision about whether to finance a business or not.
Entrepreneurs often create imbalances by focusing predominantly on financial opportunities and neglecting risk. This section of your business plan aims to address that issue by having you clearly state risks that could be of detriment to your business as well as explaining the contingency measures in place to counteract them. 
Doing so helps build trust and credibility amongst readers that you will be able to deliver your plan.
What information should I include in the risks and mitigants section of my business plan?
The risks and mitigants subsection is at the end of the strategy section of your business plan, at which point the reader has a fairly clear idea of what your business does, what market you operate in and what your strategy to conquer that market is.
When writing this section, it's important to be transparent. If you've forgotten to include a common or significant risk, the reader (particularly if it's an investor), may think that you lack market knowledge.
Ultimately, you should state each business risk clearly, describe its potential impact and the chances of it occurring.You could use specific examples, data, or market trends to support your analysis.
You then need to discuss how you plan to mitigate these risks. This could be as simple as being insured against a particular risk, or more complex depending the circumstances.
For example, if a shortage of skilled labour is seen as a major risk, you could talk about your previous experience in hiring inexperienced workers and training them successfully to do the task at hand.
In any case, it is essential to outline procedures for regularly monitoring, evaluating, and updating your risk management activities. Prospective investors can be reassured that you are determined to manage risks appropriately and to adjust your business strategies by showing that you have a system in place to regularly review and amend your tactics if necessary.
It may prove helpful to categorize business risks based on their probability of occurrence and severity of impact. Common examples of risk categories include: 
Market risks:

these risks are related to shifts in the market environment, consumer preferences, or the level of competition. 

Operational risks:

these are risks related to the supply chain, personnel churn, or production bottlenecks.

Financial risks:

these risks threaten the stability and sustainability of the business, potentially arising from unfavorable profitability, unsustainable financial structures, or cash flow dilemmas.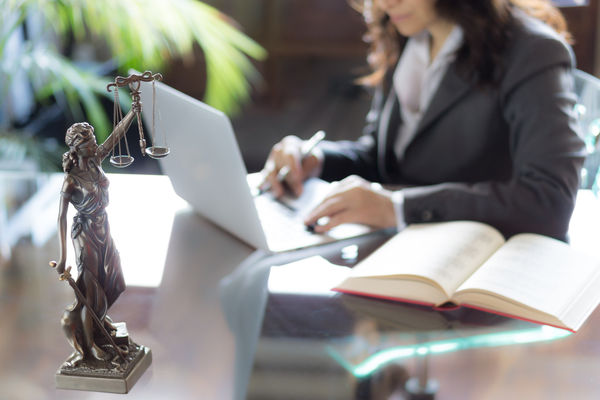 How long should the risks and mitigants section of your business plan be? 
When it comes to the length of the business plan, the ideal rule of thumb is to write two to three paragraphs per risk. 
However, the actual length of the section depends on several factors, such as the number of risks and the extent of information being provided.
When determining the length, remember:
While it's important to provide information about business risks, not every risk needs to be included. You should focus on including risks that have a high probability or a high impact.
There should be adequate space for relevant statistics, graphs, and visual comparisons, such as historical trends and forecasts.
Supporting documents can be included in appendices or reference sections if you have a lot of data, graphs, or other materials relating to the risk analysis.
The level of detail you need to include depends on the reader's familiarity with the business and the industry. If your business is in an emerging industry, you may need to provide extensive details as the reader may not be familiar with it. 
Example of risks and mitigants in a business plan 
Below is an example of what the risks and mitigants section of your business plan might look like.
It lists each risk beforehand and then explains the nature of it, the consequences it could have and discusses methods to counteract it.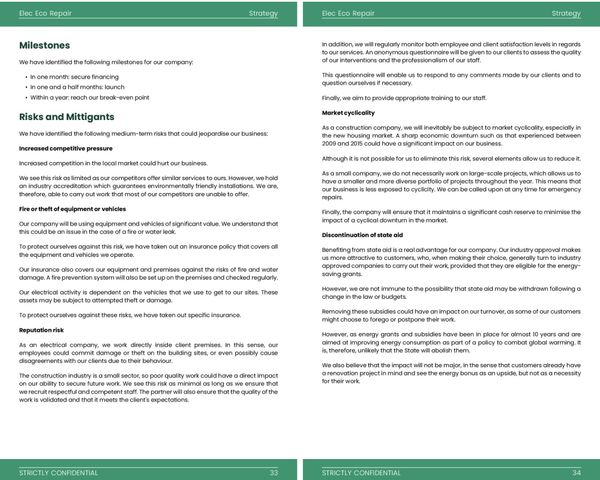 This example was taken from one of our business plan templates.
What tools can you use to write your business plan?
In this section, we will review three solutions for writing a professional business plan:
Using Word and Excel
Hiring a consultant to write your business plan
Utilizing an online business plan software
Create your business plan using Word and Excel
Creating a business plan using Word and Excel is old fashion, error prone, and (very) time consuming.
First of all, using Excel to create your financial forecast is only feasible if you have a degree in accounting and experience in financial modelling, because lenders are unlikely to trust the accuracy of your financial forecast otherwise.
Secondly, using Word means starting from scratch and formatting the document yourself once written - a process that is quite tedious. There are also no instructions or examples to guide you through each section making the overall process much longer than it needs to be.
Thirdly, for a business plan to be really useful it needs to be tracked against the company's actual financial performance and regularly updated which is a very manual process if you are using Excel.
Hire a consultant to write your business plan
This is a good option if you have the budget for it - from experience you need to budget at least £1.5k ($2.0k) for a complete business plan, more if you need to make changes after the initial version (which happens frequently after the initial meetings with lenders).
Consultants are experienced in writing business plans and most of them adept at creating financial forecasts without errors. Furthermore, hiring a consultant can save you time and allow you to focus on the day-to-day operations of your business.
Use an online business plan software for your business plan
Another alternative is to use online business plan software.
There are several advantages to using specialized software:
You are guided through the writing process by detailed instructions and examples for each part of the plan
You can be inspired by already written business plan templates
You can easily make your financial forecast by letting the software take care of the financial calculations for you without errors
You get a professional document, formatted and ready to be sent to your bank
The software will enable you to easily track your actual financial performance against your forecast and update your forecast as time goes by
If you're interested in using this type of solution, you can try our software for free by signing up here.
Also on The Business Plan Shop
Do you know someone who could use some assistance with their business plan? Help them out by sharing this article!