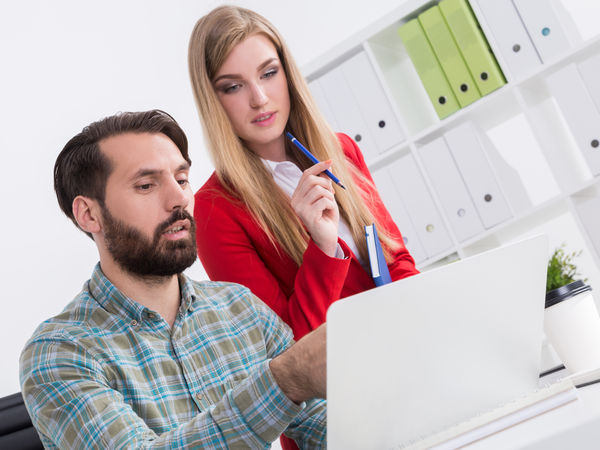 A business plan is something that can make the best of us break a sweat. Especially when one is being written to find a business partner. 
To help you write yours with ease, our team has put together this practical guide in which you will learn everything from what a business plan to find a cofounder or business partner looks like to what tools can be used to create one efficiently. 
What is a business plan? 
A business plan is a document providing detailed information about your business. It helps potential business partners evaluate your business's potential profitability and communicate your vision. 
To keep it short and simple, a business plan consists of two major sections: 
A financial forecast which provides information about the expected profitability of your business, your potential funding requirements, and cash flow projections.
A written section which provides details about: the business or project as a whole, team members who are part of the business, your business strategy, goals, and objectives. 
Why is a business plan needed to find a business partner (or cofounder)?
A business plan is essential for finding a business partner as it provides all the information one could need prior to joining a business. 
If a person wants to be a part of your business, chances are, they'll be investing a combination of time, effort, and money. 
Joining a business is not a small commitment and your future partner will want to make sure they are backing the right horse. 
Therefore, prior to making this decision, that person will think about many different things, including:
Is the market you're in attractive? 
Is the product or service you're selling competitive? 
Is your business able to make profits?
Are there obvious areas where your partner can add value? 
Is the challenge exciting?
You can help your potential business partner answer all of these questions by providing a business plan. Your business plan will allow you to communicate your innovative ideas in the clearest and most concise way possible.
In addition, providing a fully fledged business plan will demonstrate to your potential cofounder or business partner that you mean business, and have taken the time to reflect on all the aspects of the project. 
Your business plan will also contain valuable financial information about your venture. This information can be used to convince your potential business partner of the fact that joining your business can also be financially rewarding. 
How does a business plan to find a business partner differ from a business plan for a bank or investor? 
Grasping the difference between a business plan to find a partner and one for a bank or investor can be quite challenging. 
It's important to understand why the confusion exists in the first place: your business partner might be someone who invests in your business. 
This right here is the main reason for the confusion. Although a business partner might invest money in your business, the primary goal of finding a business partner is not to raise capital. 
Entrepreneurs often look for a business partner because they: 
Need to divide leadership responsibility.
Believe that a new partner may spark innovation. 
Want expertise they lack in a particular area of the business. 
So, you see, the primary goal of a business plan to find a business partner is not really about finding monetary resources; this is where the difference begins. 
Yet, a business plan for an investor or cofounder will both focus growth and profitability potential: you have to sell the potential upside. 
Now, the business plan you provide to a bank will take a slightly different angle as it will be tailored to show that you have sound and conservative financial management in order to convince the bank that you will be able to pay back the loan on time. The focus of the plan is this time on the downside potential.
Now that you have an understanding of what a business plan for a business partner is, let's look at some of the main elements of the document, starting with the financial forecast. 
What does the financial forecast of a business plan for a business partner (or cofounder) look like?
The financial forecast is an integral part of the business plan. It's what allows your business partner to determine your current financial posting and the monetary benefit they have from working with you. 
The financial forecast section of your business plan will feature data tables which provide information about your projected finances and include: the P&L statement, the balance sheet, and the cash flow statement.
The P&L statement
The P&L statement (or profit and loss statement) of the financial forecast will provide information about the revenues generated and expenses the business has incurred over a given period of time. 
Providing such information will help your business partner evaluate: 
Growth rate - the rate at which the business is expected to grow.
Cost structure - the weight of each type of expense in your business.
Profit margins - expected profits the business can generate.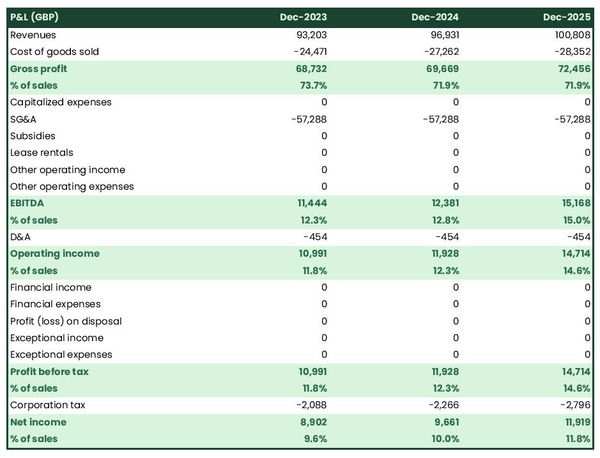 The balance sheet 
A balance sheet is a financial statement containing all the details of a company's assets and liabilities at any given point in time. 
This is one of the core financial statements a business partner might use to evaluate the financial structure of your business, in particular the level of debt and the cash position.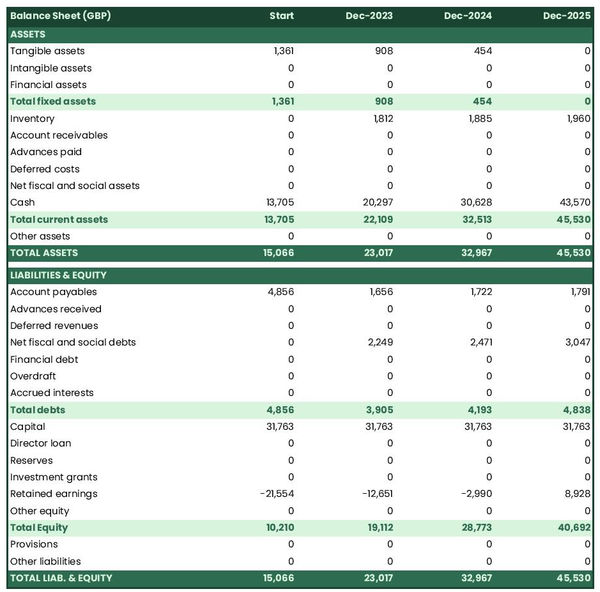 The cash flow statement 
The next and most important piece of financial information included in your business plan will be the cash flow statement. This statement will help your potential partner determine how your business manages the money it generates. 
A cash flow statement details how and when money comes in and goes out of the business. It's an important document that provides information about your business's operational, investing, and financing activities.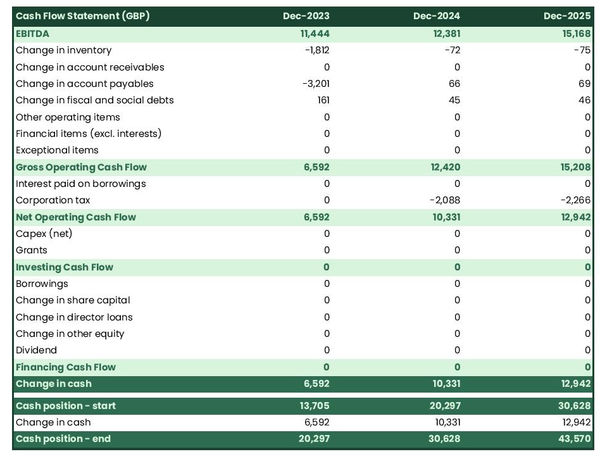 Looking at your cash flow forecast can help your potential business partner:
Gain a financial picture of your business. 
Think of ideas to improve the cash inflow. 
Plan for both short and long-term goals. 
Determine the business's ability to repay loans.
What does the written part of a business plan for a business partner (or cofounder) look like?
The written part of your business plan is just as important as that financial forecast, if not more. 
This section serves as the justification for all the facts, figures, and forecasts you've provided in the financial section. 
It will help your potential partner gain an in-depth understanding of your business and includes the sections detailed below. 
Executive summary 
Think of the executive summary as the cover letter for your business partner. The aim of the section is to introduce your business to your partner in a way that grabs their attention. 
In addition, this section should encourage them to read on. 
Company
In this section, you provide information about the company itself. So you'll mention things like who owns the company, who is in charge of the management, what role people have, where the business is located, and so on. 
Products or service 
As the name suggests, this section will provide information about your business's products or services. 
Such details may induce description, pricing, distribution details, and more. This can help your business partner understand why you're selling what you're selling, and the strengths and weaknesses of your offering.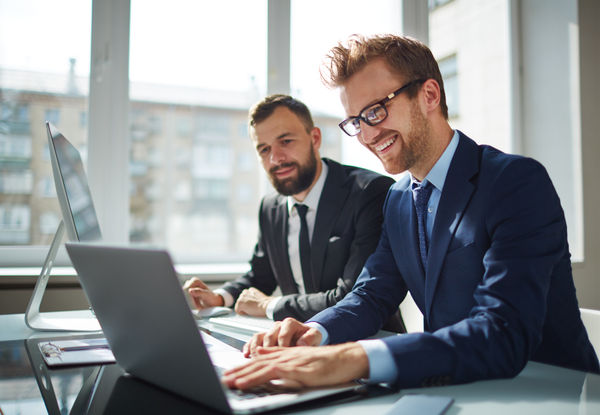 Market research 
In this section, you'll present information about your market analysis and research. 
The aim of this section is to help your business partner determine that there is a viable opportunity for your business. 
Strategy 
In this section, you will provide details about three key plans: pricing, sales & marketing, and risk management. 
Pricing plan - provides details about the pricing of your product and services and the margin you have on each. 
Sales & marketing plan - allows your potential business partner to see how you plan on promoting your business and generating sales. 
Risk management plan - will help your potential business partner understand what risks you face and how you plan to minimize them. 
Operations 
This section will provide details about your organizational structure. It will let your business partner understand how day-to-day business operations are performed in your organization. 
Details about your suppliers will also be included in this section. 
Financial plan
This section is where you will include the financial tables we talked about earlier in this guide.
What tool should I use to write a business plan to find a co-founder?
Now that you've thoroughly understood what needs to be included in a business plan for a business partner, let's look at some of the tools you can use to create one. 
When it comes to the tools you can use, you basically have three options: Word or Excel, an expert consultant, or an online software. 
Writing your plan with Word and Excel 
Using Microsoft Office's Word and Excel applications for writing a business plan for a business partner may seem like a cost-effective solution for business owners. 
While this is true in terms of cost, there are also some drawbacks to this approach that should be considered when making the decision to use Word and Excel.
Creating an accurate financial forecast in Excel can be extremely challenging and time-consuming unless one is an expert accountant and financial modeller. Additionally, financiers may not view such an analysis as reliable since it was created by someone other than a professional.
Furthermore, once created it can be difficult to keep a financial forecast up-to-date. 
Writing the actual business plan in Word is also inefficient as it requires the business owner to start from scratch and spend hours formatting the document afterwards.
Hiring a consultant to create your financial forecast
Outsourcing your business plan to a consultant or accountant can be a viable solution. 
Consultants and accountants are both well-equipped to write business plans and create financial forecasts. 
However, there are some drawbacks to outsourcing a business plan. For one, accountants may lack the industry expertise to accurately forecast sales. 
Additionally, hiring consultants or accountants will be costly (budget at least $2,000 or £1,500 for a complete plan) and there is potential for unexpected extra costs if modifications or updates need to be made to the plan. 
Furthermore, entrepreneurs who outsource their distribution company's plan have less control over the outcome of the project than if they had written it themselves. 
Using an online software to create a business plan for your business partner
Another alternative is to use online business plan software. There are several advantages to using specialised software:
You are guided through the writing process by detailed instructions and examples for each part of the plan 
You can be inspired by already written business plan templates 
You can easily make your financial forecast by letting the software take care of the financial calculations for you, without error
You get a professional document, formatted and ready to be sent to your bank
You can easily update your financial forecast and track it against actual financial performance to see where the business stands
If you're interested in using this type of solution, you can try our software for free by signing up here. 
We hope that this article has helped you to better understand how to write the business plan to find a cofounder or business partner. Do not hesitate to contact us if you still have questions!
Also on The Business Plan Shop