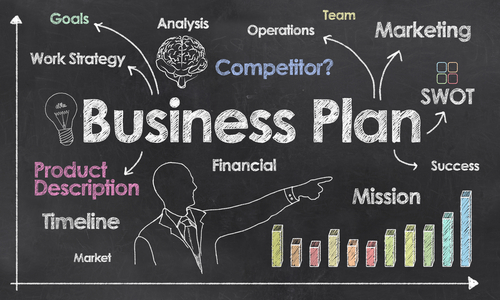 If you're about to start your business, you have probably heard about business plans, and might be wondering: do I need a business plan?
First things first, what is a business plan? To keep it simple, a business plan is a document that presents the business opportunity that your company is trying to seize. In this document, you'll explain how you intend to take action to make the most out of this opportunity and estimate its potential profitability.
Ok, now let's take a look at why you need a business plan.
#1: Do I need a business plan to serve as a road map?
The business plan is the document that will go over the strategic, commercial and financial objectives of your project for the next 3 years.
3 years can seem like a long way away when creating your business, however, it's important to account for this time. There's a good chance your project will evolve in a different direction than what you had in mind at the start - as you will need to adapt to market trends, competitors and consumer needs, embrace yourself for your business to be constantly evolving.
Your business plan, therefore, acts as a road map for the whole team. You will be able to have a document to come back to and reflect, making sure you've accomplished what you intended to, or understand why you didn't, and define new goals for your company.
#2: Do I need a business plan to convince investors?
Your business plan is an extremely effective tool when it comes to convincing potential collaborators. Suppliers and financial partners (lenders and investors) will also ask for a business plan to assess your project's viability.
Having a business plan will allow you to have a convincing document on hand, ready to be sent to banks or private investors.
You need a business plan to attract them to the business opportunity you're presenting.
Suppliers will look for how much they can get out of your project, and if the opportunity is worth their time. It's therefore essential for you to reflect on an enticing business opportunity, and make sure your business will be profitable so you can pay your suppliers on time.
Banks will evaluate your business opportunity by looking at different aspects such as payment fees and foreign currency transactions they can earn. They will also assess how much capital you will need at the start and how much funding you will put towards the project to estimate how much you will be able to borrow.
If you're getting a loan from your bank, it will be important to underline the stability and viability of your project and that's why you need a business plan. You will highlight the chances of success, along with how much capital debt you will have, and show you will generate enough cash flow to keep the business afloat.
When you're looking to send it to an equity investor, the business plan must highlight the potential return on investment. Investors need to be convinced that the project will be profitable enough to compensate for the risk they're taking, and make sure you will reach the plan's objectives.
Convincing all of them means getting them to read your document, however, they don't have time to spare, that's why you need a business plan to help you be clear and concise.
Besides engaging content, your business plan should have a nice format that catches the eye. Clear and constructed presentations also mean having a good executive summary.
Once all of this is done, you can be pretty sure that they'll read your business plan with enthusiasm, and hopefully be convinced.
#3: Do I need a business plan when looking for funding?
Yes, making a business plan is (admittedly) tedious and time-consuming, but you really need a business plan if you're looking for funding. The business plan is absolutely necessary.
Not only will it allow you to get a glimpse as to what the future holds for your business, but you will also have an idea of how profitable it could be.
No business plan means no lenders or investors. You need a concrete document in order to grab their attention.
No business plan also means that you are flying blind without knowing whether or not your business can be profitable - that's risky!
#4: Do I need to write a business plan by myself?
It can be difficult to pick the right solution for creating your business plan, but here are a couple worth looking at.
Create your business plan with Excel
Excel is the cheapest solution on the market, however, it might just the hardest one as well. Without any accounting, financial, or Excel knowledge, creating your business plan with Excel could turn out to be really tricky.
It might save you some money, but will take time and won't keep you from making mistakes.
Ask a professional to do it for you
A consultant or an accountant could be the help you need to put together a business plan.
However, their expertise comes at a price and this won't be the cheapest option.
If you opt for this solution, make sure that the person you choose is an expert in your industry, and therefore has the knowledge to critically analyse the business potential.
Use an online business plan software
Using an online business plan software could also be a great solution for the business plan you need.
Using online business planning software will give you the necessary tools to write your business plan:
You will be guided with instructions and examples for each section of the business plan
You will easily put together a financial forecast with the help of software that takes care of the number crunching and financial aspects for you
You will get an investor-ready document, formatted and ready to be sent to your bank
If this sounds ideal to you, The Business Plan Shop gives you the opportunity to trial its software for free by registering here.
Using a business plan software could be a good compromise between the other solutions, considering it's easier to use than Excel and cheaper than a professional.
We hope this article was useful in helping you understand why should write a business plan.
Please do not hesitate to get in touch if you have any questions, our team will be happy to help.
Also on The Business Plan Shop