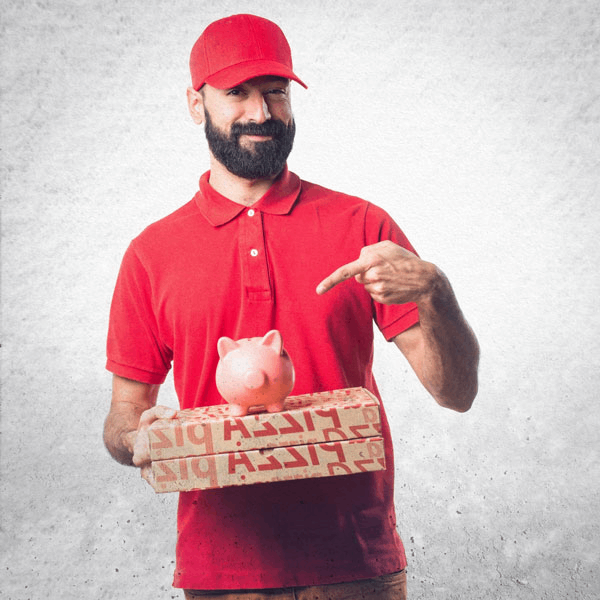 In the restaurant sphere, pizzas are famed for being not only delicious and easy to make, but also deliciously profitable. So if you've decided to open your very own pizzeria - it makes sense for you to have your sights set on launching one that is both operationally efficient and profitable.
But the restaurant business is a very competitive market, so you'll have to jump over a good few hurdles before you can become a frontrunner. And that's why we're here - to give you 4 practical and simple tips on how to optimise profitability for a pizzeria.
1. Control the purchase and use of ingredients
Our first tip on how to optimise profitability for a pizzeria is to get down to basics by listing the cost of every ingredient used on the restaurant's pizzas - this will help you calculate your overall production costs.
This is a super easy calculation to do in a spreadsheet. Simply multiply the quantity of each ingredient in your pizza by its price per kilo. Then compare the cost of production to the selling price to ensure that the margin generated is sufficient enough to ensure profitability.
You can also test out different financial outcomes by varying the quantity of each ingredient used and the suppliers chosen. Doing so will enable you to gauge the best possible value for money.
2. Improve efficiency to maximise the profitability for a pizzeria
Once ingredients are under control, you need to consider tactics that will allow you to stay consistently profitable as your business evolves.
The more pizzas you make, the less expensive it is to make them - as you'll be buying ingredients from wholesalers in bulk and will benefit from better absorption of fixed costs.
Let's take the example of the cost of rent for your pizzeria. Let's say it costs £600 a month:
If you produce 3,000 pizzas, the share of the rent in the total cost of each pizza will be £0.20 (£600 / 3,000 pizzas = £0.20 per pizza).
Now, if you produce 1,000 more pizzas, for a total of 4,000 pizzas, the share of the rent per pizza is only £0.15 (£600 / 4,000 pizzas = £0.15 per pizza).
If we only look at the rent, the difference in pounds isn't huge, but once we calculate this share on all the fixed costs (energy, rent, salaries, insurance, etc.), it can quickly represent a few margin points.
In short, it's essential to be aware of your cost structure and the evolution of the unit cost per pizza according to the volume produced.
This will help you set your prices to be profitable, especially if you are positioned on the lower end of the pizza market and in direct competition with companies with very competitive prices.
You can also think about setting up promotions to increase the volume produced, for example by offering the second pizza sold at cost, or by reducing the margin on it.
3. Choose the right equipment
Our third piece of advice on how to optimise profitability for a pizzeria is that you think carefully about your equipment.
For each equipment purchase you make, it's vital to calculate what the total cost of that piece of equipment is, including its cost at the time of purchase, its price on a weekly or monthly basis (for example if it's water, electricity or fuel) and maintenance costs.
In terms of energy consumption, you will have to decide whether to purchase a traditional wood-fired oven, gas oven or an electric oven. A wood-fired oven will save you electricity, but will also have to be lit several hours before the start of the service. Contrastingly, the electric oven is simple to use and quick to turn on but uses a lot of electricity, which can be expensive in the long term.
Do you offer a delivery service? Here again, you have a few choices. Will you go for...
Rental or company-owned scooters?
Electric or gas scooters?
Or why not bicycles, as Deliveroo does in some big cities?
The amount of initial investment and the maintenance costs for each of these solutions vary significantly. So weigh up the pros and cons to ensure you effectively optimize the profitability of your pizzeria.
4. Profitability for a pizzeria: never underestimate the power of a good deal
Ensure you integrate the real cost of all the deals you'll be offering into the business plan for your pizzeria.
2 for 1 deal and discounts certainly increase sales volume, consequently reducing the unit cost of each pizza, but it's essential to ensure they remain profitable.
If price competition between you and rival pizzeria joints in the area proves to be too strong, it's better to use another tactic to set yourself apart from them, rather than sacrificing your restaurant's profitability.
For example, you may decide to upgrade your menu by offering pizza with better quality ingredients, concentrate on developing original recipes or change your aesthetic to target a different type of customer altogether.
Create a financial forecast to track pizzeria profitability
Whether you're just starting up or looking to improve the profitability of an already operating pizzeria, creating a financial forecast for your business is imperative.
We recommend checking out our guide on how to create a financial forecast for a pizzeria.
The financial forecast will enable you to assess the impact of the actions reviewed in this article, as well as taking into account all your costs and expected revenues to ensure the future profitability of your pizzeria.
It's clear then that creating a financial forecast for a pizzeria is crucial, albeit pretty technical. If you don't have a strong accounting background and would like assistance breaking down the numbers, there are powerful online solutions that enable you to develop a reliable financial forecast - such as the online forecasting software we offer at The Business Plan Shop.
If you opt for The Business Plan Shop's forecasting software, all you need to do is follow our simple instructions and fill in the 4 tables set out for you. The calculations are also done automatically, avoiding any potential errors. In just a few clicks, you'll obtain a full financial forecast consisting of a provisional income statement, provisional cash flow statement, provisional balance sheet and a break-even point calculation table.
If you are interested in this type of solution, you can try our forecasting software for free by signing up here.
So, is opening a pizzeria profitable? We hope that with our advice on how to enhance pizzeria profitability, you'll find that the answer is yes.
Don't hesitate to contact us if you would like to share another tip for optimising pizzeria profitability, or if you have any questions regarding the financial forecast of a pizzeria.
Also on The Business Plan Shop
Is someone you know planning to open a pizzeria and might be interested in this article? Share it with just one click!