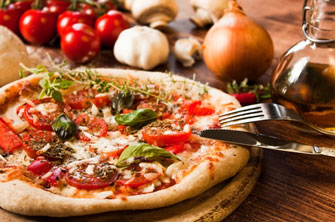 Some flour, a pinch of salt, a little yeast, a layer of tomato sauce, and a dollop of cheese: pizza is as simple as it is delicious.
From basic margarita to the more extravagant capricciosa, it's incredibly versatile - and the pizzeria business model is no different. Just like pizza, it can take many forms - whether it be a classic Italian restaurant, pizza takeaway, fast-food joint, or a gourmet pizza place.
Whatever way you decide to sell pizzas, you'll have to draft up a business plan for a pizzeria before being able to make it happen. In this guide, we'll explain how you can successfully launch a pizzeria by taking advantage of this practical tool.
Before diving headfirst into writing the business plan for a pizzeria, let's first look at the market.
The UK pizza market
According to a study carried out by VoucherCodes.co.uk, the average Brit will eat 731 pizzas in their lifetime (or 5,847 slices, to be exact.)
The market is therefore booming at around £4.9 billion - with around 6,164 pizza delivery and takeaway places alone.
Between pizza takeaway businesses, fast food chains, Italian restaurants, and independent pizzerias, the competition is very tough. So it's up to you to develop a business idea that will allow you to successfully take up your own space on the market.
Why the business plan for a pizzeria is essential
To successfully launch the restaurant of your dreams, writing a business plan for a pizzeria is imperative.
If you're just starting out in the entrepreneurial sphere, then the idea of creating a business plan might seem scary - but it's important that you can see it for what it is: a remarkably effective tool to help you move your business idea forward.
In other words, a business plan is your roadmap.
It's a document in which you lay out the details for your project, the objectives you have for your business, and the steps you'll need to take to ensure it's a success.
Giving you a clear and overall view of your venture, the business plan will allow you to iron out any kinks, highlight its strengths, quantify the amount of money needed to bring it into fruition, and estimate the potential profitability of a pizzeria.
You can then use this document to present your business idea to banks or potential investors, who will then decide whether or not they'd like to lend the funds to help get your business off the ground.
It's therefore essential to have a solid, comprehensive business plan to prove your dedication and credibility as an entrepreneur.
Writing a business plan for your pizzeria also means having to carry out market research to familiarise yourself with the pizza market in the town or city in which you'd like to base your business, as well as the strengths and weaknesses of nearby competitors.
The prices you set will depend on your business model (whether it's a gourmet pizzeria or a pizza delivery place) and where you're based. From there, you can draw up a financial forecast for your pizzeria to integrate into your business plan.
What information might a pizzeria business plan need?
Conducting market research is crucial. It helps you validate that there's potential for your business to prosper. Think about:
The pizza industry market map (price and type of pizza segments) to understand where you could position your business in the market
Successful methods used to build customer loyalty in your target market
Any new trends in the market (the emergence of gluten free and vegan pizza)
You also need to gather data about potential operational costs (staff recruitment, training and other operating costs). We advise you to call suppliers and ask them for a quote concerning prices.
These are the two key areas that you will need to address before drawing up a business plan. A high-quality business plan will likely require an in-depth analysis of both.
Feeling lost? Let our business plan software guide you
If drafting up a business plan for a pizzeria on your own feels a little too complicated, then you've come to the right place
Our online business plan software makes it easy for you. Designed specifically for entrepreneurs who've never written a business plan before, it will guide you step by step through the process - so you don't get lost in between the many different stages.
It will also make creating a financial forecast a breeze - leaving you with a clear, well-presented, and professional document with which you can confidently showcase your business idea to investors.
If you're still not sure, why not dip your toe and test our business plan software for free? Click here to try it out and let us know how you get on.
If you have any other questions or queries related to the launch or operation of a pizzeria, please don't hesitate to get in touch with our team.
Also on The Business Plan Shop
Know someone who's about to write a pizzeria business plan? Share this guide with them!