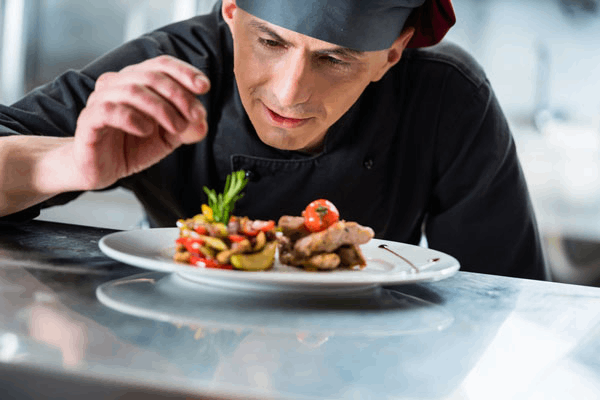 So you're passionate about the food industry and have always dreamed of setting up your own restaurant...but you have no start-up capital. Although it feels like you're in a sticky situation, don't worry - your hopes aren't yet dashed.
Starting a business without or with limited money means you will need to use external financing to launch the business and will have to work a lot harder than others to convince financial partners, but it's not impossible.
In this practical guide, you'll find everything you need to know about how to open a restaurant with no money - including what sources of financing you can use and how a good business plan can make all the difference in convincing investors to fund your venture.
How to open a restaurant with no money
The power of the personal financial contribution
The very first factor you need to take into consideration when figuring out how to open a restaurant with no money is just how much you can afford to contribute to the project yourself.
Things might be tight, but if you request a bank loan without offering any personal contribution, then you might face difficulty accessing funding. Banks (and investors in general) appreciate entrepreneurs putting a hand in their own pockets, even if this contribution is small, so first, assess your savings to see what you can invest in your dream.
Doing so is tangible proof of commitment to your venture, as it gives you a vested interest in making sure the project succeeds, making it a more attractive opportunity for lenders and investors who know that you have something to lose as well if the project fails.
Some entrepreneurs, however, won't have a single cent to set aside for their business. If you fall into this camp, you should bear in mind that while it may be difficult to get external financing, it won't be impossible.
Keep reading to check out other options for obtaining finance for your new business on no money.
Accessing funding when you can't make a personal contribution
The initial investment required to open a restaurant can be substantial when you consider factors such as buying furniture, stocking up the bar, and covering the premises' security deposit.
You must also add in the cost of attracting new customers through marketing strategies. Because even if you serve up the best spaghetti alla Norma in town, it won't bring you much profit if no one knows it exists.
As indicated above, most banks will ask that you contribute to the funding of the project before handing out loans.
If you can't provide a capital contribution, then you may have to set aside any dream of setting up a centrally located, Michelin-star restaurant.
For smaller restaurants with more modest concepts, however, the initial investment can be limited. If you set your sights on this first, you can maybe build up enough equity to create a bigger business down the line. This will also give potential investors more confidence in your talent, drive, and ability to successfully operate a restaurant.
Love money and crowdfunding as alternatives to a bank loan
Several other financing sources are possible for anyone interested to find out how to open a restaurant with no money.
The first is love money. Love money is the money coming from your loved ones. It is also called money from the 3 Fs: friends, family, and fools (fools: because they invest when the project carries the most risk, not because they are stupid!).
Raising a bit of love money, in the form of capital investment, loan, or donation can be an effective way to get the funding you need to launch your business.
Your loved ones know you well and know what you are capable of, it is therefore often easier to convince them to invest in you and your business than to convince a stranger (lender or investor).
Another potential source of financing is crowdfunding. Crowdfunding allows you to collect donations or raise equity from family members or kind strangers who believe in your project. Donations occur when an individual directly gives money to a cause or organisation, whilst equity crowdfunding enables individuals to receive a proportionate slice of equity in the restaurant in exchange for cash.
You can even raise awareness of this initiative by awarding donors with 'counter-gifts', including a free bottle of wine or meal in your restaurant, or for the most generous donors, a free sampling of your tasting menu.
Crowdfunding can be particularly effective as it enables you not only to raise funds for your project but also to introduce it to your wider community and create some hype around it.
Gathering contributions via crowdfunding is also an excellent way to demonstrate to a bank that future clients have a keen interest in your project, making for a more compelling argument that it's worthy of a loan.
Examples of successful crowdfunding for restaurants
In November 2015, 891 people pledged £103,915 to help bring a small restaurant called Burnt Truffle to life. The owner, Gary Usher, offered backers free Sunday lunches once the restaurant opened, and anyone donating over £5,000 could enjoy a complimentary private party or Christmas dinner.
After running an underground supper club within their home in Atlanta for two years, husband and wife Zach and Christina raised a total of $71,950 in November 2017 to open up their own family and community-focused restaurant, Pushstart Kitchen. The money pledged by members of their local community covered everything from purchasing the restaurant location to equipment, legal fees and silverware.
State aid available to help you open up a restaurant with no money
If you have your sights set on finding out how up a restaurant with no money, you can also count on state assistance for entrepreneurs. This can consist of government grants which are available in many kinds of forms - from cash awards to free equipment to help your restaurant flourish.
If you are in the UK, to find out more about support available, you can visit the gov.uk Business Finance Support Finder. Another option is to apply for the Start-Up Loans Scheme. Supported by the government, this scheme offers personal loans of up to £25,000. The interest rate on such loans is just 6% and entrepreneurs also receive access to free mentoring and business support.
In the US, the SBA works with various organisations to provide small businesses with grants. Check out their website to see if you meet the criteria to apply.
Another option would be to find out about regional business start-up awards and competitions set up by your local government that reward and fund business start-up projects.
How a business plan assesses the feasibility of the restaurant
As the guide above on how to open a restaurant with no money has indicated, it's certainly not an impossible task - but you will have to work that much harder than an entrepreneur with existing funds to prove that your business is worth investing in.
This also, and even more importantly, requires a perfect business plan that will present your project with authority, conviction, and precision.
It is with this document that you'll communicate your business's concept and plan of action to potential investors. It must therefore be precise and make people want to embark on your entrepreneurial adventure with you.
If you have never made a business plan and don't know how to go about it, don't worry, as you can use an online business plan software to guide you through the writing process.
There are several advantages to using specialized software to create a business plan:
You will be accompanied step by step through the writing process with instructions and examples for each part of the plan.
You will easily create your financial forecast, letting the software take care of the calculations.
You will have access to already written business plan templates
In the end, you will get a professional document, formatted and ready to be sent to your bank or investors. If you are interested in this type of tool, you can try our software for free by clicking here.
You can also have a look at our restaurant business plan template to get some inspiration.
We hope that this article has helped you to better understand how to open a restaurant with no money. If you still have questions, do not hesitate to contact us for any questions related to the creation of a restaurant.
Also on The Business Plan Shop