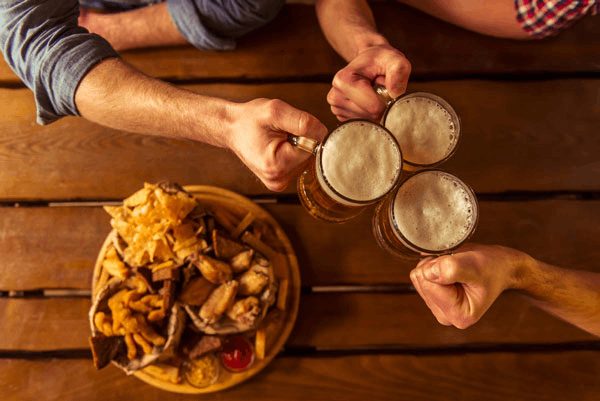 Between all-day breakfasts, coffee on tap, and slices of dreamy apple pie, who doesn't love a visit to their local diner?
If you're passionate about good old-fashioned comfort food, then you might have your sights set on starting your very own diner.
If this is the case, then you're in the right place. From carrying out market research to deciding your concept, and writing that all-important business plan, in the guide below we'll tell you everything you need to know about how to open a diner.
Carrying out market research for a diner
The very first step in opening a diner is to carry out market research. Doing so will not only enable you to verify whether there's enough demand for you to successfully open your diner (and 'make bank'), but also help you develop the best strategy for attracting customers.
Market research will not be complete without an in-depth analysis of three key factors:
current industry trends
who your potential customers are and what they're looking for in a diner
who your competitors are and how they're doing
Checking out the diner market
Originated in 1870s America, diners are small restaurants that serve staples of American cuisine, including hamburgers, fries, waffles and milkshakes.
Offering a casual dining experience, diners are considered by many as the pinnacle of American culture, with New Jersey (the diner capital of the world) boasting 600 diners alone.
And it appears the concept is gaining traction in the UK. According to foodservice consultancy firm Horizons' 2021 Ones to Watch report, the great value, friendly service and extensive choice of food offered by diners appeal to a wide range of UK consumers - with US-themed restaurants tipped to be among some of the most rapidly growing brands over the last three years.
With the roaring success of American-inspired restaurants such as The Blues Kitchen in London and the arrival of more US-style concepts including The Mac Factory in the last year, there's certainly an appetite for American-style dining that many entrepreneurs are ready to tap into.
The rules and regulations of operating a diner
When opening a diner, it's important that you respect the same regulations as you would when launching a restaurant.
Firstly, there are several requirements you'll need to satisfy around health and safety. Before starting your juice bar, you'll have to register the premises with your local authority's environmental health service at least 28 days before you start trading.
It's important to note that this process doesn't cost any money when opening a diner. It simply involves allowing a local official to visit your premises (although you won't be warned when) to check out the space you'll be using to prepare food and ensure it's safe and hygienic.
After each inspection, you'll receive a Food Hygiene Rating which, depending on your location, you may need to display in public view. To register for a visit from your local authority, check out the UK Government website.
It's also mandatory for new business owners to draft a plan based on the Hazard Analysis and Critical Control Point (HACCP) Principles. This plan will ensure your food is safe from biological, chemical, and physical hazards, as well as allowing you to identify potential hazards.
Finally, if you wish to sell alcohol, you'll need to apply for a premises license. This will also enable you to play live and recorded music and serve hot food and drinks after 11 pm. For more information on how to obtain the licenses above, you can visit the Gov.uk license finder.
In the US, you will be required to register for a business license to open your diner, as well as a food service license and a food handler's permit. You can visit the SBA website for more details on how to obtain these.
You will also need a liquor license for serving alcohol. Each state has its own Alcohol Beverage Control Board that regulates the serving of alcohol. To obtain a liquor license, you must contact your state's ABC board. You can find a national directory of ABC boards here.
Opening an independent or franchised dinner
Now that we've looked at the market research, the next stage in our guide on how to open a dinner is helping you decide what type of diner you'd like to open.
Opening an independent diner will give you more freedom in allowing you to manage it and be as experimental with your menu as you wish. Adversely, by deciding to join a diner chain, you can benefit from operational support from the get-go - as well as a glittering reputation from an already established chain and a base of loyal customers.
Scoping out the perfect location to open your diner
The location is a key component of success when opening a diner. Having a heavy influx of customers will ensure a decent turnover, while a deserted diner is at risk of shutting down prematurely.
So choose a location that attracts your kind of people. Whether it's beside the main motorway so as to attract commuters, or within a residential area to form a rapport with locals, it's up to you to see where your concept has the best chance of success.
Choosing a legal form to open a diner
The next step in our guide on how to open a diner is choosing the legal structure of your business. Choosing your diner's legal form is a vital step as it will impact:
How much your business is taxed
Your taxation at a personal level
Your responsibility for the company's debts in the event of bankruptcy
To help you make your choice, you can find more detailed information on the different legal forms available to you on the gov.uk guide for UK business owners and SBA guide for those of you based in the US.
The equipment and staffing requirements of a diner
To develop an accurate financial forecast, you will have to be perfectly clear on your diner's staffing and equipment needs.
Initial investments
Opening a diner requires not only a space to host and serve customers, but also a fully-equipped kitchen to prepare food and store ingredients. You'll also need to plan your stock supply.
To build as realistic a financial forecast as possible, you'll also want to include the cost of any licenses required to run your business, as well as the cost of kitting out your premises so you can sell food (e.g. a few card machines and a till or two) and welcome customers (with tables, comfortable chairs and a robust sound system to play chilled out music).
Recruitment plan
The next step is finding staff you can depend on. The success of opening a diner depends significantly on its menu and the hospitality of its waiters. When drawing up your recruitment plan, estimate the number of people you'll need for each position, whether it be a kitchen or front-of-house staff, and then recruit enthusiastic people with the right qualifications.
Extra administrative costs
Opening a diner also implies having recourse to additional services, such as insurance, water, electricity, and maintenance.
You may choose to delegate the accounting and administrative management of the diner to specialised management or accounting firm.
Cleanliness and hygiene are of particular importance in the restaurant business. You may, therefore, think it appropriate to outsource restaurant maintenance to a cleaning company - but bear in mind that this doesn't exempt you from your personal obligation to ensure that the health and safety regulations in force are respected.
To ensure you estimate these expenses as accurately as possible, get in touch with several professionals and ask them for quotes - using this information as leverage so you can negotiate the best price possible with different suppliers.
Developing a marketing plan to open a diner
How can one ensure success when opening a diner from the outset? Well, the answer lies in devising a strong marketing plan. This plan will list all the marketing actions you'd like to implement to acquire your customers and, in a second step, to build customer loyalty.
There are many options at your disposal here, including: setting up a website and social media profiles, paying for a billboard to be put up in your town centre, or having your diner featured on online resources including Google Maps and city guides.
You should also consider inviting prominent food bloggers in to taste your dishes and integrate online reviews into your strategy from the start: controlling your online reputation in the digital age.
The costs of these actions vary and some might be more successful at attracting customers than others, so take some time to test different marketing actions out and focus on the ones that prove to be the most effective.
Writing the business plan for a diner
Writing a business plan is another essential step along the road to opening a diner.
The business plan is the document with which you will present your business idea and try to secure financing from your bank or potential investors, so you need to make it impeccable.
If you are not used to writing business plans, a good solution would be to use online business plan software.
There are several advantages to using specialized software:
You are guided through the writing process by detailed instructions and examples for each part of the plan.
You can be inspired by already written business plan templates
You can easily make your financial forecast by letting the software take care of the financial aspects for you.
You get a professional document, formatted and ready to be sent to your bank.
If you are interested in this type of solution, you can try our software for free by signing up here.
Securing funding to open a diner
As we've seen above, the investment needed to open a diner will be hefty enough. Luckily for you, however, several funding solutions exist. These include...
Trying to obtain a loan from a bank or credit institution, but be aware that obtaining a loan for business creation is not always easy.
Approaching private investors: your family and friends or angel investors
Launching a crowdfunding campaign, which is also a good way to get people talking about you.
Seeking state aid for business creators: in the form of a grant or low-interest or interest-free loan.
You can find more information on these different financing methods by checking out our guide on how to open a diner with no money.
Now that we've come to the end of our guide, we hope it's given you a clearer idea of how to open a diner. If you have any questions or queries at all please do not hesitate to contact our team

Also on The Business Plan Shop
Know someone who wants to find out how to open a diner? Share this article with just the click of a mouse!