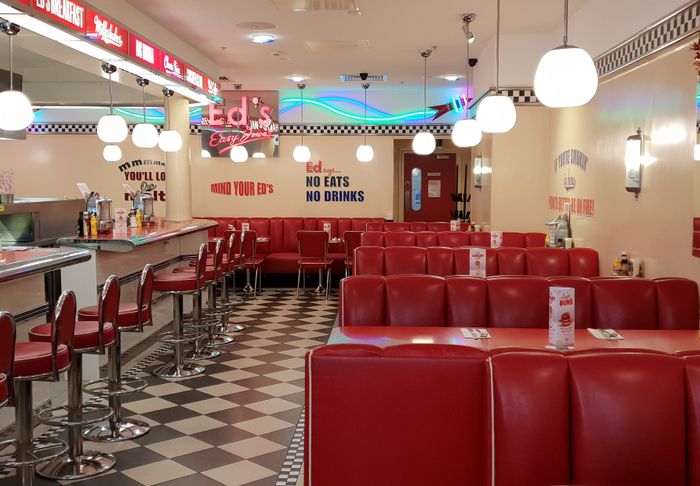 Are you keen to open a diner but don't have the money? Starting up any business means needing a certain level of initial investment, but that's not to say that it's impossible to launch a diner without any money (or with a very small amount) - it simply requires a lot of determination and careful planning.
In this practical guide, you'll find everything you need to know about how to open a diner with no money - including what sources of financing you can use and how a good business plan can make all the difference in convincing investors to fund your venture.
Is it possible to open a diner with no money?
Is opening a diner without money a total pipe dream? Not necessarily, provided you keep your expectations relatively low.
If you run before you can fly (i.e. try to create a huge 100-seat capacity restaurant on a restrictive budget) you run the risk of scaring away financial partners, so start small and consider holding off on developing your business until your first profits arrive.
If you have your sights set on a smaller restaurant, which needs relatively limited initial investment, opening your diner dream could be well within reach. You'll still need some contribution, but there are solutions to build this - which we'll discuss later on in this guide.
It's important to have your wits about you, though, as you'll still have to answer all the financing needs of how to open a diner with no money regardless of whether you can dip into your own pockets or not. Between the deposit for the premises and the purchase of tables, chairs and decoration for the restaurant, to the kitchen equipment and initial stock, your start-up costs will need to be counted up and quantified.
You should also bear in mind that most banks will only lend you a loan if you can justify a personal contribution representing a significant part of your financing needs (usually at least 30%).
However you make up your initial contribution, it needs to be enough to launch the business and have enough cash left over so you can operate whilst building up your customer base, compete with rival diners on an even-enough playing field and reach your break-even point.
Love money and crowdfunding as alternatives to a bank loan
Opening a diner with no money simply can't be done without sourcing out alternative financing solutions. This will enable you to raise the funds to get your diner off the ground, or at least fill your pockets with enough cash to convince a bank or investor to financially support your business.
First of all, consider love money. As you may have guessed, this is the money you can collect from your family and friends, in the form of donations, loans (interest-free or not), or investments.
Raising a bit of love money, in the form of capital investment, loan, or donation can be an effective way to get the funding you need to open your diner with no money.
Your loved ones know you well and know what you are capable of, it is therefore often easier to convince them to invest in you and your business than to convince an investor you've never met before.
Another potential source of financing is crowdfunding. Here, two options are available to you:
1. Crowd equity
Crowd equity is where individuals or angel investors provide funding to support your business in exchange for shares in your business.
This can double up as an opportunity to find potential business partners to open your diner, who can provide you with advice regarding the launch of your project, and allow you to divide out the overall funding and provide the bank with evidence that your business is worth supporting.
2. Donation-based crowdfunding
If you decide to opt for donation-based crowdfunding, it will involve setting up a campaign on a crowdfunding platform, telling your story and collecting donations from kind-hearted individuals who wish to financially support your mission to open a diner with no money.
Being (most likely) active foodies, contributors may expect a small reward linked to your business in exchange for their generosity, such as a free meal or VIP invite to the launch of your diner. It's up to you to quantify the size of the gesture according to the generosity of the donation.
In either case, crowdfunding will not only help you raise funds for your business but can also be used as a lever to get those within the wider community talking about your venture and build up some hype around it. Don't downplay this level of excitement when applying for a loan - as it could be wildly effective in convincing a bank of the strengths of your business idea and even make them forget that it's derived from humble beginnings.
Examples of successful diner crowdfunding campaigns
Many businesses have been able to collect donations via crowdfunding that has helped them develop beyond their wildest dreams. Sequoia Diner, a California-based diner sourcing organic and sustainable ingredients, for example, raised over $32,000 in May 2015 - gathering enough funds to open its doors and serve comfort food to the people of Oakland.
In March 2021, British street food trader and chef Andy Stubbs announced he had reached his fundraising target of £50,000, initially set in 2019, to open his very first Texas-style BBQ restaurant in Birmingham.
State aid available to help you open a diner with no money
If you have your sights set on opening up a diner with no money, you can also count on state assistance for entrepreneurs.
This can consist of government grants which are available in many kinds of forms - from cash awards to free equipment to help your restaurant flourish.
If you are in the UK, to find out more about the support available, you can visit the Business Finance Support Finder. Another option is to apply for the Start-Up Loans Scheme. Supported by the government, this scheme offers personal loans of up to £25,000. The interest rate on such loans is just 6% and entrepreneurs also receive access to free mentoring and business support.
In the US, the SBA works with various organisations to provide small businesses with grants. Check out their website to see if you meet the criteria to apply.
Another option would be to find out about regional business start-up awards and competitions set up by your local government that reward and fund business start-up projects.
The business plan: a litmus test for your diner's chance of success
Writing a business plan is the final (essential) step in opening a diner with no money.
In fact, a business plan forces the entrepreneur to examine every aspect of his or her business, so they get a gauge of the exact means needed to bring it to life.
This means also accurately assessing your initial financing requirements. By balancing these with the amount of money you're able to raise, you can ultimately determine whether opening a diner with no money is feasible or not.
This is done by estimating how much money you'll need to launch your business and then sustain it until you reach the break-even point. The financial tables will guide you by defining these aspects, as well as helping you calculate the break-even point and the time needed to reach it.
To make it simple, the business plan is made up of two main sections:
A financial forecast that aims to highlight the expected profitability of the business and the initial financing requirement.
A written part that presents, in detail, your project, the team, your business strategy, and your medium-term objectives.
A diner business plan works as a point of reference for the business owner and management team, so should be looked at from time to time to keep your business on track.
The stakes are high as you need to not only communicate your business's concept and plan of action but also check its workability and make investors want to board on an entrepreneurial adventure with you.
It can be complicated and a little stressful to have a go at writing a business plan alone, especially if it's the first time you're doing it.
If you are not used to writing business plans, a good solution would be to use online business plan software.
There are several advantages to using specialized software:
You are guided through the writing process by detailed instructions and examples for each part of the plan.
You can be inspired by already written business plan templates
You can easily create your financial forecast by letting the software take care of the calculations and financial aspects for you.
You get a professional document, formatted and ready to be sent to your bank.
If you are interested in this type of solution, you can try our software for free by signing up here.
As you can see, there's certainly no shortage of solutions when it comes to raising enough funds to open a diner with no money.
We hope that this article has helped you to better understand how you can open a diner with no money. If you still have questions, do not hesitate to contact us for any questions related to the creation of a diner.
Also on The Business Plan Shop
Know someone who may be interested in opening a diner on a budget? Share this guide to open a diner with no money with just one click!