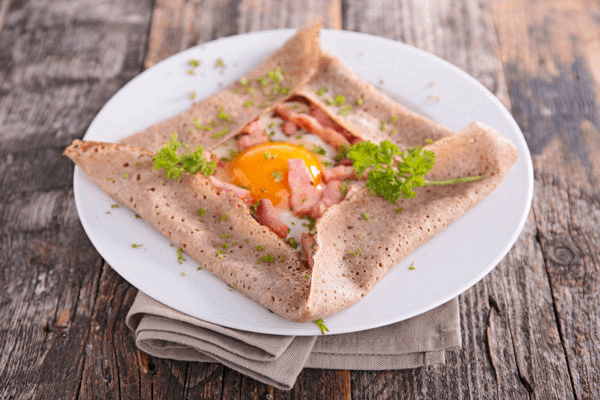 Have you managed to get your hands on your family's highly coveted and top-secret pancake batter recipe? Perhaps you've also already stumbled upon the perfect location to open a creperie, and have a bank of creative and delicious recipes ready to be shown to the world? Good news, you already have many of the credentials required for a thriving creperie business.
But before you can start flipping pancakes, there's one last thing to do: develop a business plan to secure your creperie's long-term success.
Before we look at the development of your business plan, however, let's check out the market.
The state of the creperie market
In a restaurant market where pizza and burgers have already been taken by storm, along with the popularity of salad and juice bars, it looks like the crepe has been left behind.
In light of the fact that the profit margin on this clever blend of flour, eggs and milk can be as high as 90% in some cases, why are more entrepreneurs not entering the pancake market and opening a creperie?
Before rushing head-first into opening a creperie, it's essential to understand the constraints linked to the niche market that is the creperie business. Yes, the late return is exceptional, but these figures are weighed up against other challenges that we sum up in the 3-points below:
1. A relatively low average spend per meal
Firstly, with the average price of a crepe costing between £3 - £4, entrepreneurs entering the crepe market need to think carefully about how to maintain a high enough profit level to cover their costs when they open a creperie. This raises the question of price positioning: will you try to attract customers with cheap crepes or use this opportunity to stock up on fresh herbs and premium cheeses to build up the average spend per head?
2. A large hourly volume for a low price
It's also important to be aware of the demands of running a creperie. The early mornings, pancake batter prep and ensurance that sanitary obligations are met all seem like a lot when you consider that the gross annual salary of a crepe manager is in and around £20,000 after two years of business. When we mix in the stagnant annual turnover of the creperie market, it might make sense that some entrepreneurs might be tempted to back peddle on their plans to open a creperie...
3. A very seasonal activity
And the challenges don't end there - as you need to be aware of the fact you're entering a highly seasonal activity when opening a creperie. This means relinquishing control of your customer flow over to the weather, and constantly monitoring your cash flow.
If crepes tend to be more popular in the winter season, then bringing in lighter recipes with seasonal ingredients could be the solution when it comes to attracting more customers over the quieter summer months.
But if pancakes are mainly eaten in winter, to boost the profitability of your pancake business, why not implement the necessary means to change the consumption habits of the fervent pancake lovers? Fresh and light recipes as well as an adapted visual identity could be the solution when you open a creperie.
Although these factors shed a light on why some entrepreneurs feel reluctant to enter the creperie market, it's important not to be deterred by them. The fact that the creperie market is a modest one also means less competition and lots of room for innovation for those entrepreneurs ready to brave it.
Using your market research data to create a business plan and open your creperie
As you'll have understood, the main key to open a successful creperie is to identify your indirect competition (i.e. other restaurants and cafes) as your direct competition is likely to be limited.
Unless you're setting up in a region rife with creperies, the main question you should be asking yourself will be: how do I get consumers to choose my crepes over the sandwiches and snacks offered by the other cafes on the street?
Your answer to this question will define your whole business plan, as from there you'll be forced to ask follow-up questions including whether:
you want to offer table service or takeaway crepes, or open a creperie food truck
you'll exclusively sell crepes or offer other food options
you'll set a menu with traditional flavors or come up with experimental recipes
you'll open an independent creperie or join an established chain of creperies
It's up to you to weigh up the advantages and disadvantages of the many options available before opening a creperie, and to lay out these choices attractively in your creperie business plan.
The keys to creating a successful creperie business plan
Put simply, your pancake business plan fulfills two functions:
by presenting your business model in an attractive way, it helps convince investors to support your venture
it also acts as a roadmap for your first few years of business, as you can refer back to it and follow the guidelines within it to ensure you achieve long-term success
For these reasons, your creperie business plan must not only be convincing but also as realistic as possible.
Each company (and by extension) each business plan - presents different challenges, specific to its industry.
Before creating a creperie, you need to touch on the following factors in the body of your business plan.
Your location
Whether you decide to open a creperie in a town along the coast or smack bang in the centre of a capital city, the location you pick will impact many aspects of your creperie business. While a creperie based in the city centre might face a lot more competition from rival food places, one situated in a seaside resort might be heavily impacted by significantly fewer sales in the winter months.
Your price range
A traditional creperie will use fairly standard marketing tactics and cheap menu prices to attract customers. A conceptual creperie, however, might use slightly more unusual ingredients which would push its prices up. The same goes for its marketing tactics when opening a creperie, as it may be trying to appeal to a very specific market. Whichever concept you go for, make sure you establish a clear financial forecast for your new business to match it.
Your long-term goals
As you may have noticed, few franchises come to mind when we talk about opening a creperie. So is that a gap in the market we spy? If you like the idea of expansion in the future, layout the blueprint for this in your business plan by indicating that it's a long-term goal you'd like to work towards.
How to write the business plan for a creperie
Ready to write your business plan and open a creperie? Make your life easier by using business plan software.
There are several advantages to using specialized business plan software:
You are guided through the writing process by detailed instructions and examples for each part of the plan.
You can be inspired by already written business plan templates
You can easily make your financial forecast by letting the software take care of the financial aspects for you.
You get a professional document, formatted and ready to be sent to your bank.
Interested? Then you're in the right place, as The Business Plan Shop offers one of the best online business plan softwares on the market. If you don't believe us, try it out yourself for free by signing up here.
Now you know everything there is to know about how to open a creperie. We hope you found this article useful. If you have any questions or queries at all please do not hesitate to contact our team.

Also on The Business Plan Shop
Know someone who'd like to open a creperie and might be interested in this article? Share it with the click of a mouse!