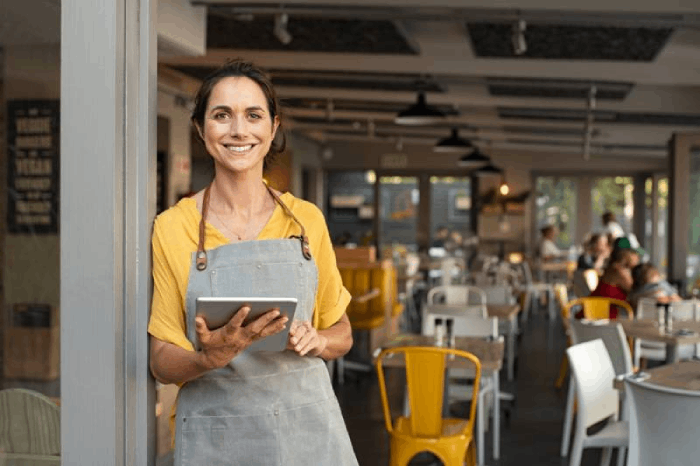 Are you passionate about cooking, and have always dreamed of setting up a restaurant? For it to be successful, you'll have to put its financial forecast at the heart of your project.
Creating a financial forecast for a restaurant is the closest you're going to get to seeing the future of your business. It will enable you to not only review all the budget necessary for the opening of your restaurant, but also to get a better idea of its potential profitability.
If you're overwhelmed at the thought of putting together a financial forecast for a restaurant then don't worry, as in this article we'll give you all the information needed to create them with ease.
First, we will look at what the role of the budget is and what data we need to make it work. We will cast our eyes over the three main parts of the financial projections, and the tables that compose it. And last but not least, we will give you several tools that will help you create your own projections.
Why make a financial forecast for a restaurant?
The financial forecast allows you to assess whether or not your project is likely to be profitable.
You will analyze every detail of the restaurant you have in mind (from costs to menu prices) to make sure that it's financially viable. You will also list the investments required for starting up your business, such as kitchen equipment and furniture, to set out how much money you need to get your business off the ground.
The financial forecast will also give you an idea of what you can expect over the next three years, allowing you to plan the development of your business with confidence.
It's also important to remember that your restaurant's budget will be essential when you're looking for financing. You can be 100% sure that a banker or investor will ask you for these numbers when presenting your project, so make sure they're set out accurately and attractively.
What information is needed to create a financial forecast for a restaurant?
Your restaurant's financial forecast will be based on specific data that you will need to have collected beforehand.
First of all, you will need to have already carried out market research to evaluate the commercial potential of your location.
The market research allows you to answer the following questions:
How much will the average spend per head be?
How many times per year will the average customer visit the restaurant?
How many people are likely to visit your restaurant during opening hours? When assessing this, think about the potential customers around you (e.g. office workers, students, families) and split it into lunch and dinner sittings during the week and on weekends.
What are the nearby restaurants? Do they serve the same type of cuisine or do they have a very different menu from yours?
Your market analysis will also consider the marketing strategy you need to put in place to get your restaurant's name out there. Whether you set up your own website or pay people to hand out flyers on the street, these promotional costs will need to be included in your budget.
Finally, you will also need to draw up a precise list of the resources needed to keep the restaurant running on a day-to-day basis. Between staff, insurance and purchasing a music license, it's important to ensure these are all accounted for if you want to create a budget that's as close to reality as possible
Your restaurant' sales forecast
When creating your restaurant financial projections, the first thing you should do is set out a sales forecast.
Your level of inventory and staffing needs will depend on how busy you expect your restaurant to be, so it's easier to start here.
To estimate your sales projections, you can begin by evaluating your restaurant's maximum capacity.
When putting together this data, it's important to bear in mind:
The number of seats available and the amount of time each customer spends at the table.
The restaurant's opening hours
The time it takes the kitchen to prepare the dishes and the acceptable waiting time before they reach the table
Once you know your maximum capacity, you'll want to take a look at the occupancy rate. This assesses the percentage of tables occupied during peak and off-peak dining times.
You will then need to determine how many customers are likely to visit your restaurant each day based on market research data.
The last part you'll need to evaluate the average revenues per table. This will vary depending on your menu prices and the clientele targeted by your restaurant.
Your restaurant's overheads budget
Overheads are the expenses needed to run the business on a day-to-day basis.
To make sure these figures are as precise as possible, it's important to quantify each expense item using estimates provided by your suppliers.
Generally speaking, a restaurant will have significant overhead costs in terms of payroll. You will need both kitchen and dining room staff, not to mention seasonal workers who will flow in and out during the summer or winter.
It's therefore vital that you accurately estimate the number of employees you will need by taking your number of potential customers into account.
Your overheads will also include rent for the premises as well as water, gas and electricity bills. Typically, additional costs will include licensing costs, insurance, maintenance, cleaning products, and/or commissions if you use online delivery platforms.
Investments required for your restaurant
There's no getting away from it, several investments will need to be made in setting up your business.
As you'll need to stock up on kitchen and dining room equipment, it's important to create a list of all the appliances needed. This will change depending on your restaurant's concept - for example, if you make your bread or ice cream, you'll need to account for additional investments.
Research quotes for kitchen equipment, furniture, cutlery, glassware, and all the elements that are vital for the opening of your establishment.
The tables setting out your restaurant's financial forecast
Now let's take a look at your restaurant's financial forecast tables.
The restaurant's forecasted P&L statement
This table will give you an idea of your business' growth over the first three to five years, and allow you to see if it's likely to be profitable.
Keep an eye on the EBITDA and operating costs to make sure your business model is a sustainable one.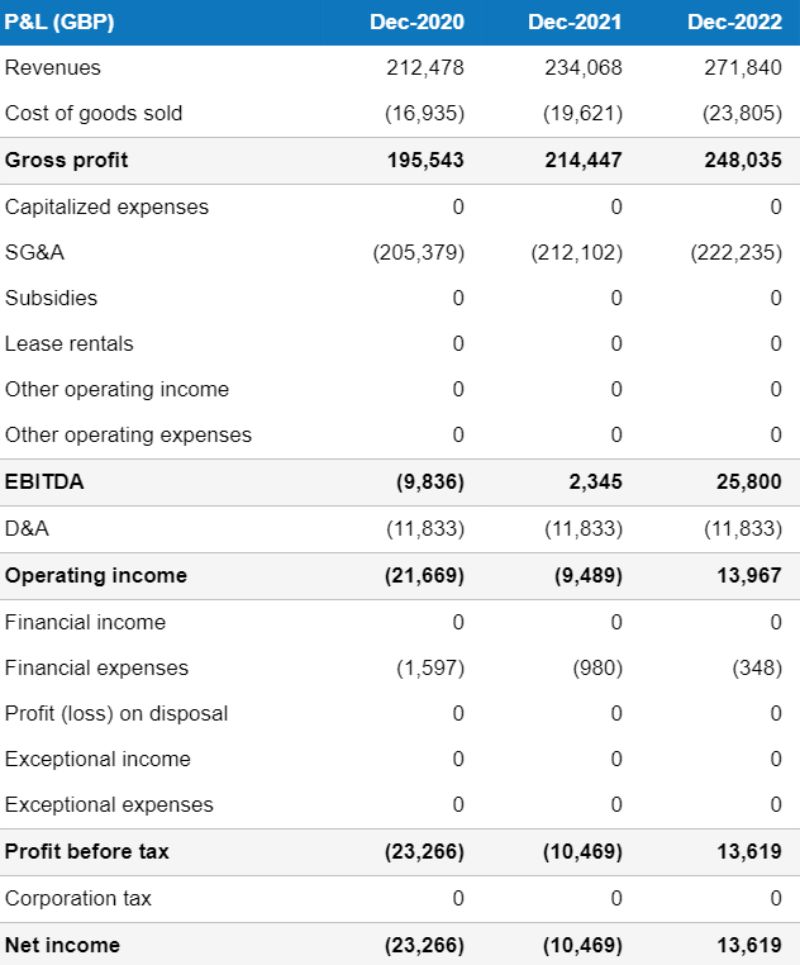 The projected balance sheet of your restaurant
This table reviews the company's assets and liabilities. It will give you an overview of the company's debts (suppliers, taxes, etc.) as well as what it owns (fixed assets, inventory, etc.).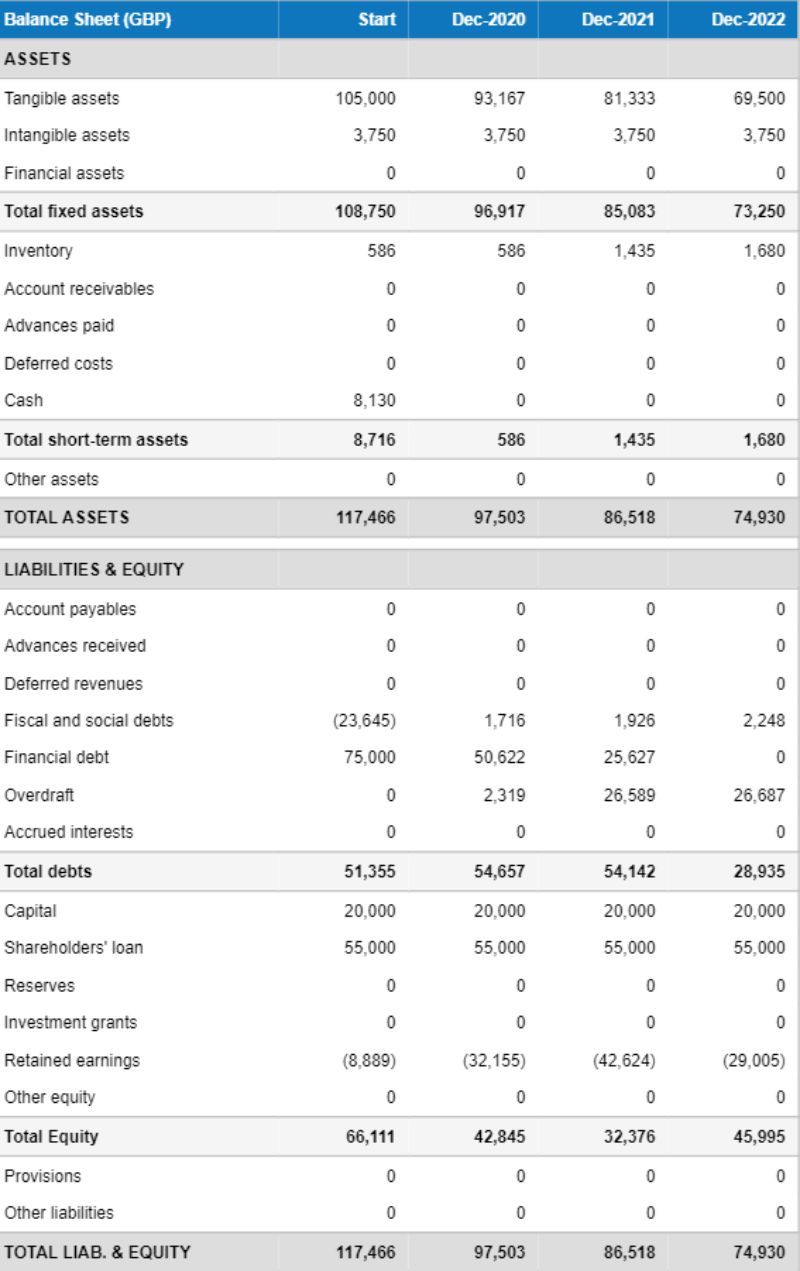 The projected cash flow statement of your restaurant
This table will help you assess the cash generated or spent by your restaurant.
This gives you the ability to assess whether the restaurant will have sufficient cash flow to repay its loans and finance the development of the business as time goes on.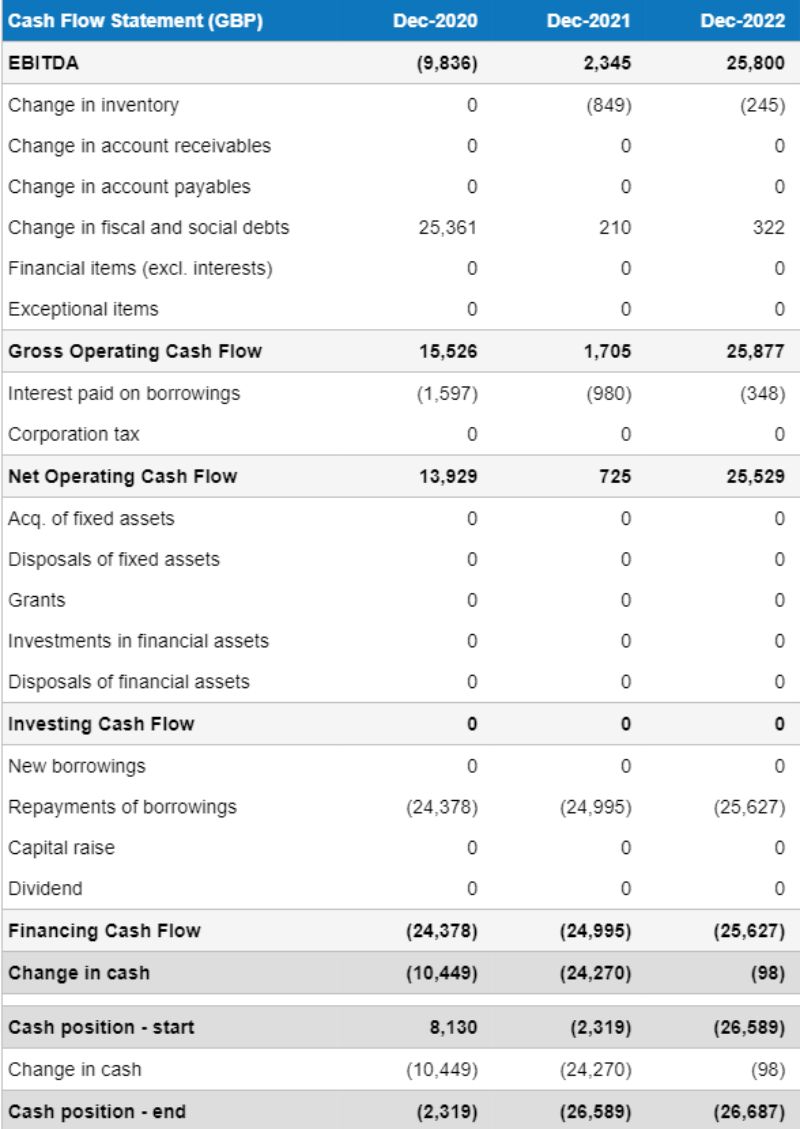 How do you develop a financial forecast for a restaurant?
As you can see, your restaurant budget is an integral part of your project, so you need to make sure it's as accurate as possible.
This technical step, however, can be complicated, which is why we're presenting you with a range of solutions that will help you along the way.
Create your restaurant's financial forecast using a spreadsheet
A spreadsheet software like Excel offers you a cheap solution, since you have the option to either buy the license or use a free version such as Google Sheets.
The downside? It's very easy to make mistakes. Therefore, this is a better option for those with a solid background in accounting and advanced knowledge of financial modeling.
If you have neither of those things, Excel probably won't be the best option for you - but don't worry, as we have plenty more solutions available below.
Hire a chartered accountant or a consultant
Enlisting the help of a consultant or accountant will let you obtain accurate figures from a professional point of view.
While it will save you time, this expertise comes at a price. We estimate that for a simple financial forecast over 3 years (including a balance sheet, income statement and cash flow statement) calling on professional help will set you back around £677 or $920 (excluding VAT).
Using an online forecasting software
The final solution available to you is to use an online financial forecast software for restaurant.
This offers you the following advantages:
You can easily make your financial projections, letting the software take care of the calculations
You have access to complete financial forecast templates
You get a complete financial forecast ready to be sent to your bank.
If you are interested in this type of solution, you can try our budgeting software for free by signing up here.
We hope that this article helped you to see more clearly what needs to be done to create a financial forecast for a restaurant.
Don't hesitate to contact us if you have any questions!
Also on The Business Plan Shop