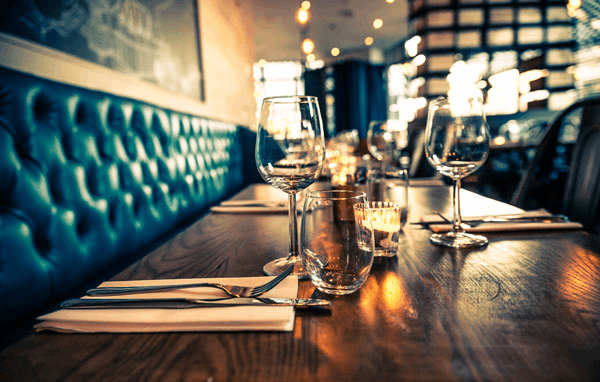 If you're a foodie or just love the hospitality industry, opening up a restaurant is an extremely rewarding process, but it's also just as exhausting.
It takes a lot of work, but with expert planning, you'll be well on your way to setting up a successful restaurant business.
If you're not sure how to open a restaurant, then you've come to the right place - as this guide will give you a low down on all the major steps involved in setting up a restaurant, from practical advice on how to conduct market research, to drafting up a business plan.
1. Conducting market research before opening a restaurant
The first step in our guide on how to open a restaurant is to look at the effectiveness of market research. This enables you to assess the level of demand and whether there is an opportunity for your business to thrive in your chosen location.
This research also gives you an idea as to what will be the most effective marketing strategy to reel in new customers.
Sector analysis
Market research for a restaurant should always kick off with in-depth research into consumer habits and hot industry trends. The goal is to help you understand what issues restaurant owners are facing and to identify the most promising market segments.
You will need to ask yourself:
What's the current state of the sector: is it in growth or decline? What are the main reasons for this?
What restaurant concepts are fashionable and which ones are struggling?
What are the main challenges faced by restaurateurs today?
Who is more successful: independent restaurants or chains?
On average, how many times a year do people visit restaurants?
What are the peak and off-peak periods?
How long do customers generally take for lunch or dinner?
What is the average spend per table?
What percentage of the turnover is usually generated on-site vs. takeaway?
What percentage of the turnover is made on food and drinks respectively?
Once you have refined your understanding of the restaurant industry, you will need to assess the potential of the area where you are thinking of creating your restaurant.
Make sure you have access to different reports such as this 2019 report from Deloitte on UK casual dining market or this website with the national statistics for restaurants in the US.
The objective here is to gauge the size of the local market and identify the most promising locations.
In particular, you will need to ask yourself:
What is the size of the local population?
What are the demographic characteristics (age, gender, employment status, disposable income, etc.)?
What prominent features in the area will impact your business (e.g. is it located near pedestrian street, shopping district, office area, train station, etc.)?
Analysis of the competition in the area where the business will be located
You will then have to familiarize yourself with the existing eateries in the area you wish to base your business. You'll need to ask yourself:
How many competitors are already present?
Where are they located?
What type of cuisine do they offer?
Are they independents or chains?
What prices do they charge?
What capacity do they have (number of seats)?
How many people do they employ?
What is their turnover?
What is their occupancy rate?
Once you've gathered this data, you will be able to assess whether the market is large enough to support the arrival of a new player (i.e. your restaurant).
As well as this, competitor analysis will enable you to identify promising locations within the area, and gives you an idea of what concepts could succeed there.
2. Choosing the right concept when opening a restaurant
Once you have carried out your market research, the next stage in our guide on how to open a restaurant is for you to consider what type of restaurant you want to open.
In determining your concept, you'll need to think about:
Whether you want to open a traditional restaurant or opt for opening a vegan restaurant
The type of cuisine you would like to serve
The type of customers you plan to target
Whether you'd prefer to set affordable or high-end prices
What atmosphere you want to set for your restaurant
You can also decide to join an already established chain of restaurants. This will make your job easier as the concept is already defined by the chain and you will also benefit from having dedicated customers from the outset, but you'll have less autonomy.
In any case, the most important thing will be to succeed in setting out a unique identity for your restaurant, so that you can stand out from your local competitors.
3. Where should you open your restaurant?
Once you've made your decision about the type of restaurant you're going to open, you need to consider its location. This is a key part of your project, which will directly influence whether your business succeeds or fails.
When setting up your restaurant, it's essential to choose a location that gets plenty of passersby on foot or in cars, so it can be easily seen by those driving or walking by. You also need to make sure the restaurant is easily accessible.
If you're keen to attract business clientele during their lunch break, setting up in a financial or industrial area of whichever city you're based is ideal. If you're after customers who are looking for a more unique experience, however, then choosing a location with an attractive view (such as a river or rooftop) will make an excellent asset.
Finally, there is also the possibility of taking over an already existing restaurant, which will allow you to benefit from a kitchen and dining room already stocked with the right equipment, as well as a dedicated clientele.
4. Choosing your legal structure
Next up in our guide on how to open a restaurant is how to choose the legal structure of your business. Deciding your restaurant's legal form is a vital step as it will impact:
How much your business is taxed
Your taxation at a personal level
Your responsibility for the company's debts in the event of bankruptcy
To help you make your choice, you can find more detailed information on the different legal forms available to you on the gov.uk guide for UK business owners and SBA guide for those of you based in the US.
5. Identifying the equipment and staff needed for your restaurant
Once you have chosen the concept of your restaurant, decided on a location and figured out the legal structure of your business, it's time to think about the equipment and people needed to open the restaurant.
First of all, you will have to set up your premises, in compliance with existing safety regulations. You'll need to consider the cost of equipment, too. As the ovens, fridges and various other utensils necessary in your kitchen will take up a big part of your investment costs.
The success of a restaurant depends largely on its kitchen, but also on its standard of hospitality and atmosphere, which is why the hiring process for both the kitchen and service staff must be a stringent one.
Finally, as with any business, setting up a restaurant also requires purchasing insurance (to make sure you're covered in the event of any incidents on the premise) and calling in a chartered accountant to manage the accounting and payroll.
6. Creating a marketing plan for your restaurant
How do you open a restaurant with a good turnover from the start?
You will need an effective marketing plan not only to get your business's name out there, but to build customer loyalty.
You have many options at your disposal - in fact, we counted as many as 17 marketing tactics you can use to market your restaurant.
The important thing here is to identify the most exciting aspects about your business - including your location, concept, food and service.
It's also important to integrate the use of social media networks such as Facebook, Twitter and Instagram into your marketing strategy. This will also help you track online reviews and gauge how people view your restaurant from the outside.
7. Writing your restaurant's business plan
Once you have completed all the previous steps, you're ready to start writing the business plan of your restaurant.
A business plan is a document containing a financial forecast (highlighting the financing requirements to start the business and the expected profitability of your project), as well as a written part presenting its strengths and the company's objectives for the coming years.
Your restaurant's business plan is particularly important as it will enable you to check that your business can be profitable. It's also the document you'll use to present your project to the bank and potential investors to secure the capital needed to launch - so having a professional and reliable business plan is key.
How do I write a business plan for my restaurant?
If you're not used to writing business plans, or if you want to save time, an excellent solution is to use an online business plan software like the one we offer.
Using specialized software to make a restaurant business plan has several advantages:
You are guided through the writing process by detailed instructions and examples for each part of the plan
You can look at already written business plan templates
You can easily make your financial forecast by letting the software take care of the calculations for you
You get a professional document, formatted and ready to be sent to your banker.
Interested in learning more? You can try our software for free by creating your account here.
You can also have a look at our restaurant business plan template to get a little inspiration!
8. Raising the capital needed to open your restaurant
After writing your business plan, the final step in knowing how to open a restaurant is to secure the financing needed to launch the business.
To open a restaurant in the states, an initial investment of around $375,000 is required, according to RestaurantOwner.com. The exact budget will depend on the size and location of your place.
To raise the necessary amount of money to launch the business, you'll need to consider the different financing options available to you.
First of all, it is ideal to have the founders' equity to build up the company's own equity. This is the money that you and your potential partners can contribute to the project in the form of share capital or a contribution to a director loan (or shareholder loan).
If you do not have sufficient founders' equity, opening a restaurant will be undoubtedly more complicated - but not impossible. You can learn more about these different means in more detail in our guide to opening a restaurant with no money or our other guide to get funding for a restaurant.
To finance the remaining sum after you injected equity into the deal, you can turn to the banks to try to obtain a professional loan to finance part of the development work, equipment, or delivery vehicles. You can also try to launch a crowdfunding campaign.
We hope that this guide helped you better understand how to open a restaurant.
If you'd like more advice on any of the points mentioned above or any other element related to the creation or takeover of a restaurant, please don't hesitate to get in touch.
Also on The Business Plan Shop