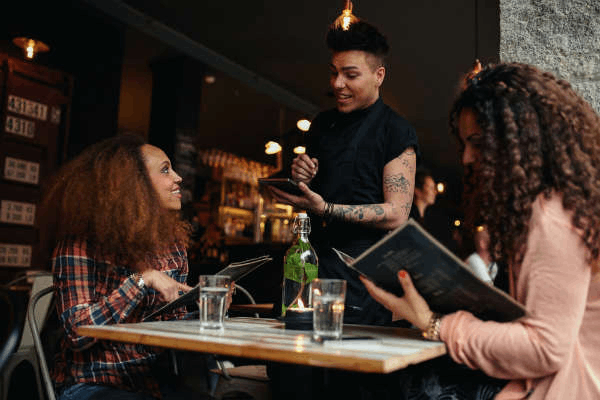 You have an aptitude for making people feel welcome and, for you, eating with others is one of life's greatest pleasures.
You're keen to provide a space for people within your community to experience new cuisine together - whether it be Asian-fusion or bistro-style French dishes.
You are then, undoubtedly, ready to take up your place in the hospitality industry by opening your own restaurant.
In this guide, we will tell you everything you need to know about how to do market research for a restaurant.
Conducting market research for a restaurant
The purpose of finding out how to do market research for a restaurant is that it allows you to assess whether there is sufficient demand within your chosen location to open up a new restaurant.
In carrying out this research, it's important that you:
Make sure that the market is not already saturated. Is there a real lack of decent eateries in the city or area in which you want to set up your business? Is the local market big enough to support the arrival of a new restaurant?
Identify the types of customers that aren't yet adequately catered for, such as families or business clientele. This will allow you to come up with a menu and concept that suits the right demographic - paving the way for success.
Gather all the information needed to help you evaluate the revenue potential of your business.
We'd invite you to do some research online, and even have a look at websites like Restaurant.org which estimates the US market to be around $899 billion in projected sales for 2020. Make sure you use reliable resources for your research and get your facts straight.
Questions to ask yourself before conducting market research
It's a harsh reality, but half of all businesses don't make it past the five-year mark.
That's why doing a thorough job when carrying out market research is vital. You need to ask yourself the right questions before launching your business, to reduce any obvious risks that could lead to its demise.
First of all, you should pin down exactly what clientele your restaurant is targeting. If you've already made up your mind as to its concept and what location it will be in, make sure to check that they're consistent with one another. Your chances of success will be slim if, for example, you launch a family restaurant in the financial district of a city.
You'll need to make a clear case to investors as to how your concept will have you taking market share from your competitors - so define what sets you apart from existing restaurants in the area.
Next up is the task of attracting and retaining customers. The research done on the previous two points will help you with this, but you'll also need to look at the marketing strategies adopted by your direct and indirect competitors. We'll come back to this shortly.
Checking out the local market
The next crucial step in our guide on how to do market research for a restaurant is casting your eyes over the local market. Say, for the sake of this article, you'd like to set up your restaurant in France - you now have to familiarise yourself with the restaurant industry there.
To do so, you'll have to ask yourself:
How have restaurant sales evolved in recent years?
What types of cuisine (traditional, fast food, bistro, vegetarian, Japanese, etc.) are finding the most success and/or developing the fastest?
Has the restaurant business margin evolved favourably in recent years?
Has there been a higher figure of restaurant openings than closings in the last year?
Are restaurant managers facing any particular challenges right now (such as regulatory constraints or difficulties in recruiting skilled staff) - if so, what are they?
Are franchised restaurants more successful than independently owned eateries?
What is the average spend per sitting? Does it fluctuate depending on whether it's lunch or dinner, or during the week and on weekends?
What are the most popular marketing channels? Are there any innovative trends (including takeaway and online sales) that you could capitalise on?
These answers will, of course, vary depending on the location and concept of the restaurant.
On top of these integral questions about market trends, you'll also need to seek out information about regulations - which are particularly restrictive in the restaurant business.
It will therefore be necessary to:
educate yourself on the state of current regulations
find out if any new laws impacting business are set to be implemented, both at the local and national level
check whether a licence and/or training is required before opening a restaurant
identify potential risks for this profession, most notably in terms of professional liability and health regulations.
The best sources of information on the hospitality industry
You can rely on the following sources of information to help you conduct your market research on the restaurant industry within the UK and US:
You also can't forget the main players in the restaurant game: the restaurant managers themselves. Take some time out to grab a coffee with a restaurant owner - as they could provide you with some valuable insider information about the sector.
Analysing the demand for restaurants in your area
Next up in our guide on how to do market research for a restaurant is understanding that reliable market research must be based on both macro and microdata. While macro data focuses on the bigger picture, such as, for example, the number of customers that bought grilled cheese sandwiches in one lunch sitting, microdata is person-specific.
This means evaluating the size of the local market by assessing just how many people live in the area, what their profile is (e.g. age, occupation, gender, level of disposable income), and exactly how many of them fall within your target market.
You will then focus on piquing consumer interest. What are the places that attract your potential customers and where would be an enticing location for your own business?
You should also anticipate the expectations of customers at the local level. What type of food service is lacking in the market today and what type of cuisine has the greatest potential?
You should consider offering additional services, such as takeaway and delivery services.
To find this information on the local market, you can check out the site of the city. You should also go the extra mile by directly asking your future customers what they look for in the area's eateries. Take to the streets with a questionnaire that'll allow you to assess your target market's wants and needs.
Analysing your direct and indirect competitors
In this part of discovering how to do market research for a restaurant, you'll round up how many competitors are located near your business. You should look at their concept, the type of products and services they're offering, as well as the prices charged, and their target clientele.
This information will help place you in the best position to stand out from what everyone else is offering, by serving up a different concept.
While assessing existing restaurants, you'll need to find out:
their total revenue (if possible)
their total workforce
their capacity (number of place settings)
Analysing the reputation of your competition
Analysing the reputation of your competition will also prove very useful. Make sure you check:
Whether your competitors have a good reputation
The specific reasons for their success
Or conversely, are they in trouble? If so, why? (For example, has their quality of service failed to meet customer expectations?)
Assessing the marketing strategy of competing restaurants
How are your competitors marketing to their clients? Answering this question will make it easier for you to define your own marketing strategy.
To do so, you'll need to first assess how your rivals are getting their names out there - whether it be via Instagram, their own websites, or flyers on your local town hall. You can then look at the type of promotional offers your competitors have put in place.
For your next step, assess the success of these marketing strategies and if you have the capacity to implement a more effective mode of attracting customers.
These successive steps will ultimately allow you to scope out the estimated budget needed to reel in and retain your customers.
Don't hesitate to study all the types of catering services you come across - no matter how different their concept is to yours. You can also check out online competitors, in particular, mobile apps and services such as Uber Eats and Deliveroo.
Sell your restaurant's concept in four slick points
By now, you should have enough information to assess whether your business is likely to be successful or not. If it's the latter, is it possible to adapt your model and define a new, more effective commercial positioning? To do so, you'll need the following elements:
a clearly identified target market
a product and service offering that is unique from the competition
a marketing strategy that resonates with a strong customer need
an effective acquisition and retention strategy
Carrying out a quantitative study to assess your prices
Now it's time to talk about money. Opening a restaurant is a big investment (in and around the £200,000 mark). So before splashing out on kitchen equipment, it's important to check that your concept and menu is one that will actually align with your customer's wants and needs.
At this stage, we strongly recommend that you carry out a quantitative study to double-check that your menu prices, as well as the overall vibe of your restaurant, complement the expectations of your customers.
You can carry out this test in many ways, such as renting out a stand at a market and offering revellers samples from your menu.
You could also take to the streets with a menu and ask members of the public what they think of it - whether they like the style of the menu or agree with the prices
Creating a business plan
Once your market research has been completed and your concept refined, you can move onto the next step: writing the business plan for your restaurant.
A business plan is a document that describes your business, and its strategic, commercial, and financial objectives for the first three years of operation.
It helps you verify whether your restaurant has the potential to be profitable, at least on paper. As well as that, it will guide you through the very first steps of implementing your project, from covering what licenses you need to assessing start-up expenses.
Your restaurant's business plan will also be a valuable tool for presenting your project to potential commercial and financial partners, such as investors and suppliers.
As you can imagine, creating a business plan for a restaurant is crucial. But it is also a technical and sometimes tedious job - especially if you aren't a seasoned restaurateur.
To make the process easier for you, especially if it's your first business plan, you can use online business plan software.
There are several advantages to using software to create a business plan for your restaurant:
It takes care of the calculations and creates the projected financial statements for you (income statement, balance sheet, cash flow statement, break-even calculation, etc.)
With business plan templates available and instructions for each section, you are guided through how to structure your plan
As an end result, you receive a professional document, formatted and ready to be sent to your bank or investors
If you are interested in this type of solution, you can try our software for free by registering here.
You can also have a look at our restaurant business plan template to get some inspiration!
We hope that this article has helped you better understand how to do market research for a restaurant.
If you'd like more advice on any of the points mentioned above or any other element related to the creation or takeover of a restaurant, please don't hesitate to get in touch.
Also on The Business Plan Shop