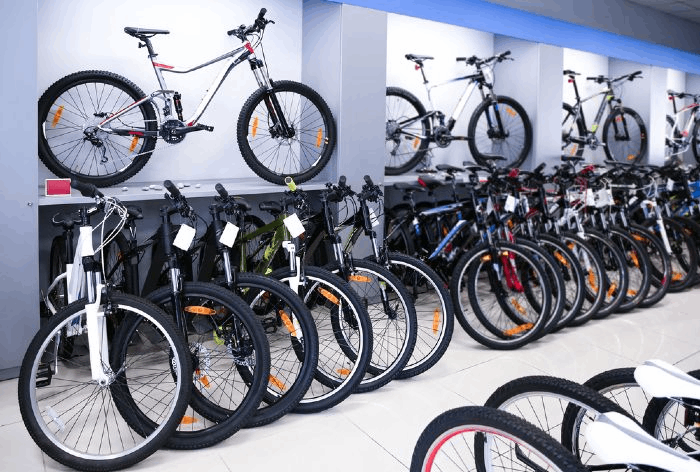 Are you crazy about all things cycling? If so, you may be ready to turn your passion into a career by taking over a bike shop.
Taking over a bike shop is an exciting process (albeit one with many twists and turns along the way) - so you need to have all the key steps mapped out before you set off on your entrepreneurial journey.
And that's why we're giving you the information you need to get started. Once you've checked out our 10-step guide below, you'll be better prepared for any unpleasant surprises and well on your way to launching your new venture.
Within our guide to buying an existing bike shop, we'll explain how to:
1. Study your location and competition
The profitability of your shop will depend directly on its location. Once you buy your bike shop, it won't be so easy to change it - so it's vital that you give this step very careful consideration.
Your analysis of the shop's location should focus on the area where it's based and the customer traffic it's likely to bring you.
If you're based close to a university campus, for example, you might benefit from a natural flow of students wanting to purchase new bikes for the semester. If you're based in a more residential area, however, you might need to deploy certain marketing strategies to get your name out there.
If you plan to offer repairs on top of bike and accessory sales, being readily visible to passers-by is imperative - as the more signs the shop has up the more likely it is that someone who has just punctured their tire or derailed a chain will come to your store for assistance.
Accessibility is another key factor. In particular, make sure that there is enough space outside your bike shop for the customer to easily park their bikes or cars when they arrive.
You should also place your focus on the rival bike shops in the surrounding area. By checking that the local market is not saturated with supply and identifying which bike shops are competing for head-on with yours, you will be able to verify the commercial viability of your location and identify how to set yourself apart from your fiercest competitors.
2. Check that the premises fit your plans
The size of the premises
To compete with rival bike shops in the area, it's likely that you'll want to offer repairs alongside the sale of bikes and cycling accessories.
Offering repairs will potentially mean needing enough space for a workshop where your mechanic (or you) can carry out these services. You'll also need an area to welcome your customers and display your bikes, as well as a storage space for bike parts. So think carefully about whether the space you're assessing has a wide enough surface area for these features.
The bike shop layout
A bike is an expensive purchase and one that people plan on keeping for years - so any decent bike shop will take pride in offering customers the opportunity to try before they buy.
For this reason, your premises should be large enough and laid out in such a way that customers can easily view the bikes on display and take them for a spin around the store, ideally without having to go outside at all.
Compliance with bike shop safety standards
A bike shop is subject to the fire safety standards imposed by law. So it's important to make sure that your chosen premises meet these requirements (in terms of the building design, alarm system, evacuation plan, etc).
You can find out more about these standards by visiting the HSE's website if you are based in the UK or osha.gov for US businesses.
If the premises don't comply with the current standards, you'll have to plan out the amount of building work required to ensure that it does (and possibly reduce your offer accordingly).
Taking over the lease
The acquisition of a space intended for business implies that you will also be taking over the existing lease.
It's imperative to study this document carefully. You'll need to be vigilant about complying with the requirements of the lease. A good idea would be to have a lawyer assist you when reading over the lease agreement.
3. How to take over a bike shop: Get to know the clientele
Buying an existing bike shop means taking over a business that already has a loyal customer base and its own way of doing things - from the types of repairs it offers to the type of bikes on display for sale.
To keep things simple and effectively win over the existing clientele, you could maintain the concept and keep ordering more of the same stock.
If, however, after having carefully assessed your competition and the shop's target customers, you reckon there's a gap in the market that your shop could fill (for example, evening bike maintenance workshops), then don't hesitate to at least try these measures out.
Or you might want to start selling eBikes. This, again, is totally fine - but only if you can demonstrate your authority over specialised eBike shops by offering customers expert advice on all queries related to the purchase and maintenance of an eBike.
With eBikes costing north of £1,000, offering them for sale could help you easily reach your daily revenue target, but it's vital that you have enough knowledge on each product to facilitate the sales process.
If you take over a bike store that offers only the sale of bikes and would like to add a repair service, be prepared to target a different type of clientele from the type that currently visits the store (including bike enthusiasts who frequently need advice and repairs.)
As stated above, this will mean needing enough space to both carry out the repair work and store the bikes that are in for repair. So factor in the amount of work required to renovate the shop so it's fit for this purpose.
Whatever your decision when deciding the bike shop's concept, don't take it lightly. Make sure you calculate the costs and weigh up the advantages and disadvantages of the adjustment before coming to a yes or no conclusion.
4. Evaluate the bike shop staff
Having staff you can rely on is fundamental to the successful operation of any business.
As a bike store usually doesn't have that many employees, you need to make sure the few people on your team are dependable and, most importantly, have the right skills for the job.
If any employees of the bike shop you wish to take over are staying on for the acquisition, ensure their qualifications match up with the services you'll be offering.
If you intend to expand your services by offering repairs, you'll have to make a difficult decision if the bike shop's existing member of staff isn't qualified: either decide to train them in repairs or hire someone with more experience.
The take over also involves a review of the team if there are several of them: think about their customer service skills and how well they get on as a team. Maintaining strong lines of communication between management and staff is essential to the smooth running of a bike shop, so let the team know that your office is an open door when it comes to discussing issues or concerns about the organization or other staff members.
5. Study the bike shop's marketing strategy
The next step in taking over a bike shop is to analyse the marketing plan set up by the former manager:
Which marketing actions were used? For example, does the shop have a website where customers can learn more about its services, does it feature on Google Maps, or have an active presence on Instagram or Twitter?
What are the costs of these measures and the return on investment?
Do these actions seem relevant? Can you do better?
What opportunities can you exploit to develop the business?
If you change the shop's concept by offering more services such as bike repairs, you'll need to alert existing customers and get the word out to attract new ones. Determining an effective sales strategy is, therefore, integral to the success of your store.
If you decide to enter a niche market such as the sale of racing bikes, striking up a partnership with a local British Cycling association would be a good way to bring cycling enthusiasts to the store.
6. Assess the quality of equipment before taking over a bike shop
Taking over a business usually means also acquiring its existing stock and the equipment from the previous owner.
Read through your sales contract to check exactly what equipment you'll be acquiring - making a note of each one. Then it's time to check that each piece of equipment is working efficiently - for example, are your cash registers working okay? And is the anti-theft alarm still ringing out?
Also, make sure there are no outdated items within your stock list (especially if they have a strong tech component such as eBikes and road safety equipment) - and that each is sellable. When doing so, ask the owner for the receipts for each piece of equipment, so you can keep tabs on when there were bought and check whether their waranty is still valid. Make sure you also check whether any equipment has been taken in for repair and if so, what work was done to it and when.
If you feel that any equipment may need replacing, you could factor these costs in when negotiating the sale of the bike shop with the owner.
7. Examine the financial performance of the bike shop
It goes without saying that it's crucial for you to take an interest in the previous financial performance of a bike shop before deciding to take it over. Doing so will allow you to evaluate its profitability and cash generation capacity to help you create your bike shop business plan.
Let's take a closer look at some important indicators. For each of them, you will need to look at their evolution (especially over the last 3 years), and above all, to anticipate how they'll look in the future.
Turnover
Assessing turnover is the starting point for your financial analysis of the bike shop and should give you a good indication of the trajectory of the company being taken over. Here, you will need to look at its evolution by asking:
If you see an increase or decrease in revenue over the last few years - is it a lasting effect and what are the causes?
Whether the business' composition, in terms of the range of products and services on offer, has changed significantly
How the prices or amount of bikes/bike parts sold have changed over the last three years
Finding out the reasons behind these changes will able you to come to a sound conclusion about the store's future sales.
You will also want to look at the shop's seasonality, including its peak and off-peak periods. Take time to also check out the main ways in which your products and services are sold - as many customers may like buying bikes in-store but prefer going online to purchase safety equipment or bike parts.
Gross profit margin
Next, it's time to check out the gross profit margin - in other words, the difference between the purchase cost of the store's products and the price they're sold for.
Ideally, your gross profit margin needs to be sufficient to cover your overheads: pay your employees, as well as the bike shop's rent, etc.
To check that it's suficient, you'll want to analyse each product and service on offer to understand:
How much it costs to produce (e.g. manufacturing bikes for sale and the cost of ordering bike parts for repairs)
Whether or not they are profitable
If profitability can be improved by reducing or widening the scope of products and services offered.
Payroll costs
As the staffing needs of bike shops are fairly limited, payroll costs won't be at the top of your list when it comes to sorting through the bike shop's financial documents.
Nevertheless, it's important to check that it's under control and that each member of staff's wage is indicative of their level of experience.
In particular, check that members of staff are regularly promoted. You wouldn't want the long-term manager to leave you after 3 months because he never got a raise under the old management and is offered a better wage elsewhere.
EBITDA
EBITDA corresponds to your bike store's operating income before depreciations and amortizations. It must be positive (otherwise you have a big problem) and sufficient to allow you to:
maintain the bike shop's equipment and allow you to develop the business
honour your financial obligations (to lenders, as well as your banks if you choose to request a loan for the bike shop's takeover)
In addition to its change in value, it is interesting to look at the evolution of the EBITDA margin as a percentage of sales. This will allow you to understand how the profitability of the bike shop has evolved.
Working capital requirements
The working capital requirement corresponds to the amount of cash tied up by differences in cash flow timing.
In simple terms, if your customers pay you in cash, but before you can provide them with a bike or bike part, you need to buy and store the bike or piece of equipment needed to complete the transaction.
The cash requirement, therefore, depends on the payment terms agreed with your suppliers and how much stock you have in.
Here you will mainly need to quantify the working capital, analyze whether the figure has increased or decreased, and try to identify levers to reduce it (such as inventory reduction, negotiation of payment terms, etc.).

Investments
Analysing the amounts invested by the bike shop to maintain its equipment (such as bike repair tools, furniture, and the security system) will give you an idea of the amount you need to put aside for maintenance in the years to come.

Here, it is useful to analyze both the amounts, their relative weight in relation to the bike shop's revenue and EBITDA, and the methods of financing the equipment (through loans, leases, self-financing).
Cash flow from operations
Cash flow from operations corresponds to EBITDA, minus the change in working capital requirement.
It is therefore the cash generated by the company's operations, before taking into account corporation tax and cash flows related to investing and financing (such as loans and dividends,.).
Needless to say, this amount must be positive (otherwise you risk filing for bankruptcy fairly quickly), and ideally as high as possible.
8. Write the business plan and secure funding
The next step in taking over a bike shop is putting together a business plan to assess the potential profitability of your venture and secure funding. A clear and concise business plan will enable you to:
Ensure that the bike shop purchase makes sense financially
Consider the structure of your takeover (buyout of shares with or without a holding company vs. the creation of a new company or the takeover the business' assets) and the sale price
Obtain a document to present to potential financial partners, including banks and investors
In a simplified way, a business plan for a bike shop is made up of two major components:
A financial forecast that aims to highlight the expected profitability of the business and the initial financing requirement.
A written part that presents, in detail, your project, the team, your business strategy, and your medium-term objectives.
If you are not used to writing business plans, a good solution would be to use online business plan software.
There are several advantages to using specialized software:
You are guided through the writing process by detailed instructions and examples for each part of the plan.
You can be inspired by already written business plan templates.
You can easily create your financial forecast by letting the software take care of the financial aspects for you.
You get a professional document, formatted and ready to be sent to your bank.
If you are interested in this type of solution, you can try our software for free by signing up here.
You can also have a look at our bike shop business plan template to get a little inspiration.
9. Look into the owner's motivations for selling the bike shop
The next step in taking over a bike shop is to chat with the bike shop owner and decipher his or her motivations for selling their store.
There are two objectives here. Firstly, to ensure that the owner isn't trying to run away from a sinking ship because he suspects the shop's profitability may decline.
If you do feel doubtful about their intentions, suggest adding a price adjustment clause in the sales contract - in case of a major or unexpected change in the bike shop's performance following the takeover, and ask the owner for a solid guarantee.
The second objective in getting into the owner's head is to try and identify any factors that might be relevant when it comes to the value of the business. For example, if a nearby university campus that used to bring a lot of customers has recently been demolished, you could use this as leverage to negotiate a fairer selling price.
Once you have agreed on the price of the business, you have one last step to take: finalize the contract for the sale of the business.
You might want to consider hiring a lawyer for this part, so you can chat through any terms you don't understand.
That's it for this time, we hope this article helped you better understand the key areas to investigate when taking over a bike shop.
Taking over a bike shop means staying informed and mastering each step of the transfer, so don't hesitate to get in touch for advice in order to obtain complete control of your business.
Also on The Business Plan Shop
Did you find this article useful? Share it with just one click!