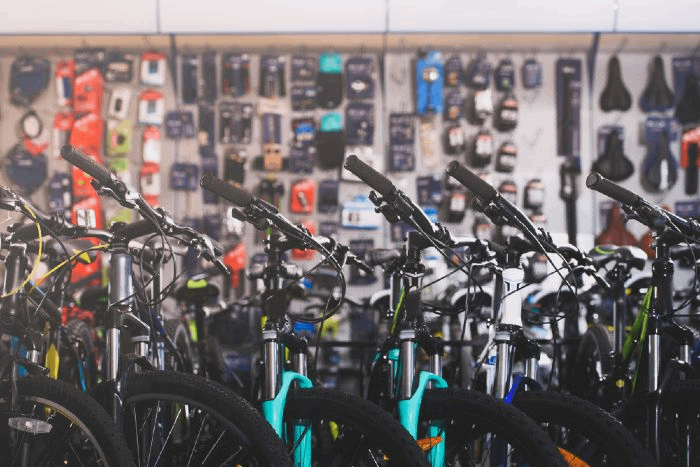 Are you interested in the world of cycling and want to open your very own bike shop? It's an exciting venture, but before you start - you need to know your market.
If you're a real cycling connoisseur who's been riding bikes for years, you'll already have some very valuable insider knowledge about the bike industry. But the truth is, without taking the time to conduct carefully structured market research, you won't get very far.
Market research is the first major step when it comes to launching a new business, as it allows you to assess whether there's sufficient demand within your chosen location to set up a bike shop.
Feeling overwhelmed? Don't worry - in this guide, we'll tell you everything you need to know about how to carry out market research for a bike shop. Now let's get started.
Why even conduct market research for a bike shop?
Entrepreneurs carry out market research with one main objective: to check that there's room on the market for their business.
It's an essential step in helping you get to know the area in which you'd like to set up your bike shop, as well as the hottest trends within the bike shop market right now. With this knowledge, you can there verify whether your shop is likely to thrive or (just about) survive.
Market research will have you asking a series of questions, including:
Is the current supply chain (for bikes, bike parts/accessories, and repairs) meeting the level of consumer demand?
Do you think a certain town or area within a city sorely needs a bike shop?
Or, adversely, do you think one area has too many and it would be better to open a bike shop elsewhere?
Once you've answered these questions, it will be easier for you to decipher the needs of those living within the area where you want to set up your shop.
This information will not only form the bare bones of your market research but also allow you to identify the most effective ways to attract customers to your store and give you a better idea of the marketing budget required - so, no matter how tedious it feels, dot your i's and cross your t's - you'll thank us later!
Delving into the cycling market
Carrying out market research will allow you to understand, in detail, the many different faces of the national cycling market. Whether you're launching your bike shop in the UK or the US, these will be the same:
customer profile
hot trends in the cycling world
the products and services being offered by existing bike shops
the most popular marketing channels
the regulations of opening a bike shop
How is the cycle market holding up?
Your very first consideration will be whether the cycling market is doing well. Ask yourself:
Is the market growing or shrinking? Think about how many bikes have been sold in, for example, the UK over the last few years, as well as the stores in which they're sold (big retailers or independent stores?) and the most popular types of bike.
How have bike shop sales evolved in recent years? Here, you can get in touch with consulting firms or research online to find exact figures.
Are bike shop owners facing any particular challenges right now? If so, what are they?
What are the hot trends when it comes to consumer buying habits? For example, have some places seen a rise in demand for vintage city bikes?
Make sure you have a look at different resources such as The Bicycle Association to gather as much data as possible on the subject!
What do customers want from a bike shop?
Next, its time to find out exactly what customers will be expecting from your store. This involves taking an interest in typical bike shop customers by digging out more information about them and (crucially) their buying habits.
Among other things, make sure you find out:
The general profile of local bike shop customers - are they cycling experts, people who cycle for leisure or parents buying a bike for their child?
Why they come to bike shops - would it most likely be to buy a bike, bike accessory or for a repair?
How often they go bike shops and how much they spend on average - this will allow you to estimate the average budget per customer
Find out how important it is to define your customer's profile such as shown on Bikeroar. Don't hesitate to get in touch with fellow bike shop owners - as they could provide you with some valuable insider information that will help you fill in any information gaps.
You should also go the extra mile by directly asking your future customers what they look for in a bike shop. Take to the streets with a questionnaire that'll allow you to assess your target market's wants and needs.
The rules and regulations for opening a bike shop
Opening a bike shop means opening a retail business. In the UK, businesses operating within physical premises will need what's called a Certificate of Occupancy (CO). A CO is proof that your shop meets the government regulations and zoning laws (especially regarding fire safety) imposed on retailers.
You can find out more about these standards by visiting the HSE's website if you are based in the UK or osha.gov for US businesses.
If the premises don't comply with the current standards, you'll have to plan out the amount of building work required to ensure that it does (and factor this into your financial forecast).
Running a bike shop also means identifying the specific risks to customers and staff within your shop. The presence of sharp repair tools and heavy bikes, as well as the fact that customers will likely be testing bicycles in your store, automatically make it more prone to accident than a vintage clothes shop may be. That's why it's important to purchase business insurance. This will financially protect your store in the event of any on-site incidents.
Analysing the demand for bike shops in your area
What does the local market look like?
Now that you've assessed the cycling sector at a national level, it's time to check out demand in the area you'd like to set up your shop.
Whether it's a town or city, you need to know how many people are living there and, most importantly, how many fall within your target market.
By checking out factors such as age, income, and their most popular hobbies, you'll get a clear idea of the type of people who will be interested in your shop.
Location will also play a key role in determining the type of customers most likely to visit your store. A store located in an upmarket, residential area will attract an older clientele who cycle for leisure, whereas a shop situated close to a university may attract younger customers who are after bikes for everyday usage.
Checking our your direct and indirect competitors
Now you must scope out the rival bike shops within your area. For this, you'll need to know:
Who your competitors are
The type of clientele they're targeting
The prices they're charging
The types of bikes they have on offer
The marketing strategies they use
How much of the market share they hold
If there are competitors within close proximity of your store, it's essential to know their reputation. Scroll through review sites such as Yelp to get a better understanding of their strengths and weaknesses, as well as how popular they are amongst their customers.
Check out the ways in which they attract customers and build customer loyalty. This could be anything from posting pictures of new bikes on their aesthetic Instagram feed, or offering discounts on repairs certain days of the week and advertising these on their website. This will help you determine any gaps in their own marketing strategy and identify which actions will allow you to stand out - whether its selling a range of bikes that no other shops offer or inviting customers for free evening bike repair workshops.
You also need to think about indirect competitors - sports shops, supermarkets and online retailers - those who sell bikes but aren't specialised. These are the brands that offer bikes and accessories at often much more affordable prices than independent bike stores, so think carefully about what you can do to show customers that it's worth coming to you instead. This might mean hiring enthusiastic members of staff who know the cycling world inside out, so they can assist customers with any queries as they consider the possibility of buying a bike.
Next step after the market research for a bike shop: create a business plan
Once you've completed the market research, you're ready to move on to the next essential step in opening your bike shop: the business plan.
The business plan for your bike shop will be based on the data collected during your market research and will enable you to assess how financially viable your business idea is.
It's also the document with which you'll present your idea to potential investors to convince them to follow you on your entrepreneurial adventure, thereby, securing funding - so it needs to be impeccable.
In a simplified way, the business plan is made up of two major components:
A financial forecast that aims to highlight the expected profitability of the business and the initial financing requirement.
A written part that presents, in detail, your project, the team, your business strategy, and your medium-term objectives.
If you're a business plan rookie, drafting one up for the first time is no easy task. But rest assured, there are solutions to help you.
For example, you can use online business software, like the one we offer here at The Business Plan Shop.
There are several advantages to using specialized software:
You are guided through the writing process by detailed instructions and examples for each part of the plan.
You can be inspired by already written business plan templates.
You can easily make your financial forecast by letting the software take care of the calculations for you.
You get a professional document, formatted and ready to be sent to your bank.
If you are interested in this type of solution, you can try our software for free by signing up here.
We hope that this article has helped you better understand how to carry out market research for a bike shop.
If you'd like more advice on any of the points mentioned above or any other element related to the creation or takeover of a bike shop, please don't hesitate to get in touch.
Also on The Business Plan Shop
Know someone who's toying with the idea of opening a bike shop? Share this article with just one click!