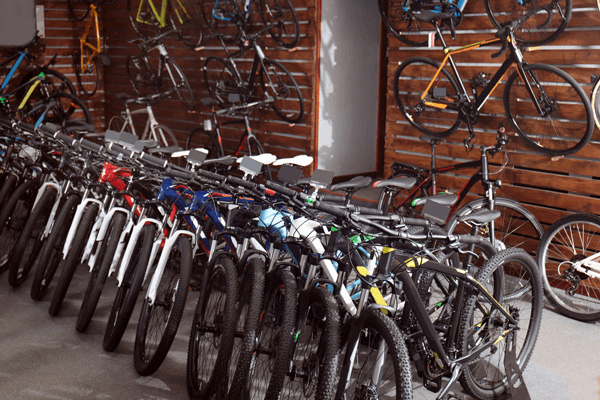 Do you find yourself religiously watching Tour de France every year? Or maybe you're the proud owner of a fleet of bikes - from Dutch city rides to off-road mountain bikes? Either way, cycling is clearly your passion and you've decided you'd like to take your enthusiasm for bikes to the next level - by opening up your very own bike shop.
It will take a lot of hard work, but with expert planning, you'll be well on your way to launching a profitable bike business.
This is why you've come to the right place. In the guide below, we'll take you through all the steps needed to turn your entrepreneurial dream into a reality. From practical advice on how to conduct market research, to choosing your bike shop's legal form and drafting up a business plan, here's everything you need to know about setting up a bike shop. On your marks, get set...
Conducting market research for your bike shop
As with any new business, the very first step in opening a bike shop is to carry out market research. This enables you to assess the level of demand within the area you wish to set up your shop and whether it's likely to thrive as a business.
Your bike shop market research should involve asking yourself questions related to the sale and usage of bikes within your own country. The objective here is to understand the purchasing habits and expectations of your future customers, so you can get a clear idea of how the bike sector is doing.
In particular, you should ask yourself:
What are the major trends in the market? For example, growing environmental consciousness led to eBike sales doubling in 2020 in the UK.
What do typical bike shop customers look like?
Why are they purchasing bikes? Is it for work, weekend journeys, for their kids, or for sports?
What products and services are the most in-demand? Purchase of bikes and safety equipment, rentals or repairs?
What is the average budget of a bike shop customer?
How often do they visit bike shops?
In a second step, you'll then have to familiarise yourself with your competitors: rival bike shops in the area you'd like to set up your business.
Ask yourself the following:
How many existing bike shops are there in the area?
Where are they located?
How much space do they have?
How many members of staff do they have?
What products and services do they offer?
What are their prices?
What customer segment are they targeting?
What are their marketing tactics?
Do they seem to be doing well or are they struggling?
Gathering this data will leave you with two major takeaways. First of all, it will tell you whether there's a group of customers whose needs (for example, eBike enthusiasts) are not currently being met by your competitors, allowing you to swoop in and cater to them. Secondly, you'll know, once and for all, whether the market is large enough to support the arrival of a new player (i.e your bike shop).
The bike market is booming - but why?
The bike industry has grown significantly in recent years - with the UK cycling market worth £2.2 billion by the end of 2020.
Much of this is down to COVID. According to COVID Impact report on the UK cycling economy, conducted by BA, the number of people cycling between mid-April and mid-June 2020 exceeded 250% of normal pre-COVID levels. Since March 2020, bike retailers have seen sales grow by 60% - after cycling was promoted as one of just a few accessible ways for the population to stay fit and sane over lockdown.
The cycling market was doing pretty well before COVID even existed, too. In 2018, the cycling industry contributed at least £5.4 billion to the UK economy. This growth in popularity was linked to both a growing desire amongst the UK public to live more economical and environmentally healthy lifestyles (fuel is expensive, pedalling is not) and to enjoy the health benefits of cycling through government-approved schemes such as the cycle to work scheme.
The bike shop boom can also be linked to the wider scope of bicycles available on the market. From fixies, mountain bikes, folding bikes, customised racing bikes, city bikes, and eBikes, there's a bike to match the unique desire of every customer.
The main trends within the bike shop market
The bike shop market can be divided into 3 major segments: big retailers (such as Halfords and Sports Direct), independent stores, and self-service, city bikes (such as Santander Cycles or 'Boris bikes' in London).
The picture is not black and white, however, as although the rise in self-service bikes has applied competitive pressure to retailers, the convenience and economic viability of owning your own bike rather than renting have allowed a steady increase in bike sales over the last few years. The increasing demand for more sophisticated bikes, such as eBikes, has also led to a significant increase in the value of sales, too.
Choosing the right concept for your bike shop
Once your market research has been carried out, you'll need to use this data to decide the concept for your bike shop.
In particular, you'll have to identify the type of customer you want to target and what bikes or services you'll have to offer to reel them in. For example, do you want to appeal to cycling enthusiasts by offering the hottest road bikes on the market or are you more interested in attracting university students with the best city bikes for commuting in style?
Whatever concept you go for, make sure it's relevant to today's cycling market and allows you to offer something that your competition can't (whether it be bike repairs or unusual cycling accessories). It's no secret that many cities have countless bike shops - so it's vital that you stand out by offering authority on at least one type of product or service.
Also, remember that seasonality will impact your sales. You'll sell more bikes in the spring than in the winter - so be pragmatic and use these quieter months to alert customers to alternative services or products, such as advertising bike repair workshops on your Instagram page or offering discounted bike repairs on weekday evenings. These measures will allow you to keep your sales relatively stable over the year.
Should I join a franchise or choose to go independent?
Your choice of concept will also depend on whether you choose to open an independent bike shop or join an existing franchise.
Although linking up with a franchise means you'll have less autonomy when it comes to setting out the vision for your bike shop, it considerably reduces your risk of bankruptcy and speeds up activity from the start.
Joining a franchise means you'll be able to benefit from the reputation of a well-known brand, as well as marketing, and administrative support. You also won't have to worry about tracking down suppliers and can simply pay the rates already negotiated between them and the brand - saving time and (most likely) a lot of money.
Scoping out a location for your bike shop
The success of your business will depend heavily on where it's located. Being situated in a prime spot will guarantee a steady influx of customers to your bike shop. A city-centre location in and amongst busy shopping streets or a space in a shopping centre are both ideal options, so long as you don't have a direct competitor within the vicinity.
Before deciding your location, remember that your choice should be driven by who your target market is. If you want to sell bikes that are perfect for commuting to work, for example, then setting up shop in an office area might be for the best. Or if you're selling top-of-the-range eBikes, maybe opt for a more up-market and residential corner of the city.
What legal form should my bike shop take?
Now that you're well on your way to creating a bike shop business, you have to legitimise it with legal status.
Your store's legal status will dictate how your business operates, so it's important to take some time to ensure that the one you're choosing aligns with the vision you've set out for your bike shop.
Most businesses within the UK fall within 3 legal forms:
Sole trader
Partnership
Limited company
Choosing your store's legal form is a vital step as it will impact:
How much your business is taxed
Your taxation at a personal level
Your responsibility for the company's debts in the event of bankruptcy
Your choice will depend on many factors, including the number of partners involved in your venture and the amount of start-up capital at your disposal.
If you're based in the UK or US, you can find more detailed information on the different legal forms available to you on the gov.uk guide for UK business owners and SBA guide for those in the US.
The staffing and equipment needs for your bike shop
To establish a fair and realistic financial forecast, you will have to estimate the equipment and staff needed for the opening and, subsequently, proper functioning of your bike shop.
The equipment required to launch a bike shop
It goes without saying that you'll need room to sell your bikes, but you also need to factor in the equipment needed to fill the space.
From furniture to bike racks, a security system, a sales counter, and a cash machine, the cost of each and every one of these items should be noted down and added to your budget estimate.
You can have a look on a website like Bikester to estimate a cost.
The recruitment plan for a bike shop
Having staff you can depend on is crucial for the smooth running of your store. Depending on the size of your shop, you might decide to hire one or two salespeople and someone with experience in bike repairs.
You'll need people around you who can share their love of cycling with customers and enthusiastically respond to bike-related queries. When recruiting, identify the skills and attributes you're looking for in an employee, as well as the salary for each position so you can add these to your financial forecast.
Administrative services required to launch a bike shop
Don't forget to consider the additional services needed. As with any business, setting up a bike shop requires purchasing insurance (to make sure you're covered in the event of any incidents on the premise) and keeping on top of the financial management and cleanliness of your store.
Juggling all these responsibilities can get tricky, so you may decide to hire a cleaning company or call on a chartered accountant to alleviate the burden. To ensure you estimate these expenses as accurately as possible, get in touch with several professionals and ask them for quotes.
Developing a marketing plan for your bike shop
Now it's time to establish an effective marketing strategy that will help you attract and retain customers.
Launching the bike shop itself provides an opportunity to get your name out there. So get out onto the streets with flyers for those living within your area and set up an advertisement in your local city guide or newspaper.
Creating a website, as well as an active social media presence, are also easy wins when it comes to attracting customers. Once the dust has settled after your launch, you can use your website to showcase your bike selection and repair service, as well as your opening hours, exact location, and telephone number - so customers can get in touch with specific requests and know how to get straight to your door.
Social platforms such as Facebook and Instagram are also a great way to create a sense of community - as you can share news with customers as to the latest products available or discounts.
Whichever marketing action you pick, evaluate whether the benefits outweigh the cost to determine whether or not it's worth implementing - giving priority to those that you find the most effective.
Writing the business plan for a bike shop
Once you've completed the steps above, it's now time to write the business plan for your bike shop.
A business plan is a document that enables you to ensure the potential profitability of your venture and secure funding.
A clear and concise business plan will enable you to:
Ensure that the business can be profitable
Get a document to present your business idea to potential financial partners, including banks and investors
In a simplified way, a business plan for a bike shop is made up of two major components:
A financial forecast that aims to highlight the expected profitability of the business and the initial financing requirement.
A written part that presents, in detail, your project, the team, your business strategy, and your medium-term objectives.
If you are not used to writing business plans, a good solution would be to use online business plan software.
There are several advantages to using specialized software:
You are guided through the writing process by detailed instructions and examples for each part of the plan.
You can be inspired by already written business plan templates.
You can easily create your financial forecast by letting the software take care of the financial aspects for you.
You get a professional document, formatted and ready to be sent to your bank.
If you are interested in this type of solution, you can try our software for free by signing up here.
Securing funding to open a bike shop
Setting up a bike shop requires a substantial investment, particularly to buy over or rent your space and build up the initial stock needed (we're talking a lot of bikes). The good news is, several options are available to you to secure enough funding to open up your store.
First of all, think of your equity contribution. This is the immediate sum that you and your potential partners can inject into your business. In other words: the savings you can devote to your project.
You can supplement this sum by applying for a professional loan from a bank to cover part of your start-up expenses. Remember to submit applications to different banks so that you can compare offers and pick whichever one works best for you.
Crowdfunding is another option. Crowdfunding allows you to collect donations or raise equity from family members or kind strangers who believe in your project.
You can even raise awareness of this initiative by awarding donors with 'counter-gifts', including a discount on their next bike purchase or a year's free repair service.
Finally, also think about state aid for business creators and buyers. This may enable you to benefit from an interest-free loan, for example.
Some useful links to help you open a bike shop
British Cycling Federation: the main national governing body for cycle sport in Great Britain
Bicycling: blog providing the latest bike reviews, news and tips on being a better rider.
That's it for this time, we hope this article has given you a better understanding of how to open a bike shop. If you have any questions related to your business, please don't hesitate to get in touch - we'll be happy to help.
Also on The Business Plan Shop
Think this article might be of interest to someone you know? Share it with just one click!