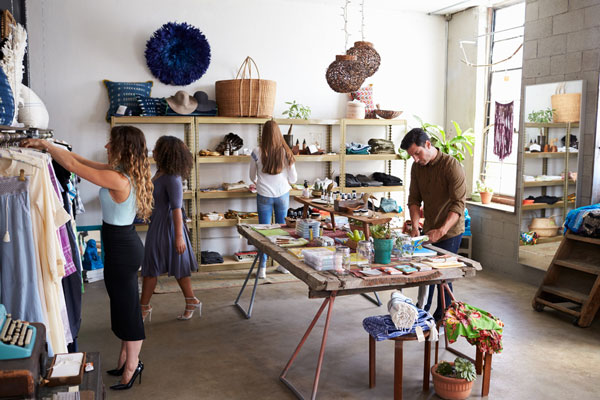 Do you enjoy serving customers and have always dreamed of opening your very own store? Whether it's a delicatessen, a store that specialises in organic soaps, or a clothing shop, the key steps to successfully opening your business remain the same.
From conducting market research to writing your business plan: in this guide, we review all the steps you will need to take to open a shop. Follow the guide!
Conducting market research to open a shop
Before opening a store and kick-starting the trading process, you need to carry out a detailed market analysis of the sector you've set your sights on.
Information needed for shop market research
To carry out a complete and reliable market analysis, it is in your best interest to examine the industry of your future shop in detail.
To do this, it is necessary to examine the development of the sector:
Is it a growing, or, adversely, a shrinking one?
Has the turnover increased or decreased (for both volume and value) over the last few years?
Is this change due to increasing (or decreasing) sales, or products being sold at higher (or lower) prices?
Also, look at the number of people employed in this sector and the number of businesses directly related to it.
Define the factors explaining the rise or fall of the sector: is it possible to circumvent them, turn them into assets, or to ignore them when opening a shop?
Note precisely who your future competitors will be and their market shares. For example, if you want to open a bike shop, the other cycle shops will be your competitors, but they won't be alone: the large and medium-size supermarkets offering bikes will also be your competitors. Think of any brands that sell bikes as direct competitors.
Look at the influence of these businesses on your sector. Are the independent shops still making waves or is the market dominated by large franchised stores? Does it make more commercial sense for you to join a franchise, or is it possible to set up your own independent shop with a diverse and competitive edge?
Also, think about indirect competitors that could reduce your market share when opening a shop. To continue with the example of bikes, specialised e-scooter shops could be one to watch out for because your potential customers could use these products as an alternative mean of transportation.
Finally, it's essential to conduct market research on the area in which you intend to open up shop. Identify the catchment area to which you belong. How far does it span? How many people live and work in this area? What are the main socio-demographic characteristics of the area's inhabitants? Is there an outlet for the product(s) you want to sell? Who are your closest competitors?
Regulations and legal obligations concerning the opening of a shop
Every shop opening is subject to a wide range of rules, in particular regarding price display, promotions, dumping, opening days, fire safety.
Certain businesses are also subject to specific regulations and legal obligations, requiring, for example, a license or special authorization for particular practices.
The scope of such rules is too vast for us to review in this guide. Nevertheless, we recommend that you find out about the obligations that apply to the type of store you wish to set up, possibly by asking a lawyer for advice.
Opening a shop: independent or franchise?
The next step in opening a shop is to define your concept and market positioning.
Rely on the results of your market research to create an offer that meets a demand that isn't currently being met, and a positioning that is sufficiently differentiated from your competitors.
Once you have defined your concept, you can then choose to open a shop as a franchise or an independent shop.
Both options have advantages. By going independent, you'll have all the freedom and autonomy in the world when it comes to setting out the vision for your new business. If you decide to join a franchise network, you'll be able to benefit from the reputation of a well-known brand, marketing support, and a network of suppliers.
Finding the premises to open your shop
Choosing the right physical location for a shop is crucial. Indeed, the location of your business will largely influence how many customers it attracts, thus, ultimately, it's turnover.
Ideally, you should choose a city-centre location in a busy shopping street or a shopping centre when opening a shop. However, what counts above all is the immediate proximity of your customers.
If you're setting up a high-end jeweller, being stuck between bakers and a butcher's on a downtown shopping street simply won't cut the mustard. Similarly, you won't often find fast-food restaurants located in the upscale residential areas of cities, nor are Michelin star restaurants often located a few metres from a bus station.
It's also important to consider the surface area you'll need before settling on a specific city or neighbourhood. The price per square meter will inevitably have an impact on your choice of location, especially if your shop requires a large space or parking lot.
Choosing a legal structure for your shop
To create a shop is also to establish a company which means you'll need to choose a legal structure.
Choosing the right legal structure is not a task to be taken lightly as it has many implications - in particular on how the company is run, how much tax it pays and the liability of the partners in case of bankruptcy.
To help you make your choice, you can find more detailed information on the different legal forms available to you on the gov.uk guide for UK business owners and SBA guide for those of you based in the US.
The equipment and staff needed to launch your shop
The next step in opening a shop is to evaluate the equipment and staff needed to launch your business and make it run smoothly. It is advisable to estimate your needs with precise figures so that you can establish an accurate financial forecast.
The equipment required for the opening of a shop
Launching a shop obviously requires finding the right premises and freeing oneself from the costs associated with the latter (such as deposit, agency fees, rent, renovation work, etc.), but also acquiring furniture that will set the scene for many successful sales, including an eye-catching window display, shop counter, organised selves and perhaps a comfortable sofa.
The type of furniture needed depends of course largely on the type of products sold, but in any case, you will need a cash register, security equipment (gates, alarm, cameras, fire extinguishers, etc.), and a computer for management.
You will also need to invest in promotional material (a shop logo and website), and equip yourself with a van for deliveries or procurement.
Also, put time and energy into creating the right atmosphere. You'll spend a lot of time in your shop, so it's important to create a space where you and your customers feel comfortable and at ease.
Finally, don't forget to factor in the initial stock of products needed to set up your shop.
The staffing requirements of a shop
Your staffing requirements will strongly depend on the surface area and the opening hours of your store.
Define your needs carefully by listing the type of employees you're looking for, whether they be a salesperson with real expertise in the business sector, a student, or a full-time/part-time salesperson.
List the desired working hours and skills required to have a clear vision of your staffing needs and the amount of time and money that needs to be allocated to recruitment costs.
Additional services to be taken into account when opening a shop
Several ancillary services need to be taken into account in your financial forecast, such as insurance, water, electricity, maintenance, or a premise license if you intend to broadcast music.
Hiring the services of a chartered accountant for the proper maintenance of your accounts will be a big plus. You may also want to entrust him or her with the administrative management tasks unless you take care of them yourself or instead hire a management company.
In any case, don't forget to account for these services in your financial forecast. To ensure you estimate these expenses as accurately as possible, get in touch with several professionals and ask them for quotes.
The marketing plan of a shop
When opening a shop, you'll need to attract new customers. They're the key to any successful business launch and you will need to build customer loyalty following a strong marketing plan.
Whether it's distributing flyers in the street, advertising in the local newspaper or running events related to the launch with promotional offers: there are many ways to get your name out! It's up to you to identify which actions will be most effective and provide the best bang for your bucks.
Don't forget to support your efforts with an online campaign. Create a website to showcase your products and update customers on any exciting news such as promotional offers and new partnerships.
If you don't feel like launching a website at the same time as your physical shop, try to have at least some presence on social media and highlight your products with eye-catching pictures (on Instagram or Facebook) and the positive opinions and comments of your customers.
Writing the business plan for a shop
Drawing up a business plan for a shop is an essential step to verify that your venture is financially viable and therefore worthy of funding.
The business plan is made up of two major components:
A financial forecast that aims to highlight the expected profitability of the project and the initial financing required.
A written part that presents, in detail, your project, the team, your business strategy, and your medium-term objectives.
The business plan is the document with which you will try to secure funding from your bank or potential investors, so you need to make it impeccable.
If you are not used to writing business plans, a good solution would be to use online business plan software.
There are several advantages to using specialized business planning software:
You are guided through the writing process by detailed instructions and examples for each part of the plan.
You can be inspired by already written business plan templates
You can easily make your financial forecast by letting the software take care of the financial aspects for you.
You get a professional document, formatted and ready to be sent to your bank.
If you are interested in this type of solution, you can try our software for free by clicking here.
Securing the financing needed to open your shop
Opening your own shop requires a significant initial investment. From premises to stock and furniture, and the initial start-up costs can grow considerably depending on your location (London and the city centre of other large English cities such as Bristol and Manchester are very expensive), and your concept (a luxury shop will have much higher costs).
Fortunately, several financing solutions can allow you to raise the necessary funds for the opening of your shop.
First of all, you will need to have a significant personal contribution. Dipping into your own pocket to part-fund the project will reassure your financial partners of the seriousness of your involvement and your motivation to keep it running successfully.
To raise the remainder, you can approach private investors, either directly or through a crowdfunding platform.
You can then turn to banks to obtain a professional credit line to finance part of the equipment.
Don't forget also the Government assistance available to individuals for launching or taking over existing businesses. Find out about the aid you're entitled to at state level as well as at the level of your region, department, or municipality. These aids can provide you with financial support by allowing you to benefit from tax credits or loan facilities.
That's it for this time, we hope this article has helped you better understand how to open a shop. If you have any questions related to setting up your business, please do not hesitate to contact us.
Also on The Business Plan Shop
Know someone opening a shop? Share this article with them!