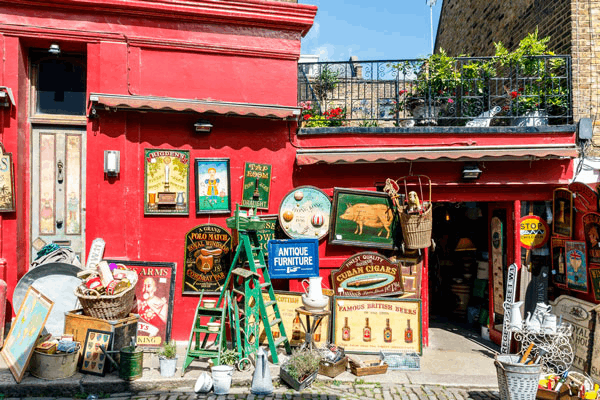 A lot of careful planning must go into the creation of a new business - and opening an antique shop is no exception.
From learning about market trends to finding the right location for your shop and choosing its legal form - there are many factors to consider before embarking on your entrepreneurial adventure.
To help you along the way, we've created the guide below to review each of the major steps you'll need to take before opening an antique shop.
Second-hand market: is now a good time to open an antique shop?
It's no secret that the second-hand market is booming. With more consumers waking up to the fact that traditional production and retailing (whether it be in the realm of fashion, luxury goods, or cars) are wreaking environmental havoc, Unlimited states that as many as 4 in 5 people have done or are open to the idea of shopping second-hand.
As well as this, the challenging economic climate has inspired more people to capitalise off their barely-worn threads - with 2 in 3 people who have never sold their clothes admitting they would definitely consider it.
You can, therefore, embark on your journey of opening an antique shop with the knowledge that they're in good demand. However, before launching your store, you'll have to carry out market research to ensure this demand holds up in the area you plan to open your shop, and your business won't be hindered by nearby competitors.
You must also bear in mind the growing popularity of online vintage and antique stores, such as Depop. If you'd like to open an antique shop rather than launch online, think about how you can set yourself apart from these platforms by tugging on the heartstrings of your local community, perhaps by hosting vintage markets or regularly sharing your collection and promotions with customers via social media.
Open your antique shop with the right concept
Antique shops may be thriving, but to open a profitable business, you'll have to find a way to distinguish yourself from nearby competitors.
The second-hand market is divided into five major players:
Pawnshops, which only pay sellers if their item has attracted a buyer.
Sellers who purchase an item directly in order to resell it -the item's original owner is therefore paid immediately.
Antique dealers who have the expertise to authenticate and sometimes restore objects for resale.
Antique dealers who also sell movable assets such as furniture, but don't have the expertise to authenticate the object.
Finally, online second-hand platforms (such as eBay and Depop)
To develop the business plan for your antique shop, the first step is to choose your concept. Would you like to sell antique furniture or concentrate on art? And will you be showcasing your collection purely online or within a store that customers can visit?
Whatever your choice, it's up to you to make sure you're offering your customers a little something that your direct and indirect competitors cannot.
If the area you have your eye on already has a number of specialised antique stores, you might want to consider adopting a more general approach when opening your antique shop: selling a wide range of second-hand items or choosing another neighbourhood where your niche will be more appreciated for example.
Where should you open your antique shop?
The next step in opening an antique shop is finding the right location. And those launching purely online aren't exempt from this task either - as you'll need a place to store your stock.
Although the initial thought of being situated to your competitors may send shivers down your spine, we're here to tell you that it mightn't actually be the worst thing for the business. In fact, so long as you have differentiated your own service from what they're offering, being located close by could improve business - as it'll provide vintage lovers with a destination whereby they can move freely between second-hand shops.
It's important to note that if you plan on operating in the public domain (for example, setting up market stalls in the street outside your shop) you'll need to obtain a license to do so.
If you prefer to work from home, there's also nothing stopping you from opening up an antique shop from the comfort of your very own living room. In this case, however, you'll need to ensure that you comply with the same health and safety standards imposed on retailers open to the public.
For more information on health and safety regulations in the UK retail industry, check out this guide on hse.gov.uk.
Choosing the legal structure for your antique shop
As for the creation of any business, opening an antique shop will mean having to choose its legal form.
Choosing the right legal form is not a task to be taken lightly as it has many implications - in particular on how the company is run, how much tax it pays and the liability of the partners for any debt collated.
To help you make your choice, you can find more detailed information on the different legal forms available to you on the gov.uk guide for UK business owners and SBA guide for those of you based in the US.

The equipment and staff needed to open your antique shop
The next step in opening an antique shop is to evaluate the equipment and staff needed to launch your business and turn it into a success.
For example, if you'd like to offer a restoration service for pieces of furniture, you'll have to employ another person who can either take care of this for you or run the store while you fix the items yourself.
Generally speaking, it's a matter of identifying all the tasks necessary for the smooth running of your business, and then deciding how many people will be needed to see these through.
Be careful not to underestimate tasks such as bookkeeping and responding to customer queries, which can become very time-consuming. That said, it's always possible to outsource some of these responsibilities to external companies to save you some time.
It goes without saying that your employees must be competent. This means bearing in mind that, although it may take a bit more time than expected to find people with the right skills, it's worth investing this time - especially when you consider super technical tasks like furniture restoration.
You will also need to consider what second-hand items you'll be stocking the store with, where you're sourcing them from, and how you plan to transport them to your store.
This means making a list of professional equipment needed, including a car for delivering your items. You'll also need to factor in the tools required for furniture restoration and the typical equipment required for the opening of a store such as a card machine, payment terminal, and retail sign for catching the attention of passerby's.
Attracting customers to your antique shop
Now that you've decided where your antique shop will be based, it's time to develop a solid marketing plan to convince people to visit your store.
To put it simply, your marketing plan will allow you to define the promotional actions you'd like to take to attract and retain customers when opening your antique shop, and how much each one will cost.
If you're setting up a physical antique shop, it's likely that most of your customers will live within a few miles of you. In this case, you might want to consider getting your name out there with a jingle on your local radio station or putting an ad in your local newspaper.
Whether it's taking to the streets armed with flyers, setting up a 20-foot billboard in your town square, creating a website, or launching a loyalty program, it's up to you to decide which will be the most effective (including cost-effective) ways to attract customers.
Writing the business plan for your antique shop
Once you have completed all the previous steps, you're ready to start writing the business plan for your antique shop.
The business plan is the equivalent of a CV for your antique shop: it's used to present your project to potential investors in a quantified and compelling manner.
The business plan is made up of two major components:
A financial forecast that aims to highlight the expected profitability of the project and the need for initial financing.
A written part that presents, in detail, your project, the team, your business strategy, and your medium-term objectives.
The business plan is the document with which you will try to attract funding from your bank or potential investors, so you need to make it impeccable.
If you are not used to writing business plans, a good solution would be to use online business plan software.
There are several advantages to using specialized software:
You are guided through the writing process by detailed instructions and examples for each part of the plan.
You can be inspired by already written business plan templates
You can easily make your financial forecast by letting the software take care of the financial calculations for you.
You get a professional document, formatted and ready to be sent to your bank.
If you are interested in this type of solution, you can try our software for free by clicking here.
Securing funding needed to open your antique shop
From bank loans to equity financing and crowdfunding: many solutions are available to you to secure the funding needed to set up your antique shop.
You'll be expected to offer a significant personal contribution. Dipping into your own pocket to fund part of the project will reassure your financial partners of the seriousness of your involvement and your motivation to keep it running successfully.
Don't forget also the state aid available to individuals for launching or taking over existing businesses. Find out about the aid you're entitled to at a state level as well as within your specific area. These aids can provide you with financial support by allowing you to benefit from tax credits, reduction or elimination of charges, or loan facilities.
That's it for this time, we hope this article has helped you better understand how to open an antique store. If you have any questions related to setting up your business, please do not hesitate to contact us.