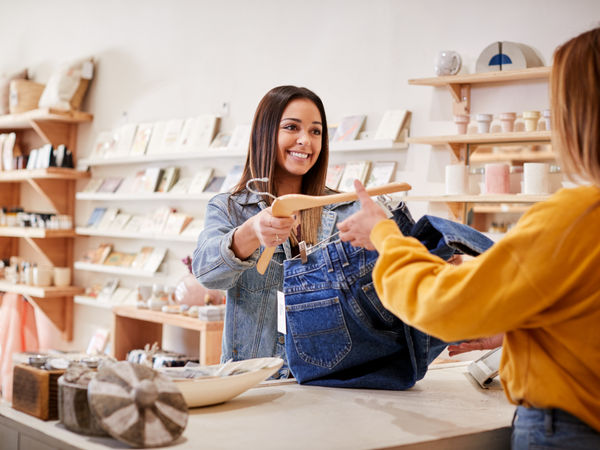 Whether you are launching a new store or looking to grow an existing retail operation, having an effective and comprehensive business plan is essential.
Luckily for you, this in-depth guide will provide all the information needed to write a successful business plan for any retail store.
We'll cover why writing a business plan is important, what information should be included in your retail store business plan, how the document should look, and which tools can help you create one quickly and easily.
So, let's get started!
Why write a business plan for a retail store?
There are several reasons to write a retail store business plan. Below, we cover some of the most important ones!
To draw up a roadmap
Writing a business plan for a retail store is an essential part of running a successful business.
It not only helps set objectives and goals for the next 3-5 years but also provides existing retail stores with an opportunity to evaluate their businesses' current performance and develop strategies for future growth.
A comprehensive business plan can help pinpoint areas in need of improvement, identify potential opportunities, and create actionable steps towards achieving these objectives.
Writing a business plan forces you to think critically about your business's direction, long-term goals and financial performance which are all necessary components of any successful enterprise.
To compare financials
A well-crafted business plan allows you to regularly compare actual performance against what was planned, enabling you to recalibrate your financial forecasts accordingly in order to maintain visibility on future cash flows.
By taking this approach of constantly assessing progress and making adjustments along the way, you give yourself the best chance of anticipating any potential problems such as a shortfall in cash.
To secure financing
Whether you are starting from scratch or have an existing business, creating a comprehensive and well-thought out business plan is vital for gaining the financing you need from a bank.
Banks will use your written document as evidence that you are capable of repaying the money they loan to your company. A detailed and thorough business plan can help convince potential lenders that investing in your venture would be a smart decision.
Similarly, equity investors will carefully examine whether or not their investment is likely to generate a worthwhile return.
They want evidence of healthy growth, profitability and cash generation potential in order to take the plunge.
Now that we have discussed why it is important to create a business plan for a retail store, let's move on to the information needed to create one.
Information needed to create a business plan for a retail store
Writing a retail store business plan requires research so that you can project sales, investments and cost accurately in your financial forecast.
In this section, we cover three key pieces of information you should gather before drafting your plan!
Carrying out market research for a retail store
Carrying out market research is an important step before writing a business plan for a retail store. Doing so allows you to accurately forecast revenues and gain valuable insights into their target markets, competitors, and the industry as a whole.
It also helps you identify opportunities that can be capitalized on in order to maximize returns from your investments.
By understanding the needs of customers and potential buyers, retailers are better equipped to develop effective marketing strategies that will help increase sales and profitability.
Furthermore, researching trends in the retail sector gives businesses an edge over their rivals by helping them anticipate changes in customer preferences ahead of time.
This should help you stay one step ahead of your competition while staying relevant in today's ever-evolving marketplace.
Developing the marketing plan for a retail store
Creating a marketing plan for a retail store involves setting aside dedicated funds for sales and marketing activity.
This budget must be carefully calculated in order to ensure that the right amount of resources are available to generate the desired level of sales.
Careful consideration should be taken when constructing this marketing budget, as it will need to cover everything from advertising and promotions to staff wages and other associated costs.
By incorporating this budget into the overall business plan, it will be possible to ensure that all of the necessary resources are available to deliver the expected growth.
The staffing and equipment needs of a retail store
It is important to consider the recruitment plan and investments that will be required to set up and expand the business as this will be needed when creating the financial forecast.
This includes costs associated with running a retail store, purchasing equipment such as cash tills, clothes rails and baskets, as well as establishing any necessary training programs.
Additionally, you should take into account any other overhead costs such as rent, insurance, travel expenses, and more.
Once you have the information needed to create the business plan for your retail store, it is time to start creating your financial forecast.
How do I build a financial forecast for a retail store?
The financial forecast for a retail store is made up of four main parts:
The Profit and Loss Statement (P&L) shows how much income the retail store generates over time.
The Balance Sheet shows the store's assets, liabilities, and equity at a specific point in time.
The Cash Flow Statement tells you if more money is coming in or going out over a period of time.
The Sources and Uses Table explains where funds are coming from and where they are going to help fund the business venture.
The projected P&L statement
A projected P&L statement for a retail store shows how much money the store might make and how profitable it could be in the future.
Investors will look at this before deciding on whether to invest money or not. They would like to see a reasonable return on their investment within a given period.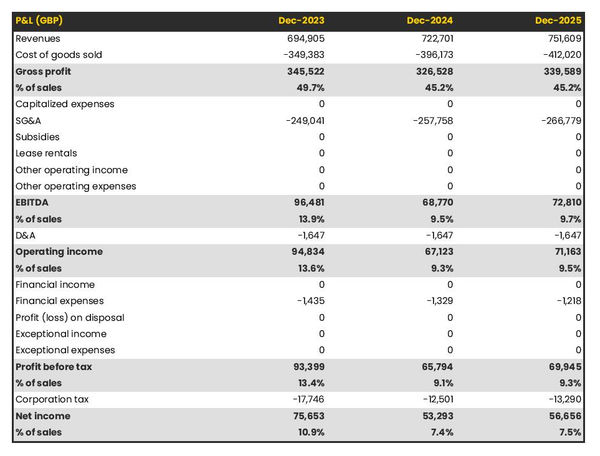 The projected balance sheet of your retail store
A retail store balance sheet is a financial statement that provides a snapshot of the store's assets, liabilities, and equity at any given point in time.
Examples of common business assets include cash, inventory, equipment, and vehicles, whilst liabilities may include any outstanding debts or accounts payable. Equity is calculated by subtracting liabilities from assets.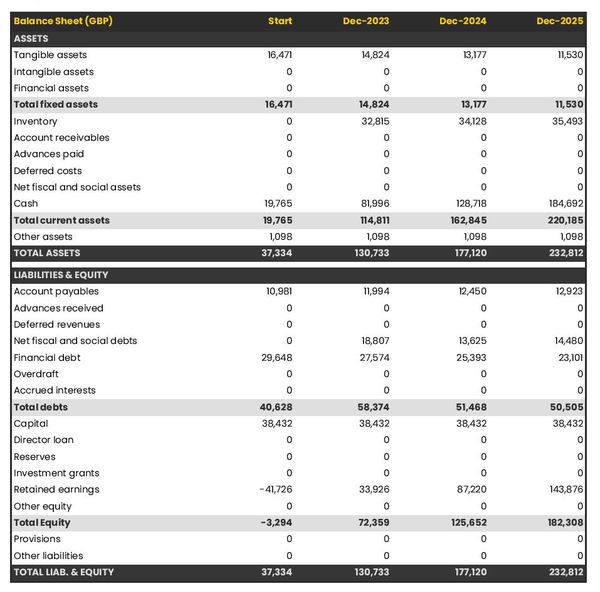 For lenders and investors, the balance sheet provides insight into the store's financial health and ability to repay debts. It can also indicate whether or not it is a good investment opportunity.
For business owners, the balance sheet helps them manage their cash flow, track profits and losses, and plan for future growth.
Looking at a retail store's balance sheet can provide an overall view of the health of the business, helping to ensure that short- and long-term goals are on track. It is also useful for benchmarking against similar stores in the industry.
The projected cash flow statement
A projected cash flow statement for a retail store shows how much cash the company will generate, and how much it will consume.
It helps store owners decide how much money they will have to spend on things like new products, advertising, and other expenses.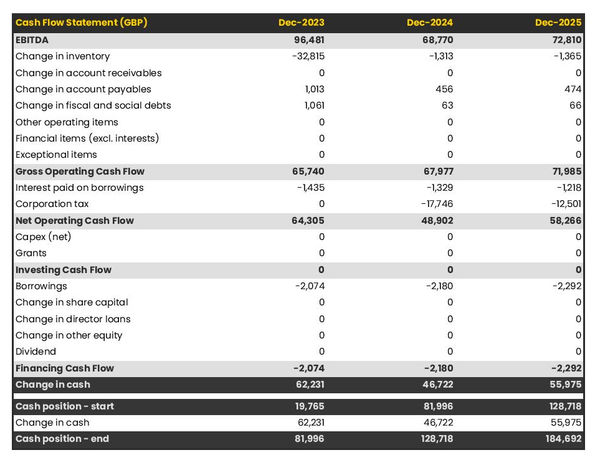 This information helps anticipate potential shortfalls in cash, equipment renewals, and plan new store openings.
The initial financing plan
The initial financing plan (also called a sources and uses table) is an important tool when starting a retail store.
It shows where the money needed to set up the store will come from (sources) and how it will be allocated (uses).
Having this plan helps you understand what costs are involved in setting up the retail store, so you can make sure that everything is taken care of before launching.

Having a well-constructed financial forecast is important for any retail store business plan, but it's not enough. The reader of the plan needs to understand the context of why and how you made those predictions in order to judge if they are reliable.
That's why it's also essential to include the written part of your business plan which provides more information about your retail store. Let's take a look at what should be included in this section.
The written part of a retail store business plan
The written part of a retail store business plan is composed of 7 main sections:
The executive summary
The presentation of the company
The products and services section
The market research analysis
The strategy section
The operations section
The financial plan
Let's take a look at each section in more detail!
1. The executive summary
Writing the executive summary section of a retail store business plan requires a great deal of thought and consideration.
The executive summary should provide a comprehensive overview that highlights the key components of the business plan, including the goals and objectives.
The executive summary should start with a business overview explaining what the business does, what it sales and to who, and where it is located.
Next comes the market overview, which should provide an overview of industry trends, as well as an understanding of the target customer demographics.
Key financials, such as startup costs and projected profits and cash flows should also be included in the executive summary. You should also include key financial data such as projected revenues and profitability.
Finally, state how much financing you require from investors or lenders.
Remember that an executive summary should be concise and to the point, aiming to encourage investors or lenders to continue reading the business plan further.
2. The presentation of the company
When crafting the company presentation of a retail store business plan, it is important to address structure and ownership.
The organizational structure of the company should be detailed to demonstrate how the store's operations will run smoothly. Additionally, any ownership details such as investors or shareholders should be cited in the plan.
Secondly, the location of the store should be highlighted as this can greatly influence customers and profits. Ensure to include information on the neighbourhood, demographic, foot traffic and nearby attractions that could benefit your business.
Finally, your plan should highlight key management team members who will help to drive success for the store. Summarize each individual's experience, qualifications and professional qualities in order to show the team's ability to lead the retail store.
3. The products and services section
This is an important part of your business plan, as it outlines exactly what type of goods and services the store intends to provide.
It's essential for you to clearly communicate how your product line meets customer needs, as this will be an influential factor in whether or not investors decide to back your venture.
Describe each category of items being sold at the store in detail, such as brands available. Also mention what services you offer: click and collect, 30 days return, etc. .
The reader will want to understand what makes your products unique from other businesses in this competitive market.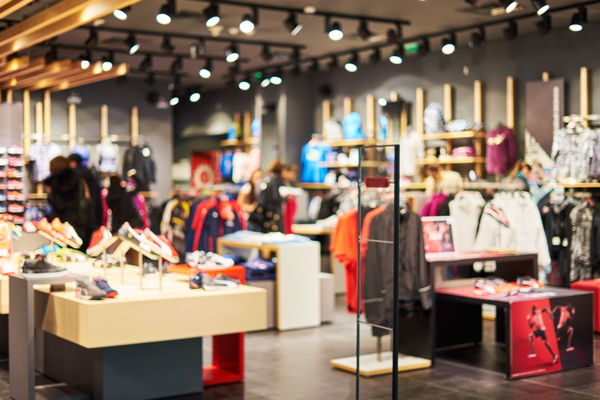 4. The market analysis
When writing the market analysis section for your retail store business plan, you should include detailed information about demographics and segmentation, target markets, competition, barriers at entry, and regulation.
This is important because it provides investors or banks with an understanding of the current environment surrounding the company and its potential customers.
For starters, it is important to understand who makes up your customer base by looking into demographic data such as age range and income level.
Additionally, analyzing consumer behavior can help identify different segments that exist within this customer base so that they can be better targeted with marketing efforts.
It is also essential to look into competitors operating in the same space to understand what strategies have been successful or unsuccessful thus far. This might be direct competitors (other retail stores in the area) or indirect competitors (online businesses).
Moreover, understanding any regulatory requirements related to entering a particular market will help ensure that all legal guidelines are met before launching operations.
All these elements combined provide investors or banks with more confidence when deciding whether or not to invest in a certain venture.
5. The strategy section
When writing the strategy section of your retail store business plan, it is important to consider how the business will differentiate itself from competitors, create an attractive pricing model for customers and develop a marketing plan.
When writing the competitive edge section, you should articulate why your store offers something different in comparison to existing stores (for example, product selection or customer service).
Furthermore, you need to determine what pricing structure makes sense for both customers and profitability. You may choose to pursue a competitive pricing strategy, cost-plus pricing strategy or other ones.
Additionally, your marketing plan should outline which channels can best be used to reach potential buyers as well as what type of messaging will resonate with them most effectively.
Additionally, setting milestones can help track progress while identifying any areas of improvement along the way.
Lastly, potential risks associated with the retail store must be identified and addressed with effective mitigants in order to minimize negative impact on operations and profitability.
6. The operations section
The operations section of your retail store business plan is an important part of the overall document.
It should provide details on how the store will be managed and operated, including staffing roles and responsibilities, opening hours, key assets and intellectual property, and suppliers.
When discussing staffing, outline the roles and responsibilities of each team member and how they will contribute to the success of the store. This section should also include a recruitment plan outlining how you intend to hire new staff members when needed.
The business plan should also include information about opening hours. This includes details about when your store will be open, any changes in operating hours based on seasonality, or holiday closures.
Details about key assets and intellectual property that the business needs to operate should also be included in the operations section. You could mention any key equipment that your business needs to purchase (for e.g. a payment processing machine).
Finally, talk about the suppliers that you chose to work with and why. You might have a strong relationship with them, having worked with them in the past or be attracted by their brand image (perhaps sustainability if you operate a t-shirt business).
By providing all of the necessary details about how your store will operate, you can give potential investors and lenders an accurate picture of what they'll be getting into when they support your business.
7. The presentation of the financial plan
This is where you will present the financial forecast that we talked about earlier in this guide.
Now that you have a better understanding of what should be included in the content of your retail store business plan, it's time to look at the tools that can help you create one.
What tool should I use to write my retail store business plan?
You could create a retail store business plan using applications such as Excel or Word, hire a consultant or accountant to write it for you, or use online business plan software.
Let's look at the benefits and drawbacks of each solution.
Create your retail store's business plan using Word or Excel
Excel and Word were very popular tools for creating a business plan in the 1990s.
The advantage of using Excel and Word to create a business plan for a retail store is that these tools don't cost much.
However, creating a full business plan with Excel and Word is a long and tedious process which makes the solution not quite cost-effective.
If you're using Word, you must start with a blank page and spend hours formatting the document yourself once written - something that may be too time-consuming for a busy business owner.
Furthermore, you need to have a solid background in accounting and finance in order to create an error-free financial forecast in Excel. And it is unlikely that a bank or investor will trust your numbers unless you have a degree in finance or accounting.
Ultimately, both Excel and Word have their pros and cons when it comes to creating a retail store business plan. Consider your needs carefully before deciding which one is best for your business.
Hire a consultant to write your retail store's business plan
When it comes to creating a business plan for a retail store, outsourcing the task to a consultant or accountant is a potential solution.
Consultants are experienced in writing business plans and can create accurate financial forecasts without errors. Accountants also have the ability to identify potential issues that could arise down the road.
The main issue with that approach is the cost: hiring a consultant will be expensive: budget at least £1.5k ($2.0k) for a complete business plan, more if you need to make changes after the initial version (which happens frequently after the initial meetings with lenders).
Use an online business plan software for your retail store's business plan
Another alternative is to use online business plan software.
There are several advantages to using specialized software:
You are guided through the writing process by detailed instructions and examples for each part of the plan
You can be inspired by already written business plan templates
You can easily make your financial forecast by letting the software take care of the financial calculations for you without errors
You get a professional document, formatted and ready to be sent to your bank
The software will enable you to easily track your actual financial performance against your forecast and update your forecast as time goes by
If you're interested in using this type of solution, you can try our software for free by signing up here.
We hope that this guide helped you better understand how to write the business plan for a retail store. Do not hesitate to contact us if you still have questions.
Also on The Business Plan Shop
Know someone in the retail industry? Share this article with them!