How to write a 5-year business plan faster with the right tool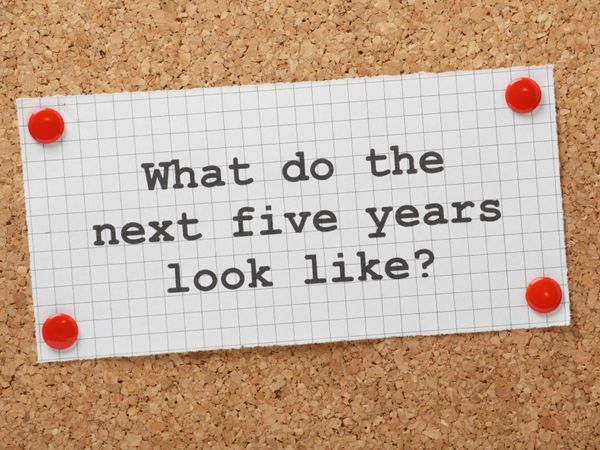 Did you know that 70% of firms still in business after five years, have a strategic plan in place?
A business plan helps outline your goals and explains how you plan to achieve them.
A well-written business plan is crucial if you want to raise financing and plan your outlook for both the short and long-term future.
In this guide, we'll cover what a five-year business plan is, why you need to write one, what tool you should use and the content that should be included!
Ready? Let's get started!
What is a 5-year business plan?
A 5-year business plan provides both an overview and a detailed description of how your business is going to be run and its core activities, whilst also stating key targets and explaining how you plan to meet them.
It follows the same structure as most other business plans. It contains all of the key sections from the executive summary to the financial statements.
How does a 5-year business plan differ from a 3-year business plan?
The key difference is that those financials are projected for a period of 5 years instead of 3 years. This means that the business is providing a long(er) term outlook.
It also means that sections detailing the actions planned - such as business strategy, sales & marketing plan and milestones - have to be written in greater depth because a lot more will be implemented in a 5-year business plan (vs. a 3-year business plan).
Business plans can be highly volatile tools, especially for startups. If a business plan turns out to be inaccurate at the end of year one, it is likely that the following years will follow suit.
In essence, the further you plan into the future, the less certainty you have. This means that 5-year business plans tend to be higher level than 3-years business plans given that it's difficult to accurately predict what might happen after year 3.
Is a 5-year business plan right for you?
Because of the uncertainty regarding long term projections we just explained in the section above, 5-year business plans tend to be quite rare.
As a rule of thumb, they are mostly useful in the following situations:
When the business is highly predictable
When the business is in transition
Highly predictable businesses
Some businesses are predictable with a high level of certainty and can therefore afford to take a long(er) term view.
This usually applies to businesses with the following characteristics:
They have limited competition: monopolies or oligopolies
They sell products or services with limited substitution options
Infrastructure companies are the perfect example of this. If you are the only water provider or train operator in the region and have been given a 10 years concession, you can comfortably project your financials over longer periods.
Businesses in transition
5-year business plans are also useful for businesses that want to model a transition from one state to another.
Good examples of this are when there is a one-off important change in the business, or a high level of inertia:
The business is expected to go through a phase of reorganization or restructuring, after acquiring another business, or because it needs to shut down a division which is no longer competitive, for example
The business is investing in a capital intensive project that will take time before yielding a return on investment. If constructing a new factory takes two years before the business can benefit from the increased production capacity, for example
There is inertia in the sales cycle. If the business is launching a new product marketed to big corporations with an expected 12-18 months sales cycle, for example
As you can see from above, 5-year business plans are often overkill for startups or small "brick and mortar" businesses such as retail shops and restaurants.
What tool should I use to write a 5-year business plan efficiently?
Writing a business plan can be both tedious and difficult if you start from scratch. Luckily for you, online business plan software can help you write a professional plan in no time!
There are several advantages to using specialised software like The Business Plan Shop:
You are guided through the writing process by detailed instructions and examples for each part of the plan
You can be inspired by already written business plan templates
You can easily make your financial forecast by letting the software take care of the financial calculations for you
You get a professional document, formatted and ready to be sent to your bank
You can easily compare your forecast against actuals from your accounting system to ensure you are on track to deliver your plan, and adjust your forecast to keep it up to date as time goes by
If you are interested in this type of solution, you can try our software for free by signing up to The Business Plan Shop today.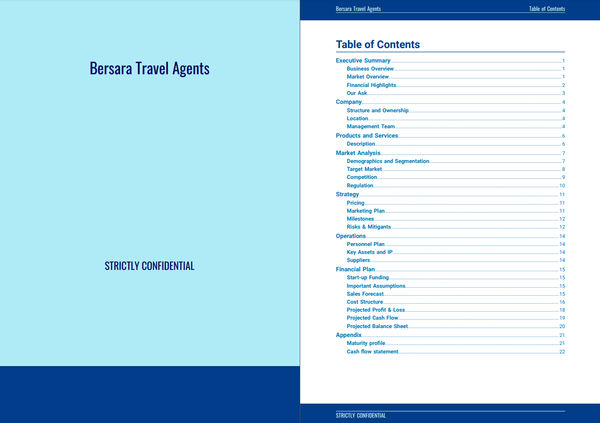 5-year business plan templates and examples
Most of the business plan templates offered by The Business Plan Shop are examples of three-year business plans.
However, since there isn't any fundamental difference between a three-year and five-year business plan, you can use one of our templates to help structure your own plan (simply increase the number of years to 5 in the settings and adjust your forecast accordingly).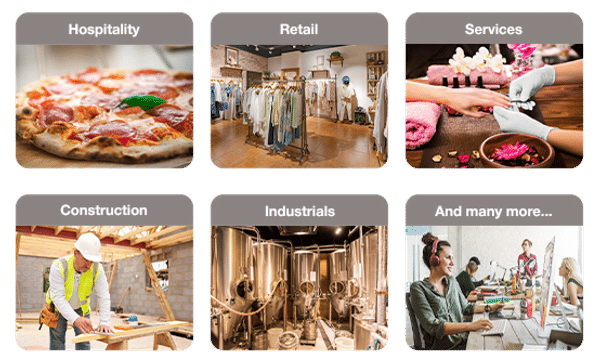 Why you shouldn't be using Excel and Word to write a 5-year business plan?
When considering using a tool like Word or Excel to craft a 5-year business plan, it is important to be aware of the drawbacks.
Though both programs may offer some basic formatting and calculations, they are not tailored for creating business plans.
Using Excel can be risky due to potential errors in data entry as a consequence of inputting data manually. A single mistake could lead to financial statements being inaccurate and with hundreds of lines of data, you might struggle to locate where the mistake was made.
Investors are likely to frown upon the use of Excel when creating a forecast for this reason, and it's unlikely that they would trust your numbers unless you have a background in accounting or finance.
Even if you do have a background in finance. With Excel, you'll need to compute key formulas yourself, which means that modelling complex elements is likely to be frustrating. Modelling D&A tables, advanced payment terms, or variable interest rate loans in the financial forecast are good examples of this.
If you're using Word to write up your business plan, you might find yourself overwhelmed by all the details that must be included. And unlike The Business Plan Shop, which offers you structured templates for each section of your plan, with Word there are no examples or instructions to guide you either.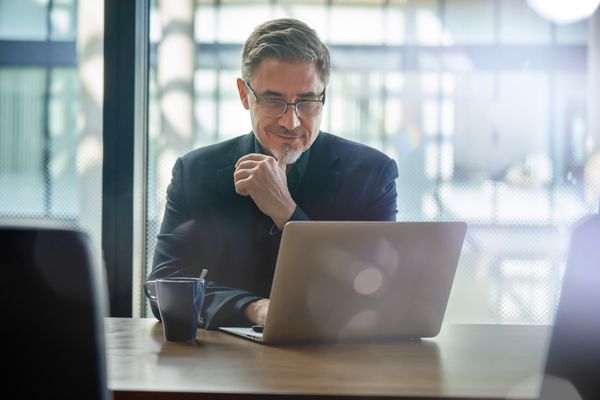 How do I write a 5-year business plan in practice?
Following a set structure makes it much easier to write a five-year business plan - which is why we've broken it down into simple questions and sections for you to follow!
How do you set 5-year business (growth) goals?
When writing a 5-year business plan, it's important to set achievable goals within that timeframe. Looking back at previous business performance can offer indications as to what your team can achieve with the resources they have at their disposal.
Be sure to set SMART (Specific, Measurable, Achievable, Relevant and Time-bound) objectives: there's no point in saying that you want to open 10 new stores within the next five years, if you know that's virtually impossible.
Similarly, an increase in customer satisfaction by itself is not a measurable goal and would need to lead to greater customer retention and repeat purchases for it to be quantified in numerical terms.
Remember that your goals are likely to shift as time goes by and you might want to make small changes to them. Whilst it's good to be specific, there's no need to mention every single aspect of your strategy in the business plan. You are trying to impress stakeholders such as investors, not bore them with the details!
What is the content of a 5-year business plan?
A 5-year business plan is composed of 7 main sections, let's have a look at each of them.
Executive Summary
The executive summary is arguably the most important part of your business plan. It provides readers (such as banks and investors) a rundown of your business as a whole.
You should explain what type of business you are, what goods or services you sell and to whom, forecasted revenues and profitability in the next five years, as well as the amount of financing that is required (if any).
Remember that this is the first section of your business plan. Keep it short and snappy with the aim of persuading stakeholders such as investors to continue reading.
Company Overview
The company overview section of a five-year business plan usually covers three key areas:
Structure and Ownership
Business Location
Management team
You should start by summarising how your business is funded to date and who owns it (be sure to state shareholder names and percentage ownership if it is equity funded). Plus, you should declare what type of legal structure you've chosen (sole trader, limited company, partnership, etc.).
Then give an overview of the location(s) of your business Simply explain where you chose to set up your business(es) and why you chose those particular area(s) - strong transport links and parking facilities, large footfall of potential customers nearby are two such examples.
Finally, you should introduce the management team. This part is particularly important to demonstrate to investors that your management team has the necessary skills and experience to run the business successfully.
Market analysis
This is likely to be the lengthiest section of your 5-year business plan. In general, market analysis should include the following sections:
Demographics and segmentation
Target market
Competition
Barriers at entry
Regulation
Demographics are essential for understanding who is likely to be interested in purchasing your products or services. Segmenting demographics further can also provide insight into what types of goods customers prefer and the price that they are willing to pay for them.
This section can also help you understand any upcoming trends in the market that are likely to affect your strategy within the next five years.
Then comes the target market part, where you will explain which segments are targeted by your business and how you meet their needs.
For example, if you were running a wellness spa, your target market could be women aged between 20 and 45 that work full-time and are looking to relax and de-stress after their workday and on the weekends. They might be drawn to your salon because of your high-quality customer service and convenient opening times.
It's also important to explain who your business will be competing against in the local market. Think about direct and indirect competition so that you can devise strategies to gain an edge over them. 
The next part of your market analysis will be to detail potential barriers to entry. Barriers to entry are best defined as any hurdles that prevent competing firms from entering the market and stealing your hard earned market shares. A large investment in R&D or production capacities would be good examples.
Finally, you should state what regulations are already in place in the market and how you plan to abide by them. Examples of such regulations include The Data Protection Act (prominent for businesses with a website) and health and safety regulations.
Products and services
The products and services section of your 5-year business plan should include detailed descriptions of all the products and/or services that your business offers.
For example, if you run a coffee shop, you should detail the ingredients used, such as the type of milk, flavourings, and toppings available. The reader will want to understand what makes your coffee unique from other businesses in this competitive market.
You could also list any offers that customers can obtain (coffee and cake deals for example). You might also have delivery options available or loyalty programmes for customers who purchase multiple drinks over time.
It may also be useful to explain how you intend to keep up with current trends by introducing new flavours and seasonal beverages throughout the year (pumpkin flavour during Halloween for example).
Including these details in your 5-year business plan helps paint a clear picture for potential investors about what they can expect now and in the future.
Strategy Section
This section should outline the pricing strategy, marketing plan, milestones to be achieved, as well as any risks and mitigants associated with your venture.
You should explain how you charge for your goods and services, why you chose to price them at that level, and how they compare with prices charged by your competition.
In your marketing plan, you could outline how you plan to implement a set strategy to attract and retain customers.
Your business milestones are important because they summarise what your goals are and where you want to be in five years time. For an exisiting business, it might look like this:
In year one: open a second store in the region
In year two: go national with another 5 new stores in major cities
From year three to five: open 10 new stores each year to reach a network of 37 stores
Finally, talk about the risks and mitigants that could affect your business within the next five years. Try to cover major risks such as changes in the competitive environment, new regulations, key staff leaving, etc.
Operations Section
In your five-year business plan operations section, you should outline any staff that you've recruited (or plan to recruit), the qualifications & experience they hold and their responsibilities.
Your business might employ more staff as time goes on (perhaps as you obtain a stronger cash flow position in year 3 of the business plan). Be sure to state any future recruitment plans.
Talk about the suppliers that you've chosen to work with and the reason for picking them over others.
Finally, you should state any key assets required for the business to operate such as leases, patents, or specialized equipment.
Financials
For any business plan, the financial section is crucial. Your five-year business plan should contain a full set of financial statements: a balance sheet, a profit & loss statement and a cash flow statement.
Obtaining inputs from key stakeholders before writing your 5-year business plan
To help ensure that your business plan is accurate, it should ideally be written by your management team (one or more managers who are responsible for overall strategy and the day-to-day running of the business).
It's also important to obtain input from key staff members. For example, the head of sales should help build the sales forecast because they are the one responsible for executing the sales strategy.
How many pages does a 5-year business plan have?
Like most business plans, there's no specific number of pages that yours must have. A good rule of thumb, however, is to keep it between 15 and 35 pages.
As long as you've covered all of the key sections, ranging from the executive summary to the financial projections, your five-year business plan should be good to go!
Remember, quality is more important than quantity.
How to make sure your 5-year business plan stays relevant?
Writing a comprehensive business plan takes time, to get a return on investment on this time you need to actually use and maintain your plan.
To do so, you will want to regularly compare your actuals (actual data from your accounting software) with your financial projections to check you are on track to deliver the plan.
Then you will want to adjust your forecast and plan as time goes by so that your plan stays current and your business can maintain clear visibility of it's future cash flows.
If you used The Business Plan Shop to create your forecast, this is easy to do as actuals vs. forecast tracking is built-in our solution: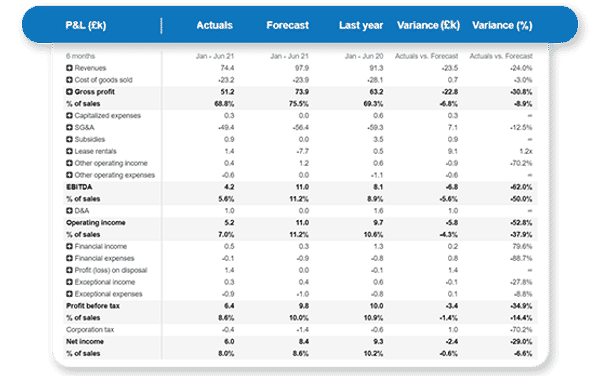 That's it for now, we hope this article has helped you better understand how to write a 5-year business plan.
Please do not hesitate to contact us if you have any questions related to business planning or our solution.
Also on The Business Plan Shop