How to write the business plan for a t-shirt company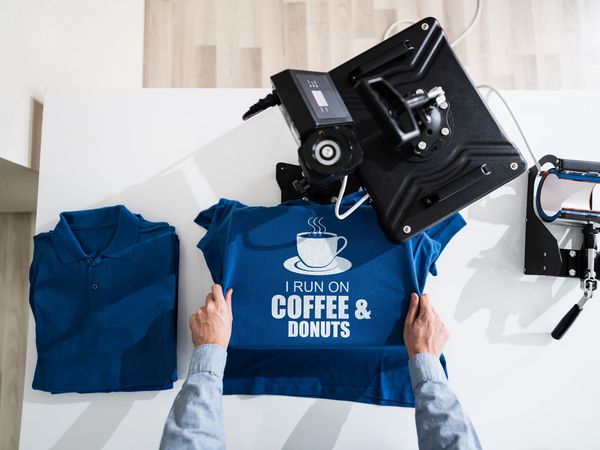 Starting a t-shirt company or growing an existing one requires more than just a great idea. It requires careful planning and the right resources to ensure success.
In this guide, we will cover why you need to write a business plan for your t-shirt company, what information should be included in the plan, what tools can help you create your business plan and finally, what the final document should look like.
By following these steps you'll have all the tools necessary to make sure that your new t-shirt venture has everything it needs to succeed!
Why write a business plan for a t-shirt company?
There are several reasons to write a t-shirt business plan. Below, we cover some of the most important ones!
To draw up a roadmap
Writing a business plan for a t-shirt company can be an invaluable tool for entrepreneurs looking to launch or grow their businesses. It provides the ability to set objectives and goals that can help guide decision-making over the next 3 to 5 years, which is essential for success.
This type of planning is especially important in today's competitive market, where businesses must continually adapt and innovate to stay ahead of the competition.
A well-crafted business plan can provide existing t-shirt companies with an opportunity to review their current strategies and make adjustments as needed, while also helping new startups get off on the right foot from day one.
To compare forecasted and actual financial performance
Business planning also enables you to compare financial performance against what was initially expected in the financial forecast of your t-shirt company business plan, giving you the ability to make adjustments if needed and recalibrate financial forecasts in the future.
This kind of foresight helps mitigate risks associated with running the t-shirt company and sets it up for success in the long run.
To help secure financing from investors and banks
Writing a business plan for a t-shirt company is essential when looking to secure financing from an equity investor (or a bank).
An attractive business plan will demonstrate the potential of your t-shirt company and its ability to generate returns on investment.
Investors (and lenders) need to see evidence that the company can achieve healthy growth, profitability, and cash generation for them to invest in it. They will also use figures to compute key ratios and metrics.
Therefore, having a well-written business plan with a comprehensive financial forecast is key to attracting investors and ensuring you have access to much-needed capital.
Now that we have discussed why it is important to write a business plan for a t-shirt company, let's move on to the information needed to create one.
Information needed to create a business plan for a t-shirt company
Writing a t-shirt business plan requires research so that you can project sales, investments and cost accurately in your financial forecast.
In this section, we cover three key pieces of information you should gather before drafting your plan!
Carrying out market research for a t-shirt company
Conducting market research is essential before writing a t-shirt company business plan.
It provides you with an opportunity to understand your target market and gain valuable insights into customer needs and preferences.
This information can then be used to accurately forecast revenues in the business plan, giving investors confidence in the viability of the venture.
Moreover, having a thorough understanding of the competitive landscape helps you develop strategies that will give you an edge over competitors.
Ultimately, carrying out market research before writing a business plan for a t-shirt company can help ensure success down the line.
Developing the marketing plan for a t-shirt company
Creating a well-defined marketing plan for a t-shirt company is a crucial step in writing a business plan.
It is essential to determine the right budget for both sales and marketing expenditures (such as promotions and advertising), as this will be included in the overall financial forecast.
As such, it is important to thoroughly assess the resources available and allocate funds accordingly.
The staffing and equipment needs of a t-shirt company
It is essential to think about the recruitment and investment plans before drafting your business plan, as this will ensure that the actions planned are realistic and achievable.
The exact number of people and equipment required to deliver your business plan will depend on whether you are manufacturing the t-shirts yourself or outsourcing production to suppliers, how you handle the logistic (do you own a fleet of trucks and warehouses, or do you outsource this part of the value chain), and how you intend to distribute your goods (owned stores, online sales, network of retailers, etc.).
Be sure to factor the costs associated with hiring staff, such as salaries, health benefits, recruitment and training costs, etc. And the multiple options available to you to secure equipment (buy vs. lease or rent, etc.).
Additionally, funds will need to be allocated for the t-shirt business setup and other capital expenses.
Now, let's look at how the financial forecast for a t-shirt company would look like.
How do I build a financial forecast for a t-shirt company?
A financial forecast for a t-shirt company usually includes a P&L (profit and loss) statement, a balance sheet, a cash flow statement, and sources and uses table.
Let's take a look at these in more detail!
The projected P&L statement
The projected P&L statement of a t-shirt company shows forecasted revenues, expenses and estimates how profitable the business will be in the future.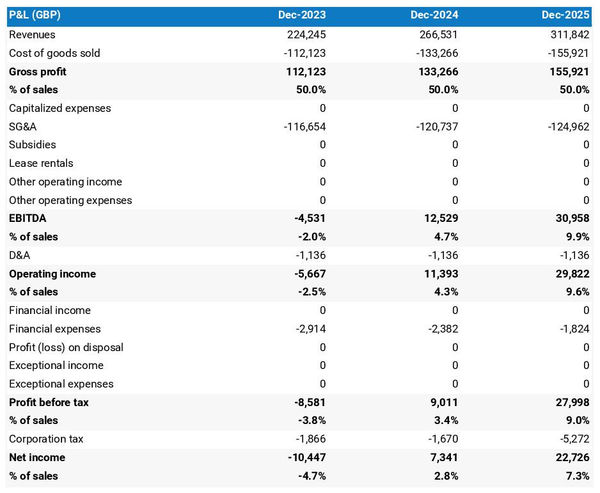 The projected balance sheet of your t-shirt company
A balance sheet is a financial report that summarizes the assets, liabilities, and equity of a business at a specific point in time.
This document provides lenders, investors, and business owners an insight into the company's financial health and overall solvency.
It allows you regularly assess your balance sheet to ensure that your company is not overleveraged, identify levers to optimize working capital, and help plan for future investments.
The balance sheet also allows lenders to review the company's assets, to assess what could be used as collateral for any loans taken out and to help assess your company's borrowing capacity.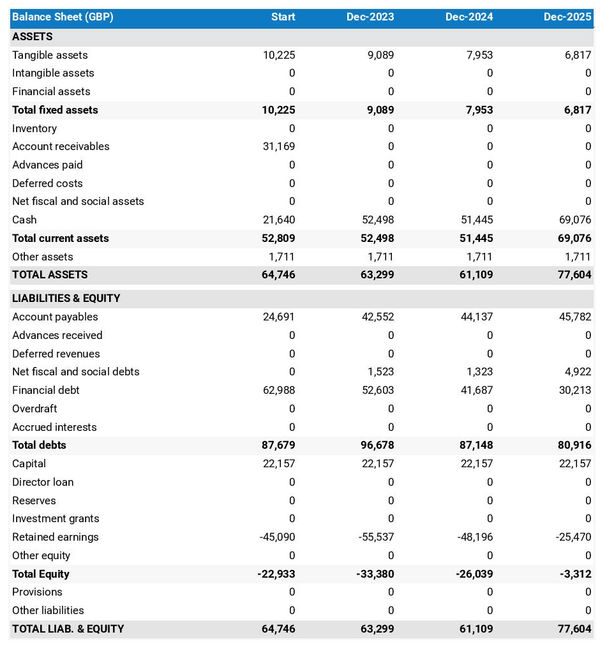 The projected cash flow statement
A projected cash flow statement for a t-shirt company shows how much money the company will generate, and how much it will consume.
This give you the visibility required to you ensure that the business has enough cash on balance sheet to honour your financial commitments.
The cash flow forecast also helps you decide whether or not to you have the cash and cash flow required to plan the expansion of the business.
For a t-shirt company, expansion could be new distribution channels, locations (new markets) and/or expanding the product line (different types of t-shirts or clothes) or manufacturing capabilities.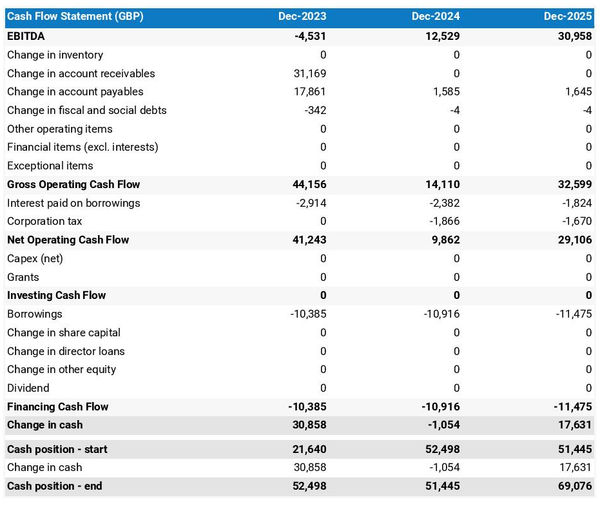 The initial financing plan
An initial financing plan, also known as a sources and uses table, is a helpful tool which shows how you will finance the creation (or expansion) of your t-shirt company.
Knowing exactly where the money will go helps investors or lenders assess how the risk is split between financiers and the founding team.

Now that you understand the financial forecast of a t-shirt company, it is important to consider how these figures are reflected in the written part of your business plan.
The written part of a t-shirt business plan
The written part of a t-shirt company plan covers everything from the executive summary to the financial plan.
There are seven key sections that every good business plan should have. In the following sections, we cover them in detail.
1. The executive summary
When writing the executive summary of a t-shirt company business plan, it is important to include a comprehensive overview of the business venture and its goals.
This should include a description of the company's core products, its target market, and any competitive advantages that the business may have.
Additionally, providing a market overview that details industry trends, customer needs and preferences, and competition is also essential for investors to understand the context in which your t-shirt company operates.
Key financial information such as projected revenues, expenses, and profits should also be included in the executive summary to give investors an idea of the potential return on their investment.
Finally, it is important to include a clear call-to-action that explains what type of help you are looking for from potential investors so they can make an informed decision about your company.
2. The presentation of the t-shirt company
A detailed business plan for a t-shirt company should include an overview of the company's structure and ownership, its location, and its management team.
Regarding structure and ownership, it is important to detail the legal entity of the company (for example, partnership or limited liability corporation). You should also explain who owns the company, including their background, experience, and any connections to the industry or customer base.
For the location section, pinpoint where the t-shirt company is based and why this location was chosen. Address any advantages of the particular area such as easy access to suppliers or customers.
Finally, describe the management team of your t-shirt company. This should include the expertise and background of each member, as well as their respective roles in the business. It is important to also outline any plans for growth or expansion of the team if that is part of your strategy.
3. The products and services section
When writing the products and services section, you should start by summarising the types of t-shirts that you offer.
This should include descriptions of different designs or styles, as well as details about fabrics used and any other features that make your t-shirts unique.
Additionally, explain how these products will be produced, whether it is through in-house production or outsourcing to a third-party manufacturer.
Lastly, you should provide details about customer service policies such as return policies and warranties offered on each product sold.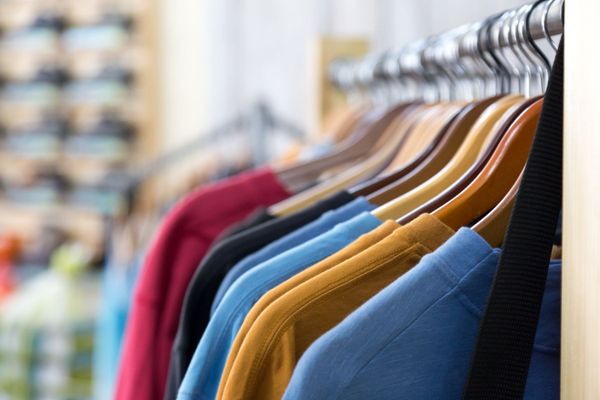 4. The market analysis
When presenting the conclusion of your market analysis in your business plan, you should include key information about demographics and segmentation, target market, competition, barriers at entry and regulation.
This information is essential for any bank or investor who will be reading the plan as it provides insight into the viability and the size of the market opportunity.
Demographics and segmentation provide important data on who is buying t-shirts and what motivates them to do so. The target market section should outline which segments are being targeted by your products.
Competition should also be addressed, with an analysis of direct competitors as well as potential indirect competitors.
Finally, regulations must be taken into account when laying out all aspects of operations including production methods, labelling requirements, etc.
5. The strategy section
The strategy section of a business plan must be comprehensive and should include details on pricing, marketing plan, milestones, risks and mitigants.
When explaining the pricing strategy for a t-shirt company, it is important to consider the cost of production, the competitive environment and market research to determine an appropriate price point that will attract customers and generate a sufficient gross profit.
The marketing plan should include a detailed strategy on how to effectively reach the target market such as through a network of owned physical stores, selected retailers, online sales.
Additionally, milestones and timelines that show a clear path of growth should be outlined (launch your business in 3 months and reach our break-even level of output in 6 months for example), as well as details on any risks and mitigants that might arise along the way.
6. The operations section
The operations section of a t-shirt company business plan should include comprehensive and detailed information about the staffing team, roles of staff members, recruitment plan, storage and logistics and key assets and intellectual property that the business needs to operate.
You should outline the roles and responsibilities of each employee in this section as well, including qualifications, experience and skill sets needed for each role. It is also important to include a recruitment plan that outlines how you will find new staff members if necessary.
Lastly, include a list of key assets and intellectual property that are necessary for the operation of the t-shirt company. These could include any assets that are owned or leased by the business, such as premises, machines, software, or trademarks.
7. The presentation of the financial plan
This is where you will present the financial forecast that we talked about earlier in this guide.
Now that you have a better understanding of what should be included in the content of your t-shirt business plan, it's time to look at the tools that can help you create one.
What tool should I use to write my t-shirt company's business plan?
You could create a t-shirt business plan using applications such as Excel or Word, hire a consultant or accountant to write it for you, or use online business plan software.
Let's look at the benefits and drawbacks of each solution.
Create your t-shirt company's business plan using Word or Excel
Using Excel and Word to create a business plan for a t-shirt company can be an attractive option because of its low cost.
However, without expert knowledge of accounting and financial modelling, it can be difficult for the business owner to accurately create a financial forecast using Excel.
Additionally, most financiers or investors would likely distrust such a forecast because it wouldn't have been created by a professional software or individual with the relevant financial modelling skills.
Using Excel can also be time-consuming and tedious, while updates to the financial forecast are also difficult. And using Word requires starting from a blank page and spending hours formatting the document once written.
Overall, while using Excel and Word may seem like an attractive option due to their low cost, it is usually not the best solution for creating a t-shirt business plan.
Hire a consultant to write your t-shirt company's business plan
Outsourcing a t-shirt company plan to a consultant or accountant can be a smart idea for business owners, but it isn't without its drawbacks.
One of the main benefits of outsourcing this task is that consultants and accountants are experienced in writing business plans.
This means they have the skills and knowledge to create accurate financial forecasts without errors.
However, there are some cons when it comes to outsourcing this task. Accountants may lack the industry expertise and insight necessary to forecast sales accurately, for example.
By outsourcing the business plan, entrepreneurs may also find they have less control over the end product than if they had written it themselves.
Hiring consultants or accountants to write a business plan is also expensive, and there may be additional unexpected costs if changes need to be made to your forecast later.
Use an online business plan software for your t-shirt company's business plan
Another alternative is to use online business plan software.
There are several advantages to using specialised software:
You are guided through the writing process by detailed instructions and examples for each part of the plan
You can be inspired by already-written business plan templates and examples
You can easily make your financial forecast by letting the software take care of the financial calculations for you
You get a professional document, formatted and ready to be sent to your bank or investors
You can easily compare your forecast against your accounting data to make sure you are on track to deliver your plan, or make adjustments if needed
If you're interested in using this type of solution, you can try our software for free by signing up here.
We hope that this article has helped you to better understand how to write the business plan for your t-shirt company. Do not hesitate to contact us if you still have questions!
Also on The Business Plan Shop
Know someone in the t-shirt or clothing industry? Share this article with them!