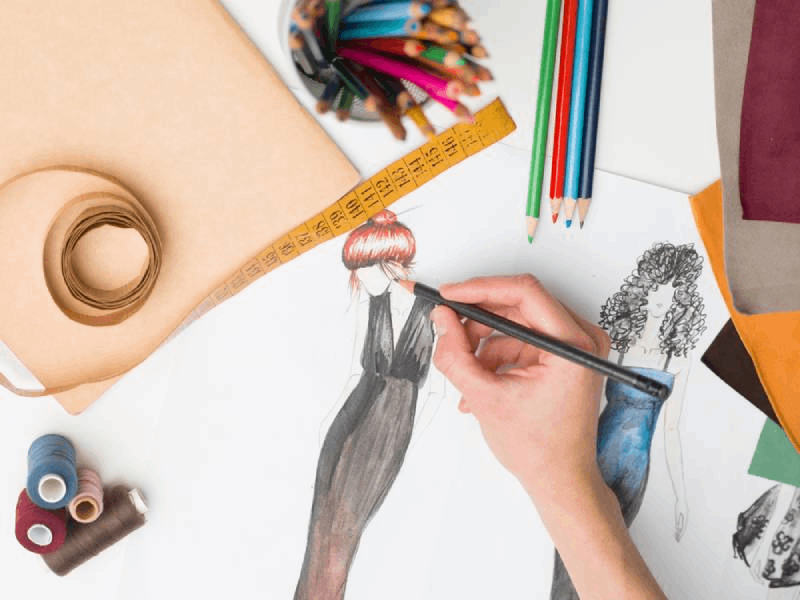 Is your passion for fashion so strong that you've decided to set up your own clothing line? It's an exciting venture, but for it to be truly successful, you'll have to create a financial forecast.
Developing a financial forecast for a clothing line is the closest you're going to get to looking into your business' future. It will enable you to not only review all the budget necessary for the launch of your clothing line, but also get a clear idea as to its potential profitability.
If you feel flustered at the thought of putting together a financial forecast for a clothing line then don't worry, as in the guide below, we'll run through all the steps involved in creating a financial forecast.
First, we'll look at the role of the financial forecast and what data we need to make it work. We'll then cast our eyes over the three main tables that compose the financial forecast. And last but not least, we'll give you several tools to help you create your own financial forecast for a clothing line.
Why make a financial forecast for a clothing line?
Put simply, a financial forecast enables you to assess whether or not your business is likely to be profitable.
It gives you the opportunity to analyse every detail of setting up a clothing line (from renting a space, to setting up partnerships with clothes manufacturers or purchasing fabrics) to make sure that it's financially sound.
The financial forecast for a clothing line will also give you an idea of what you can expect over your clothing line's first three years of operation, allowing you to plan its development with confidence.
It's also important to remember that your clothing line's financial forecast will be essential when you're looking for financing. You can be 100% sure that an investor will ask you for these numbers when presenting your project, so make sure they're set out accurately and attractively.
What data is needed to draw up a clothing line financial forecast?
First, you will need to have carried out market research for your clothing line. This will give you a clear vision of the fashion sector you're entering, whilst enabling you to collect the information needed to build your financial forecast for a clothing line.
In particular, it will equip you with enough knowledge to confidently answer these questions:
How many people are in your target market? What is their average budget for clothing and how often do they buy?
What competition will you face?
In which niche are competitors commanding? Are they vintage retailers or do they specialise in casual or sportswear? How can you set yourself apart?
What are the best distribution channels, between selling in-store, at markets, pop-up booths in department stores, or online?
Finally, you'll need to draw up a precise list of the resources needed to keep your clothing brand running on a day-to-day basis. Between staff, insurance, manufacturing, and distribution costs, it's important to ensure these are all accounted for if you want to create a financial forecast for a clothing line that's as close to reality as possible
The sales forecast for a clothing line
Once you have a better knowledge of the clothes industry and your competitors, it's time to develop your sales forecast.
Your forecast will depend largely on the sales strategy implemented by your clothing line (whether it's online, in-store, or through a third-party distributor like Asos) so it's tricky for us to give you specific advice. We do, however, recommend that you organise your forecast like so:
Create separate segments for every distribution channel, because the cost of each and the associated payment terms (including shipping costs, immediate payment for online sales and wholesale rates) will be different.
Create separate segments for each product category (whether you're selling outwear, lingerie or shoes) because the manufacturing costs, lead times, and average selling prices will vary.
Operating costs for a clothing line's financial forecast
Overheads, otherwise known as operating expenses, are the costs needed to operate the business on a day-to-day basis, including staff and essential equipment. Your first goal will be to reach high enough sales to cover them when doing your clothing line's financial forecast.
One of the biggest dangers is for an entrepreneur to underestimate his or her overhead costs, as this could land them in deficit from the very start of the business' launch. For this reason, we recommend that you keep a list of quotes from suppliers to ensure your calculations are as accurate as possible when costing each expense, whether it's insurance, managers' salaries, or cleaning costs.
If you operate solely with an online site, you'll need a place to store your products. To avoid paying extra rent, you could try doing this at home.
If your ultimate goal is to open a store, you'll have to consider costs such as rent and insurance that go along with it.
For the online selling realm, you'll need to put the shipping and return costs at the forefront of your mind. These and transaction costs will generally represent a variable cost as a percentage of sales.
Finally, your most important expense will be that of your marketing when drawing up the financial forecast of your clothing line. If you decide to launch online, your methods of communication via social media and email newsletters will be the only way to get your name out there - so you'll need to set aside a large budget to reach this goal.
The investments required for your clothing line
Several investments will need to be made when developing your clothing line.
As with overheads, we recommend listing all the equipment needed to launch your business (from a till for sales staff, to clothes rails and furniture), using quotes provided by suppliers to create accurate estimates.
Tables that define the financial forecast for a clothing line
The financial forecast for your clothing line will be presented in the form of the three tables summarised below.
The profit & loss statement
The profit & loss statement gives you a clear picture of your business' expected growth over the first three to five years. You can monitor your EBITDA and operating costs to assess whether it's likely to be profitable or not.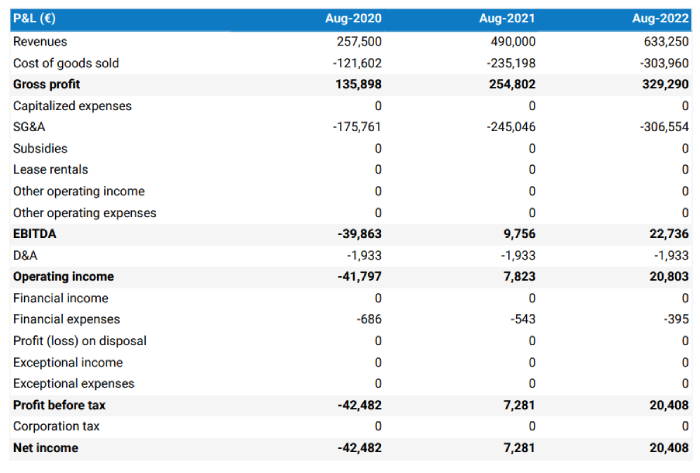 The projected balance sheet
Thanks to the projected balance sheet, you're able to observe the value of your business's assets at the end of each year. It details what the company owns (referred to as its assets), its equity, and its debts (otherwise known as liabilities).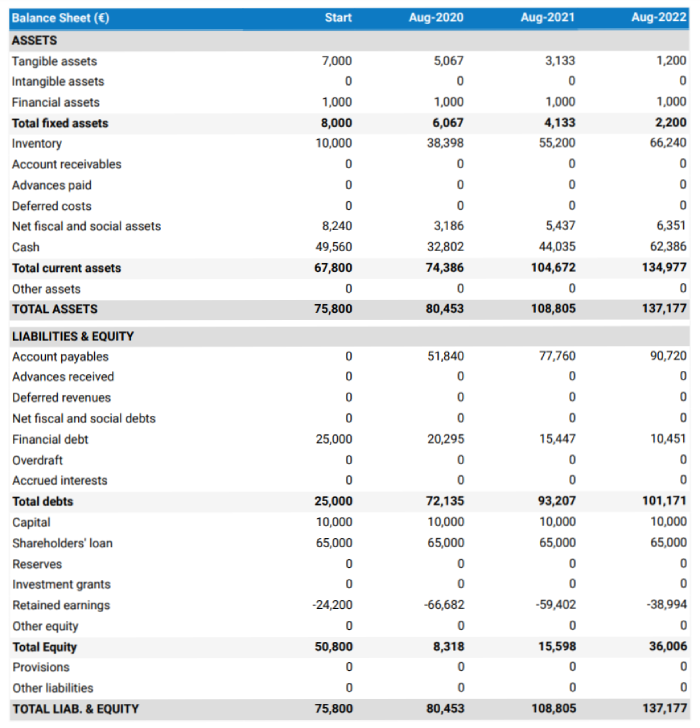 The projected cash flow statement
The projected cash flow statement gives you a detailed breakdown of the cash generated and spent by your clothing line and will help ensure that you have sufficient cash flow to repay any loans, keep your level and quality of stock consistent, and deal with any unforeseen events.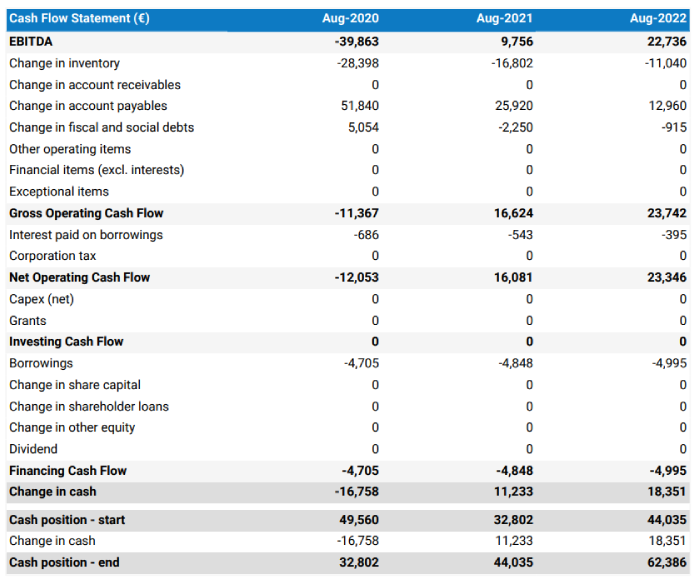 How to develop the financial forecast for your clothing line
If you've never created a financial forecast before, it may sound fairly daunting, but the good news is that there are several ways to set up your clothing line's financial forecast.
1. Using a spreadsheet program such as Excel or Google Sheets
If you have a solid background in accounting or advanced knowledge of financial modelling, using spreadsheet software like Excel or Google Sheets is a cheap solution for creating a financial forecast for clothing line.
However, using a spreadsheet can become a pretty time-consuming task, and, if you aren't used to using Excel for financial modelling, can't protect you from possible (and quite frankly, inevitable) calculation errors.
2. Calling in a chartered accountant or consultant
Enlisting the help of a consultant or accountant will let you obtain accurate figures from a professional point of view for your clothing line financial forecast.
The downside of this solution is its cost, however, as obtaining a simple clothing line financial forecast over three years (including a balance sheet, income statement, and cash flow statement) is likely to set you back around £700 or $1,000.
If you opt for this solution, make sure the accountant has prior knowledge of the fashion industry, so that they can challenge your figures and offer insights.
3. Using online forecasting software
The final option available to you is to use online forecasting software.
This offers you the following advantages:
You can easily make your financial projections, letting the software take care of the calculations
You have access to complete financial forecast templates
You get a complete financial forecast ready to be sent to your bank
If you are interested in this type of solution, you can try our forecasting software for free by signing up here.
We hope that this article has painted a clear picture as to how you can create a financial forecast for a clothing line. If you have any questions related to the creation of a clothing line, please don't hesitate to get in touch with our team.
Also on The Business Plan Shop
Know someone who is planning to launch their own clothing line? Share this article with just one click!