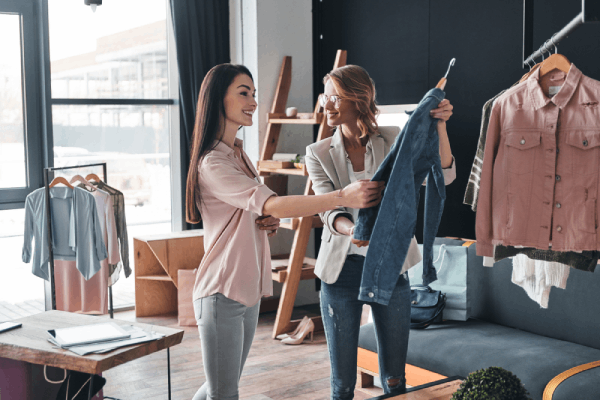 Whether you're planning to launch a sustainable swimwear line or specialise in urban streetwear and funky trainers, you'll need solid advice on how to go about launching and operating a clothing line.
From creating your financial forecast to writing your business plan and choosing your company's legal form, no matter what business you're launching, the initial steps are very similar.
With so many elements to consider, building a clothing line from scratch can feel very daunting. So that's why we've put together a series of practical guides to launch a clothing line that will lead you through each step of the way.
Steps to launch your clothing line
For many, being at the helm of a fashion brand is affiliated with living a life of glamour and champagne showers. Behind all the glitz, however, lie the technical steps in actually setting up a clothing line.
Although not quite as exciting, they're vital for the survival of your brand. That's why in the first of our guides, we take you through the main steps to start up your clothing line, including carrying out market research and writing the all-important business plan.
Do market research before launching your clothing line
Launching your own clothing line can be a bit daunting, but that doesn't mean you should skip some essential steps. Providing complete market research to analyse the sector you're stepping foot into is one of the most important parts.
Have a look at how to analyse the national market, competitors and whose your target clientele in our guide to doing market research for a clothing line.
Creating the financial forecast for your clothing line
Between covering the rent for your store, setting up a website, and manufacturing your clothes, a wide range of financial elements are to be expected when launching a clothing line - and the hard part is keeping track of them all so you can make sure you're not going over your budget.
To ensure you create as accurate a financial forecast as possible, check out our guide to create a clothing line financial forecast.
Launching a clothing line with a solid business plan
Running a successful clothing line is not just about having an eye for fashion and knowing how to make clothes, but also about understanding how to manage a business and creating a business plan that lays out the vision for your brand.
The business plan is not only a document that can be presented to potential investors to secure funding, but it can also be used as a reference point to help you track the clothing line's progress as it moves through its first three years of operation.
Creating a business plan is, therefore, imperative for the success of your clothing line. If you've never written one before, however, it might seem a tricky task. That's why we've provided advice in our guide to write a clothing line business plan.
How to create a sustainable fashion brand
Fashion is not just about sewing clothes together. There's also a sustainable trend making its way through the different fashion brands we're so familiar with!
If you've got a knack for designing clothes, but that you'd like to take your business venture away from fast fashion, this guide is definitely for you.
Have a look at all of our advice on how to create a sustainable fashion brand.
Business plan template of a clothing line
Now that you've been equipped with the advice above, it's likely you have a clear idea of how to go about starting your clothing line. It is, however, only natural to crave a little bit of inspiration, which is why we're offering a ready-made clothing line business plan template to keep you on the right track.
Now that we've listed all our guides to launch a clothing line, we hope they'll help you in the implementation of building your very own brand. Good luck - and if you have any questions at all, please don't hesitate to get in touch with our team.
Also on The Business Plan Shop
Know someone who wants to create their own clothing line? Share this article with the click of a mouse!