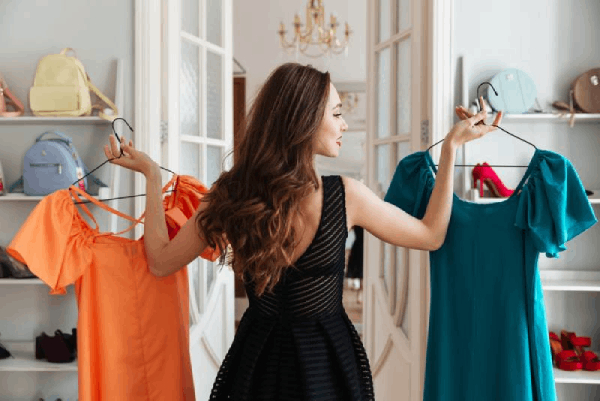 Have you got a passion for fashion and love donning the latest trends? Whether you're a fashion designer or simply a clothes enthusiast, you may have long dreamed of owning a clothes shop, but your hopes have been dashed by your bank balance.
Well, we're here to tell you that, with some determination (okay, a lot of determination) and strategic thinking, it is possible to open a clothes shop with no money.
In the guide below, you'll find everything you need to know about how to open a clothes shop with no money - including what sources of financing you can use and how a good business plan can make all the difference in convincing investors to fund your venture.
Is it possible to open a clothes shop with no money?
Is opening a clothes shop without money a total pipe dream? Not necessarily, provided you keep your expectations relatively low.
If you run before you can fly (i.e. try to create a four-storey department store on a restrictive budget) you run the risk of scaring away financial partners, so start small and consider holding off on developing your business until your first profits arrive.
If you have your sights set on a smaller clothes shop, which needs relatively limited initial investment, your clothe shop dream could be well within reach. You'll still need some equity, but there are solutions to build this - which we'll discuss later on in this guide.
Can I secure bank funding without any equity contribution to open a clothes shop with no money?
The very first factor you need to take into consideration when figuring out how to open a clothes shop with no money is just how much you can afford to contribute to the project yourself.
Things might be tight, but if you request a bank loan without offering any personal contribution, then you might face difficulty accessing funding. Banks (and investors in general) appreciate entrepreneurs putting a hand in their own pockets, even if this contribution is small, so first, assess your savings to see what you can invest in your dream.
Doing so is tangible proof of commitment to your venture, as it gives you a vested interest in making sure it succeeds, making it a more attractive opportunity for lenders and investors who know that you have something to lose as well if the business fails.
Some entrepreneurs, however, won't have a single cent to set aside for their business. If you fall into this camp, you should bear in mind that while it may be difficult to get external financing, it won't be impossible.
Keep reading to check out other options for obtaining finance to open your new clothes shop on no money.
Love money and crowdfunding as alternatives to a bank loan
Love money, donation-based crowdfunding or equity investment can act as effective alternatives to bank financing when opening a clothes shop with no money. You can read up on these in more detail below...
Love money
As you may have guessed, this is the money you can collect from your family and friends, in the form of donations, loans (interest-free or not), or investments.
Raising a bit of love money, in the form of capital investment, loan, or donation can be an effective way to get the funding you need to open your bakery with no money.
Your loved ones know you well and know what you are capable of, it is therefore often easier to convince them to invest in you and your business than to convince an investor you've never met before.
You'll still, however, need to take a number of precautions if you opt for this solution. Starting a business is risky, so you'll have to make sure your loved ones can afford to lose the money they invest in your clothes shop.
We also advise you to get your agreement down in writing by calling in a lawyer, especially where loans and equity investments are concerned.
Crowdfunding
Another potential source of financing is crowdfunding. Here, two options are available to you:
Crowd equity: this is where individuals or angel investors may provide funding in exchange for shares in your company.
Donation-based crowdfunding: here, you set up a campaign on a crowdfunding platform, tell your story and collect donations from individuals who wish to financially support your venture. Contributors may expect a small reward linked to your business in exchange for their generosity, such as a 50% discount off their first order or a complimentary in-store personal shopper experience. It's up to you to quantify the size of the gesture according to the generosity of the donation.
Crowdfunding can be particularly effective as it enables you not only to raise funds for your project but also to introduce it to your wider community and create some hype around it.
Gathering contributions via crowdfunding is also an excellent way to demonstrate to a bank that future clients have a keen interest in your project, making for a more compelling argument that it's worthy of a loan.
State aid available to help you open a clothes shop with no money
If you have your sights set on opening up a clothes shop with no money, you can also count on state assistance for entrepreneurs.
This can consist of government grants which are available in many kinds of forms - from cash awards to free equipment to help your restaurant flourish.
If you are in the UK, to find out more about the support available, you can visit the Business Finance Support Finder. Another option is to apply for the Start-Up Loans Scheme. Supported by the government, this scheme offers personal loans of up to £25,000. The interest rate on such loans is just 6% and entrepreneurs also receive access to free mentoring and business support.
In the US, the SBA works with various organisations to provide small businesses with grants. Check out their website to see if you meet the criteria to apply.
Another option would be to find out about regional business start-up awards and competitions set up by your local government that reward and fund business start-up projects.
Creating a business plan before opening a clothes shop with no money
Writing a business plan is an absolutely essential step in opening a clothes shop with no money.
In fact, a business plan forces the entrepreneur to examine every aspect of his or her business, so they get a gauge of the exact amount of capital needed to bring it to life.
This means also accurately assessing your initial financing requirements. By balancing these with the amount of money you're able to raise, you can ultimately determine whether opening a clothes shop with no money is feasible or not.
This is done by estimating how much money you'll need to launch your business and then sustain it until you reach the break-even point. The financial tables will guide you by defining these aspects, as well as helping you calculate the break-even point and the time needed to reach it.
To make it simple, the business plan is made up of two main parts:
A financial forecast that aims to highlight the expected profitability of the business and the initial financing requirement.
A written part that presents, in detail, your project, the team, your business strategy, and your medium-term objectives.
A business plan works as a point of reference for the business owner and management team, so should be looked at from time to time to keep your business on track.
The stakes are high as you need to not only communicate your business's concept and plan of action but also check its workability and make investors want to board on an entrepreneurial adventure with you.

It can be complicated and a little stressful to have a go at writing a business plan alone, especially if it's the first time you're doing it.
If you are not used to writing business plans, a good solution would be to use online business plan software.
There are several advantages to using specialized software:
You are guided through the writing process by detailed instructions and examples for each part of the plan.
You can be inspired by already written business plan templates
You can easily create your financial forecast by letting the software take care of the calculations and financial aspects for you.
You get a professional document, formatted and ready to be sent to your bank.
If you are interested in this type of solution, you can try our software for free by signing up here.
As you can see, there's certainly no shortage of solutions when it comes to raising enough funds to open a clothes shop with no money.
We hope that this article has helped you to better understand how you can open a clothes shop with no money. If you still have questions, do not hesitate to contact us for any questions related to the creation of a clothes shop.
Also on The Business Plan Shop
Know someone who may be interested in opening a clothes shop? Share this guide to open a clothes shop with no money with just one click!