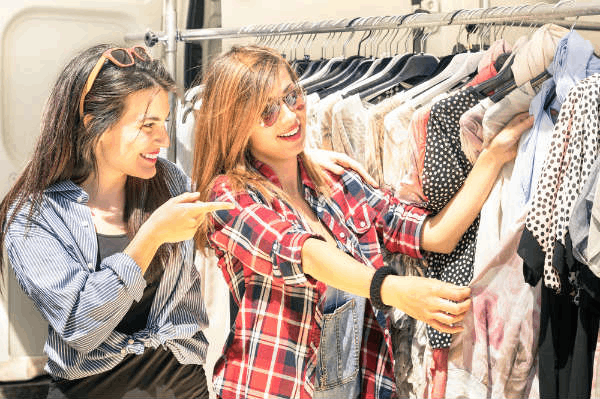 Do you love clothes but hate the damaging impact of fast fashion on our climate? If so, you might be keen to give a second life to pre-loved clothes and accessories by opening your very own thrift shop.
From learning about market trends to creating the recruitment plan for your thrift shop and choosing its legal form - there are many factors to consider before embarking on your entrepreneurial adventure.
In this guide on how to start up a thrift shop, you'll find everything you need to know about how to kickstart your venture, including tips for how to write a stand-out business plan to attract investors. Want to see your thrift shop succeed? Then read on!
Carrying out market research for a thrift shop
The first step in opening a thrift shop is to carry out market research.
The objective of this exercise is to enable you to verify that your project can be commercially viable. This research will also go some way in helping you develop your future marketing strategy.
To successfully carry out this market analysis, you'll need to:
Analyze the trends in the sector: is the sector growing? Are new trends emerging? Are customers' buying habits changing?
Carry out a detailed analysis of the competition: identify the direct competitors (other thrift shops located in your region) and indirect competitors (websites or apps such as Depop)? What are their products? What services do they offer in addition to these products and for what price?
Study the expectations of your future customers: what types of products do they want? Are they looking for services in addition to products? What is the typical profile of a thrift shop customer (age, socio-professional category, income, etc.)?
The second-hand clothing market
With around 12,257 second-hand goods stores operating in the UK, the second-hand goods market is estimated at £1.9 billion.
In America, the second-hand clothes market has gone from strength to strength, with 62 million women buying secondhand products in 2019, up from 56 million in 2018.
Consumers are waking up to the damaging impact of fast fashion and changing their habits, making the second-hand clothing market an extremely dynamic area for entrepreneurs.
Market trends
According to a parliamentary report on the sustainability of the fashion industry, new platforms that encourage the sharing or renting of clothes are emerging, including vintage re-sale sites such as Depop. Such models are making consumers re-evaluate their relationship with their wardrobes and whether having full ownership over our clothes is truly sustainable.
The same report also indicated the development of 'subscription' models, enabling consumers to swap clothes and also encourage clothes shops to use pieces from their collections several times before getting rid of them.
Developing the concept of your thrift shop
Having carried out the market research for your thrift shop, you'll be able to use the data from it to define the concept of your shop.
Will your shop focus on a special theme, such as vintage ball gowns or second-hand clothes from the 70's, for example?
You'll also have to think about your system for acquiring stock. Will you rely on clothes donated by people in your local community, buy back unsold clothes from major brands or purchase clothes with small holes or marks to sell on at a discounted price?
You may also want to donate part of your revenue to non-profit organisations, such an environmental charity or human rights NGO.
Will you donate money to non-profit organizations? Will you compensate your suppliers, or will you only operate with donations?
You'll also have to decide whether you'd like to open an independent thrift shop or join a chain of existing thrift shops, such as Beyond Retro.
Setting up a second-hand shop under franchise will enable you to benefit from a whole host of benefits, including:
A well-known brand name
A tried and tested concept (including an established supplier network)
Marketing and staff training support
Joining a chain will, however, come at a cost as you'll have to pay an entrance fee as well as royalty fees. You'll also also lose some of your autonomy as you'll have to comply with the operational procedures put in place by the network to protect its brand image.
Another option is to take over an existing thrift shop. Here too, you'll benefit from having a proven concept and an existing customer base, which will allow you to reduce the risk of your business while maintaining total autonomy. Of course this route also comes at a cost, since you need to buy the business from its former owner.
Scoping out a location for your thrift shop
Once you've decided on the type of thrift shop you want to open, it's time to consider the location. This choice is important because it will have a direct influence on how successful your venture is.
Placement on a busy downtown shopping street will allow you to benefit from high visibility but will inflate your rent.
Adversely, a quieter street will require more effort to get your name out there, but will allow you to save money on rent.
Your ideal location may be in the heart of the city centre or further out in a more industrial area when opening a thrift shop. It's up to you to choose where you think will be most effective.
Choosing the legal form for your thrift shop
Once you've found the premises of your future thrift shop, you need to decide its legal form.
Choosing your store's legal form is a vital step as it will impact:
How much your business is taxed
Your taxation at a personal level
Your responsibility for the company's debts in the event of bankruptcy
The choice will depend on your preferences and personal situation (e.g. the number of partners involved in your venture, the amount of start-up capital at your disposal, etc.).
Several legal forms are possible, so they should all be carefully considered before making your decision.
If you're based in the UK or US, you can find more detailed information on the different legal forms available to you on the gov.uk guide for UK business owners and SBA guide for those in the US.
The equipment and staff needed to start up a thrift shop
Once you have decided on the concept, found your premises, and chosen the shop's legal structure, you will need to look into the elements required to create the budget to open a thrift shop and to ensure the smooth running of your business thereafter.
Recruitment plan
Recruitment needs will strongly depend on the size of your business. In particular, you'll need staff to perform the following functions:
Man the till and provide customer service
Take care of administrative tasks including accounting, payroll, stock management, etc.
Although no special training is required to open a thrift shop, you'll be expected to know all there is to know about the clothes and accessories you're selling. So make sure you hire staff who are passionate about vintage clothes and understand the varying degrees of quality for different materials so they can adequately advise customers who have queries about the clothes on offer.
You should also be rigorous in the management of your thrift shop, regularly keeping track of turnover, expenses, purchases and cash flow.
Initial investments
The initial investments required to open your thrift shop are relatively limited. You should, however, plan for the following:
The sourcing and purchase of your stock
Renovation work to kit out premises for so its suitable for business
Equipment to showcase your clothes and accessories, including shelves, clothes racks, hangers, etc.
Sales equipment (till, card machines, etc.)
A van for collecting clothes from suppliers/private donators
Administrative equipment including a computer and printer
Extra administrative costs
Opening a thrift shop also implies having recourse to additional services, such as insurance, water, electricity, maintenance, or a premise license if you intend to broadcast music.
You may also want to outsource shop maintenance to a cleaning company or delegate part of the administrative management to an accounting firm. To ensure you estimate these expenses as accurately as possible, get in touch with several professionals and ask them for quotes.
Setting out the marketing plan for your thrift shop
The next step in our guide on how to start up a thrift shop is developing an appropriate marketing plan.
A solid marketing strategy answers two fundamental questions:
How can I attract customers?
How can I build customer loyalty?
Here you'll need to evaluate the different options available (and their cost) to identify which will be the most effective for your thrift shop.
In particular, you can consider the following actions:
Building a website where you can tell your story to customers and showcase your clothes
Creating a blog (and social media profiles on Facebook, Twitter or Instagram) or setting up a newsletter
Implementation of a strong SEO strategy to increase visibility on search engines
Developing a loyalty card scheme
Advertising campaigns at local level via radio station jingles and newspaper ads
Street marketing tactics such as handing out flyers with promo codes
Partnering up with a café/bar for a clothes swap event
Offering workshops on upcycling and DIY clothes repair, in partnership with local fashion designers
Writing the business plan for a thrift shop
Once you have gathered all the information mentioned in the previous sections, you can start writing the business plan for your thrift shop.
The business plan is made up of two major components:
A financial forecast that aims to highlight the potential profitability of the project and the need for initial financing.
A written part that presents, in detail, your project, the team, your business strategy, and your medium-term objectives.
The business plan is the document with which you will try to attract funding from your bank or potential investors, so you need to make it impeccable.
If you are not used to writing business plans, a good solution would be to use online business plan software.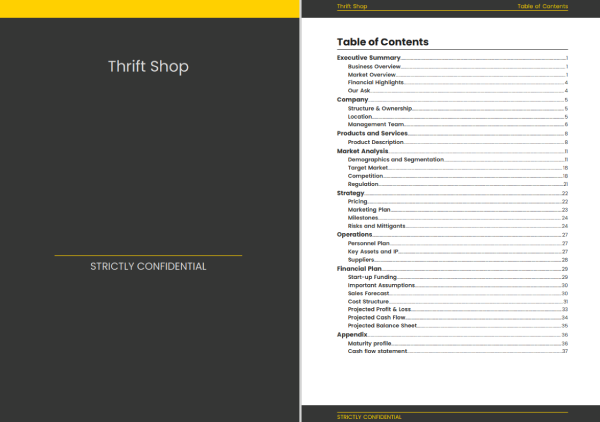 There are several advantages to using specialized software:
You are guided through the writing process by detailed instructions and examples for each part of the plan.
You can be inspired by already written business plan templates
You can easily make your financial forecast by letting the software take care of the accounting aspects for you.
You get a professional document, formatted and ready to be sent to your bank.
If you are interested in this type of solution, you can try our software for free by clicking here.
Securing funding to start a thrift shop
Now you've arrived at the very last step on your journey to setting up a thrift shop: the search for funding.
Setting up a thrift shop requires significant investment, but the good news is, you have several financing solutions at your disposal.
First of all, you must estimate the amount of money that you and your potential partners can personally devote to your project. Even if the sum seems very modest in comparison to what you need to raise, it's important that you don't neglect equity contribution. It's highly regarded by institutional investors as they see it as tangible proof of your dedication to the venture.
You can also apply for a professional loan from a bank to finance part of the start-up costs, whether that involves buying in a full store room's worth of stock or kitting out the premises with cool furniture. Remember to submit applications to different banks so that you can compare offers and pick whichever one works best for you.
Crowdfunding is another option. Crowdfunding allows you to collect donations or raise equity from family members or kind strangers who believe in your project.
You can even raise awareness of this initiative by awarding donors with 'counter-gifts', including a free t-shirt or a discount on their first purchase.
Finally, also think about state aid for business creators and buyers. This may enable you to benefit from a low-interest loan, for example.
That's it for this time, we hope this article has helped you better understand how to start a thrift shop. If you have any questions related to setting up your business, please don't hesitate to get in touch with our team.

Also on The Business Plan Shop
Know someone who's keen to start up a thrift shop? Share this article with the click of a mouse!