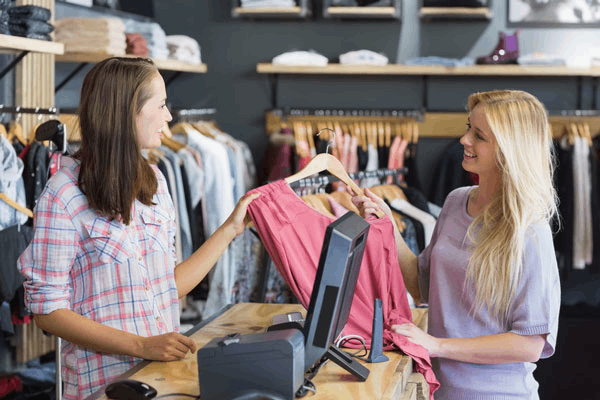 Are you always up to date with the latest trends? Or maybe you view fashion as the most effective way to express yourself? Either way, you've decided to open a clothes shop.
From learning about market trends to writing a stand-out business plan to attract investors - there are many factors to consider before embarking on your entrepreneurial adventure.
In this guide on how to open a clothes shop, you'll find everything you need to know about how to kickstart your venture. Want to see your clothes shop succeed? Then read on!
1. Checking out the market and the location to open your clothes shop
The first step in our guide on how to open a clothes shop is to carry out market research and check that the location you have in mind for your clothes shop is a suitable one.
First of all, check up on how the clothes shop industry is evolving. In particular, look at the evolution of the clothing industry's turnover. Assess whether the increase or decrease in turnover is due to changes in volume (more or fewer clothes being sold) or value (are certain pieces of clothing getting more or less expensive?)
You will also need to identify and analyse any clothes shops you consider to be your competitors. Here, you should ask yourself:
what they offer that is different from you
what clientele they target and how they communicate with customers
what prices they set for different items (e.g. jackets, accessories, shoes)
Make a conscious effort to pop into each rival clothes shop and assess the way they operate. Observing what your competitors are doing will help you find ways to set yourself apart from them, which will contribute to your business' success in the long run.
Getting to know your customers is also essential. By the end of your market research, you should know the profile of your typical customer (including age, gender, job status and budget), what their expectations are regarding clothing and how they buy clothes.
2. Writing the business plan to open your clothes shop
What should my business plan contain?
The business plan is an essential document for anyone who wants to open a clothes shop. It is the document with which you will try to secure financing from your bank or potential investors, so you need to make it impeccable.
The business plan is made up of two major components:

The editorial part
The editorial section of your business plan presents, in detail, your project, the team, your business strategy, and your medium-term objectives.
The financial section
The financial part's objective is simple: to evaluate the initial funding requirement to open your clothe shop, and demonstrate its potential profitability and financial sustainability.
At this level, the objective will first be to create a realistic financial forecast.
The turnover of your clothes shop will be a key factor here. You'll need to estimate your customers' average shopping budget and multiply it by the number of customers you expect to welcome to your clothes shop.
Relying on the data uncovered during your market research stage, you'll need to evaluate how many people pass by your clothes shop every day and estimate the average conversation rate (i.e. the percentage of those people who will walk through your door and become customers.) Hitting the right sales volume is vital, given that turning a healthy profit is at the heart of your entrepreneurial vision to open your clothes shop.
Key things to watch out for when writing a clothes shop business plan:
Evaluate your gross margin
Gross margin corresponds to your total sales minus the cost of purchases of products sold. It's a key indicator for the operation of your clothes shop: the smaller the gross margin, the more clothes you'll have to sell to cover your fixed costs.
Be aware of fixed costs
The fixed costs of opening a clothes shop mainly include salaries (yours and those of your sales staff), rent and costs related to your premises (including utility bills and insurance), and administrative expenses (such as accounting). If your fixed costs are too high, they can place your clothes shop in the red - so evaluate them carefully to avoid any nasty surprises later on.
Don't underestimate the power of communication
You need to get your name out there after opening your clothes shop, so consider buying ads in local newspapers or setting up your own website and social media profiles to communicate directly with fashion enthusiasts. Marketing is an essential tool for building long-term customer loyalty, so dedicate time to developing a strong strategy that will resonate with your target market and turn them into regular customers.
Take seasonality into account
Depending on the type of clothes you decide to sell, it's important to be aware that you'll be subject to varying degrees of seasonality. This factor will have a significant impact on your cash flow, so make sure you take it into account when developing your clothing shop business plan.
How can I develop my clothes shop business plan?
If you are not used to writing business plans, a good solution would be to use online business plan software.
There are several advantages to using specialized software:
You are guided through the writing process by detailed instructions and examples for each part of the plan.
You can be inspired by already written business plan templates
You can easily make your financial forecast by letting the software take care of the accounting aspects for you.
You get a professional document, formatted and ready to be sent to your bank.
If you are interested in this type of solution, you can try our software for free by clicking here.
That's all for today, we hope this article has helped you better understand how to open a clothes shop. If you have any questions related to setting up your business, please don't hesitate to get in touch with our team.

Also on The Business Plan Shop
Know someone who wants to open a clothes shop and might be interested in this article? Share it with the click of a mouse!