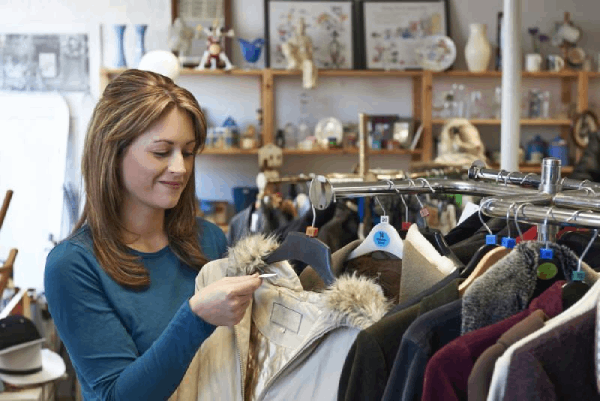 Are you passionate about giving pre-loved clothes a second lease of life for the sake of sustainability? If so, you may have decided to open your very own thrift shop. It's an exciting thought, but first, you need to know your market.
Market research is not only essential in giving you a better understanding of the current state of the second-hand clothes industry (from how it's doing, to what concepts are hot or not), but it also helps you decipher how to mould different aspects of your business so that it attracts the right customers.
To guide you through this process, we've outlined here the key steps in conducting thorough market research for a thrift shop.
Why do market research for a thrift shop?
Entrepreneurs carry out market research with one main objective: to check that there's room on the market for their business.
It's an essential step in giving you a clear idea of the overall state of the fashion industry, as well as the trends dominating online shops like Asos and the collections of fashion designers right now.
Since half of all new businesses don't survive the five-year mark, you need to arm yourself with enough knowledge to verify whether your clothing line is likely to thrive or, to put it bluntly, go bust.
As well as industry stats and trends, carrying out market research for your thrift shop will also enable you to find out a bit more about your target market, including who they are, the type of clothes they like, how often they buy new clothes, and their budgets.
With this data, you'll understand what your future customers are looking for - and create a brand with products that meet their unique needs.
What data is essential for thrift shop market research?
Market research gives you an overview of how the thrift shop market is holding up. The information you gather at this stage will also be invaluable in helping you build your financial forecast and determine the concept of your thrift shop - so make sure you do a thorough job.
Here is an overview of the information you'll need to collect:
Is the second-hand clothes sector growing or struggling?
How has the turnover of thrift shops evolved over the last few years?
How many thrift shops have opened/closed in the last year?

What are major trends in the sector?
How are thrift shops doing in comparison to other clothes shops?
In addition to data on the market, you'll also need to get to know your customers. Ask yourself:
When do consumers visit thrift shops and for what purpose?
How much are they willing to spend on second-hand clothing?
How old is the typical thrift shop customer? What is their income and spending budget?
Which accessories and garments are the most sought-after?
What's the best way to communicate with customers?
You will also learn about the different regulations related to trade, including buying, price display and selling at a loss.
Analysing the demand for thrift shops in your area
Now that you've built up a decent enough knowledge of the second-hand clothes sector, it's time to cast your eyes over the characteristics of the local market. You should consider three factors here:
The size of the local market: how many people live or work in your area, what is their profile (from age and gender to job status and level of disposable income)? How many of them are potential customers?
Next, identify, within the local market, specific locations that are likely to attract the most potential customers (whether it be a busy shopping street or in a shopping centre)
Finally, assess local customer expectations. Is there a demand for a piece of vintage clothing in particular that currently isn't being met by the existing stores?
Checking out the competition
Looking at rival vintage and clothes shops will not only help you better understand what actions are essential for the success of your own thrift shop, but also to develop a distinct concept that helps you stand out from the crowd.
Make it your mission to get answers to the following questions:
What clothes and accessories do they offer and at what kind of prices? Do they sell by the piece or by kilo?
What is their annual turnover and how many staff have they employed?
What is their catchment area and why are they located there? Is their target market similar to yours?
Analysing the reputation of your competition will also prove very useful when doing the market research for your thrift shop. Check out online reviews and chat to store regulars to gather solid opinions on each places quality of clothes and customer service. The aim here is to understand what customers like and dislike, so researching both good and bad practices will help you draw inspiration for your own concept.
Another way to strengthen your business's chances of success is to check out the main ways in which your competitors attract and retain customers. Looking at a variety of different marketing practices will enable you to come up with a unique marketing plan that is just as effective but geared towards your specific target market.
Defining the concept of your thrift shop
The last stage of your thrift shop market research is to define your shop's concept. You can do so by summing up...
Your target market
The clothes and accessories you'll sell (as well as what makes them different from your competitors)
A location that matches the ethos of your store, and a carefully devised marketing plan that attracts the right customers
Testing your concept on consumers with a quantitative study
Once you've defined your concept, we recommend that you test it out on the customers you plan to target to see how it lands. Why can one do so? By carrying out a quantitative study.
You can carry out a quantitative study in a variety of ways. For example, If you are present on social networks, you will be able to quickly measure this adhesion thanks to clear marks of interest: a like on your page or, better still, a subscription to your newsletter to be kept informed of the evolution of your thrift shop business.
You can also consider testing the concept out for a few days by setting up a stall at a local clothes market and letting residents see the threads for themselves. This will not only enable you to get your name out there, but also let you chat with visitors face-to-face to get their opinions on what you have to offer and if they have any suggestions.
Ready to take the next step? Get your business plan ready
Once all of the above steps have been completed, it's time to draft up the business plan for your thrift shop.
The business plan is made up of two major components:
A financial forecast that aims to highlight the expected profitability of the business and the initial financing requirement.
A written part that presents, in detail, your project, the team, your business strategy, and your medium-term objectives.
The business plan is the document with which you will try to secure financing from your bank or potential investors, so you need to make it impeccable.
If you are not used to writing business plans, a good solution would be to use online business plan software.
There are several advantages to using specialized software:
You are guided through the writing process by detailed instructions and examples for each part of the plan.
You can be inspired by already written business plan templates
You can easily make your financial forecast by letting the software take care of the financial aspects for you.
You get a professional document, formatted and ready to be sent to your bank.
If you are interested in this type of solution, you can try our software for free by signing up here.
That's it for today, but we hope we've helped you better understand how to conduct market research for your thrift shop.
If you'd like more advice on any of the points mentioned above or any other element related to the creation of a thrift shop, please don't hesitate to get in touch!
Also on The Business Plan Shop
Know someone who wants to start a thrift shop? Share this article with the click of a mouse!