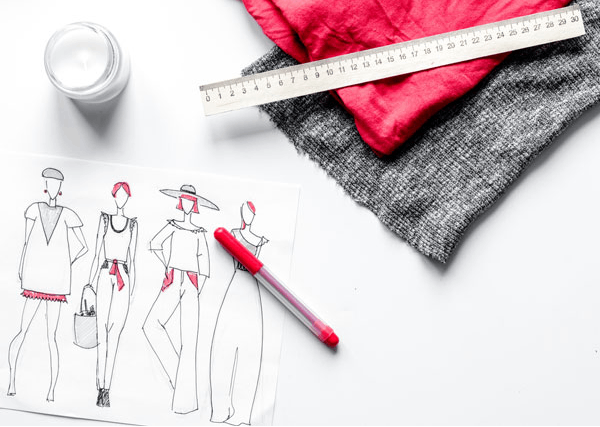 Are you drawn to clothes and the glossy pages of fashion magazines like a moth to a flame? Maybe you've even practised making your own threads? Either way, you've decided to start up a clothing line.
From learning about market trends to creating the recruitment plan for your clothing line and choosing its legal form - there are many factors to consider before embarking on your entrepreneurial adventure.
In this guide on how to start up a clothing line, you'll find everything you need to know about how to kickstart your venture, including tips for how to write a stand-out business plan to attract investors. Want to see your clothing line succeed? Then read on!
Before starting up your clothing line, do your market research
The very first step in creating a clothing line is carrying out market research for your clothing line to verify that there's room on the market for your brand. To do so, you'll need to check up on how the clothing industry is doing - both within Europe and the UK.
In particular, look at the evolution of the clothing industry's turnover. Assess whether the increase or decrease in turnover is due to changes in volume (more or fewer clothes being sold) or value (are certain pieces of clothing getting more or less expensive?)
When starting up your clothing line, you'll also want to know:
Consumer buying habits: who buys what and how often? Online or in-store? What is the typical monthly budget for clothes?
Current trends: which clothing concepts seem to be the most popular or are likely to blow up?
Changes in the competitive environment: how are other brands and retailers attracting shoppers and which strategies seem most effective?
Finally, think carefully about who your direct and indirect competitors will be. For example, creating a streetwear clothing line will make other streetwear brands your direct competitors (as well as any brands that offer a few streetwear pieces within their own lines). In terms of indirect competition, you'll have to count other casual fashion brands - as a customer always has a choice between dressing in streetwear or in a radically different way.
By the end of your market research, you should know:
Who your typical customer will be (including their age, budget, expectations regarding clothing, and buying habits)
Who your competitors will be and how to ensure you stand out from them
The most effective way to market your clothing line
The state of the UK clothing industry
With annual expenditure on clothing in the UK reaching £59.3 million in 2019, it's clear that Brits have a passion for fashion that needs to be met. But with a number of high street retailers recently forced to close their doors for good (including Topshop and department store Debenhams), it seems that many shoppers are moving away from the idea of shopping in-store and are instead drawn to the glittery convenience of online shops like Asos (now the fourth largest fashion retailer in the UK).
The online clothing market is indeed booming. Think about that when starting up your clothing line! With a global data report stating that it's set to rise by 27.4% over the next five years, its revenues could spike up to £3.7 billion - making it an attractive market to enter when comparing the allure of in-store and online shops.
This isn't to say though, that the in-store clothing market is in total disrepair. Although large groups such as Arcadia have experienced major difficulties, fast-fashion retailer Primark reached overall sales of £7.79 billion in 2019, with Zara generating £929.6 million the same year.
Developing the concept when starting up your clothing line
Next up in our guide on how to start up a clothing line is the development of your brand's concept - or the task of re-defining it altogether if you have discovered (through market research) that the concept you had in mind is in sharp decline.
In any case, you will have to define precisely:
The type and style of clothing you want to make (whether it's sportswear, streetwear, or casual clothes)
The number of collections per year and how you will design the clothes (will you do it yourself or call in a professional designer?)
The suppliers you plan to collaborate with for the clothes manufacturing (which fabrics will you use and from where?)
You must also take the time to consider the additional elements that contribute to your brand identity when starting up your clothing line, including the story behind how your clothing line came to be.
Whether it's your true story or one that's totally made up, it's up to you to tell the tale of your brand in such a way that will draw customers in and truly reflect the meaning behind the colours, patterns, and fabrics you use.
Finally, think carefully about your brand name. Letting your imagination run free here is recommended, so long as you ensure it remains consistent with the style of your clothes and your target customer. We also advise that you avoid overly complicated names that are difficult to remember and search for online.
Protecting your clothing line
Once you've decided on your name and logo, it's important to register a trademark to start your clothing line. This will enable you to take legal action against anyone who tries to copy or use your brand without your permission.
The rules concerning copyright and clothing brands are a tad too complex to be fleshed out within this guide, but you can find more information on how to register a trademark on gov.uk and, for those based in the US, copyright.gov.
Should I set up a physical shop or sell online?
The next step in our guide on how to start up a clothing line is to assess how you'd like to sell your clothes. Here you have three options: to open a traditional physical store, set up an online shop, or opt for both.
If you're setting up an online shop but feel worried about not being in direct contact with your customers (which can be damaging), it's important to know that you can also temporarily rent spaces to create physical pop-up stores to market your clothes in the first few months of operation or after the brand name has gained a bit of recognition. You can also set up in the corner of a department store for a limited time period.
Whatever way you decide to sell your clothes, remember that the distribution channel must align with your target market when starting up your clothing line. An urban clothing brand, for example, won't be found within an upscale shopping district, as it would be better sold on a striking online site, or placed in the city centre close to other high street shops.
And when you think about custom-made clothes for the office or impressing clients at work functions, you tend to visualise a physical store in a chic residential area or an office district, rather than a bright pop-up store with a quirky website.
When making the choice of how and where to sell your clothes, you'll need to consider the logistics of each option:
How much stock will you need to supply all your points of sale?
How will you get the clothes to the point of sale, or to the customer in the case of an online store?
What will the shipping costs be?
What margin and payment terms will you give to the stores? What guarantees will you have on their solvency?
Choosing the legal form for your clothing line
Now that you've decided how to market your clothes, you need to decide your business's legal form when starting up your clothing line.
Choosing your clothing line's legal form is a vital step as it will impact:
How much your business is taxed
Your taxation at a personal level
Your responsibility for the company's debts in the event of bankruptcy
The choice will depend on your preferences and personal situation (e.g. the number of partners involved in your venture, the amount of start-up capital at your disposal, etc.).
Several legal forms are possible, so they should all be carefully considered before making your decision.
If you're based in the UK or US, you can find more detailed information on the different legal forms available to you on the gov.uk guide for UK business owners and SBA guide for those in the US.
The equipment and staff needed to start up your clothing line
The next stage in our guide on how to start up a clothing line is to look at the staff and equipment required for the smooth running of your business.
Although this step is tedious, it's essential in creating a fair and realistic financial forecast for a clothing line.
The equipment required for a clothing line
Whether you're stocking up on fabrics, sewing equipment, or changing facilities and tills required for a physical store, your equipment needs will, of course, depend on the type of clothing line you're launching. Your first and perhaps most important consideration is the suppliers you will work with to develop the clothes and what fabrics you'll use.
You'll also have to consider whether to use an independent manufacturer that will make designs exclusively for your brand or join a more general clothing manufacturing network to start up your clothing line.
This is an important consideration because in the first instance you'll have to buy or rent a premises, equipment and hire staff to make the clothes, while in the second instance you need only pay a fee and the staff in charge of the clothes making according to the hours and complexity of the work required.
If you decide to operate from a physical store, you'll need to, of course, purchase or rent the space itself, as well as display furniture, changing facilities, clothes rails, and a couple of tills. if you opt for selling solely online, your start-up costs will be paying for your site domain and finding a place to store the stock.
The recruitment plan for a clothing line
To build an accurate financial forecast, you'll also need to take your staffing needs into account. This could include hiring anyone from a fashion designer or an in-store stylist to sales staff and a seamstress - who you decide to hire depends wholly on your concept.
Don't forget to list positions that aren't permanent or require occasional freelance work, but that is nevertheless necessary for the launch of your clothing line. This could include a website developer, a photographer to capture your clothes, or a social media expert to boost your presence on Instagram.
Additional services to consider when creating your clothing line
You'll also need to consider several additional services, including a PR agency (if necessary) or the hiring of a chartered accountant for the proper maintenance of your accounts and administrative management tasks to start up your clothing line. You may also need to enlist a cleaning company to help maintain your store or workshop or purchase a premise license so you can play music in-store.
In any case, don't forget to account for these services in your financial forecast. To ensure you estimate these expenses as accurately as possible, get in touch with several professionals and ask them for quotes.
Setting out the marketing plan for your clothing line
Launching a clothing line means attracting new customers. They're the key to any successful business launch and you will need to build customer loyalty following a strong marketing plan.
Having a strong website is a key element for any incoming fashion line. It should showcase the striking aesthetic of your pieces through eye-catching photography, inform site visitors about the quality of each product and, above all, place a spotlight on what makes your brand unique and more desirable than your competitors.
Social media is also a great way to build up a community of those who appreciate your brand, solidifying a base of loyal customers. You can use Instagram to share the best pieces from your line, as well as using the stories and post features to offer interactive advice on how to dress well and advertise discounts.
If you decide to open a physical store, consider handing flyers out to make yourself known amongst local residents.
You might also want to consider collaborating with a well-known influencer or online publication to create some hype around your clothing line's launch.
Writing the business plan for a clothing line
Once you have gathered all the information in the previous sections, you can start writing the business plan for your clothing line.
The business plan is made up of two major components:
A financial forecast that aims to highlight the potential profitability of the project and the need for initial financing.
A written part that presents, in detail, your project, the team, your business strategy, and your medium-term objectives.
The business plan is the document with which you will try to attract funding from your bank or potential investors, so you need to make it impeccable.
If you are not used to writing business plans, a good solution would be to use online business plan software.
There are several advantages to using specialized software:
You are guided through the writing process by detailed instructions and examples for each part of the plan.
You can be inspired by already written business plan templates
You can easily make your financial forecast by letting the software take care of the accounting aspects for you.
You get a professional document, formatted and ready to be sent to your bank.
If you are interested in this type of solution, you can try our software for free by clicking here.
Business plan template for a clothing line
If you're still a little bit stuck and need guidance, we recommend checking out our clothing line business plan template.
It includes sample sections that illustrate how a clothing line business plan might look like.
Securing funding to start up a clothing line
From creating samples to launching your first line, running production, and marketing your clothes, creating your own clothing line requires significant investment.
The good news is, however, you have several financing solutions at your disposal.
First of all, you must estimate the amount of money that you and your potential partners can personally devote to your project. Even if the sum seems very modest in comparison to what you need to raise, it's important that you don't neglect equity contribution. It's highly regarded by institutional investors as they see it as tangible proof of your dedication to the venture.
You can also apply for a professional loan from a bank to finance part of the start-up costs, whether that involves buying sewing machines or kitting out the premises with cool furniture. Remember to submit applications to different banks so that you can compare offers and pick whichever one works best for you.
Crowdfunding is another option. Crowdfunding allows you to collect donations or raise equity from family members or kind strangers who believe in your project.
You can even raise awareness of this initiative by awarding donors with 'counter-gifts', including a free t-shirt or a discount on their first purchase.
Finally, also think about state aid for business creators and buyers. This may enable you to benefit from an low interest loan, for example.
Some useful links to start up a clothing line
UKFT, the biggest network for UK fashion and textile companies
USFIA, the United States Fashion Industry Association (USFIA) represents brands, retailers, importers, and wholesalers based in the United States and doing business globally
That's it for this time, we hope this article has helped you better understand how to start up a clothing line. If you have any questions related to setting up your business, please don't hesitate to get in touch with our team.
Also on The Business Plan Shop
Know someone who's keen to start up their own clothing line? Share this article with the click of a mouse!