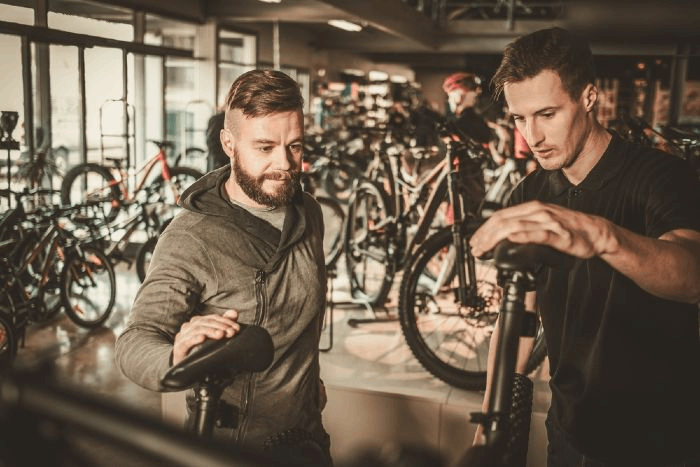 Are you passionate about cycling and feel you can barely go a day without it? It may have even become such an integral part of your life that you're ready to share your expertise and love of cycling with your local community - by opening your very own bike shop.
You may know a thing or two about bikes, but to really ensure that your bike shop business is a success, you'll need a solid business plan.
If you're unfamiliar with the process of writing a business plan and don't know where to begin, then you've come to the right place. In our step-by-step guide below, we'll explain everything you need to know about drafting a business plan for your bike shop.
What is the purpose of a bike shop business plan?
A business plan is a document that will tell you, before opening your bike shop, whether or not it's a financially sound business idea. A bike shop owner has one main objective: to make a profit. Without a business plan, you'll have no concrete way of ensuring this - so it's a pretty big deal.
A business plan enables you to take a detailed look at your business model and identify exactly what steps you'll need to take to launch your bike shop - as well as how much cash is required.
The plan also gives a realistic estimate of how your business is likely to perform in its first 3 to 5 years of operation, giving you a clear path of progression as you go through the first, fumbling stages of its opening, allowing you to adjust your financial forecast as and when is needed.
You'll also (most likely) need to obtain funding. This again is where the business plan comes in handy - as it's the document with which you'll present your idea to potential investors to convince them to follow you on your entrepreneurial adventure. Whether it's a bank or a private investor, there's no two ways about it, a business plan is essential for securing the financing needed to launch your shop.
What information is needed to write a bike shop business plan?
First of all, you'll need to carry out market research to understand more about the cycling industry. The objective here is to verify whether there's room on the local bike shop market for you to set up shop in your desired area.
Conducting market research for a bike shop will enable you to identify what concepts will work best in your area (for example, would you be better off selling racing bikes or vintage city bikes?), how to set your prices, as well as giving you an idea of the average turnover of other bike shops.
Studying the market will also set the scene for setting up a strong marketing plan - as you'll have a more thorough understanding of the techniques that are most likely to attract customers. You can then decipher how much money you'll need for each action, whether it's setting up a website or paying for a billboard ad in the city centre.
Make sure you have a look at different resources such as the Bicycle Association or even on specialist websites such as Bikebiz which here, for example, tells you how the bike shop market fared in 2019. Make sure you gather all the elements you need.
Then it's time to look at the equipment and staff that will be needed to help you operate your bike shop.
If you plan to offer repairs, you'll need to stock up on the right tools and hire someone with experience in bike mechanics. You'll also need one or two salespeople to welcome customers and man the till. Ideally, you'll want staff members who can resonate with customers over a love of cycling and enthusiastically respond to any bike-related queries - so make sure to place an emphasis on these attributes when recruiting.
You'll also need to identify the cost of the bikes, bike parts, and accessories you'll be selling in-store, as well as your overhead costs (including insurance, bank charges, cleaning, and utility bills, etc).
To get these services at the best value possible, get in touch with several suppliers (insurance, water, and gas companies, for example) and ask for quotes.
The financial forecast of your bike shop business plan
Once this information is gathered, you're ready to set up the financial forecast of your bike shop business plan. The financial forecast consists of several tables. You can read about them in a little more detail below.
Projected P&L for your bike shop
With this table, you'll get an overview of your bike shop's sales growth and monitor changes in the cost structure, enabling you to evaluate its profitability (including gross profit, EBITDA, and net income).
Viewing the P&L alone is not sufficient to understand the overall financial position of the company. You will have to analyze it in conjunction with the other tables of the financial forecast.
Projected balance sheet
The projected balance sheet is made up of two parts:
Your company's assets at the end of the year
Your company's liabilities (debts) at the end of the year
Essentially, this table lets you see your business's financial structure by showing a breakdown of the company's equity and financial debts. This enables you to both verify whether the indebtedness is reasonable, and evaluate the company's liquidity (in other words, its capacity to pay back its short-term commercial and financial debts.
Projected cash flow statement
The projected cash flow statement enables you to observe the amount of cash consumed or generated by the company.
With this table, you can verify whether the company has sufficient cash flow to meet its financial commitments (especially when it comes to loan repayments) and regularly renew its equipment.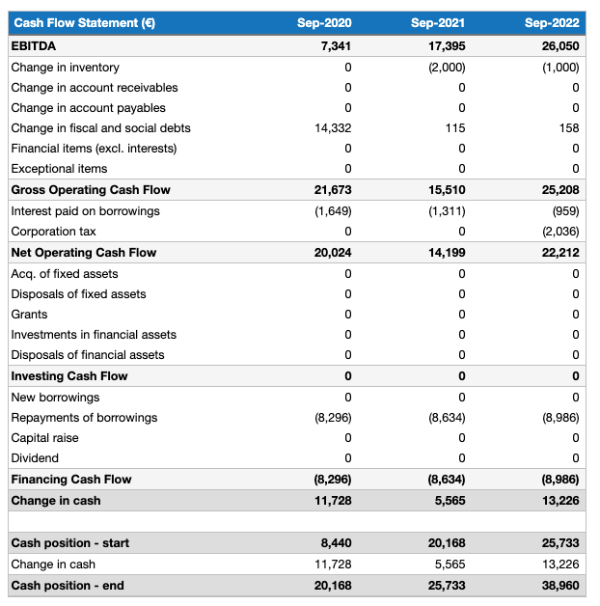 Start-up capital
This table gives you a clear vision of the start-up capital needed to launch your business and how the money will be used (for example, for stock or buying furniture to kit out the premises.)
Your bank or investors will then be able to quickly understand how much you're contributing to your business and how much you need to finance the rest.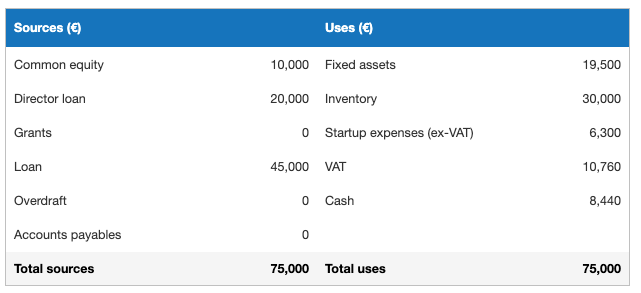 The written part of your bike shop business plan
The written section of your business plan can't be neglected because it puts the figures presented in the financial part into context - allowing those reading the plan to understand the risks and assets of your business model.
It will allow you to show potential investors that you've thought deeply about every aspect of your bike shop, from the actions you'll put in place to attract customers to a solid contingency plan.
The editorial part of a bike shop business plan is composed of the following sections:
The executive summary
Much like a cover letter on a job application, the executive summary is the very first thing an investor will come across when reading your business plan.
Its purpose is to present your business model by telling your story - who you are, where you're based, what product or service you're selling, and, most importantly, what you need from the reader to make it come to life.
The executive summary should make the reader want to find out more about the project, so make it as compelling and concise as possible.
Company
This section is used to present your company, including its legal structure, business partners, and the company's location.
Presenting your team to the reader is very important. By highlighting your respective skills and levels of expertise in the field in which you're launching the business, you can demonstrate your ability to successfully carry out the project.
Products and services
Depending on the concept you choose, you'll sell bikes or offer repairs, or do both. You will then detail these as the products and services being sold in your store.
Market research
Market research is useful in highlighting the existence of a business opportunity in your area of choice.
In this section, you'll also analyse the competitions and any regulations your store will be subject to, proving to your potential investor that you've thought carefully about the project.
Strategy
In this part, you'll reveal three key plans:
Your sales strategy - the prices you'll set
Your marketing strategy - the actions you'll take to attract customers and build customer loyalty
Your risk management strategy - how you'll minimise the risks related to your business
Operations
The day-to-day operation of your bike shop is highlighted in this section - from your recruitment plan to opening hours and suppliers used.

Financial plan
Like we said, numbers need context. In this section, you'll illustrate the various financial tables and the assumptions you've made for them.
3 tips for a successful bike shop business plan
Opening a bike shop requires you to think carefully about certain elements that are specific only to your business. To ensure you leave no stone unturned, here are 3 insider tips for running a successful bike shop:
Work with several suppliers
Relying on a single supplier for your bikes or accessories is a risk. If this supplier goes bankrupt, you'll have to scramble to find another one as soon as possible. That's why we suggest striking up agreements with several suppliers so you're not dependent on just one.
Check out hot trends on the market
From the rising popularity of eBikes, Dutch city bikes, and electric scooters, the bicycle market is constantly evolving.
So keep an eye on the latest trends and be ready to adapt your product range to move with the needs and desires of your customers.
Define your store's concept
There are many cyclists within the UK, but they all have very different needs. You can, therefore, decide to keep the concept of your shop quite broad so you can cater to these various needs or you can specialise in a niche market (by targeting university students or mountain bike enthusiasts).
If there's a customer segment whose needs aren't being met by your competitors, such as parents wanting to invest in bikes for their children, then you could use this as an opportunity to set yourself apart by ordering in smaller bicycles.
What solutions are available to create a bike shop business plan?
Several options are at your disposal when it comes to drafting up your business plan, such as:
Building your forecast on a spreadsheet
Using Excel and Word to create your business plan is the cheapest solution, but not the most efficient.
Without a background in accounting, it's likely you'll have trouble building a realistic financial forecast without errors. If your Word and Excel skills are average, then you may also end up spending a lot of time on it and it will quickly, become a very dull task.
Hiring a consultant or chartered accountant to write the business plan
Calling on professionals to help you draft your business plan is an effective solution because they're used to making them.
However, make sure you choose an expert in the bike shop sector, so they can make a critical judgment of the revenues and cost assumptions you've made.
It's also important to bear in mind that the financial forecast often needs to be modified after your first few meetings with the bank. Each of these modifications will be invoiced by the accountant, so account for these expenses in the budget.
To decrease the size of the bill: you can make the forecast yourself and then ask a chartered accountant to look over it.
Using an online business plan software
Another possible solution is to use online business plan software, like the one we offer here at The Business Plan Shop.
There are several advantages to using specialized software:
You are guided through the writing process by detailed instructions and examples for each part of the plan.
You can be inspired by already written business plan templates.
You can easily create your financial forecast by letting the software take care of the calculations for you.
You get a professional document, formatted and ready to be sent to your bank.
If you are interested in this type of solution, you can try our software for free by signing up here.
Now that our guide is coming to an end, we hope that you have a clearer idea of how to write the business plan for your bike shop.
If you'd like more advice on any of the points mentioned above or any other element related to the creation or takeover of a bike shop, please don't hesitate to get in touch.
Also on The Business Plan Shop
Know someone who's toying with the idea of opening a bike shop? Share this article with just one click!