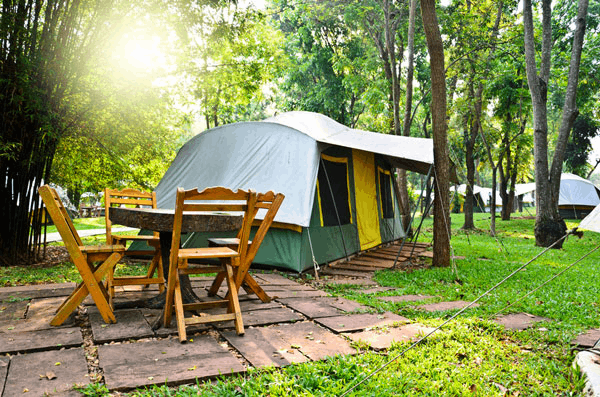 If you're someone who has spent many a summer vacation at campsites, then you probably see them as being synonymous with happy times spent in the open air. For this reason, you may have decided to buy an existing campsite.
Although a business take over is often considered a less risky solution than starting a business from scratch, you should be aware of the work, motivation, and specific knowledge that will be required to succeed in this entrepreneurial venture.
In this article, we'll take you through the key steps of taking over a campsite, as well as providing advice that'll ensure your business is a success.
Check out the land used by the campsite
The very first thing you should do if you're considering buying over a campsite is carrying out an analysis of the land upon which it's based. You can do so by reading carefully over the lease agreement - picking out information about the price of rent, its duration, and if it includes a renewal clause.
Once you've considered the terms of the lease agreement, it's time to examine the campsite itself.
In particular, you'll have to check the surface area of the land, the number, and the type of pitches. You'll want to ensure you have a balanced mix of pitches for tents, caravans, motorhomes, chalets, and cabins. Pay special attention, too, to the layout of the site and whether there's a possibility for future extension.
This is the part where you'll also assess the vulnerability of your campsite to the impact of natural disasters, one of the most serious threats to the outdoor travel accommodation industry. For the UK, the main threat here is bad weather and flooding, so making sure your campsite isn't in a flood-prone area is key.
Storms should also be considered, so we advise that you collate a report on the history of strong gales in the region over the last few years that you can compare with the layout of the campsite. For example, whether it's based in the undergrowth and is, therefore, subject to the threat of falling trees, or if it's in an open or well-sheltered area.
The quality of the campsite's infrastructure is the next key element to be taken into account here, whether it's the campsite's internal roads, access to water and electricity, bathroom and shower facilities, communal spaces such as the bar, or even the swimming pool. You'll need to check that each and every one of these features complies with the safety standards imposed by law.
This overview of the premises provides you with an opportunity to find out whether any work needs to be done in terms of updating any of the facilities or bringing the campsite up to standard with safety regulations. If you find that some changes will have to be made, make a note of each and estimate the cost so you can use this as leverage when negotiating the selling price of the campsite.
Study your location and the competition near the campsite you want to buy
The next step to take over a campsite is to carry out a detailed analysis of the location and competition.
The first question to ask yourself is one that will be pressing on the minds of the customers themselves: is the location appealing? In other words, does it attract visitors all-year-long or only during holiday periods?
To answer these questions, you'll have to refer to the booking history and geographical location of the campsite. Ask yourself:
In which region is the campsite located?
Is it a seaside or a land-locked campsite?
Is it close or far from tourist attractions?
Is the campsite visible and easily accessible from the closest main road, airport or train station?
You also need to check out your competitors. First will be your direct competitors: other campsites in the area. You'll want to consider the following:
How many campsites are there nearby?
Are they thriving or do they remain relatively empty?
Do they offer similar services to the ones provided by the campsite you want to take over?
Answering these questions will give you a better idea of specific ways in which you can set yourself apart from your competitors and ensure that people pick your campsite over theirs.
Now, onto analysing the alternative types of travel accommodation that could seduce your potential customers - your indirect competitors. These include bed and breakfasts, hotels, hostels, and Airbnb listings.
Last but not least, you'll need to look up your local town council's policy on camping and any problems linked to it, including whether there have been any complaints regarding noise generated by campsite customers. This will enable you to decipher how likely the risk is of a by-law being brought in that could have a negative impact on business.
Get to know the campsite's clientele
Taking over a campsite without prior experience in the camping industry is not easy, but if you're truly passionate or already have experience in another type of business, this will go a long way in helping you familiarise yourself with your target market.
You'll first need to quickly identify whether your customer base is made up primarily of recurring customers or one-time travellers. This is an important consideration as repeat customers (who return from one year to the next) form the foundation of stable business for many campsites.
To get a clearer picture of who your target market is and what services to offer to attract them, you'll also want to gather information regarding the nationality and age of guests - including the ratio of families, young adventurers, and retired couples within this group.
Customer satisfaction is another key factor here. Take some time to look up online reviews of the campsite you're planning to take over so you can find out more about how guests found their experience - especially their thoughts of the price, location, and facilities offered.
What the campsite has to offer and its team
Analysis of the services and accommodation offered by the campsite
Another crucial consideration before taking over a campsite is the quality of services and accommodation offered. Make sure you check out:
The accommodation: what are the prices of the pitches? What do customers say about them? What is the campsite's occupancy rate?
The food: what is the restaurant or bar menu? Which products sell best? Is this activity profitable?
Activities: what are they? Are they available in the low and high seasons? Are customers satisfied with them?
While assessing these services, consider the suppliers that are providing the campsite with the resources to make them happen - including the commercial terms negotiated with them and how frequently supplies are delivered.
Evaluate the campsite staff
As a campsite takeover often involves retaining the existing staff, it's a good idea to carry out an employee assessment.
You'll want to consider the following:
Is the team experienced or are they mostly seasonal employees?
Do the team members intend to stay on after the takeover?
How satisfied are the staff members in their respective roles?
What is their opinion on the management of the campsite? What changes would they like to see?
Have there been any clashes between team members?
Identifying the strengths and weaknesses of the team is essential in helping you build a strong and happy staff network, and enable you to implement changes to the team structure where necessary.
Set out the campsite's marketing strategy
The next step in taking over a campsite is to analyse the marketing plan set up by the former manager. Your research should help you find out exactly how the campsite crosses customer's radars.
To break it down, you'll want to consider the following:
Is the campsite referenced on platforms such as Google Maps or online tourist guides?
Does it have a customer database? How is it used for marketing and does it comply with regulations regarding the use of personal data?
Does it have a website? If so, should the design be updated? Is the number of unique visitors and bookings satisfactory?
If the campsite doesn't have a website that accommodates reservations or simply just looks bad and is difficult to use, you're likely to lose customers - or, in the best-case scenario, they might like the campsite but book through another website that will take a commission on the transaction (meaning a loss for you). So you mustn't neglect this stage of your marketing assessment.
Also check out any alternative actions in place to attract customers to the campsite, whether they be press releases in the local newspaper or announcements made on social media platforms. Measure the associated costs of existing actions and try and scope out any untapped opportunities - for example, maybe the campsite has a Twitter presence but no Instagram profile?
Examine the financial performance of the campsite
It's crucial that you take an interest in the previous financial performance of a campsite before deciding to take it over. Doing so will allow you to evaluate the campsite's profitability and cash generation capacity to help you create your business plan for a campsite.
Let's take a closer look at some important indicators. For each of them, you will need to look at their evolution (especially over the last 3 years), and above all, to anticipate how they'll look in the future.
Turnover
Assessing turnover is the starting point for your financial analysis of the campsite and should give you a good indication of the trajectory of the company being taken over.
Here, you will need to look at its evolution by asking:
If you see an increase or decrease in revenue over the last few years - is it a lasting effect and what are the causes?

Is it a variation in volume (more or less reserved spaces) or in value (increase or decrease in the average price per night)?
Should we expect a drop in activity due to the emergence of alternative accommodation (Airbnb)? Will this be a lasting effect?
Could you tap into certain areas to increase sales? (Including unused social media platforms or an expansion of the services offered onsite?)
Ensure you examine the turnover according to how much money each aspect of the business brings in, whether its tent pitches, mobile home pitches, bar sales or evening entertainment.
EBITDA
Once you've looked at the sales, it's time to check out the campsite's profitability. To do so, you refer to the EBITDA margin:
Is the margin stable, increasing or decreasing?
What are the causes of this fluctuation and how is the business likely to perform over the next three years?
Are costs under control? Is the campsite able to balance out its expenses by gradually increasing its prices?
Is it possible to improve profitability by promoting higher-margin services?
Cash flow from operations
Next, cast your eyes on the cash flow generated by the campsite. You'll first need to look at the operating cash flow:
Is it positive?
Is it sufficient to renew and maintain equipment, whilst meeting its financial commitments?
What about working capital requirements? How much cash is tied up in inventory? Could you reduce it? If so, how?
Capital expenditures
Then look at investments:
How much money has been invested by the former owner to maintain the quality of the campsite's infrastructure?
Does this amount seem sufficient or would you need to add more?
Are there investment opportunities to improve the campsite or to increase staff productivity (with better equipment or software?)
Write your campsite's takeover business plan to secure financing
The next step in taking over a campsite is putting together a business plan to assess the expected profitability of your venture and secure financing.
A clear and concise business plan will enable you to:
ensure that the business makes sense financially
consider the best structure for your takeover (buyout of the campsite'shares with or without a holding company vs. creating a new company to buy the campsite's assets) and the sale price.
obtain a document to present to financial partners, including banks and investors
In a simplified way, a business plan for a campsite is made up of two major components:
A financial forecast that aims to highlight the expected profitability of the business and the initial financing requirement.
A written part that presents, in detail, your project, the team, your business strategy, and your medium-term objectives.
If you are not used to writing business plans, a good solution would be to use online business plan software.
There are several advantages to using specialized software:
You are guided through the writing process by detailed instructions and examples for each part of the plan.
You can be inspired by already written business plan templates
You can easily make your financial forecast by letting the software take care of the financial aspects for you.
You get a professional document, formatted and ready to be sent to your bank.
If you are interested in this type of solution, you can try our software for free by signing up here.
Look into the owner's motivations for selling and the terms of the sales contract
The final step in taking over a campsite is to check up on the owner's motivations for selling it in the first place. The objective is simple: to check that they're not just selling the campsite because they suspect its profitability may soon decline.
There are many perfectly legitimate reasons to sell a campsite, including retirement, or a desire to follow another career path - but fearing a deterioration in the profitability of your business is not one of them!
Carefully reading over each detail outlined in the sales contract (including details about the lease and the circumstances in which the previous owner acquired the property) is also a must. The contract to buy over a business must meet a set of extremely precise criteria to be valid, so it's essential to discuss the terms with a lawyer to fully understand them.
As our guide comes to an end, we hope that it's given you a better understanding of how to take over a campsite. If you'd like advice on any of the points mentioned above or anything else related to the taking over of a campsite, please don't hesitate to get in touch with our team.

Also on The Business Plan Shop
Is someone you know keen to take over a campsite and might be interested in this article? Share it with just the click of a mouse!