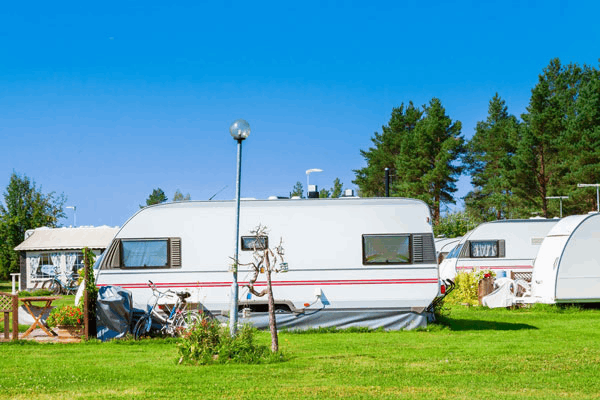 Are you planning to open a campsite? With the UK camping accommodation category (including caravans, tents, glamping, and motorhomes) currently receiving 6% more night visits per year than hotels and 23% more than self-catering holiday homes, it's fair to say the camping sector is doing pretty well.
Not only is camping still one of the most loved past-times of the British, in recent years, emerging trends, including the rise of glamping and staycations, have created new opportunities for clever entrepreneurs.
Before diving straight into launching your campsite, however, it's important to think carefully about your business plan - because the success of your venture depends on it.
If you're not sure how to go about drafting up a business plan, then you've come to the right place. Simply read our guide below to make your campsite business plan come to life.
Market research: a must before writing a campsite business plan
Before investing money or starting to write your campsite's business plan, you'll need to carry out market research - to verify whether there's room on the local campsite market for you to launch in your desired area.
At this stage, you need to check out emerging trends within the camping industry, what your competitors are offering visitors, and the needs and wants of your future customers so you can better understand their expectations.
Conducting market research for your campsite means digging up as much information as possible, which isn't necessarily easy. You can, of course, find a lot of data online - including in-depth market studies (although you might have to pay for access to these.)
Your campsite market research will enable you to decide whether there is an untapped opportunity on the local market, depending on where you want to set up and the type of accommodation you want to offer.
For example, you might want to think twice before setting up a campground in the South West of England, as it is undoubtedly one of the most popular camping destinations in the UK and therefore probably a very competitive market.
It would also be worth checking out how many campsites in your desired area have facilities such as an indoor pool, wifi, or a restaurant - as these figures will prove very useful when it comes to refining the vision for your business.
What should a campsite business plan contain?
The business plan for a campsite is essentially the document with which you'll try to secure financing.
Even though drafting up a business plan can be tedious and time-consuming, it's absolutely necessary for the survival of your business. It will not only enable you to set out your vision for your business but also secure the funding required to make it come alive.
To put it simply, a campsite business plan is a document containing:
A written part presenting the company's structure, strengths, and objectives over the coming years
A financial forecast highlighting the financing requirements to start the business and its expected profitability
Don't just line up the numbers: your business plan must show that you know your market and have the necessary skills to manage and develop your business.
The main risks of opening a campsite
From a financial point of view, opening a campsite involves two major risks: high investments and high seasonality.
High investments
Opening a campsite requires a large investment in the land and its facilities (including mobile homes, roads, sanitary facilities, and a swimming pool).
The success of your business will depend massively on the comfort and attractiveness of these facilities, so your campsite's business plan needs to show sufficient cash generation to cover maintenance and regular renewal when necessary.
High seasonality
Seasonality is one of the biggest threats to this type of business. You will make most of your turnover over the summer months and a missed season (due to grim weather, for example) could quickly put you at risk.
Your campsite's business plan must therefore demonstrate you will have sufficient cash reserves to cope with this risk, and reassure the bank of your ability to maintain a good occupancy rate year after year.
What tool should I use to write my campsite business plan?
Writing a business plan for a campsite is not an easy task. It can take up a lot of time, and if you're inexperienced, the risk of making quite detrimental mistakes is pretty high.
Between miscalculations, written presentations embellished with complicated phrases and clumsy layouts, the dangers of writing a business plan alone are numerous - and could repel the very investors you're looking to impress.
To make life easier, you could use our online business plan software. Known for its reliability and ease of use, our online software frees you from calculations and guides you through the writing of the plan with instructions and examples.
It enables you to easily produce a business plan for 3 or 5 years and obtain a formatted document ready to be sent to your bank.
If you're interested in our of solution, you can try our software for free by clicking here.
Or are you just after a little inspiration? Check out our campsite business plan template to get a clear idea as to how you can frame your very own.
Also on The Business Plan Shop
Know someone who's interested in opening a campsite? Share this article with the click of a mouse!