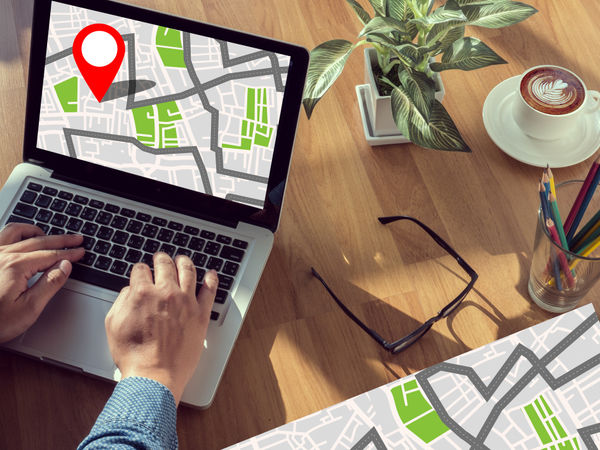 By now, you must already be in the process of writing your business plan. Each subsection or section included in this document is important in its own way and serves a specific purpose.
The location subsection is one such and is likely to be of great interest to investors and other stakeholders. It helps them understand whether or not your business could be a success based on the characteristics of the area.
This subsection is part of the overall "company presentation" section and is usually grouped with the presentation of the structure and ownership of the business and the management team involved in operations.
But, how do you ensure that the location section is well-written and provides readers the detail they want to see?
Let's take a look at this in more detail!
What is the objective of the location section of your business plan?
The main reason why stakeholders might be interested in this information is to understand the serviceable areas that your business targets. In this section, our main emphasis will be on answering the "why here" question that may arise in the minds of the readers.
The area in which a business is located has a significant impact on both its profitability and long-term performance. Businesses are more likely to thrive in areas with easy access to higher-skilled labor and quality infrastructure (i.e. transportation). 
The location section of your business plan helps financiers understand the commercial potential and the risks of investing in your business.
Whilst digital transformation has allowed people to "come together" regardless of where they are located, some investors still prefer to consider the effects of agglomeration. 
Agglomeration refers to the geographical proximity between businesses and/or people and what effects it has on the operations and profitability of the business. 
Location is the key for any business. Let's talk about how location matters for different types of businesses.
High street shops/businesses
Location is the primary driver of success for these types of businesses because they rely on the number of customers that walk in or are attracted by the storefront. If you operate a high street shop, explaining the attractiveness of the area is critical for your business plan.
For instance, your business might be located near a famous landmark (more so in country towns). Besides this, you should understand the risks associated with the location to the reader of the plan. These risks may include the ability to access the store, limited car parking, access to public transport, etc.
Industrial businesses
Following are some of the business types that may be categorized as industrial businesses. Needless to say that the location section of the business plan is essential for these types of businesses. 
Manufacturing facilities:
While writing a business plan for an industrial business, the location section should include details regarding the production capacity. How are raw materials obtained, how are finished goods manufactured and then shipped to the selling points.
Access to the workforce, energy, water, and environmental aspects should all be considered too. The environmental aspects include waste management, remediation in case of soil contamination, etc.
The logistics:
In the case of logistical businesses, the location section should cover the ease of access to the point of sales and the details regarding any warehouses or logistic hubs involved.
Hospitality businesses
If your business plan discusses food places, the location section should mention the cultures and preferences of locals. This will help the investor or lender determine whether or not your business model suits customer needs.
How long should the location section of your business plan be?
When it comes to the location section of your business plan, you should aim to include as much information as possible, as long as it's relevant. Put yourself in the shoes of the reader. You don't want to be asking questions that could be easily answered by the document itself.
Be sure to answer:
Why is the business located here? 
How secure is the future of the location? Does the lease expire soon?
Is the workplace safe and secure for employees?
Is there an abundance of quality staff in the area?
Are the premises easily accessible (public transport, parking, etc.)?
How attractive is the catchment area? How much foot traffic is expected?
All these questions are crucial to the success of the business.
A general rule of thumb is that you must cover as much information as possible in 2-3 paragraphs per location.
The size will also depend on the structure of your business:
A single location business (hairdressing salon or off-licence for example) need to be quite exhaustive as the business is 100% reliant on that location
A chain with dozens or hundreds of implantations can afford to present locations at a higher level as there is some level of diversification in the overall premises portfolio
An integrated business with both manufacturing facilities and sale points will probably need to write a slightly longer presentation in order to cover all aspects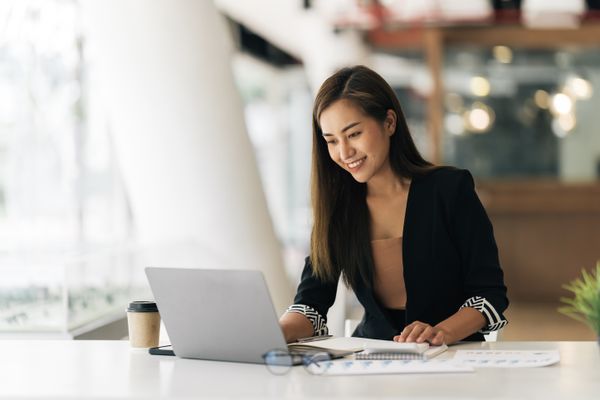 What information do I include in the location section of my business plan?
To give you a better idea about the information to be added to the location section of your business plan, we've categorized it into four categories:
Business location
In this section, you need to state the full location and the exact address of the business. If possible, ensure that your business is listed on Google Maps so that readers can view the location easily. Mention all of the locations if you have more than one branch.
Also, if the business plan includes any plans for future expansion, the details of future location should also be mentioned here. 
In some cases, readers might be interested in the structure of the building in which the business is located. In that case, make sure to explain the general design of the building. This may include mentioning what's on the first floor, second floor, etc.  
You might also want to provide a graphical representation i.e., a map that shows where your business is located and other brands or competitors in the area, a floor plan showing the layout of the premises.
Serviceable area
Another good practice is to include an explanation of your business's serviceable area in your business plan. This is defined as the geographical region or territory where your business can effectively provide its products or services. 
You should also focus on why you chose that area in particular and what was the rationale behind it. Factors which may be discussed include convenience and easy access to suppliers.
One of the most attractive features of any location is vast parking availability and accessibility. You can use this opportunity to give a positive impression to the stakeholders regarding your venue.
You can also explain how customers, suppliers, and employees will access your business, including parking options. Writing about serviceable areas also helps readers form a picture of the type of customers who could benefit from your business (families on holidays, business executives, etc.).
Lease terms
The location section of the business plan should provide basic information about the terms of any lease you have signed for the property, such as length, rental rate, and any special clauses.
This is an essential piece of information that can have a significant influence in determining whether your business plan will be successful or not, financially.
Access to facilities
Another piece of information that you may add to the location section of your business plan is the ease of access to common facilities. 
Customers usually prefer to visit areas with significant facilities such as transportation, local infrastructure, and any other amenities that your business might offer customers.
Example of the location presentation in a business plan
Below is an example of how the location section of your business plan might look like. As you can see, it coincides with the structure and ownership subsection and the management team.
There is a graphical representation of where the business is located, its exact address, information about what the venue includes internally and how close or far it is from infrastructure.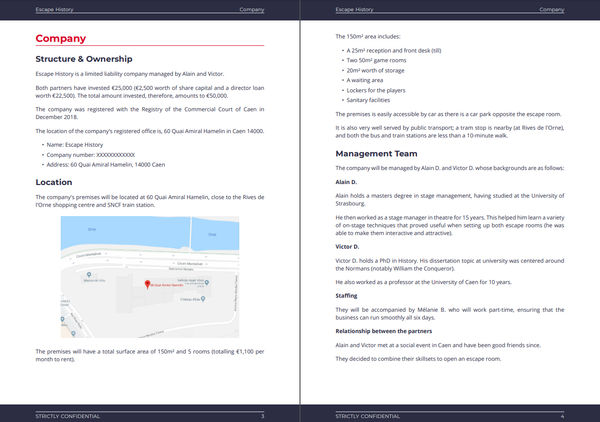 This example was taken from one of our business plan templates.
What tools should I use to write my business plan?
In this section, we will review three solutions for creating a business plan for your business: using Word and Excel, hiring a consultant to write the business plan, and utilizing an online business plan software.
Create your business plan using Word or Excel
This is the old-fashioned way of creating a business plan (1990s style) and using Word or Excel has both pros and cons.
On the one hand, using either of these two programs is cheap and they are widely available. 
However, creating an error-free financial forecast with Excel is only possible if you have expertise in accounting and financial modeling.
Because of that investors and lenders might not trust the accuracy of your forecast unless you have a degree in finance or accounting.
Also, writing a business plan using Word means starting from scratch and formatting the document yourself once written - a process that can be quite tedious - especially when the numbers change and you need to manually update all the tables and text.
Ultimately, it's up to the business owner to decide which program is right for them and whether they have the expertise or resources needed to make Excel work. 
Hire a consultant to write your business plan
Outsourcing your business plan to a consultant can be a viable option, but it also presents certain drawbacks. 
On the plus side, consultants are experienced in writing business plans and adept at creating financial forecasts without errors. Furthermore, hiring a consultant can save you time and allow you to focus on the day-to-day operations of your business.
However, hiring consultants is expensive: budget at least £1.5k ($2.0k) for a complete business plan, more if you need to make changes after the initial version (which happens frequently after the first meetings with lenders).
For these reasons, outsourcing the plan to a consultant or accountant should be considered carefully, weighing both the advantages and disadvantages of hiring outside help.
Ultimately, it may be the right decision for some businesses, while others may find it beneficial to write their own business plan using an online software.
Use an online business plan software for your business plan
Another alternative is to use online business plan software.
There are several advantages to using specialized software:
You are guided through the writing process by detailed instructions and examples for each part of the plan
You can be inspired by already written business plan templates
You can easily make your financial forecast by letting the software take care of the financial calculations for you without errors
You get a professional document, formatted and ready to be sent to your bank
The software will enable you to easily track your actual financial performance against your forecast and update your forecast as time goes by
If you're interested in using this type of solution, you can try our software for free by signing up here.
Conclusion
The location section of a business plan is very important for both startups and established businesses alike. Giving an attractive outlook of your business's location, can help you find a business partner or secure capital. 
This information mainly includes details about the location of the business, the structure of the building, and the facilities that are available for the workers and customers. This information can help readers decide whether they want to be a part of your business or not. 
Also on The Business Plan Shop
Know someone who needs to add the location to their business plan? Share this guide with them!